NCF Nation:

Steve Bartkowski
May, 15, 2012
5/15/12
3:34
PM ET
NEW YORK -- When asked to reflect on their Hall of Fame college football careers, coach Jimmy Johnson and quarterback Steve Bartkowski talked about the fun and the camaraderie.
Both men enjoyed long and successful NFL careers. Both have been successful since they left the game -- Bartkowski in the construction business in Atlanta, Johnson as an NFL analyst on the Fox network. Yet both men, speaking Tuesday at a news conference staged by the National Football Foundation to announce the Class of 2012 of the College Football Hall of Fame, look back with great fondness on their days in the college game.
"Football is the ultimate team game," said Bartkowski, the California quarterback from 1972-74. "I had a great group of guys around me at Cal: Chuck Muncie, Wesley Walker, Howard Strickland. We had some good, good football players. And it was fun. I was there because I wanted to be there, not because somebody was paying me a large amount of money to take the field."
Bartkowski, the 16
th
Golden Bear elected to the Hall of Fame, described it as "an absolute honor. I was humbled by it, especially now that I hear some of the guys to be inducted along with me in this class."
[+] Enlarge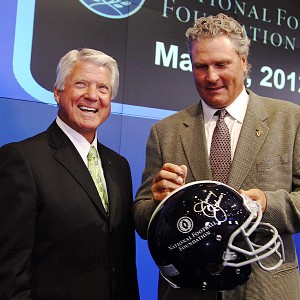 AP Photo/Seth WenigCoach Jimmy Johnson and quarterback Steve Bartkowski joined 15 others in being inducted into the College Football Hall of Fame.
It may be the passage of time. More likely, it's an expression of the emotion the men elected to the Hall of Fame carry about their college days. But no matter how many years have passed, nearly all of them react as Colorado guard John Wooten (1956-58) did.
Wooten, who was nominated by the Veterans Committee, became one of the African-American pioneers in the NFL. He has blazed trails throughout his career to this day, when he is chairman of the Fritz Pollard Alliance Foundation, which promotes diversity in NFL coaching, front office and scouting staffs. Yet when he called his Colorado teammates with news of his election, tears flowed on both sides of the connection.
Johnson, who led Miami to the 1987 national championship, will be joined in this class by two other coaches, Phillip Fulmer of Tennessee (1993-2008) and R.C. Slocum of Texas A&M (1989-2002). Johnson went 81-34-3 in 10 seasons at the U (1984-88) and Oklahoma State (1979-83). He said several times Tuesday that the most fun he had in his life came at Miami, when his Hurricanes lost a total of two regular-season games in four seasons.
But the enjoyment came from more than winning.
"You're more than a head football coach," Johnson said. "I was in my office continually with young kids ... being homesick, young kids that had financial problems, young kids that had academic problems. They thought they came there to get ready for pro football but then they realized they had to get ready for life.
"I used to have a meeting on Thursday nights," Johnson continued. "And I said, 'Every one of you, I'm going through the room, and I'm going to ask you what are you going to do when you leave the University of Miami?' And I said, 'You can't say you're gonna play pro football. So you have to tell me what you're going to do with the rest of your life.'
"So [coaching college football] is a lot more than X's and O's."
Johnson, 68, is 25 years removed from his national championship at Miami, 23 years removed from his resignation to go to the Dallas Cowboys. A few "old alums" called him when his alma mater, Arkansas, fired Bobby Petrino last month. But he said he no longer gets serious inquiries about returning to coaching. His involvement in college football is limited to watching games all day Saturday at the Fox studio in Los Angeles with his "best friend," fellow Fox analyst Terry Bradshaw.
"We'll start at 10:00 in the morning, watching college football," Johnson said. "We won't turn the TVs off until that night. That's how we prepare for our pro show the next day… . That's how we feel about college football."
Johnson and Bartkowski are members of an exclusive club. Including this class of 14 players and three coaches, who will be inducted in December at a black-tie dinner at the Waldorf-Astoria Hotel in New York, the Hall of Fame has 914 players and 197 coaches. That's from a game that has been played for 143 seasons by nearly five million players.
They may have gone into their college experiences looking to get to the NFL. But when they look back, they think of the fun and brotherhood of the college game. It's a lesson that takes a lifetime to learn.
May, 15, 2012
5/15/12
12:15
PM ET
Steve Bartkowski, owner of one of the great arms in college football history, spent much of his early career at California struggling in the shadows. First, he shared the starting job with Vince Ferragamo for two years. Then, in 1973, he suffered through a miserable season as the starter.
But in 1974 he put it all together.

Bartkowski earned consensus All-American honors and finished 10th in the Heisman Trophy vote after leading the nation in passing with 2,580 yards with 12 touchdowns and seven interceptions. The Bears finished 7-3-1 as Bartkowski, despite a shoulder injury, four times topped 300 yards passing.
Bartkowski then became the top overall pick in the 1975 draft, going to the Atlanta Falcons. He still is the only Golden Bear to earn that honor. He played for the Falcons from 1975-1985 and then one season for the Los Angeles Rams (1986).
He earned NFL Rookie of the Year honors in 1975 but knee injuries bogged down his early career. He and the Falcons bounced back in the early 1980s. He led the NFL in touchdown passes in 1980 with 31 and was selected for the Pro Bowl in both 1980 and 1981. He led the Falcons to their first three playoff appearances in 1978, 1980 and 1982. The Falcons won the NFC West Division in 1980, going 12-4 in the regular season.
Bartkowski continues to be the Falcons all-time leader in passing yards with 23,470. His No. 10 jersey has been retired by the franchise.
Before knee injuries slowed him down, Bartkowski was known as an exceptional all-around athlete. He also was an All-American first baseman for the Bears baseball team in 1973.
Another claim to fame: He was the first client of sports agent Leigh Steinberg.