NCF Nation:

Steve Beauharnais
March, 28, 2013
3/28/13
9:00
AM ET
Rutgers was the last Big East team to open spring practice, kicking things off on Tuesday.
Kyle Flood is back in Piscataway, N.J., for his second season at the helm of the program, and his ninth overall with the school. We caught up with the head coach Wednesday, with one practice in the books and the Scarlet Knights looking to leave a lasting impression as they ready for their final season in the Big East.
What are you looking for Gary Nova to improve upon this spring? What do you want to see from the guys behind him?
Kyle Flood
: I think Gary's got a unique advantage coming into this spring that we haven't had a quarterback have in a long time around here, in that he got a chance to play in 13 football games last year as a starting quarterback and essentially played in the entirety of every one of them. So I think there's an experience advantage that he has that hopefully we can capitalize on. I think the fastest ways we can capitalize on it is if we can keep the highs and make them consistent, and then take some of the low points and take some of the games where maybe he wasn't as pleased with his performance and move him up a little bit, so you don't see the big swings between the really positive games and the games he wasn't happy with. So I think that in and of itself, if we can get to that point -- and I don't know if that happens in just 15 practices in the spring; I think that's the combination of everything he's done since the bowl game, spring practice and then what's going to come afterwards -- but going into next season that's hopefully what we can do.
You guys obviously have a challenge without Brandon Coleman this spring. What are you looking for from the receiving corps during these practices, and is there anyone you're looking to see rise to the occasion?
KF
: I think they're all fighting to find out what their role is going to be. Guys like
Miles Shuler
, who has got a tremendous skill set and really has come a long way in terms of being a receiver the last year. I'm excited to see what kind of spring Miles is going to have. A guy like
Quron Pratt
, who has been an excellent player here — statistically maybe that hasn't shown up, but he really has done a lot of things for us over the last two years. He can now have a much bigger role. When guys like
Timmy Wright
and
Mark Harrison
graduate, it provides opportunity, and with Brandon Coleman not there this spring it'll be even more opportunity for him to showcase himself. And then you've got some younger guys also, guys like
Ruhann Peele
and
Carlton Agudosi
, who are fighting right now to show the coaching staff how big of a role they should have next year.
There's no Coleman, and we know about Savon [Huggins]. Who are some of the other playmakers you are hoping to emerge from spring?
[+] Enlarge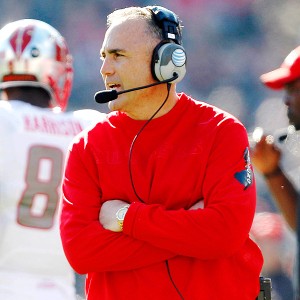 Frank Victores/USA TODAY SportsCoach Kyle Flood said spring drills at Rutgers have been a bit choppy so far -- though that's normal as younger players see more time on the field.
KF
: I have seen so much of Savon through his career right now in terms of practice and then in games -- I'm very confident Savon's going to do an excellent job for us at running back. I think everybody else right now at that position is doing exactly what those young receivers are doing; they're fighting to show us as players how big of a role they should have, and I think that competition is going to be exciting for everybody, including Savon. I didn't get a chance to get to it, but I would feel the same way really about the quarterbacks. I think all these quarterbacks right now, they're lined up behind Gary. And
Chas [Dodd]
is a little bit of a unique commodity in that he's won football games for us at Rutgers. Those guys create a very competitive environment. Every player in our program right now this spring could see opportunity, and that kind of competitiveness in the rooms, and the opportunity that spring provides, it really gives everybody a chance as we go through the spring.
You guys are breaking in two new coordinators this spring. Offensively with Ron Prince, do you expect this spring to be a little bit of a feeling-out period, or do you think things will go over relatively smoothly with him in charge of the offense?
KF
: It'll go over smoothly from coach Prince's perspective and from mine. I think that the bumps in the road are going to be some of the young players who now are going to have a lot more on their plate than they've ever had, and that'll create -- even yesterday in our first practice, some of the young receivers and running backs not having been in the fire, so to speak, are out there and they're struggling to get lined up. They're not as quick as maybe you would like them to be or maybe the group of receivers would have been last year because they were used to doing it. Those are all going to be things that are part of the learning curve as we go forward. I think there are going to be some rougher patches this spring at every position, but generally when those things happen it's much more about the younger players being allowed and given more opportunities than anything else. When you get to the season you're really only repping your starters and your ones and one-and-a-halves, as we call them. So right now everybody's getting reps, and at times that can make it a little bit slower or a little bit more choppy than you'd like it to be, but it's a necessity because you've got to find out what they know.
Defensively, you lose an all-timer in Khaseem Greene and another really good linebacker in Steve Beauharnais. Are those players really replaceable, or do you look for a collective effort from the group?
KF
: I don't think you replace players really at any position. Football is the ultimate team game, and to think that you're going to replace a Khaseem Greene or a Steve Beauharnais, that's really not the way we think about it. We've played defense at a high level here for a long time and we've done it with a lot of different pieces. And I think now what the staff is looking to see is who are the pieces going to be. And at linebacker we've got two guys in
Jamal Merrell
and
Kevin Snyder
, who, in my opinion, have already established themselves as players in our defense. We're trying to figure out who the third piece of that puzzle's going to be. Is that going to be a new Mike? Is that going to be a new Will? I'm not sure I can answer that question just yet. But I'm confident with what we have coming back that we'll be able to continue our tradition here of playing defense at a high level.
Three new starters in the secondary. Jeremy Deering is back there full-time. What do you see from him and that position group as a whole? What makes you feel more comfortable with him back there?
KF
: As coaches I think we'd better always be trying to get our best athletes on the field. And if there is a guy on your team you think can be a starter on defense but he's on offense, and he has a significant role on offense but maybe it won't be showcased the way he could be on defense, I think it's our responsibility to see if that player would have an interest in it. And I approached Jeremy with that decision and he was really excited about it. And it was certainly something that we tinkered with a little bit last year trying to build some depth in our sub packages, and we weren't really able to really put it in as far as we wanted to, but now with having an offseason and needing a guy with the departures of
Duron Harmon
,
Wayne Warren
and some of the other defensive backs, it's really a position on our team that will have more new faces than any other. And we really thought that Jeremy Deering, even though he is going into his senior year, he's got the right skill set to do that. He's got the right frame of mind to do it and he has the desire to do it, and I think Jeremy's going to do very well back there for us.
Big-picture, the Big East has been going through a lot of changes. The conference welcomes in four new teams this fall. I was just curious from your standpoint if there's anything different that you have to prepare for when you're seeing fresh staffs and fresh players on your schedule this season?
KF
: I think with the way the Big East was constituted in the past, we've seen a good variety of pro-style offenses, spread offenses. We have played the academies, so we've seen the option. We had West Virginia in the conference for a long time, so we played against the 3-3 defense. I don't know that there will be anything in this new collection of teams that will be significantly unique. Now I do know that each one will bring very specific challenges and they'll have strengths and weaknesses to their teams just like we do. But those will be things we'll address after spring practice. Right now we're trying to figure out what we are. We're trying to figure out who are going to be the playmakers on our team that are going to be out there. Who are going to be the people in the sub packages, and really what is our football team going to look like? And that's what I'm most concerned about, and I think that's what spring practice is for. We have the schedule, so we know who the first four games are going to be now. We'll get a little bit involved into doing some early game-planning for them, but we won't do that until after spring practice is over.
February, 27, 2013
2/27/13
10:30
AM ET
Memphis

Spring Start:
Feb. 28
Spring game:
April 6
What to watch:
Quarterback: Jacob Karam returns as the starter after throwing for 1,895 yards, 14 touchdowns and three interceptions. But coach Justin Fuente says Karam will be pushed during the spring and has to win the starting job all over again.
Bump up the physicality: Fuente has said repeatedly that he wants to see his team be more physical, especially now that it is joining the Big East. The spring is the perfect chance to improve in this area. "We will play some of the same teams we played last year, but they will be the bigger, more physical teams we played last year," he said. "We have to understand that we have a lot of ground to make up. That is not ground that is made up easily."
Competition at defensive back: The Tigers lose two starters from their defensive backfield -- Cannon Smith and Robert Steeples -- and Fuente is excited about the competition at this position going into the spring.
Rutgers

Spring Start:
March 26
Spring game:
April 27
What to watch:
Quarterback: Even though coach Kyle Flood says Gary Nova is his starter, you can bet there is going to be competition at this position going into the spring, especially with a new offensive coordinator in Ron Prince. That doesn't mean there will be changes, but certainly Prince is going to want to take a look at all the players he has available to evaluate what they can or cannot do.
Defensive leaders: Rutgers lost its top defensive playmakers and needs to find guys who can step in for Scott Vallone, Khaseem Greene, Steve Beauharnais and Logan Ryan, to name four. Plus, there is a new coordinator in Dave Cohen, so there might be some adjustment period.
Huggins stepping up: The time is now for the highly heralded local recruit to live up to the expectations that came with him when he arrived on campus. Jawan Jamison is gone off to the NFL, so all eyes have turned to Huggins to see if he has what it takes to be the next 1,000-yard rusher.
SMU

Spring Start:
March 25
Spring game:
April 20
What to watch:
Replacing Zach Line: The Mustangs have to replace their top runner over the past several seasons in Line, who had three straight 1,000-yard seasons. Leading the charge this spring are junior college All-American Traylon Shead and reserve back Rishaad Wimbley, who switched from defense a few seasons ago.
New defensive starters: The Mustangs lost the bulk of their playmakers on defense in Margus Hunt and linebackers Taylor Reed and Ja'Gared Davis. Finding guys to step up without them is a huge priority. Watch for Zach Wood at defensive end in place of Hunt; and Kevin Pope and Robert Seals at linebacker.
More consistency at QB: June Jones' offense runs best when the quarterback is at his best. Garrett Gilbert returns as the starter, but he is going to need to find much more consistency this spring and into the fall. Two numbers that have to be improved: accuracy (53 percent in 2012) and touchdown-to-interception ratio (15-to-15 in 2012).
USF

Spring Start:
March 20
Spring game:
April 13
What to watch:
New coaches, new style: Coach Willie Taggart has promised to ratchet up the intensity and transform his team into more of a smash-mouth group. That process begins in the spring, when he has his first opportunity to really show his players what he expects out of them. You can bet he expects a lot more physicality from his offensive and defensive lines to start.
Quarterback competition: Who will emerge as the starter? Will we even know after the spring? Matt Floyd and Bobby Eveld, the top two candidates, have plenty of work to do as they fight to win the starting job. But this competition could very well go into the fall, when freshman Mike White arrives on campus.
Defensive back improvement: This was the worst group the Bulls had a year ago and the one in most need of immediate improvement. USF registered two interceptions in 2012, tied with Auburn for the fewest among all 120 schools in the nation. And they both came in the same game -- against UConn on Nov. 3.
Temple

Spring Start:
March 22
Spring game:
April 20
What to watch:
New staff: Matt Rhule certainly has a familiarity with Temple, having served as an assistant there under both Al Golden and Steve Addazio. But anytime a new coach comes in, there is change, so the spring gives him his first chance to really start implementing his style and what he wants to get accomplished.
Quarterbacks: You can bet this competition is going to be open this spring, with Chris Coyer, Juice Granger and Kevin Newsome all returning. Coyer and Granger both started a year ago; Newsome transferred in from Penn State a few years ago. How this shakes out is one major story to watch.
Running backs: Montel Harris and Matt Brown are gone, taking with them 1,426 yards rushing and 16 of the team's 21 rushing touchdowns. Jamie Gilmore got more carries as the season went on when Brown was hurt; Kenny Harper also is back and certainly will be relied upon even more.
November, 29, 2012
11/29/12
11:48
AM ET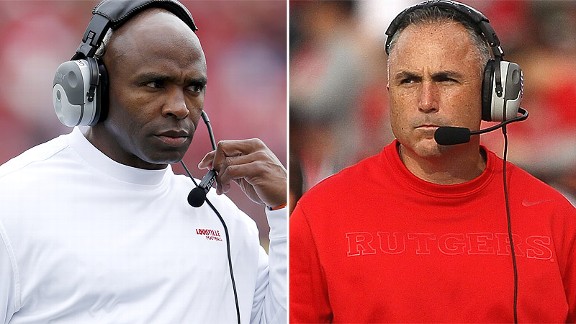 Getty ImagesDespite realignment distractions, Charlie Strong (left) and Kyle Flood's seasons comes down to tonight's battle for the Big East title.
It has been lost on no one that the two teams playing tonight in New Jersey for a Big East title are not long for the Big East world.
Rutgers and Louisville have made more headlines in the last two weeks for where they are headed, not where they belong right now. And yet, there is a football game to be played with Big East title and BCS hopes on the line.
Imagine that, a football game in the middle of realignment madness!
Now, some of the luster may be gone from this matchup because 1) both teams are coming into the game off a loss 2) neither team is ranked in the current BCS standings and 3) both teams are headed out the door in (relatively) short order. It does not help Louisville that speculation already has surfaced that coach Charlie Strong
has interviewed at Auburn
, a report he has denied.
Distractions seem to be the order of the day on both sides, but both coaches said this week they have done their best to keep their players' focused on the huge prize that awaits: a spot in the Orange or Sugar Bowls. Rutgers (9-2, 5-1) already has a share of the Big East title, despite losing last week to Pitt. That is because the Cardinals (9-2, 4-2) also lost, in triple overtime to UConn.
If Rutgers wins tonight, the Scarlet Knights get the BCS berth. If Louisville wins, then we would have to wait for the final BCS standings to make its expected spot in the BCS official. That is what is most important, no matter chatter about realignment or coaches' fates.
"There's a lot at stake for us," Rutgers linebacker
Steve Beauharnais
said in a phone interview this week. "We're just going to have to play our game. There's a reason we got to this point. There's a reason we have nine wins. We have to keep doing exactly what we're doing and everything will be fine."
Well, Rutgers has to do what they were doing in its nine wins. Because last week against the Panthers, the Scarlet Knights did not play their best game. Perhaps the weight of clinching at least a share of their first Big East title ever was too much. This is a team that has struggled before with Big East hopes on the line (see: UConn, 2011; Cincinnati, West Virginia 2006).
Rutgers coach Kyle Flood batted down that theory, though it is hard to just call this another game. The key is to get his players to put what happened last week behind them.
"The focus is on the game and on the schematics and on the players," Flood said. "We're certainly not naive to what the result of the game will dictate for either team. It's a big game. It's the kind of game that you want to be in as a player and as a coach, and it's the kind of game as a program that we hope to be in every year."
Strong has to do the same. Louisville began the season 9-0 but has dropped two straight. Confidence has sagged, and quarterback
Teddy Bridgewater
is nursing a broken wrist and sprained ankle. Strong said this week he has reminded his players of all the good things they did en route to the best start in school history.
Center
Mario Benavides
, one of the handful of senior leaders on this team, believes the Cardinals felt pressure to keep up their unbeaten season. Now, that pressure is gone -- and they can still earn a championship.
"You never want to lose games," Benavides said. "But what happened the last two games, it took away pressure that may have been self-imposed off us. You can say what you want -- it's only human nature to feel a little bit of pressure. There was a stinging feeling after these two losses. But now, I think there's more of an excitement rather than being anxious and being upset and worried about what happened. There's still a championship in front of us."
February, 22, 2012
2/22/12
4:00
PM ET
We continue with our final 2011 position rankings by moving to linebacker. There were plenty of exemplary individual performances in this group, as six teams were represented on the Big East first and second teams. But this evaluation is of the unit as a whole, so I am factoring in the performance of every starter, along with depth and stats.
[+] Enlarge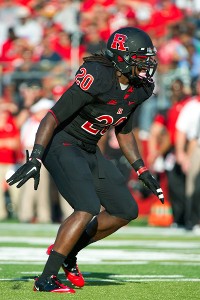 Rich Kane/Icon SMIKhaseem Greene's position switch went better than anyone could have expected, as he ended up leading the conference in tackles.
1. Rutgers.
Khaseem Greene
's move to linebacker was the smartest position change of the year, pushing the Scarlet Knights into the top spot in this category. Greene led the league with 140 tackles en route to Big East Co-Defensive Player of the Year honors. He was essentially all over the field. Greene and
Steve Beauharnais
were the only linebacker tandem to finish in the top 10 in the Big East in tackles for loss. Add in the much-improved
Jamal Merrell
and it's easy to see why this group is No. 1.
Preseason ranking
: No. 4.
2. Cincinnati.
J.K. Schaffer
had yet another outstanding season for the Bearcats, racking up 100 tackles once again. But quietly,
Maalik Bomar
put together a nice year as well, and that helped make up for some serious question marks that surrounded this unit going into the season. True freshmen
Dwight Jackson
and
Nick Temple
made contributions, but on the whole it was the Schaffer show again and that was enough to boost this group.
Preseason ranking:
8.
3. Louisville.
Dexter Heyman
and
Preston Brown
had career seasons for the Cardinals, elevating the position and helping Louisville post another outstanding season on defense. Heyman and Brown finished in the top 15 in the Big East in tackles, and Heyman ranked fourth in the league with 16 tackles for loss. His play earned him second-team honors, and he leaves a big hole to fill for 2012.
Preseason ranking:
3.
4. UConn.
The Huskies were one of two teams without a linebacker on the Big East first or second team. But I thought this position group was vastly underrated for most of the year.
Sio Moore
came up with some big plays, and
Yawin Smallwood
and
Jory Johnson
developed nicely throughout the season. To illustrate how active Moore was, he was the top linebacker in tackles for loss with 16. This unit should be even better in 2012.
Preseason ranking:
2.
5. USF.
The Bulls were the other team without a linebacker named to the Big East first or second team but that shouldn't diminish the season
DeDe Lattimore
had. He had seven sacks, 13 tackles for loss and led the team in tackles. In fact, all three linebackers led the team, in
Mike Lanaris
and
Sam Barrington
. But the group as a whole underachieved, as the Bulls struggled to get teams off the field and were often times out of position to make a play.
Preseason ranking:
1.
6. West Virginia.
Middle linebacker
Najee Goode
had a terrific season, earning first team Big East honors. But beyond him, there were few significant contributions. Injuries hurt and so did inexperience. Plus, the expected emergence of junior college transfer
Josh Francis
never materialized. Between
Jared Barber
,
Jewone Snow
and
Doug Rigg
, there was not much doing in this group.
Preseason ranking:
5.
7. Pitt.
The problem in evaluating Pitt is this --
Brandon Lindsey
played both end and linebacker in the hybrid Panther role. Does he get evaluated with the line group or the linebacker group? He started eight games on the line, so I gave more weight to his contributions at end. However, I did take him into account for this unit, though it was not enough to life this group up much as a whole.
Max Gruder
was solid, but otherwise this was a lackluster bunch.
Todd Thomas
showed some spark but injuries slowed him down. Between
Shane Gordon
,
Greg Williams
and
Tristan Roberts
, there were problems all year.
Preseason ranking:
6.
8. Syracuse.
It was a struggle for the Orange on defense this season, and linebacker was no exception.
Marquis Spruill
had to make the transition to middle linebacker and struggled at times.
Dyshawn Davis
showed glimpses as a true freshman.
Dan Vaughan
actually was the leading linebacker in tackles. You generally want your linebackers to lead the team in that category, and that was not the case this season. But there is talent here. Another year of development for Spruill and Davis could yield big things in 2012.
Preseason ranking:
7.
November, 12, 2011
11/12/11
5:29
PM ET
Rutgers and Army are
tied at 6
at halftime, thanks in part to some key Scarlet Knights defensive stops in the game at Yankee Stadium.


Army got down inside the Rutgers 3-yard line on its first two possessions, but the defense held the Black Knights to two field goals. On their next drive, Army went for it on a fourth-and-2 from the Rutgers 40, but Steve Beauharnais came up with the huge stop on quarterback
Angel Santiago
, starting in place of the injured
Trent Steelman
.
That stop led to Rutgers' only touchdown of the game, a 3-yard pass from
Chas Dodd
to
Michael Burton
. San San Te missed the extra point. The Rutgers offense has been slow to get going with Dodd back in the starting lineup. Rutgers has 35 yards rushing and has been limited to just 11 minutes of possession time because Army plays ball control with the triple option.
Receiver
Mohamed Sanu
already has six catches. He needs 12 to set the Big East record for single-season receptions. Larry Fitzgerald holds the mark of 92.
Eric LeGrand
took part in the coin toss
before the game started. LeGrand was paralyzed a little over a year ago while making a tackle during a game against Army.
October, 10, 2011
10/10/11
4:30
PM ET
The two worst teams in the Big East last season are now among the two best.
How has it happened for Cincinnati and Rutgers?
Defense.
Both teams feature aggressive, opportunistic units that have made huge strides defending opponents, and that is a big reason each team has gone from 4-8 in 2010 to 4-1 at the midway point of the season. A quick check of the stats show how far both defenses have come.
Last season, Rutgers and Cincinnati were the two worst defenses in total defense, scoring defense, pass efficiency defense and sacks. Cincinnati was the worst team in the league in turnover margin.
[+] Enlarge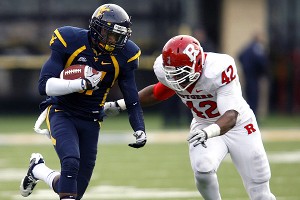 Charles LeClaire/US PresswireSteve Beauharnais has been a key part of an improved Rutgers defense.
Now? Rutgers is No. 1 in scoring defense; Cincinnati is No. 3. Rutgers is No. 2 in total defense; Cincinnati is No. 4. The Scarlet Knights lead the league with 20 sacks. Cincinnati is third with 17.
And the two teams lead the nation in turnover margin. Rutgers has 22 takeaways -- tying the total amount from 2010. Cincinnati is second with 18 takeaways -- four more than all of last season.
Rutgers has gotten so many solid performances from so many of its players, coach Greg Schiano demurred when asked for an MVP.
"The group," Schiano said. "The thing that I really enjoy most about coaching these guys is there is an unselfishness about us. That is the MVP."
There are a few big reasons Rutgers is playing well on defense. Schiano began moving players around the defense to help get more speed on the field.
Among the most significant moves -- Justin Francis to defensive tackle; Khaseem Greene to weakside linebacker; and David Rowe to safety. Greene is in contention for Big East defensive player of the year, as he averages nine tackles a game. Francis leads the league with 4.5 sacks. Rowe has two interceptions this season.
Schiano, whose background is on defense, is now calling the plays for the first time since 2008. Linebacker Steve Beauharnais said that has had a huge impact. At the beginning of training camp, Schiano showed a tape to his entire defense that essentially set the tone for what he wanted out of them.
The tape showed animals in the wild hunting for food. Specifically, Beauharnais remembers seeing lions taking down zebras as their prey. Schiano used it as an analogy for his players -- they needed to be relentless in pursuit of what they wanted. In their case, that meant going after the ball and their opponent.
"At first I was like what does this have to do with football?" Beauharnais said in a phone interview. "But when he stopped to explain it, everybody got the picture. You see us all swarming, attacking. We are real aggressive, and we are always running to the ball."
Schiano also stressed the need to play as one before every practice during training camp. He would hold his two hands far apart, then join them together in a fist. That was his way of showing his players how they needed to come together.
"We've always been friends, but I don't think we've ever been this close," Beauharnais said. "Everybody talks to everybody, and everybody hangs out with everybody. It's like a family."
The mentality has been much the same at Cincinnati. Coach Butch Jones has stressed becoming a more physical team. In fact, there are signs hanging up in the locker room that say, "Live Toughness Daily."
That has shown. The Bearcats have used an aggressive defensive front to help them set the tone in their games. Dan Giordano and Derek Wolfe have four sacks each, and Wolfe is third in the league with seven tackles for loss. In their last two outings, they have held their opponents to negative rushing yards.
What has helped has been the return of all 11 starters on defense. They have gained another year of experience, which means they are another year more mature, and another year more responsible to each other.
"The overall maturity and bond that our team has now is really starting to come into effect," Cincinnati linebacker JK Schaffer said. "Even when the offense isn't putting points up on the board sometimes, we're not saying, 'What is the offense doing? They need to put some points on the board.' No we're like, 'OK, let's go out there and play.' The whole mindset changed. Our team had to grow up. We were immature last year, a little resistant to some of the things we were doing. Now that the team's grown up, we've accepted our jobs and responsibilities. Coach Jones talks about indisputable role understanding and guys are doing that."
October, 1, 2011
10/01/11
4:54
PM ET
San San Te missed a field goal that would have won it in regulation, but he made up for it with a 47-yarder in the second overtime to
lift Rutgers over Syracuse 19-16
.


Rutgers erased a 13-3 third-quarter deficit behind true freshman quarterback
Gary Nova
, who replaced an ineffective
Chas Dodd
after halftime. Though Nova was not perfect, he was able to chip away at that deficit, thanks in part to miscues from Syracuse. The game-tying touchdown pass to
Mohamed Sanu
came after Rutgers blocked a Syracuse field-goal attempt. Rutgers actually returned that block for a touchdown but it was called back on a personal foul penalty on Steve Beauharnais.
That was just the way the game went. It was ugly on both sides. Syracuse had five turnovers -- and the game ended when
Antwon Bailey
had his second fumble of the game and Rutgers recovered.
Ryan Nassib
also threw an interception in the end zone in the third quarter with the Orange up 13-3 and trying to build on their lead. He threw another late in the fourth quarter from the Rutgers 37 as Syracuse was driving for a potential game-winning field goal.
Special teams had some let downs, too. The Orange had one missed extra point, one blocked field goal and a missed field goal as special-teams mistakes really added up.
But Rutgers was no better in the miscue department. The Scarlet Knights had four turnovers, three missed field goals, and eight penalties. Four of them were personal fouls. They struggled to run the ball once again, with five total rushing yards.
The game was far from pretty, but Rutgers will take the win. The Scarlet Knights have now equaled their league win total from last season. As for what happened at quarterback: Dodd was 14-of-32 for 166 yards and an interception. Nova was 14-of-24 for 122 yards and a touchdown. Now you have to wonder whether there is a quarterback controversy at Rutgers.
October, 1, 2011
10/01/11
4:00
PM ET
Syracuse and Rutgers are headed into overtime tied at 13 in one of the ugliest games so far this season.
Rutgers had a chance to win the game in regulation after Steve Beauharnais intercepted a
Ryan Nassib
pass late in the game. But San San Te missed a 44-yard field goal with 11 seconds left -- his third miss of the game. Syracuse has not been much better -- the Orange have one missed extra point, one missed field goal and one field goal blocked in the game.
Rutgers pulled starting quarterback
Chas Dodd
in favor of true freshman
Gary Nova
, who played the entire second half. Though he did not generate much offense, he threw a 3-yard touchdown pass to
Mohamed Sanu
with 2:09 left to tie the game.
July, 6, 2011
7/06/11
4:30
PM ET
We continue our team position rankings with the linebackers. This position was one of the hardest hit in the league with the number of quality players who are gone. You could probably interchange teams 2-7 in the rankings, depending on your point of view. So who is going to step up? Let's peer into the crystal ball.
[+] Enlarge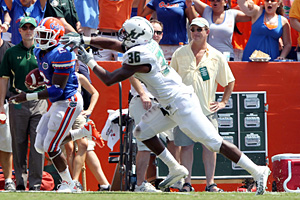 Kim Klement/US PresswireSouth Florida linebacker Sam Barrington, 36, leads the Big East's best group of linebackers.
1. South Florida.
Sam Barrington and DeDe Lattimore form the best linebacking duo in the league, helping put the Bulls into the top spot. By no means have they fully arrived -- plenty of room for improvement here. What also helps with the ranking is depth. Reshard Cliett had a nice spring, after coming into USF as a safety. Junior college transfer Mike Juene was in for spring and also has raised expectations. Mike Lanaris and Curtis Weatherspoon should be important contributors as well.
2. Connecticut.
The strength of the team is on defense, but if there is one group on this unit that has the biggest questions it is linebacker. There is no disputing Sio Moore is one of the best in the league. But the Huskies lost four-year starters Lawrence Wilson and Scott Lutrus. Jory Johnson, Jerome Williams, Mike Osiecki and Yawin Smallwood are all in the mix, but there is no question this group is much more inexperienced than a year ago. Still, Moore makes this a top-tier group.
3. Louisville.
The Cardinals lose Brandon Heath and a few other players who brought valuable experience. But
Daniel Brown
and Dexter Heyman are experienced starters who will anchor this unit. The Cardinals took a hit when Brandon Golson reportedly decided to transfer, so they are going to need to work on some depth.
4. Rutgers.
Some players moved around during the spring -- Manny Abreu moved from strongside linebacker to defensive end, and Khaseem Greene moved from safety to weakside linebacker. These moves should make the defense better. Steve Beauharnais switched back to the strong side from the middle, a move that should benefit him. Ka'Lial Glaud is now penciled in to start in the middle. Marvin Booker had a good spring as well. Depth is an issue and true freshman Quentin Gause and Kevin Snyder could play. But this group should be better.
5. West Virginia.
Najee Goode is a proven big-time player, but there were some huge losses for this unit. Anthony Leonard, JT Thomas and Pat Lazear are all gone. Junior college transfer Josh Francis and Casey Vance are competing on the weakside and Doug Rigg, Tyler Anderson and Donovan Miles on the strong side. Francis would add athleticism to the group, but first he has to win the starting job.
6. Pittsburgh.
The Panthers are transitioning to a 3-4 and experimented plenty during the spring with various combinations. They have experience, with the top seven linebackers on the team returning. Plus Brandon Lindsey is going to play more of a hybrid defensive end/linebacker role. But this was one of the worst units on the team last season. Max Gruder and Greg Williams have to be better for this unit to be ranked higher.
7. Syracuse.
The Orange lose not only two of their best players, but two of their biggest leaders in Doug Hogue and Derrell Smith. Smith led the team in tackles, and Hogue was right behind him, making linebacker one of the biggest question marks on this team heading into the season. Two other contributors, Malcolm Cater and Brice Hawkes, were kicked off the team. That leaves sophmore Marquis Spruill as the only player with significant playing time among the linebackers, and he moved to a new position in the middle. Early enrollee Dyshawn Davis, a receiver in high school, is penciled in to start so that should tell you where this group is headed into the fall.
8. Cincinnati.
JK Schaffer is one of the best in the Big East, but depth here is a concern. Walter Stewart has moved to defensive end, leaving a hole at one of the linebacker spots. True freshmen Nick Temple and Dwight Jackson were in for spring practice are expected to compete for starting jobs. This unit was not very good last year and undersized, making it the group with the most to prove in 2011.
Previous rankings
April, 26, 2010
4/26/10
10:30
AM ET
There wasn't a lot of scoring in Rutgers' spring game on Saturday, but head coach Greg Schiano had to be pleased with the running game.
Joe Martinek
, who will try to hold onto his starting job once some talented freshmen arrive this summer, rushed for 116 yards and a touchdown on 18 carries as the Scarlet team beat the White 16-7. Martinek did his damage behind a makeshift and still evolving offensive line, which will remain the No. 1 question mark of the offseason for Rutgers.
Tom Savage
completed 17 of 30 passes for 181 yards, while freshman receiver
Quron Pratt
led the way with eight catches for 55 yards. San San Te added three field goals. Star receiver
Mohamed Sanu
did not play because of a head injury he suffered in practice earlier in the week.
Antonio Lowery and Steve Beauharnais paced the defense with 13 tackles each.
The Scarlet Knights honored defensive tackle Charlie Noonan as the toughest player of spring practice, while Tim Wright was named the most improved offensive player and Khaseem Greene was recognized as most improved on the defense.
Rutgers drew a school-record 20,114 fans to the spring game, the most in the Big East this year.
April, 14, 2010
4/14/10
9:00
AM ET
PISCATAWAY, N.J. -- Rutgers quarterback
Tom Savage
was talking about the need to mentor the "young guys" on his team when he corrected himself.
"Well, not 'young guys,'" he said, "because I'm still a young guy."
It's hard to tell sometimes with these Scarlet Knights. Their two most recognizable stars are true sophomores in Savage and do-it-all receiver
Mohamed Sanu
, who established themselves as the faces of the program in 2009. Sometimes, young players rising to the spotlight so quickly could cause issues with the rest of the team.
[+] Enlarge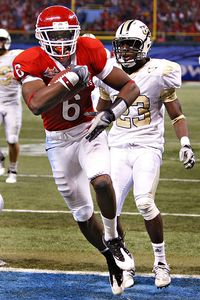 AP Photo/Chris O'MearaMohamed Sanu accounted for nine touchdowns as a freshman, including three scores in a bowl victory over Central Florida.
ut Savage and Sanu aren't your normal youngsters.
"They're such humble guys, and that allows the older guys to not feel like they're stealing their thunder," head coach Greg Schiano said. "They know their place yet they're strong leaders, and you don't see that very much. A lot of great young players are very boisterous or out in front all the time.
"Not these guys. They're grinders."
The roots of success for both took hold this time a year ago.
Sanu wasn't the typical true freshman; he turned 19 in the summer of 2008 -- the result of being held back a year to work on his English after living in Sierra Leone as a kid -- and was ruled ineligible to play as a high school senior. He enrolled at Rutgers in January as a safety and was moved to wide receiver late in spring practice because of a pressing need at the position.
No problem. Sanu -- who was a quarterback in high school -- became the team's second-leading receiver, a dangerous runner in the Wildcat formation and Rutgers' best all-around offensive playmaker.
Savage didn't enroll early, but he made the 90-minute drive from Springfield, Pa., to watch all but one of the Scarlet Knights' spring practices from the sidelines last year. He scheduled his high school classes so that he could skip lunch and leave early, and he'd switch from his school uniform into regular clothes in a bathroom near the practice fields. Despite particularly cold and rainy weather last spring, Savage braved the elements to soak up as much knowledge as he could.
He was thrust into action during the second half of the opener against Cincinnati after senior
Dom Natale
suffered through a three-interception nightmare. Savage went 8-3 as a starter, missing one game because of an injury. It's never easy for a true freshman to command a huddle full of upperclassmen, but Savage found his way.
"When you're still a young guy, you have to earn respect in the locker room," he said. "I didn't feel like I could gain that until I started going out there and making plays. What I learned is that people look for you to speak up and assert yourself. I'm using that now."
Taking charge came more naturally for Sanu.
"I had to be who I am," he said. "You don't have to be a senior or a junior to be a leader. You just have to be confident and step up and make plays."
Schiano placed both freshmen on his players' leadership council last year, which wasn't unusual since he tries to have representation from every class. Unlike previous freshmen who mostly acquiesced to the older guys, though, Savage and Sanu spoke their minds and "were integral and respected members" of the council, Schiano said.
It helps that they're both among the team's hardest workers. Sanu said a typical day for he and Savage usually involves around eight or nine hours in the Hale Center complex. They'll watch film, practice extra throws or go over the playbook long after their team requirements have ended.
"We're rarely in our rooms," Sanu said. "We just love the game and want to get better all the time."
Savage is a perfectionist. Offensive lineman Art Forst recalled a game last season in which the young quarterback was having one of his best days. But Savage missed one read, and that's all he could talk about the rest of the game. After throwing an interception near the goal line at practice last week, Savage slumped his shoulders as he walked toward the sidelines and threw his helmet to the ground.
The dedication and desire from both stars can't help but filter down to the rest of the team, and that gives reason to hope that this otherwise green bunch can compete in the Big East this season.
The stat Schiano likes to recite is that 62 of his 85 scholarship players this season will have three or four years of eligibility remaining. That's as young of a team as he can remember having. So while true freshmen like Sanu, Savage and promising linebacker Steve Beauharnais made an immediate impact last year, Schiano redshirted most of his 2009 signing class, including ESPNU 150 recruits Antwan Lowery and Darrell Givens. Last year, he said, was the first time in his nine years at Rutgers that he had enough depth to hold back players of that skill level.
"I know we're young but at the same time, it's probably the most talented group I've ever seen here," senior defensive lineman Alex Silvestro said.
If several underclassmen prove as precocious as Savage and Sanu, the Scarlet Knights could improve on last year's nine wins. Even if not, they appear set up for a run at their first Big East title in the next two or three years.
"We're focused on this year because it's all we can worry about now," Savage said. "But obviously, if you do the math, we're all young and we're going to be here for a while. And that's fun to think about."
Spoken like a grizzled veteran.
February, 11, 2010
2/11/10
11:00
AM ET
Spring is a time when some players take huge steps toward becoming breakout stars. An example of this last year was UConn's
Marcus Easley
. A walk-on who played without much fanfare his first three years, Easley had a great spring, earned a scholarship and blossomed into one of the best receivers in the Big East during his senior campaign.
Who might be this year's Easley? Here are a few possibilities to watch this spring:
Mike Shanahan, WR, Pittsburgh: Shanahan came on strong at the end of his redshirt freshman season, culminating with five big catches for 83 yards in the Meineke Car Care Bowl win. With Dorin Dickerson and Oderick Turner gone, the sure-handed, 6-foot-5 Shanahan should emerge as the No. 2 option in Pittsburgh's passing game behind Jonathan Baldwin.
Ryan Clarke, RB, West Virginia: Clarke, who is 6 feet tall and weights 230 pounds, gave the Mountaineers the big body they were looking for at fullback last year. But he can also run, as he showed by rumbling for 60 yards on five carries against Cincinnati and scoring eight touchdowns on the season. He could play an even bigger role this season, though touches may be hard to come by with Noel Devine back for his senior year.
Steve Beauharnais, LB, Rutgers: Beauharnais made an impact as a true freshman, recording five sacks -- including two in the St. Petersburg Bowl. Coaches love the 6-2, 230-pounder's athleticism, and he should slide right into a starting role for 2010.
Ryne Giddins, DE, South Florida: An ankle injury limited Giddins to just three games as a freshman. South Florida is seeking a medical redshirt for him. Giddins was the highest-rated recruit in the Big East a year ago, and with Jason Pierre-Paul's and George Selvie's departure, there is an opportunity for him to live up to the billing.
Ryan Griffin, TE, Connecticut: It's been a while since UConn had a top-flight tight end, but Griffin may be that guy. As a freshman, he came on late to make 23 catches for 272 yards and he is an imposing target at 6 feet 6 inches tall and weighing 240 pounds. The Huskies may look to him more as their passing game develops.
Alec Lemon, WR, Syracuse: Like all Orange receivers not named Mike Williams, Lemon struggled with drops early in the year. But he responded late in his freshman campaign and ended the season with nine receptions for 140 yards and a score against UConn. Syracuse needs playmakers in the passing game and would love to see Lemon continue to make strides this spring.
Which players had the best bowl performances from the Big East? Here's our all-bowl team:
OFFENSE
QB Tom Savage, Rutgers
There weren't a lot of big numbers for Big East quarterbacks in the postseason. The Scarlet Knights' true freshman completed 14 of 27 for 294 yards and two touchdowns, with one interception, in a win over Central Florida in the St. Petersburg Bowl.
RB Mike Ford, South Florida
Ford exploded for 207 yards on 20 carries -- almost all of them in the second half -- to help the Bulls beat Northern Illinois in the International Bowl.
[+] Enlarge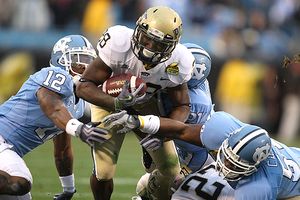 Streeter Lecka/Getty Images Dion Lewis had 159 yards and a touchdown on 29 carries in Pittsburgh's win over North Carolina.
RB Dion Lewis, Pitt
The sensational freshman had 159 yards on 28 carries and a score against North Carolina's tough run defense in the Meineke Car Care Bowl
RB Noel Devine, West Virginia
The Mountaineers' star ran for 168 yards on 16 carries in just three quarters against Florida State in the Konica Minolta Gator Bowl
WR Mohamed Sanu, Rutgers
Yet another freshman standout, Sanu had four catches for 97 yards and a score and also ran the ball 13 times for 41 yards and two more touchdowns.
WR Mike Shanahan, Pitt
Shanahan had five catches for 83 yards, many of them in traffic and in key spots, against North Carolina. And he's a freshman, too.
OT Anthony Davis, Rutgers
The future NFL first-rounder had his ups and downs this season. But he held off Central Florida's impressive pass rusher in a strong performance during his final college game.
OT Jason Pinkston, Pitt
North Carolina came into the Meineke game with the nation's No. 6 defense, but Pinkston helped the Pitt line move the chains and get the win.
C Moe Petrus, UConn
Petrus was part of a group that helped pave the way for 146 rushing yards against South Carolina in the Papajohns.com Bowl.
OG John Malecki, Pitt
OG Zach Hurd, UConn
DEFENSE
DE Lindsey Witten, UConn
The senior was part of a defensive line that overwhelmed the South Carolina offensive front.
DT Kendall Reyes, UConn
He had a one sack and put lots of pressure on Gamecocks quarterback
Stephen Garcia
.
DT Mick Williams, Pitt
The Big East co-defensive player of the year registered a pair of sacks against North Carolina.
DE Alex Daniels, Cincinnati
One of the few Bearcats who had a good night in the Allstate Sugar Bowl, Daniels had a pair of sacks and three tackles for loss against Florida.
LB Max Gruder, Pitt
Playing in his hometown, Gruder recorded 11 tackles and forced a fumble against North Carolina.
LB Scott Lutrus, UConn
The junior had nine tackles, a sack and a fumble recovery against South Carolina.
LB Steve Beauharnais, Rutgers
Another freshman, Beauharnais had seven tackles and a pair of sacks against Central Florida.
CB Billy Anderson, Rutgers
The little-known reserve returned an interception 19 yards for a touchdown near the end of the first half in a key play.
CB Jerome Murphy, South Florida
He had an interception, a fumble recovery and two pass breakups in the International Bowl.
S Robert Sands, West Virginia
Sands was just about everywhere in the Gator Bowl, recording 13 tackles, two of them for loss.
S Robert Vaughn, UConn
Vaughn had an interception and two pass breakups in the Papajohns.com Bowl.
SPECIALISTS
K Dan Hutchins, Pitt
Hutchins hit four field goals, including the game-winning 33-yarder, against North Carolina.
P Jake Rogers, Cincinnati
Rogers punted more than he has in a game all season, but he put half his six punts inside the Florida 20.
KR Mardy Gilyard, Cincinnati
He sure had plenty of opportunities, but he piled up a Sugar Bowl-record 207 return yards on eight attempts.