NCF Nation:

Steve Breaston
January, 13, 2014
Jan 13
10:00
AM ET
The BCS is dead. RIP. As we memorialize the BCS era throughout ESPN.com today, we're selecting All-BCS teams from each conference. As a reminder, the BCS era lasted from the 1998 season through the recently completed 2013 season. To narrow our selections a bit, players had to play at least two seasons in the BCS era to be eligible. Nebraska players are part of our list even though the Huskers played in the Big 12 until 2011.
Here's our Big Ten All-BCS team.
Coach:
Jim Tressel, Ohio State -- Tressel led Ohio State to the 2002 national title, the Big Ten's only championship in the BCS era, as well as seven Big Ten titles (one vacated).
OFFENSE
QB:
Drew Brees, Purdue (1997-2000) -- He led Purdue to the 2000 Big Ten championship and finished his career with league records for passing yards (11,792), touchdown passes (90), total offensive yards (12,693), completions (1,026), and attempts (1,678). Brees won the Maxwell Award in 2000.
RB:
Ron Dayne, Wisconsin (1996-99) -- The 1999 Heisman Trophy winner set the NCAA's career rushing record with 6,397 yards (not including bowl games). He won all the major national individual awards in 1999 and became the first player to repeat as Rose Bowl MVP.
[+] Enlarge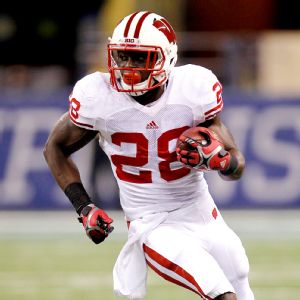 Gregory Shamus/Getty ImagesMontee Ball had 39 TDs for Wisconsin in 2011.
RB:
Montee Ball, Wisconsin (2009-2012) -- The man nicknamed "MoneyBall" tied Barry Sanders' NCAA single-season touchdowns record with 39 in 2011 and set the mark for career touchdowns with 83. He won the Doak Walker Award as the nation's top running back in 2012.
WR:
Braylon Edwards, Michigan (2001-04) -- The Big Ten's most recent Biletnikoff Award winner holds the league record for career touchdown receptions (39) and ranks fourth in career receiving yards (3,541). He's the only Big Ten receiver to record 1,000 yards in three consecutive seasons.
WR:
Lee Evans, Wisconsin (2000-03) -- Evans twice led the Big Ten in receiving yards, eclipsing 1,500 yards in 2001 before rebounding from an ACL tear to record 1,213 yards and 13 touchdowns in 2003.
TE:
Dallas Clark, Iowa (1999-2002) -- Clark earned the John Mackey Award in 2002 after recording 43 receptions for 742 yards as Iowa went undefeated in the Big Ten.
OL:
Greg Eslinger, Minnesota (2002-05) -- One of the more decorated Big Ten linemen in the BCS era, Eslinger won the Outland Trophy in 2005. He was a two-time first-team All-America selection and a three-time first-team All-Big Ten selection for one of the nation's top rushing offenses.
OL:
Joe Thomas, Wisconsin (2003-06) -- Another Outland Trophy winner (2006), Thomas earned unanimous consensus All-America honors that year. He earned first-team All-Big Ten honors in each of his final two seasons and was the No. 3 overall pick in the 2007 NFL draft.
OL:
Dominic Raiola, Nebraska (1998-2000) -- In 1998, Raiola became the first Nebraska freshman offensive lineman to start a game in seven years. He went on to earn the Rimington Trophy as the nation's top center, first-team All-Big 12 honors in his final two seasons and consensus first-team All-America honors in 2000.
OL:
Robert Gallery, Iowa (1999-2003) -- Gallery claimed the Outland Trophy in 2003 as well as first-team All-America honors. He twice earned first-team All-Big Ten honors as the anchor of a nationally elite offensive line.
OL:
Jake Long, Michigan (2003-07) -- Although Long didn't win the Outland, he twice earned consensus first-team All-America honors (unanimous selection in 2007) and twice earned Big Ten offensive lineman of the year honors (beating out Thomas in 2006). Long was the No. 1 overall pick in the 2008 NFL draft.
DEFENSE
DE:
LaMarr Woodley, Michigan (2003-06) -- Woodley claimed the Rotary Lombardi Award in 2006 as the nation's top lineman. A first-team All-American that season, he finished his career with 10 forced fumbles, tied for seventh on the Big Ten's career list.
DE:
Ryan Kerrigan, Purdue (2007-10) -- Unlike most of the men on this list, Kerrigan never played for any BCS bowl teams at Purdue but still had a remarkable career that ended with unanimous consensus first-team All-America honors in 2010. The Big Ten defensive player of the year tied the NCAA record for forced fumbles (14) and recorded 33.5 sacks and 57 tackles for loss.
DT:
Ndamukong Suh, Nebraska (2005-09) -- The most dominant defender in recent years finished fourth in Heisman voting in 2009 (should have been higher) and earned several awards, including the Bednarik, Nagurski and Outland. Suh finished his career with 24 sacks, 57 tackles for loss, four interceptions, three forced fumbles and 41 quarterback hurries.
DT:
Devon Still, Penn State (2008-11) -- Penn State produced a string of outstanding defensive tackles including Still, the Big Ten's defensive player of the year in 2011. Still earned consensus first-team All-America honors after recording 17 tackles for loss.
LB:
James Laurinaitis, Ohio State (2005-08) -- Laurinaitis won major national awards in each of his final three seasons, including the Nagurski Trophy in 2006. The two-time Big Ten defensive player of the year became just the third Ohio State player to earn consensus All-America honors in three seasons.
LB:
Paul Posluszny, Penn State (2003-06) -- Posluszny is one of only two players (Pat Fitzgerald) to twice win the Bednarik Award as the nation's top defender. He became the first Penn State linebacker to twice earn AP All-America honors.
LB:
LaVar Arrington, Penn State (1997-99) -- A freakishly athletic linebacker at Linebacker U., Arrington twice earned first-team All-Big Ten honors and won the Bednarik and Butkus Awards as a junior in 1999. He was the No. 2 overall pick in the 2000 NFL draft.
CB:
Jamar Fletcher, Wisconsin (1998-2000) -- Fletcher claimed the Jim Thorpe Award as the nation's top defensive back in 2000, won Big Ten defensive player of the year honors that year and was a three-time first-team all-conference selection. He's tied for fourth in league history with 21 career interceptions and holds the league record for interception return yards (459).
CB:
Darqueze Dennard
, Michigan State (2010-13) -- Dennard also claimed the Thorpe Award as he helped Michigan State to its first outright Big Ten title in 26 years and a Rose Bowl victory against Stanford. The two-time first-team All-Big Ten selection recorded 10 career interceptions and led the "No Fly Zone" Spartans secondary.
S:
Tyrone Carter, Minnesota (1996-99) -- The only Big Ten safety to win the Thorpe Award, Carter also twice earned first-team All-Big Ten honors and earned unanimous All-America honors in 1999. He set the FBS record for career tackles by a defensive back with 528.
S:
Mike Doss, Ohio State (1999-2002) -- A three-time first-team All-Big Ten selection, Doss earned unanimous consensus All-America honors in 2002 as Ohio State won the national title.
SPECIAL TEAMS
K:
Mike Nugent, Ohio State (2001-04) -- Nugent won the Lou Groza Award as the nation's top kicker in 2004 and claimed consensus All-America honors in both 2002 and 2004. He holds the Big Ten record for consecutive made field goals with 24.
P:
Brandon Fields, Michigan State (2003-06) -- His name is on the Big Ten's punter of the year award for a reason. Fields earned consensus All-America honors in 2004, earned first-team All-Big Ten honors three times and twice led the league in punting, tying for third in career average (45 ypp).
Returns:
Ted Ginn, Ohio State (2004-06) and Steve Breaston, Michigan (2003-06) -- Ginn holds the Big Ten single-season records for kick return average (25.6 ypr) and career punt return touchdowns (6), while Breaston claims the league mark for career punt return yards (1,599) and is tied for third in punt return touchdowns (4).
It's tough enough putting together these teams for one season, much less 16 seasons. You can't please everyone, and many exceptional players didn't make the cut.
We decided to go with five offensive linemen rather than a center, two guards and two tackles, in order to recognize the best overall players in the trenches.
There was some debate for a second receiver alongside Michigan's Edwards, as the Big Ten hasn't exactly mass-produced superstars at the position. Several players had great seasons like Michigan State's Charles Rogers in 2002, but we put more stock into overall career output and went with Wisconsin's Evans, who led the league in receiving in 2001 and 2003.
Cornerback created some debate among Fletcher, Dennard and Ohio State's Malcolm Jenkins, also a Jim Thorpe Award winner. We faced another tough decision at safety between Ohio State's Doss and Iowa's Bob Sanders.
Surprisingly, the defensive tackle spot produced few bona-fide superstars. Nebraska's Suh, who played his entire career in the Big 12, was an obvious choice but a second choice proved to be tough.
Arguably the toughest choice came at kicker between Nugent and Iowa's Nate Kaeding. Both won Lou Groza Awards and set numerous records. We gave the nod to Nugent, but not by much.
July, 22, 2008
7/22/08
1:58
PM ET
Posted by ESPN.com's Adam Rittenberg
The e-mails are flowing in, and it's obvious that Big Ten fans are geared up for the 2008 season.
Let's see what's on your mind:
Shadd, from Toledo, Ohio, writes: Adam, Do you see Ohio State using Terrelle Pryor in a "read option" type of offense when he comes into the game, or do you see the OSU coaches having him execute the same dropback style gameplan that Boeckman plays? Seems like Jim Bollman can be thick headed sometimes when it comes to play packages with different personnel.
Adam Rittenberg: Pryor's skills definitely translate for a read option system, much like the one Illinois uses at times with Juice Williams. It's the reason Michigan wanted Pryor so badly for its new offense. Though he will be used in those situations, I think Ohio State also will have Pryor operate in a more traditional system as he progresses. The first two games, Youngstown State and Ohio, provide excellent opportunities for Pryor to get playing time and run the team's standard offense. If he shows he can pass effectively against college defenses, the Buckeyes should gradually increase his workload. His transition as a runner and a playmaker will be easier than as a drop-back passer, but he's got to learn sometime.
---
Andrew from Pittsburgh writes: First off, the 2005 field goal kicking meltdown occurred at MSU, not at Michigan. I was at that game, and at the Ohio State game a week later, and I can personally say that the OSU match-up was infinitely more heartbreaking. However, those two losses pale in comparison to the agony of Notre Dame, 2006. I vaguely remember the feeling of happiness while building a lead, but otherwise the entire evening is nothing but a cold, dark, and lonely sinkhole of a memory that haunts me to this day.
Adam Rittenberg: Thanks to Andrew and several other e-mailers for pointing out that the 2005 Michigan-Michigan State game did take place in East Lansing, not Ann Arbor. Like Minnesota, Michigan State has had too many traumatic losses in recent years. I covered the Notre Dame game in 2006, and it was a total collapse for the Spartans. The game began under clear skies, but the rain came at halftime and gradually increased. Michigan State led 37-21 with 10 minutes to play, but then went ultra-conservative on offense down the stretch as Notre Dame rallied. Drew Stanton didn't throw a pass in the fourth quarter until three minutes remained, and ND cornerback Terrail Lambert intercepted it and scored the game-winning touchdown. The loss spelled the end for coach John L. Smith and sparked one of the greatest radio rants I've ever heard.
---
David from Champaign, Ill., writes: Do you believe the matchup this year between Illinois-Indiana at 8pm in Champaign will be one of the more exciting games in the Big ten this year? Everyone around here is really looking forward to it! Also, what are your thoughts on Greg Middleton and rising star LB Matt Mayberry? How can we slow down the two quick defenders this year?
Adam Rittenberg: David, as an Illinois fan, you might want to be a little more concerned about Missouri, Wisconsin, Penn State and Ohio State than the Hoosiers, but that game will definitely be worth watching. I've gotten several e-mails about Mayberry, a junior middle linebacker who made 42 tackles as a reserve last season. It seems like hopes are very high for him to solidify Indiana's defensive midsection. Middleton is a beast, but Xavier Fulton can hold his own at left tackle. Should be a great matchup. I'm also interested to see two of the league's most versatile quarterbacks, Juice Williams and Kellen Lewis.
---
Stan in Grand Haven, Mich., writes: OK, I'm a UM fan so I hope you won't write this off before reading it. WR/TE rankings: did you forget about Carson Butler? Injury and his attitude lessened his p.t. a bit last year, but the dude is one of the best in the conference at his position. Also, why factor in the QB when ranking the unit? That makes no sense--it's like discounting a RB because his line isn't that good. Think Barry Sanders. Finally, all you have to ask yourself when ranking units is which one you'd trade for the other. I guarantee if you were Michigan's coach and you traded your receiving unit for that at Northwestern, you'd be fired instantaneously. 'Nuff said.
Adam Rittenberg: Stan, I'll never write you off, but I've got a hard time bumping up the Wolverines because of Carson Butler. He had a nice grab in the Capital One Bowl, but 39 catches in two years? Even with the off-field stuff and the injury, I need to see more from him. These preseason rankings are largely based on what these players have showed in the past, and besides Greg Mathews and Butler, Michigan hasn't shown much. It doesn't mean with additions like Darryl Stonum, Michigan won't have one of the league's top receiving corps in November. But judging the Wolverines against experienced groups, including Northwestern's, it's hard to put them higher right now. Rich Rodriguez shouldn't want to trade any of his players, but I'm sure he'd love more experience at that position.
---
Brian from New York, N.Y., writes:I'd like to comment on Penn State's returning DL if I may as I truly believe this could prove to be the best Penn State Defensive Line any of us have ever seen. Of course, every CFB fan knows who Maurice Evans is due to the terrific job he did in earning All-Conference honors last year as a true sophomore. But are outsiders aware of the fact PSU actually returns 52 starts from last year across the line? This represents every player from a unit that finished 2nd in the nation in sacks (46) and 7th in rush D, so we're talking about much more than just Mo Evans here. Opposite Evans at DE is Josh Gaines who started all 13 games and racked up 5 sacks while splitting time with situational pass rusher redshirt freshman Aaron Maybin who had 4 1/2 sacks of his own. And the depth inside - fuggadaboutit! Larry Johnson basically has five proven starter quality DTs in his arsenal including: Jared Odrick, Ollie Ogbu, Abe Koroma, BIG Phil Taylor and Chris Baker. The thing to remember with this group is four of the five were merely 2nd year players last fall meaning, redshirt freshmen or true sophomores. Have I mentioned freshmen Devon Still and Chimaeze Okoli yet? Let's just say the word this spring is both freshmen are "impressive". Anyways, just want to mention PSU's returning DL before you and others "lock" Wisconsin or somebody else into the #2 conference finish spot behind OSU in the Big Ten this preseason because last year's youngsters in the Blue and White are certain to be even better in '08.
Adam Rittenberg: Brian, that's a quality breakdown of Penn State's defensive line. The Nittany Lions have the league's best defensive front in my view, just ahead of both Ohio State and Illinois. There's experience and talent throughout the line, and the front four will help Penn State survive the loss of linebacker Sean Lee. I ranked Wisconsin at No. 2, but the Badgers are by no means a lock, particularly with all the injuries they had in spring ball. Penn State could jump into that spot, but a reliable quarterback must be identified in preseason camp.
---
Steve from Anchorage, Alaska, writes: I think Steve Breaston should have been a special teams addition to the All-Lloyd list in the Free Press. When he was healthy, Breaston was a threat every time he touched the ball. That sick return against Illinois where he watched it bounce toward the sideline, grabbed it just before going out, then made 10 guys miss back and froth acros
s the field before scoring stands out.
Adam Rittenberg: Steve, glad to hear Big Ten football is alive and well in Alaska. Breaston would have been a solid addition to the All-Lloyd team. He was the league's most feared return man for several seasons. After seeing your note, I checked out Breaston's highlights on YouTube this afternoon. The Illinois return is third on the rundown. What a play. By the way, any highlight clip with Kool Moe Dee rapping in the background will find its way to this blog.