NCF Nation:

Steve Clarkson
July, 26, 2012
7/26/12
3:30
PM ET
Recruiting is out of control.
Surely you heard the big news today. Kevin Gemmell, who is supposed to be sharing the Pac-12 blog with me going forward, has committed to Oregon -- for the class of 2017, reportedly because joining the Ducks seemed like a cool way to celebrate his 40th birthday.
And that paragraph is only slightly more fantastical and fatuous and phony than this recent uptick in middle schoolers committing to big-time programs.
The latest is this
: Rising eighth grade quarterback Tate Martell of San Diego has "committed" to Washington.
And by "committed," we mean an exchange took place with all the depth and meaning of a pronouncement of affection from a Kardashian.
This really has nothing to do with a recent trend in recruiting. It has to do with a recent trend of attention grabs and a belief in the awesomeness of any sort of publicity.
Martell might end up at Washington. And he might end up at Eastern Washington. Or he might end up playing baseball. Or deciding he prefers theater. Or he may join the circus. Nothing he does in football this year matters. And, really, nothing he does until his junior season of high school matters.
The only way he gets a scholarship to play football at Washington is if he proves to be good enough when he is a mature high school player. And, along the way, he might decide he'd rather play for Michigan, Texas, Oregon State or Florida.
My point: Nothing in the universe of college football changed today. Martell is no closer to a football scholarship to Washington than he was yesterday, nor is he bound in any way to go to Washington.
I wrote the same when
David Sills
committed to USC as a 13-year-old in 2010. Utterly meaningless. I continue to believe the odds are remote that Sills will ever play quarterback at USC.
So why does this happen? The best answer is also the worst: Why not? Just because a gesture is meaningless doesn't mean it won't produce a momentary media tempest in a teapot.
The other answer is this: Steve Clarkson, prep quarterbacks guru, loves publicity. And he's the common denominator here. From the ESPN.com story:
While the early commitment certainly caught most of the college football world off guard, Clarkson said plenty of thought went into it from Martell and his family. The 14-year-old is close with Sills, who made a commitment to USC as he was entering the eighth grade.

"The family followed that situation," Clarkson said. "He's seen how that unfolded. But that's kind of the trend. The landscape has changed."
No, it hasn't. It matters not a whit what these guys look like now.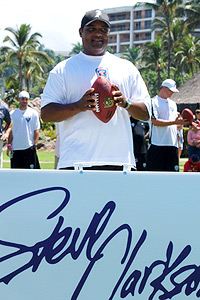 Kevin ShepardHigh school QB guru Steve Clarkson has tutored Tate Martell and David Sills, very early commitments both.
Clarkson has the respect of many folks in football. His track record is strong tutoring quarterbacks. He's a proven commodity. But he's also a businessman. He knows this story sells him more than anything else. And, well, feel free to read into what Clarkson
calls himself on his website
: "Dream maker."
While many folks slap their foreheads over 13- and 14-year-olds "committing" to big-time college sports teams, there also are a number of, er,
highly involved
daddies and mommies who are looking at their cherished little sprout as he toss a Nerf ball around the living room thinking, "I got to get me some Steve Clarkson!"
From
Mitch Sherman's story
:
According to Clarkson, it's the wave of the future. Athletes are more specialized today, often spending three times as many hours per year on football than the players of a generation ago. They ought to be ready to make such decisions much earlier, he said.

"The next time a sixth- or seventh-grader commits," Clarkson said, "you've already been doused with the frozen water, so the shock is gone."

Clarkson said programs like his, which identify and groom quarterbacks barely into their teens, are growing in prominence as high school football loses some of its power in recruiting.
Let me tell you something without an iota of doubt: No, this is not the wave of the future. An annual blip? Sure. A trickle? OK. No wave here, though. Mostly because it makes no sense to conduct business this way. For one, so much can change in five years. For example, one of the reasons Martell liked Washington was that former quarterback Jake Locker was his favorite player. Well, what happens is Locker never pans out in the NFL? Will that thinking still hold for Martell?
So, you say, what do Lane Kiffin and Steve Sarkisian get out of this? Ah, glad you asked. For one, they have nothing to lose. But recruiting is a spiderweb of intrigue. The public looks at one spot getting touched and don't take note of more notable vibrations elsewhere.
Kiffin, you might already have deduced, is crazy-smart like a fox in recruiting.
Guess who Sills just happens to be
teammates and good buddies

with?
Kenny Bigelow
,
the No. 2 defensive tackle in the country, who is committed to USC for the 2013 class, and
Khaliel Rodgers
,
a four-star offensive guard who also is committed to USC in 2013. Now those are two meaningful commitments.
How connected are these three guys? When Red Lion Christian Academy in Bear, Del., decided to to become more of a school with a football team that a football team with a school,
all three transferred

to Elkton (Md.) Eastern Christian Academy.
Some might counter that Kiffin didn't know about these two in 2010 when Sills committed. Fine. My response: Kiffin is crazy-smart like a fox in recruiting. Funny how this is working out so well for him, eh?
Yes, recruiting is out of control. It has been for some time. But the next wave isn't 13-year-olds committing. Something irrelevant can be quirky or even interesting and inspire some media rubbernecking, but it ultimately will fail to hold sway in a high-stakes game based on a real-live bottom line.
October, 16, 2009
10/16/09
10:24
AM ET

Posted by ESPN.com's Ted Miller
The hype machine hummed with no small amount of justification this week about
Jimmy Clausen
and
Matt Barkley
. The thousands of words that have poured forth about these two quarterbacks, connected and divided by so many opinions and sentiments and measures and public and private moments apprehended and misapprehended, diligently aspired to describe the compelling contrasts and similarities that braid them together in a cardinal and green rope of rivalry and friendship.
| | |
| --- | --- |
| | |
| | Getty Images |
| | Examining the matchup between Matt Barkley and Jimmy Clausen is an exercise in comparisons and contrasts. |
It was an analytical circus that almost eclipsed the football game USC and Notre Dame will play Saturday.
Start with this.
When Clausen picked Notre Dame over USC in 2006, he was "the
most acclaimed
California prep quarterback since John Elway."
When Barkley, a lifelong USC fan, committed to the Trojans his junior year in 2008, he was "
a cross
between Joe Montana and [Tom] Brady."
Both southern California products were rated the No. 1 prep quarterback in the nation when they were high school seniors, Clausen at Oaks Christian and Barkley at Mater Dei. Both were longtime students of respected quarterbacks guru Steve Clarkson.
Two years separated them. As personalities, they were very different. But their innate awareness of comparable talent drew them together.
"Every time I go back home during the offseason, Matt is always around," Clausen said. "We're always throwing the ball, hanging out, stuff like that."
But very different.
Clausen committed to Notre Dame from inside the College Football Hall of Fame in front of about 300 people and a TV crew from ESPN. He arrived via a stretch Hummer limousine. He talked about winning multiple national titles. He wore a suit that looked expensive but didn't fit him well. His hair was spiked and gelled.
Barkley released a statement and talked to a handful of reporters when he quietly committed to USC. There was no pomp. There was no circumstance. There was no big, white Hummer. It remains unclear if Barkley actually combs his hair, which already hints at early recession.
A Barkley quote from shortly after he committed as it appeared in the
New York Times
: "Jesus Christ is No. 1 to me," said Barkley, who has a 3.9 grade point average. "That's who I play for."
Do a search on Google images of "Jimmy Clausen" and then "Matt Barkley." Who gets the unflattering, mocking photos? And who doesn't?
So, clearly we have a good guy -- a West Coast Tebow -- and a self-absorbed brat, right?
Great news. It's more complicated that that, more nuanced. To spoil the potential cliffhanger: The folks who actually know Clausen seem to like him. And, you know, maybe he got some bad advice on how to handle his commitment and that one moment shouldn't entirely define him as a person.
"I've grown a lot," Clausen said. "When I first walked into Notre Dame, I didn't really know and expect what it was to be the quarterback at Notre Dame. I've had to deal with some things on the field, off the field."
Clausen mostly stops there and redirects from any deeper introspective insights. He's become pretty jaded -- not without justification -- with this whole "talk about himself to reporters thing," though he seems pleased to learn that USC linebacker Chris Galippo spoke highly of him.
Is Clausen cocky? The question didn't irritate Galippo so much as arouse a linebackery defense.
"No, not at all," Galippo said. "If anything, he's an extreme competitor, which we all are. Regardless of the vibe he gives people, the guy is an awesome football player. He's a guy who goes out and works his tail off. He's easily the best quarterback in the nation right now.
That may be true. Clausen leads the nation in passing efficiency. He's completed 68 percent of his throws with 12 touchdowns and just two interceptions.
Moreover, he's played through pain -- he's been nursing a turf toe for weeks -- and has led the Irish to three dramatic comeback wins.
Perhaps he should be a leading Heisman Trophy candidate? All he has to do to legitimize his candidacy is end the Fighting Irish's seven-game losing streak against the Trojans.
"I think that he's had a heck of a year," Notre Dame coach Charlie Weis said. "I mean, you look at what he's done through these first five games. There couldn't be anyone in the country playing any better than him. But now he is going against the best defense that he's seen all year long. So I think these are the type of moments where you really get judged on how well you do when you go against the really, really good guys."
Speaking of really good guys: Matt Barkley!
Playing his first career away game in front of 100,000-plus at Ohio State, Barkley became a sensation when he led a 14-play, 86-yard, fourth-quarter drive to beat the Buckeyes.
He's seems completely unflappable. His arm is special. He smiles a lot. His teammates rave about him. Coach Pete Carroll calls him an "outlier," meaning he's
human but just barely
.
His numbers -- three touchdowns and two interceptions -- won't blow anyone away, but that doesn't stop Carroll from gushing.
"He really has everything you're looking for," he said.
There are many potential topics to ask Barkley about -- his maturation, Notre Dame's struggling defense, his decision to turn down an invitation to join the
X-Men
, etc. -- but one sticks out.
So is Clausen cocky?
"I think people might get the wrong image but I actually admire that about him," Barkley said. "He's confident in how he can play and his abilities and I think it's really coming out and showing this year. It might have come out wrong in a couple of instances, what people might take from what he's said or what he's done. And that's not who I am. I'm going to take a different route. That's how he is. That's how he plays. It's working out well for him this year."
Just a hint of compare-and-contrast there, eh?
There is an itty-bitty bit of entertaining tension present, bubbling just beneath the surface. After all, it's USC-Notre Dame.
For example, when asked about Barkley, Weis praised his supporting cast: "I think the one thing he does very well is he knows who his playmakers are and he gets the ball in their hands."
Asked about how Barkley is different from Clausen as a freshman, Weis said, "I think that Jimmy wasn't around as good a supporting cast. That might be the biggest understatement I might ever say."
Meanwhile, Carroll basically said that Clausen didn't come to USC because he was afraid of competing with Mark Sanchez.
"I felt like he was concerned about who else was around and was coming and all that," Carroll said. "He was trying to take a look at situating himself in the best position where he could play early ... He had a lot of respect for Mark and thought that in all likelihood Mark might have a chance to be ahead of him, which he would have been."
Countered Clausen, "No, that wasn't a factor at all."
Hmm. Clausen became Notre Dame's starter by the second game of his true freshman year. If he'd gone to USC, it's likely he would have competed with Barkley for the starting job this past spring and preseason after waiting for Sanchez to become a top-five NFL draft pick following his junior year.
Clausen vs. Barkley would have been interesting.
But their competition will have to be settled on the field Saturday in the high grass before Touchdown Jesus. These two hyped, golden-boy, southern California quarterback recruits -- and friends! -- will have at least one opportunity to win dominance over the other head-to-head.
Barkley isn't supposed to be the brash one, but he found it difficult to duck the notion that bragging rights are at stake.
"Possibly. Maybe after the game," he said. "I don't like to think about that stuff heading into a game. But there might be. I guess there will be a little individual battle between us two as well."