November, 17, 2011
11/17/11
10:15
AM ET
Here's what to keep an eye on Saturday when the Irish host the Eagles:
Manti Te'o: The junior linebacker says he is healthy. The projected first-round pick might just be playing his final game at Notre Dame Stadium. And he has certainly heard all the talk about Boston College linebacker Luke Kuechly. All of this should add up to another strong Te'o performance, much like his most recent game in South Bend, Oct. 29 against Navy.
Another strong performance from Robby Toma: Theo Riddick is not expected to start, leaving Toma, the 5-foot-9, 185-pound junior, to fill his shoes at wide receiver. He was more than capable last week, just as he was last season. If we've learned anything about Toma, it's that he knows how to make the most of his limited opportunities.
Steve Filer and Mike Ragone: These two seniors won't be on the field for their class' final home game, but the two will be honored for their Notre Dame careers. Each has suffered a season-ending ACL injury, and Filer even put off surgery until after this game to enjoy his final walk through the tunnel. It will be nice to see this duo get proper recognition.
November, 12, 2011
11/12/11
7:41
PM ET
LANDOVER, Md. — Darius Fleming is tonight's game captain for the Irish, joining season captain Harrison Smith. Fleming, normally No. 45, is wearing No. 46 tonight in honor of teammate and fellow Chicago native Steve Filer, who is out for the year with an apparent ACL tear.

Maryland won the toss — flipped by Joe Theismann — and will receive the ball first.

Also worth noting is that senior end Ethan Johnson was lined up with the first-team defensive line in warmups. Johnson is expected to play tonight for the first time after spraining his right ankle on the first snap Oct. 1 at Purdue. He has dressed for the three previous games but did not see any action.
April, 8, 2011
4/08/11
3:00
PM ET
SOUTH BEND, Ind. -- Brian Kelly's No. 1 task when taking the Notre Dame job was pretty simple. Even during the hiring process, Kelly said he was asked repeatedly, "How are you going to fix the defense?"
"Like a business, Notre Dame wasn't balancing the books," he said. "They were strong on offense but couldn't play defense."
So the most encouraging aspect of last year's 4-0 finish was how well the defense played down the stretch. Opposing teams couldn't run the ball on the Irish, and the defense yielded just one touchdown in the final three regular-season games -- and that only came after the Notre Dame offense turned the ball over at its own 2-yard line at USC.
[+] Enlarge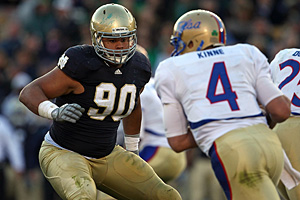 Jonathan Daniel/Getty ImagesEthan Johnson (90) has high hopes for the Notre Dame defense this season.
Those questions about fixing the defense no longer hover over the program this spring. While the repair job is far from complete, the Irish have high optimism for that side of the ball and plenty of returning talent to mix with some promising newcomers.
"We're just looking to build off of what we did last year," defensive lineman Ethan Johnson said. "We're shooting for the stars. I think that coming back with the same coaches and the same defense is really going to help us get to the next level."
Johnson is one of seven defensive starters from the Sun Bowl win over Miami who are back this season, and several others saw major playing time in 2010. The defensive line, long a sore spot for the Irish, has developed into a strength. Louis Nix, who didn't play as a freshman, should provide a formidable presence at noseguard, and early enrollee Aaron Lynch will add depth at defensive end.
If there's a position that gets Kelly excited, though, it is the two outside linebacker spots in his 3-4 alignment. Kelly didn't begin to favor that formation until his final year at Cincinnati in 2009, when he had freshman Walter Stewart try to take on tackles at barely 200 pounds. Last year, he tried several players at the two outside spots, and it took Darius Fleming a while to play up to his potential.
This year, Kelly says Fleming is looking great at 245 pounds. Prince Shembo and Danny Spond are "230-, 240-pound guys with quick-twitch movements who can play out in space." Steve Filer is another athletic specimen backing up Fleming, and early enrollee Ishaq Williams is too talented and physically gifted not to help.
"We have a lot of depth," Kelly said. "Last year, there was a difference between the [players at] the boundary and the field positions. Offenses knew which way to fan protection. Now, it's pick your poison. Do you want to block Fleming with the back or block Shembo with the back?"
Notre Dame is thin at the cornerback spot, but Kelly believes starters Gary Gray and Robert Blanton are as good a pair as any in the country. Safety Harrison Smith has developed into a real leader after grabbing seven interceptions last year, fourth most in the nation.
"At first, I thought he worked hard but didn't have anything that stood out. He was just there," Kelly said. "But when you have success, everything changes. Your entire psyche changes. Now his presence is felt. He truly is a leader in the locker room and on the field."
The building job is not over. Kelly needs to continue adding depth and will focus on the defensive backfield in recruiting this year. But he is no longer being asked how he plans to fix the defense.
"I personally felt like we always have had a tough group here," Johnson. "I think we were just able to pull it all together with everybody working toward a common goal. For whatever reason, we're jelling really well now."
August, 19, 2010
8/19/10
7:21
PM ET
Middle linebacker was supposed to be the area of heavy competition this fall camp for Notre Dame, but the most intriguing battle might be shaping up at the outside "dog" linebacker spot.
Irish coach Brian Kelly said after Thursday's practice that senior Kerry Neal had moved ahead as the starter there. Senior Brian Smith had entered camp as the starter, but was passed up by Steve Filer in the past week. Kelly stressed that the competition was ongoing.
Several players missed practice with minor injuries. The biggest name was tight end
Kyle Rudolph
, who continues to nurse a sore hamstring. Kelly said Rudolph would be shut down through the weekend. But he and others like Ian Williams (toe) and Anthony McDonald (hyperextended leg) should be healthy in time for the opener against Purdue, Kelly said.
Before practice, legendary former Irish coach Ara Parseghian spoke to the team.
"It was really cool to be on the field and have him come out and really take control of the huddle," Kelly said. "This isn't a guy who doesn't have an aura about him. He really took control of the huddle. He talked about mental toughness and physical toughness and what it takes to win."
November, 30, 2009
11/30/09
7:37
PM ET
What's most amazing about how spectacular Charlie Weis failed in 2009 is how much the season was set up for him to succeed.

The Notre Dame schedule wasn't the cream-puff lineup as some people described it, but by Irish standards it was very manageable. Only three teams on the entire slate -- Pitt, USC, and Stanford -- are ranked in the Top 25, and none of them are among the nation's top 14. Stanford wouldn't be ranked if Notre Dame had won Saturday's game, while USC came to South Bend with its most vulnerable team in several years.

All Weis really had to do to keep his job was to beat Navy and Connecticut at home and a Michigan team that finished 5-7. That would have made the Irish 9-3 and given the coach a strong argument to return for a sixth year. Yet he couldn't do that or avoid a disastrous four-game losing streak to end the season despite having one of the best quarterbacks in school history (Jimmy Clausen) and the finest receiving season ever by a Domer (Golden Tate).

Notre Dame's best wins this season were against 8-4 Boston College, 6-6 Michigan State and 4-7 Washington. Not exactly the kind of victories you include in a great moments in history section of the media guide.

Because of all that, as athletic director Jack Swarbrick said Monday night, "you couldn't know with significant certainty that next year's results would be better."

Here's what I think is certain: if Swarbrick hires the right caliber of coach, he'll produce much better results than Weis.

Notre Dame is not the super power it once was, but it's hard to go 3-9, 6-6 and 6-6 in three straight regular seasons in South Bend, as Weis did. Sure, the Irish will lose Clausen and probably Tate, much of their offensive line and several defensive starters. But the cupboard is far from bare.

Dayne Crist, who should return from an ACL injury by the spring, was a highly-rated quarterback recruit who got some valuable experience this year. Star receiver Michael Floyd returns, along with promising youngsters John Goodman and Shaq Evans. Tight end Kyle Rudolph is back, as well as running backs Armando Allen, Robert Hughes and Theo Riddick.

Defensively, the Irish can build around guys like Darius Fleming, Steve Filer, Kapron Lewis-Moore, and future superstar Manti Te'o, assuming Te'o does not go on his Mormon mission after this season. Yes, the defense needs serious improvement, especially in its tackling, but that's what good coaches do.

Weis got this team close this year but couldn't get over the hump. Ten of Notre Dame's games were decided by a touchdown or less.

Next year, the Irish have Army, Tulsa, Navy and Western Michigan on the schedule and get Purdue and Michigan at home. Those are six winnable games right there.

Weis's failure was in not winning the games he should have won and never winning the games he wasn't expected to win. That's not a very high standard for the next guy to achieve.