NCF Nation:

Steve Marshall
April, 4, 2012
4/04/12
1:30
PM ET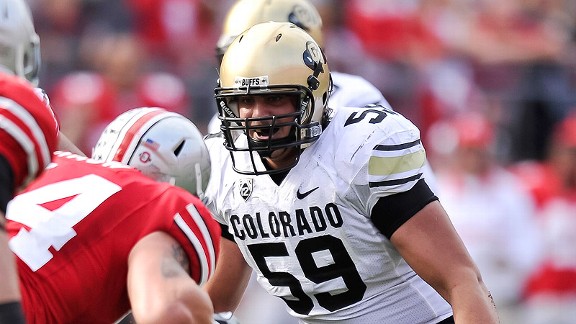 Jamie Sabau/Getty ImagesOffensive tackle David Bakhtiari has high expectations for the Buffaloes this season.
Receiver
Paul Richardson
is Colorado's best player. He's got Pac-12 speed, which the Buffaloes were sorely lacking in 2011. Coach Jon Embree's chief task in recruiting is to get more Paul Richardsons -- speedy guys for both sides of the ball.
But the rebuilding project in Boulder is going to require just as much
David Bakhtiari
as Paul Richardson. Bakhtiari, the Buffs' left offensive tackle, earned second-team All-Pac-12 honors in 2011 as a sophomore, the only Colorado player to get an All-Conference nod.
He's a want-to guy. A guy who talks about chemistry and a sense of urgency. A guy willing to lead. A guy who seems slightly bothered -- politely so, of course -- when a reporter notes the Buffs' significant holes heading into 2012.
Why should folks believe Colorado can improve on a 3-10 finish despite losing its top passer, top rusher and top-two receivers (Richardson missed four games due to injury)?
"There is definitely a sense of urgency that I can see from last year's team to this year's team," Bakhtiari said. "People are moving around with a purpose. They are buying into our common goal, which is a bowl game. We've decided we are tired of going home in December and watching all these games."
Bakhtiari has been impressed with QB
Connor Wood
, the Texas transfer who has the inside track to replace
Tyler Hansen
. He raves about RB
Tony Jones
, who will step in for
Rodney Stewart
. Stewart only led the Buffs in rushing four consecutive years and now ranks second on the school's all-time rushing list. And a healthy Richardson is the obvious choice to replace the receptions that departed with Stewart (45) and
Toney Clemons
(43).

But if the Buffs are going to improve, they are going to need to score more than 19.8 points per game, a total that ranked last in the Pac-12 in 2011. That starts with Bakhtiari and the O-line, which is replacing guards
Ethan Adkins
and
Ryan Miller
.
Offensive line coach Steve Marshall,
speaking to B.G. Brooks
, called Bakhtiari "probably was our most productive player (in 2011) game in and game out." He'll be protecting Wood's blindside as well as leading the charge for a rushing offense that needs to do better than 3.5 yards per carry and 109 yards per game.
Like most Colorado players, Bakhtiari was recruited by Dan Hawkins, a far softer touch than the demanding, straight-talking Embree. (Said Bakhtiari, "Embree is a little more, 'I want production and I'm going to get it.'"). Unquestionably, there was an adjustment to the change in styles in 2011. There was a lot less nurturing and a lot more barking at practices. And Embree isn't afraid to publicly question his players commitment to winning.
But there were hints of accord late last season between coaching staff and locker room. After a 1-9 start, the Buffs won two of their final three games, including a shocking and impressive 17-14 win at Utah, which knocked the Utes out of the Pac-12 title game.
"Guys are now understanding what these coaches want and how they want it to be," Bakhtiari said. "Last year, we were kind of chickens with our heads cut off."
That's a start. It's probably going to take a few more Richardsons and Bakhtiaris to get the Buffs into Pac-12 South Division contention. But that's a start.
December, 20, 2010
12/20/10
9:00
AM ET
A few thoughts on the weekend's happenings:
Roy Finch
has arguably been Oklahoma's most electrifying ballcarrier this season, but they'll be without him in the Fiesta Bowl after the freshman running back suffered a stress fracture in a non-contact drill during practice last week. Finch will be missed most in Oklahoma's
"diamond" formation that featured three running backs
surrounding quarterback
Landry Jones
, and he'll finish the year with 398 yards and a pair of touchdowns, just missing
my Big 12 All-Freshman team.
Senior
Mossis Madu
will fill Finch's void, so it's not a pressing concern for the Fiesta Bowl's heavy favorites.You'll remember, he missed the first five games of the season after fracturing his left ankle on the same foot that suffered this most recent injury. The Sooners can take some comfort in the injury taking place in the same foot, and Finch will take 6-7 weeks to heal before returning for spring practice.
But moving forward, one more injury, especially one that's unrelated to the 5-foot-8, 180-pound speedster's left foot, is going to cause some legitimate concerns about Finch's durability. He's unquestionably emerged in 2010 as the future of Oklahoma's running game, beating out guys like
Jermie Calhoun
,
Brennan Clay
and
Jonathan Miller
, but he can't do any good on the sidelines. Moving through spring and fall camps, Oklahoma fans and coaches will be able to sleep a lot better if he can stay healthy through next August.
And consider also: For all the flack that
DeMarco Murray
gets for being "injury-prone," he got a high volume of carries in all four seasons as a Sooner.
Through just one season, Finch has already missed the same number of games (6) as Murray did throughout his entire career.
---
New Colorado coach Jon Embree officially finalized his staff, and it's clear what his priorities were. Outside of defensive line coach Mike Tuiasosopo, every hire had ties to Colorado, either the state or program. You definitely foster a very specific attitude in doing so, but we'll see if that results in wins after a move to the Pac-12 next year. He sacrificed experience for ties to the program in a couple of these hires, but no one will care if the wins come with them. If they don't, however, that fact will definitely be brought up as a criticism very quickly.
Here's Embree's latest staff hires, with
more on the entire staff here:
Greg Brown
- defensive coordinator/defensive backs
J.D. Brookhart
- special teams coordinator/offensive passing game coordinator/tight ends
Kanavis McGhee/Mike Tuiasosopo
- defensive line
Steve Marshall
- offensive line
Former Colorado running back Eric Bieniemy, who also interviewed for the head coaching job and was hired at the same time as Embree, will serve as Embree's offensive coordinator.
---
Nebraska linebackers coach Mike Ekeler is headed to Indiana to take over as the Hoosiers defensive coordinator under new coach Kevin Wilson. Most notably, he'll be the first assistant under Bo Pelini to leave for a different job during Pelini's three seasons in Lincoln.
Wilson worked with Ekeler at Oklahoma when Ekeler was a graduate assistant in 2003-04 and Wilson coached the offensive line. Ekeler must have made an impression on Wilson during those years and again in the Big 12 Championship game. First-year linebacker Lavonte David also leads the Big 12 in tackles, including 17 in the Big 12 title game.
Indiana and Nebraska aren't scheduled to meet in Big 12 play until the 2013 season.
---
I DVR'd the Teas Class 5A Division II state championship and got my first good, long look at a couple possible future Big 12 stars headed to the conference in 2011.
Texas running back commit
Malcolm Brown
and Oklahoma State quarterback and cornerback commits J.W. Walsh and Josh Stewart faced off in Cowboys Stadium. Brown's Cibolo (Steele) team took down Walsh and Stewart's Denton (Guyer) squad, 24-21.
It's tough to tell a lot definitively in one look at a pressure-filled game, but all three had their moments. Brown doesn't have a ton of straight-line speed, but he's a smart, powerful runner with a good sense of holes and looked pretty skilled at reading his blocks. The physical talent is obvious, but if he carries that to Austin next fall, my guess is it's something that sets him apart from his competition. He's not one to shy away from contact, and he showed up every time Steele needed a big run. He finished with 107 yards on 28 carries and the game-winning touchdown.
Though Walsh's release is quick and his accuracy is good, he's still got plenty of room for improvement as a decision-maker. That said, he's a dangerous dual-threat guy that, if he ends up becoming the heir apparent to
Brandon Weeden
, would be pretty fun to watch in Oklahoma State's spread system, a la Zac Robinson.
He finished with 123 yards rushing and 9-of-17 passing for 91 yards with a pair of picks -- including one late that sealed the game. He had just four interceptions in Guyer's first 15 games, and averaged more than 200 yards passing.
His one touchdown pass was a 43-yard strike to Stewart, who also plays receiver.
December, 17, 2010
12/17/10
12:52
PM ET
It was pretty clear that changes were coming to Jeff Tedford's staff at California, and the first to fall is receivers coach Kevin Daft, the school announced Friday.
Daft spent seven seasons at Cal, working with the receivers the past three years after previous stints as quarterbacks coach and as an offensive graduate assistant.
"Kevin is a quality person with high character who made significant contributions during his time on our staff," Tedford said in a statement. "We wish him all the best in his future endeavors."
While much of the fan frustration was at quarterback, the Bears have underachieved for the past few seasons at receiver -- dropped passes, poor separation, etc...
The Contra Costa Times also reported that conditioning coach John Krasinski
will not be retained
after nine years in Berkeley.
The Bears also are looking for a new offensive line coach after Steve Marshall bolted for Colorado.