March, 22, 2013
3/22/13
11:00
AM ET
Mike Vrabel enters only his third season in coaching following a 14-year NFL playing career, but the Ohio State assistant might never again face a challenge like the one that sits before him.
It's rare when a defensive line coach steps on the practice field and doesn't see a single starter from the previous season. How rare? According to Ohio State's athletics communications staff, the Buckeyes haven't had a complete overhaul of their starting defensive line since the 1985 season, when all three top spots had to be filled. Although Ohio State ended up starting four new linemen in 1998, it had a returning starter from 1997 (end Matt LaVrar) on the roster.
All four starters from the 2012 team -- ends
John Simon
and
Nathan Williams
, and tackles
Johnathan Hankins
and
Garrett Goebel
-- have moved on. The effort to replace them is arguably Ohio State's top offseason story line, as the Buckeyes could be a defensive line away from contending for a national title in 2013.
[+] Enlarge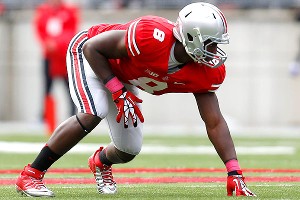 Kirk Irwin/Getty ImagesOhio State is counting on players like Noah Spence to deliver for an inexperienced defensive line.
"We're not going to claim to be experienced," Vrabel told ESPN.com on Thursday, "but we're going to go out and continue to improve. They work, and they're committed to being great."
Vrabel is stressing three areas for the linemen this spring -- attitude, effort and toughness. If all three are achieved, Vrabel thinks the players can "let their God-given ability to take over."
The Buckeyes' linemen boast plenty of ability. Ohio State had arguably the nation's top defensive-line haul in the 2012 recruiting class, signing four ESPN 150 defensive linemen, three of whom --
Noah Spence
,
Adolphus Washington
and
Tommy Schutt
-- saw the field as true freshmen. More help is on the way from the 2013 class with standouts like tackle
Joey Bosa
, an ESPN 150 selection. Two incoming line recruits,
Tyquan Lewis
and
Tracy Sprinkle
, enrolled early and are participating in spring ball.
But the group has only nine combined career starts, five from junior end
J.T. Moore
. Its career tackles leader, junior tackle
Michael Bennett
, has a whopping 28 stops in 21 games.
"The guys we've got have a little bit of experience with Adolphus and Noah and Tommy," Vrabel said. "Michael Bennett and
Joel Hale
,
Steve Miller
, those guys have been here, contributing and giving us some leadership. And Tracy and Tyquan are just trying to figure their way through this thing.
"We're learning every day."
Although Ohio State's defensive line undoubtedly will be younger, Vrabel also thinks it will be faster with players like Spence and Washington, who finished third on the team with three sacks in 2012. Again, talent isn't a problem, but the line needs leadership after losing two-time captain John Simon.
Head coach Urban Meyer challenged several of the older linemen at the start of the spring, saying, "Steve Miller's been here for a while. It's time to go play.
Chris Carter
, how long has he been here? At some point you can't redshirt anymore." At the very least, Ohio State needs the veterans to fill out the line rotation.
Ideally, they can take the reins.
"No one's going to replace what John Simon provided for this program," Vrabel said. "We can only hope that we find guys who are willing to lead, be the same person every day, be competitive, play with some toughness and play with some effort. We'll have guys step up."
Vrabel should get an accurate gauge on his group this spring because of the men they'll be lining up against. What the Buckeyes lack in defensive-line experience, they make up for on their offensive line, which returns four starters with 81 combined career starts.
"If we can compete against them," Vrabel said, "we feel like we're going to be OK."
Spence evidently has been competing well,
impressing Buckeyes offensive line coach Ed Warinner
with his edge-rushing speed.
Vrabel's return to his alma mater in 2011 generated tremendous excitement, and he made an
immediate impact on the recruiting trail
. But his coaching skills will be under the microscope as he works with a group that, for now, is Ohio State's biggest question mark.
"I'm a young coach, I'm new to this, so every day is a challenge," he said. "I enjoy it, I embrace the challenge and try to do my best."
March, 7, 2013
3/07/13
9:00
AM ET
If Urban Meyer had placed a banner with the words "The Chase" in Ohio State's indoor practice facility last spring, he might have been asked, "For what?"
Sure, football players are always chasing something, as Meyer noted Tuesday when asked about the big, bold banner now hanging at the Woody Hayes Athletic Center. That "something" can be localized: a starting job, a bigger role in the offense or defense, a scholarship, a coach's approval.
But Ohio State couldn't chase many tangible team goals last spring. The Buckeyes couldn't chase a Big Ten championship or a national championship because of NCAA sanctions. They
only found out in September
that they could chase a Leaders Division title. Undoubtedly their greatest attribute was an ability to chase the grandest goal they could -- a perfect 12-0 regular season, capped by a win against archrival Michigan -- and achieve it.
The banner makes much more sense now. Ohio State has emerged from the shadow of postseason probation and can chase whatever it wants, including the crystal football that has eluded the Scarlet and Gray -- and the rest of the Big Ten -- for more than a decade.
[+] Enlarge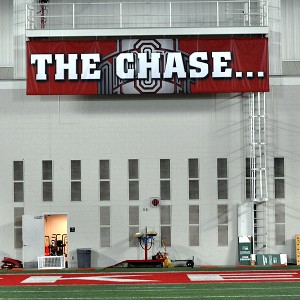 Photo/Ohio State Athletics Communications The above banner is prominently displayed in Ohio State's indoor practice facility.
"Some guys are chasing starting positions," Meyer said, "some guys are chasing a bowl game, some guys an NFL contract. ... It means more, but that's where we're going to stop."
Meyer and his players can stop there for now. They should, as it's only spring practice. But "The Chase" will be a theme throughout Ohio State's offseason as bigger, broader goals are back on the table.
"Everybody's got big dreams," Meyer said, "and we as a football team have some dreams."
Ohio State can dream big primarily because of an offense that transformed in 2012, rising from 81st nationally in scoring to 21st and from 107th in total yards to 47th. Quarterback
Braxton Miller
blossomed in Meyer's system, racking up a team-record 3,310 yards of offense, earning Big Ten Offensive Player of the Year honors and finishing fifth in the Heisman Trophy voting.
Miller, who spent part of his winter break working with noted quarterback instructor George Whitfield in California, leads a unit that returns nine starters, including four linemen. Ohio State also regains the services of versatile running back
Jordan Hall
, who missed most of last season because of injury and turned heads during Tuesday's practice.
After delivering scathing -- and accurate -- critiques of Miller, the receivers and the entire offense last spring, Meyer has a much rosier outlook these days. Tuesday, he called Miller's footwork "outstanding" and praised Hall and several other skill players.
"Last year, who knew what as going to happen," the coach said. "I think the appropriate term was 'clown show' at this time. I don't feel like [it's] a clown show."
If Miller makes strides as a passer, Ohio State should have its most potent offense since the 2006 season, when the Buckeyes played for the national championship (coincidentally against Meyer's
Florida Gators
). The key to the spring -- and to the season, really -- is whether Ohio State produces a typical Ohio State defense. Otherwise, Meyer says, any discussion about "those two words that we don't use very often" is pointless.
The spring spotlight shines brightest on the defensive front seven. Ohio State lost all four starting linemen from 2012, including Big Ten Defensive Player of the Year
John Simon
and massive tackle
Johnathan Hankins
, a possible first-round draft pick. Talented young linemen such as
Adolphus Washington
and
Noah Spence
got a taste last fall, and Meyer's staff has recruited extremely well up front, but others must emerge to fill out the rotation. Meyer on Tuesday challenged players such as
Steve Miller
and
Chris Carter
to do so.
All-Big Ten selection
Ryan Shazier
returns at linebacker, but depth remains a major concern for a group that needed fullback
Zach Boren
to fill a starting role midway through the 2012 season.
"If we put together a good D-line and linebackers, I think we'll have a good team," Meyer said. "If not, we won't. It's pretty simple."
There's also a leadership void to fill this spring. Players such as Simon and Boren made sure the Buckeyes kept up the chase in 2012. Meyer expressed concern last spring at how the team would handle its first brush with failure. Thanks to the seniors, it never happened as Ohio State recorded only the sixth unbeaten, untied season in team history.
The torch has passed to players like Miller, a quiet kid from a quiet family whose voice must be heard more in 2013.
"He needs to be a better leader," offensive coordinator Tom Herman told reporters last month.
Other likely leaders include Shazier and dynamic cornerback
Bradley Roby
, a big talker who almost always backs it up on the field. Their challenge differs from that of their predecessors, who kept the team focused in spite of the bowl ban, yet did so under measured expectations.
The expectations are back to Tressel-era levels, and perhaps even higher because of the perfect season and Meyer's recruiting success. Anything less than a celebration Dec. 7 in Indianapolis -- and perhaps another Jan. 6 in Pasadena -- will be considered disappointing.
"The chase," Meyer said, "is on."
December, 10, 2012
12/10/12
3:06
PM ET
I believed
Johnathan Hankins
when he said last summer that he wanted to help Ohio State win a championship.

But some NFL draft decisions are made for you. And when you're a virtual lock in the top 15 of the draft, you make the jump, no questions asked.
Hankins surprised no one Monday in announcing he'll
forgo his senior season
and enter the 2013 NFL draft. The Ohio State junior defensive tackle boosted his stock this season, eating up space and ball-carriers in the middle of the Buckeyes' defensive line. Many NFL draft prognosticators, including our own
Mel Kiper Jr.
and
Todd McShay
, have Hankins as the first Big Ten player off the board in April.
Hankins won't help Ohio State try to win a national title in 2013, but he undoubtedly made the right call.
"I will always be grateful for the family I have gained here at Ohio State," Hankins said in a prepared statement. "I want to thank coach [Urban] Meyer, coach [Mike] Vrabel and strength coach [Mickey] Marotti for bringing the best out of me as a football player and person, and for their constant support. I also want to thank coach [Jim] Tressel and coach [Jim] Heacock for recruiting me and giving me an opportunity to be a part of this great school and great program."
Hankins added that he intends to finish his degree at Ohio State, which is great to hear. He started every game the past two seasons and finishes his career with 138 tackles (58 solo, 80 assists), including 16.5 tackles for loss and five sacks.
Although Ohio State expected Hankins to leave, his departure underscores some potential depth issues the team will have up front in 2013. Defensive end
John Simon
, the Big Ten Defensive Player of the Year, moves on along with nose tackle
Garrett Goebel
and defensive end
Nathan Williams
.
The good news is Urban Meyer has recruited very well at defensive line, securing blue chippers
Noah Spence
and
Adolphus Washington
in his first class (both played this fall). Linemen like
Michael Bennett
,
Steve Miller
,
Tommy Schutt
and
Joel Hale
all should see increased roles in 2013. Ohio State also is bringing in several standout D-line recruits like
ESPN 300
selections Joey Bosa and Michael Hill.
Ohio State has a lot of young talent along the defensive line, but the Buckeyes need those players to grow up in a hurry if they want to take another step forward on defense.
December, 13, 2011
12/13/11
8:00
AM ET
Just a hunch, but Urban Meyer won't be making many friends within the Big Ten, both on the field and on the recruiting trail.
Consider what went down Monday afternoon/evening. Meyer received commitments from two top recruits who had committed to other Big Ten programs: defensive linemen Tommy Schutt and Se'Von Pittman.
Both are ESPNU 150 selections. Both had been the highest-rated commits for Penn State (Schutt) and Michigan State (Pittman), respectively. And now both say they're headed to Columbus to play for Meyer at Ohio State.
Neither switch is a huge surprise. Schutt's pledge to Penn State seemed very shaky in light of the the recent troubles in State College. He considered several other programs and on Monday
made the move to Ohio State
. Pittman committed to Michigan State during the summer but had been rumored to be reconsidering. His high school teammate, Steve Miller, plays for Ohio State. Pittman also
made the switch Monday
.
It's certainly notable to have two top players switch commitments to the same school within the league on the same day. It shows Meyer will be aggressive in assembling Ohio State's class up until national signing day and likely will pursue other top commitments both within and outside the Big Ten.
But it also dilutes the ridiculous belief held by some Big Ten fans that there's some gentleman's agreement within the league not to pursue players who commit to other programs. This is a complete myth. Meyer isn't the first Big Ten coach to swipe a recruit or two. He's just the latest to do so. It goes on in every conference and with pretty much every coach. Meyer simply will get more attention because of who he is, where he has been and which team he now coaches. While the Big Ten might become "the SEC North," as
Dan Wetzel tweeted
Monday, the league isn't nearly as pure as some fans think it is.
There's also the
NCAA waiver Ohio State received to have two coaching staffs working simultaneously
: the existing staff under Luke Fickell and the new staff under Meyer, which also will include Fickell. This has infuriated fans of other teams and raised questions about fairness, but Ohio State surely won't be the only program to exploit the loophole (Illinois is trying to do the same). Blame the NCAA on this issue.
Our Twitter page blew up Monday night after
I tweeted about what Meyer had done
. Some thought I was glorifying him. Hardly. I simply pointed out a notable development on the recruiting trail by a new Big Ten coach. Go ahead and whine about it, but it's a part of today's recruiting.
Without an early signing date, all recruits are fair game until the first Wednesday of February. Whether it's wrong or not is beside the point. It's the way it goes.
It will be interesting to see who else Meyer pursues, and whether he can keep Ohio State's own commitments on board, particularly running back Bri'onte Dunn, a rumored candidate to bolt.
Fifty days till signing day ...
February, 3, 2011
2/03/11
10:30
AM ET
Ohio State Buckeyes
The class

Recruits:
23 (all high school seniors, five players enrolled early)
Top prospects:
The Buckeyes bolstered all three areas of their defense with ESPNU 150 prospects such as defensive linemen
Steve Miller
and
Michael Bennett
, cornerback
Doran Grant
and linebackers
Curtis Grant
and
Ryan Shazier
. Ohio State also addressed a potentially pressing need at quarterback with
Braxton Miller
, rated as the nation's No. 4 signal-caller by ESPN Recruiting.
Needs met:
Miller's addition is big because Ohio State will be without starting quarterback Terrelle Pryor for the first part of the season and needs other options if Joe Bauserman and Kenny Guiton don't pan out. The Buckeyes also are fairly unproven at receiver and added depth in this class with ESPNU 150 prospect
Evan Spencer
as well as
Devin Smith
. Offensive line is the only position that could have used a few more players in this class.
Analysis:
After what could be labeled a down recruiting year in 2010 according to its standards, Ohio State rebounded in a big way Wednesday. The Big Ten's best program signed the league's best class, which includes seven ESPNU 150 prospects. Ohio State brought in several players who can contribute early in their careers on both sides of the ball. Braxton Miller could be Ohio State's post-Pryor answer at quarterback, and he'll have some targets to throw to in this class with players like Spencer and Smith. Ohio State did a better job of locking down the top in-state prospects than it did in 2010 and also reached to other regions for players like Curtis Grant and Shazier.
ESPN Recruiting grade:
A-
February, 2, 2011
2/02/11
5:09
PM ET
The Big Ten's top-rated recruiting class is official as Ohio State announced the signings of 23 players.
Ohio State's class includes five players already enrolled in school. The class features 13 in-state prospects, 13 defensive players, nine offensive players and one specialist.
Here's the position breakdown:
DL:
5
OL:
3
DB:
4
LB:
4
WR:
2
TE:
2
QB:
2
LS:
1
A few notes:
Ohio State's early enrollees are: quarterback Braxton Miller, linebacker Ryan Shazier, defensive back Jeremy Cash, defensive tackle Joel Hale and tight end Jeff Heuerman
The Buckeyes lead the Big Ten with seven ESPNU 150 selections: DE Steve Miller, LB Curtis Grant, CB Doran Grant, Miller, Shazier, WR Evan Spencer and G Michael Bennett
Offensive lineman Chris Carter Jr., who was arrested Tuesday, is not included in the Buckeyes' list of signees. Carter will remain in jail overnight and be formally charged Thursday
February, 1, 2010
2/01/10
5:00
PM ET
Jordan Hicks' decision to leave the state of Ohio and
play his college ball at Texas
didn't come as a major surprise.
Though Hicks attended high school in the Cincinnati suburbs, he only moved to Ohio in the sixth grade from South Carolina and had family connections to the Texas coaching staff. As he told reporters Friday after
announcing his choice
, "I don't feel like I turned my back on Ohio State. ... I wasn't born here. ... Ohio State is an Ohio school. I'm not from Ohio. I really don't have that connection there from growing up liking them."
Sounds reasonable enough. But any time an elite high school prospect leaves a Big Ten state to play elsewhere, it creates anxiety among fans. And this year, Ohio State has struggled a bit to seal off its borders.
Of ESPN Scouts Inc.'s top 15 ranked players from Ohio, only four are heading to Ohio State. Prospects like Hicks (Texas), running back Spencer Ware (LSU), quarterback Andrew Hendrix (Notre Dame), safety Latwan Anderson (West Virginia) and offensive lineman Christian Pace (Michigan) will play for other teams.
It's important to remember Ohio produces a ton of great high school players, and not all of them will end up in Columbus. Ohio State has landed highly-rated local products like Darryl Baldwin, an ESPNU 150 player, as well as Andrew Norwell and Tyrone Williams. The Buckeyes also are in the mix for offensive lineman Matt James from Cincinnati.
But on the whole, Ohio State likely will sign fewer in-state players than most years.
The Buckeyes currently have eight in-state commitments from a class of 18. Last year, Ohio State signed 14 Ohio products in a class of 25. In 2005, Ohio State signed 11 Ohio products out of 18. Ohio State signed a small class of 15 in 2003, but all but three players came from the state. In 2002, Ohio State's 24-man class featured a whopping 18 players from the state.
So is this year an anomaly or a cause for concern? To get a better perspective, I checked in with Scouts Inc.'s Midwest recruiting expert
Bill Kurelic

, whose blog is a must read.
Here's what Kurelic had to say: "They have done OK in Ohio this year, but they certainly haven't dominated like in most years. But I don't see it as a trend. They lost out on Welch and Hendrix, but those two are from Catholic high schools and it was going to be a tough sell for OSU to keep them away from Notre Dame. They lost out on Ware, but he just never seemed overly interested.
"On the good side of things for OSU fans is that [Jim] Tressel may be set to dominate Ohio again next year like he has in most years. He has two of the top 5 Ohio juniors committed and he seems in good position to get the top six or seven guys in Ohio on his list. So I think this year is just one of those years."
Kurelic is referring to defensive ends Kenny Hayes and Steve Miller, both of whom are on the
ESPNU 150 watch list

.
Bottom line: Ohio State's in-state recruiting should be fine in the long term, though the Buckeyes must beware of intruders after this year.