March, 22, 2012
3/22/12
2:30
PM ET
Michigan offensive coordinator Al Borges likes what he has to work with this spring. And who wouldn't be excited about
Denard Robinson
and
Fitz Toussaint
returning in the backfield as the offensive core?

But like every team, the Wolverines have some issues. One of the key concerns is building a solid two-deep along the offensive line.
"It's a position where we feel good about the kids who are playing," Borges said. "We just need to enhance our depth."
Michigan must replace Rimington Trophy winner
David Molk
at center, and
Ricky Barnum
will get the first crack at the gig. Barnum was injured most of last season, and has played left guard in the past.
"He's athletic," Borges said. "Ricky can move. He's really has the profile more of a center. He's smart, he understands who to block and he's played some guard, which should have some carry-over to center. So I think Ricky is going to be fine."
Making up for Molk's leadership might be the toughest task this spring. Borges said Barnum, left tackle
Taylor Lewan,
and senior guard
Patrick Omameh
should help pick up the slack in that area.
The starting group up front should be solid, with senior
Elliott Mealer
taking over at left guard, and
Michael Schofield
moving to right tackle to replace
Mark Huyge
. Behind them is a lot of inexperience. Borges said redshirt freshmen
Jack Miller
and
Chris Bryant
should contribute. And an incoming freshman like
Kyle Kalis
has a chance to crack the depth chart.
"We'll see how quick they can pick it up," Borges said.
Another area of concern is tight end, which loses departed seniors
Kevin Koger
and
Steve Watson
. Borges said senior
Brandon Moore
, who has played sparingly, and
Ricardo Miller
, who's more of a receiving tight end, will get the bulk of the work this spring. But it's a position that remains unsettled.
"We're looking at other kids, and the jury is still out," Borges said. "It's a position where, if a freshman came in and showed something, he could probably make a contribution."
Incoming recruit
Devin Funchess
could be that guy, though he'll likely need to put on some weight. The Wolverines also signed
A.J. Williams
as a tight end prospect.
"Seeing who's going to come to the forefront and be our starting tight end this spring, that's huge," Borges said.
August, 26, 2010
8/26/10
10:33
AM ET
MarQueis Gray
has been a busy man during Minnesota's training camp, to say the least.
When the Golden Gophers practice only once, Gray spends most of the session with the quarterbacks and sneaks a few reps here and there at wide receiver. During two-a-days, Gray works with the quarterbacks in the morning and the wide receivers in the afternoon.
[+] Enlarge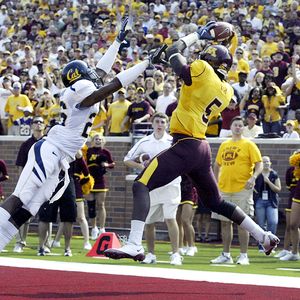 AP Photo/Paul BattagliaMarQueis Gray, who caught this 7-yard touchdown against Cal last season, has been working double duty in practice.
The workload is heavy, but Gray embraces his role as No. 2 quarterback and potential starting wide receiver. It sure beats the alternative.
"I'm going to have a lot more opportunities to be on the field," Gray said. "Being on the sideline next to coach [Tim] Brewster, I'm not going to do any good sitting next to him. He wanted to find me a position, and I'm ready to take it head-on."
The 6-4, 230-pound Gray played a bit of wide receiver in 2009, catching six passes, including a 7-yarder for a touchdown against Cal. He spent spring practice competing for the starting quarterback job, but lost out to incumbent
Adam Weber
.
Gray remains the team's next option should anything happen to Weber, but Minnesota wants to use his size and athleticism at receiver, a spot that needs a boost after the departure of superstar Eric Decker. Although Gray was known for his mobility at quarterback, he had to play catch-up, quite literally, at receiver.
"There's a lot more running," he said. "I was a little bit winded going deep with the receivers, getting a lot of reps. But now I'm getting back in shape. I'm good now."
Gray admits he's not the team's fastest receiver -- the title likely goes to junior
Troy Stoudermire
-- but he brings other strengths to the group.
"I'm the tallest," he said, "and weight-room wise, I'm the strongest."
He also has good hands, which run in his family.
Gray's older brother DaMarcus Ganaway is an all-conference wide receiver at Kentucky Wesleyan who has led the team in receiving for three consecutive seasons and enters his fourth year as a starter. Another older brother played cornerback in high school.
"We used to have competitions when we were younger," Gray recalled. "We'd do 1-on-1s. I'd throw it or I'd go out and run or I'd guard one of them. We just switched back and forth.
"We all have good hands."
Gray also has an advantage over the other receivers: he sees the passing game from both perspectives.
"If you're the quarterback, your job is to know everyone's position," he said. "So it's a lot easier moving from quarterback to receiver. Now if I was having to [switch to] quarterback, that'd be a lot harder."
Gray credits new Gophers wide receivers coach Steve Watson for remaining patient with him during the transition. He also looks forward to building chemistry with Weber, who Gray calls "the general."
"I have to clean up a few things, but I've got confidence in myself," he said. "I can catch the ball, so that's all I'm worried about."
August, 5, 2010
8/05/10
2:32
PM ET
Schedule:
The Gophers hit the field Friday for their first practice.

What's new:
Another offensive coordinator, the Gophers' third in as many seasons. Jeff Horton isn't bringing dramatic changes like his predecessor Jedd Fish, and he'll try to simplify things for senior quarterback
Adam Weber
, who retained his starting job after spring ball. There are also a ton of new faces on defense as Minnesota loses nine starters, including productive linebackers Lee Campbell, Nate Triplett and Simoni Lawrence. The Gophers also have a new wide receivers coach in former NFL player Steve Watson, who must identify some playmakers after the loss of standout Eric Decker.
Sidelined:
We thought Kim Royston would be in this category, but the senior safety has
healed extremely well from a broken leg
this spring. Royston won't be 100 percent for the start of camp, but barring any setbacks, he should be ready for the start of the season. As one of only two returning starters on defense, Royston provides a strong presence in the secondary. Linebacker Sam Maresh, a possible starter, isn't with the team as he improves his grades at a junior college.
Key battle:
Name a spot on defense and there's probably some competition there, as Minnesota must find answers at linebacker, defensive end and cornerback. The linebacker group should be particularly interesting. Mike Rallis locked up a starting job this spring, but the other spots are open as Keanon Cooper, Gary Tinsley and others are in the mix. Cornerback also is a spot to watch as Michael Carter and Christyn Lewis try to lock up starting spots.
New on the scene:
Head coach Tim Brewster and his staff have recruited well, and it's time they start to see the rewards. Lewis and tight end Tiree Eure both are junior-college transfers who should contribute right away. Minnesota really likes redshirt freshmen offensive linemen Ed Olson and Brooks Michel, and incoming freshman tackle Jimmy Gjere is a name to watch. It also will be interesting to see if freshmen running backs Lamonte Edwards and Donnell Kirkwood can work their way into the mix.
Breaking out:
Brewster sings the praises of defensive end
Ra'Shede Hageman
, and Minnesota could really use a boost in the pass rush from the redshirt freshman.
MarQueis Gray
didn't win the starting quarterback spot, but he's a guy who needs the ball in his hands one way or another. Replacing Decker will be tough, but Minnesota has high hopes for
Da'Jon McKnight
, who averaged 18.3 yards on 17 receptions last year.
Time to step up:
Without a doubt, Minnesota's offensive line is the group that needs to elevate its play in camp. The line boasts both experience and some exciting young talent, and the players are used to coach Tim Davis and his demands. Minnesota simply can't rank last in the league in rushing year after year. It's time for the line to get tougher, come together and build off of a strong spring.
Quotable:
"We're bigger. We're stronger. We're faster. We're more athletic than we've been. And rightfully so. We need to be. We know that we're going to play one of the most challenging schedules in America this season. And our players are going to have to be prepared." -- head coach Tim Brewster
March, 2, 2010
3/02/10
9:00
AM ET
The Big Ten was the only major conference to avoid head-coaching changes this offseason, but the league certainly had its share of staff shuffling with assistants coming and going. Indiana's
hiring of Mo Moriarity as offensive line coach
on Monday marked one of the last turns on this year's Big Ten coaching carousel. Wisconsin still needs to hire a defensive assistant, but things are just about wrapped up.
Barring any late coaching changes, here's a look at who's gone, who's back and who's in new roles.
ILLINOIS
Offensive coordinator
Who's out: Mike Schultz (fired)
Who's in: Paul Petrino (previously offensive coordinator/wide receivers coach at Arkansas)
Defensive coordinator
Who's out: Dan Disch and Curt Mallory both were demoted to position coaches. Disch is staying on staff as linebackers coach.
Who's in: Vic Koenning (previously co-defensive coordinator at Kansas State)
Quarterbacks coach
Who's out: Kurt Beathard (fired)
Who's in: Jeff Brohm (previously quarterbacks coach at Florida Atlantic)
Tight ends coach
Who's out: Jim Pry (fired)
Who's in: Greg Nord (previously running backs coach/recruiting coordinator at Louisville)
Running backs coach
Who's out: Reggie Mitchell (left to become running backs coach/recruiting coordinator at Kansas)
Who's in: DeAndre Smith (previously running backs coach at UNLV)
Other moves
Mallory left his position as secondary coach to become defensive coordinator at Akron.
Special-teams coordinator Mike Woodford was fired along with Schultz, Beathard and Pry.
Ron West was hired as a defensive assistant. His official responsibilities have not been announced.
INDIANA
Offensive line coach
Who's out: Bobby Johnson (left to become assistant offensive line coach with the Buffalo Bills)
Who's in: Myron "Mo" Moriarity (previously served as head coach at Carmel (Ind.) High School
IOWA
No staff changes, but recruiting coordinator Eric Johnson was named tight ends coach. Wide receivers coach Erik Campbell previously had worked with the tight ends, while Johnson had helped Darrell Wilson with the linebackers.
MICHIGAN
Linebackers coach
Who's out: Jay Hopson (left to become defensive coordinator at Memphis)
Who's in: Quality control assistant Adam Braithwaite was promoted to outside linebackers/strong safeties coach. Defensive coordinator Greg Robinson will take a more active role with the linebackers in 2010.
Other moves
Secondary coach Tony Gibson will continue to work with cornerbacks and free safeties, and also serve as special-teams coordinator.
MICHIGAN STATE
Running backs coach
Who's out: Dan Enos (left to become head coach at Central Michigan)
Who's in: Brad Salem (previously served as head coach at Augustana College)
MINNESOTA
Offensive coordinator/quarterbacks coach
Who's out: Jedd Fisch (left to become quarterbacks coach with the Seattle Seahawks)
Who's in: Jeff Horton (previously served as quarterbacks coach with the Detroit Lions)
Wide receivers coach
Who's out: Richard Hightower (left to become assistant special-teams coach for the Washington Redskins)
Who's in: Steve Watson (previously served as associate head coach with the Denver Broncos in 2008)
Other moves
Running backs coach Thomas Hammock was named co-offensive coordinator
NORTHWESTERN
No coaching changes
OHIO STATE
No coaching changes
PENN STATE
No coaching changes
PURDUE
Defensive line coach
Who's out: Terrell Williams (left to become defensive line coach at Texas A&M)
Who's in: Gary Emanuel (previously served as defensive line coach at Rutgers). Emanuel also was named co-defensive coordinator with a focus on run defense.
WISCONSIN
Defensive backs coach
Who's out: Kerry Cooks (left to become outside linebackers coach at Notre Dame)
Who's in: Chris Ash (previously served as defensive backs coach/recruiting coordinator at Iowa State)
Other moves
Randall McCray, who served as Wisconsin's recruiting coordinator and assistant secondary coach, left to become defensive coordinator at Middle Tennessee. Wisconsin has yet to fill the vacancy.
April, 11, 2009
4/11/09
7:03
PM ET
Posted by ESPN.com's Adam Rittenberg
Michigan had a record crowd for Saturday's spring game at Michigan Stadium, and the player fans most wanted to see appeared to perform well.
Freshman quarterback Tate Forcier earned high marks from the early reports I've seen about the game. His day included a 60-yard touchdown to Roy Roundtree toward the end of the scrimmage.
"The biggest thing for Tate was playing in an atmosphere with a little bit of a crowd," Michigan head coach Rich Rodriguez told reporters. "Was it going to fluster him, or was he focused? There were a time or two that his eyes could have been in a different direction, but for the most part, he looked comfortable for the first time in that setting. He's really progressed well."
Check out Rodriguez's full news conference here.
Competing against the second- and third-team defense with a no-contact jersey on, Forcier threw three touchdowns and ran for another, impressing Detroit Free Press blogger Scott Bell.
"It's kind of unfair to make too much of a judgment given the circumstances today [red jersey], but Forcier has impressed me so far. He seems pretty slippery and has good football speed. They've run a fair amount of rollouts for him as he seems to throw his best when he's on the run."
Haven't seen official statistics from the spring game, but running back Carlos Brown had a long touchdown run, defensive end Brandon Graham made several big plays and defensive end Steve Watson, a converted tight end, stood out.
On the health front, defensive end Ryan Van Bergen suffered a strained MCL but won't need surgery. Cornerback Donovan Warren told The Ann Arbor News that he recently underwent ankle surgery but should be fully recovered in six weeks.
March, 27, 2009
3/27/09
10:21
AM ET
Posted by ESPN.com's Adam Rittenberg
The learning curve is accelerated at Michigan this spring, and not only on the offensive side of the ball.
Granted, the offense remains young and thin at quarterback, but most players are in their second year running Rich Rodriguez's spread. Wolverines defenders, meanwhile, are installing a new system under new coordinator Greg Robinson.
| | |
| --- | --- |
| | |
| | Chris Livingston/Icon SMI |
| | Obi Ezeh is looking forward to defensive coordinator Greg Robinson's blitz-heavy scheme. |
"They're a little bit ahead of us," linebacker Obi Ezeh said of the offense.
Before Tuesday's practice, the defense needed to catch up.
So less than 30 minutes before taking the field, Robinson unveiled three or four brand-new blitz packages for his defenders. Then he gave Rodriguez the green light to move forward with the offense.
"They were like, 'Learn this stuff and then let's go out and run it,'" Ezeh said. "We started off real shaky, but toward the end of practice, everybody started coming together and it looked really good. So I like the attitude, that never-quit attitude that we're trying to develop here."
Ezeh senses a renewed attitude for a unit that, despite some solid performances in September and early October, ranked 10th in the Big Ten in points allowed (28.9 points per game) and ninth in yards allowed (366.9 yards per game). Michigan's offensive futility under Rodriguez drew most of the attention last fall, but the defense turned in one of its worst statistical performances in team history.
Coordinator Scott Shafer resigned after only one year and took the same job at Syracuse, where Robinson served as head coach for four years before being fired and coming to Ann Arbor. Robinson is Michigan's third defensive coordinator in as many years, but his plan for the unit isn't totally foreign to the players.
"It resembles a lot of the stuff we were doing with coach [Ron] English, so some of the older guys did it before," Ezeh said, referring to Michigan's defensive coordinator from 2003-07. "I got the feeling that it's going to be blitz-heavy, so I'm excited for that."
TOP 25 SCOREBOARD
Saturday, 12/21
Monday, 12/23
Tuesday, 12/24
Thursday, 12/26
Friday, 12/27
Saturday, 12/28
Monday, 12/30
Tuesday, 12/31
Wednesday, 1/1
Thursday, 1/2
Friday, 1/3
Saturday, 1/4
Sunday, 1/5
Monday, 1/6