June, 18, 2012
6/18/12
12:00
PM ET
Daniel Jeremiah of NFL.com presented an interesting opinion last week regarding ex-Stanford quarterback
Andrew Luck
.
Jeremiah's take was that former Baylor quarterback
Robert Griffin III
, who bested Luck in the Heisman vote but was No. 2 in the draft to Luck's No. 1,
has more pressure on him than Luck does in 2012
.
He bases his opinion on the following reasons:
Griffin will be expected to lead his team to more victories.

The NFC East is far tougher than the AFC South.

RG3 is in a bigger media market.
[+] Enlarge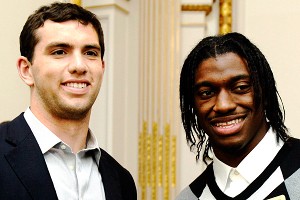 AP Photo/Richard DrewBoth top draft pick Andrew Luck, left, and No. 2 pick Robert Griffin III are under tremendous pressure.
Jeremiah adds a few final thoughts to his argument -- including the fact that RG3's presence actually takes the pressure off of Luck.
In my opinion, Robert Griffin III is the best thing that ever happened to Andrew Luck. Just nine months ago, it was widely thought that Luck would enter the NFL with more hype than any player in the last decade. Now, it's likely that he won't even receive the same attention in his rookie season as another quarterback in his own draft class. Sharing the spotlight with another player will help ease the pressure on Luck and allow him to focus on simply improving day by day.
To each his own, but the expectations for Luck are so ridiculously astronomical (not unlike last season) that it's going to be almost impossible for him to live up to them -- at least in the immediate future.
No one has labeled Griffin "the best quarterback to enter the draft since
Peyton Manning
" or "the best prospect since
John Elway
." Griffin is drawing comparisons to
Michael Vick
,
Luck to Elway
. All due respect to Vick -- but he doesn't belong in the same breath as Elway.
Luck has been handling the pressure for the past two years -- from Heisman expectations to his decision to return for another season. And maybe it's the aw-shucks way Luck handles the media that you never realize exactly how much pressure is truly on him.
And the fact that he has to follow Manning -- who will go down as one of the greatest to ever play the game -- adds an entirely different element of pressure that Griffin won't have to experience. Heavy lies the head of he who replaces
Rex Grossman
. Puh-lease.
Sometimes, guys are able to overcome that. See: Young, Steve. Others, not so much. See: Griese, Brian.
Jeremiah's points are all well-taken, specifically the NFC East being a tougher conference. No disputes there. But while Griffin might be expected to lead his team to more victories in 2012, Luck is expected to lead his team to more Super Bowl victories over the span of his career. And that pressure starts in Year 1.
Since 1993, four quarterbacks have been taken with the No. 2 overall pick: Griffin,
Donovan McNabb
(1999), Ryan Leaf (1998) and Rick Mirer (1993). In that same span, 13 quarterbacks have gone No. 1 overall. By default, being the No. 1 pick carries more pressure and loftier assumptions.
Both will face a heavy dose of scrutiny, and their careers will forever be linked because they were Nos. 1 and 2 in the draft. But Luck's top-pick status, the guy he's following in Indianapolis and the weighty expectations for a Hall of Fame career place a heavier burden on Luck's shoulders in 2012 and beyond.
December, 31, 2011
12/31/11
11:00
AM ET
SCOTTSDALE, Ariz. — Stanford head coach David Shaw knows quarterbacks. For nine years in the NFL, he studied them, analyzed them and broke down every tangible mechanic and intangible characteristic trait there is.
So when he says he's never seen anyone like
Andrew Luck
-- specifically, a college quarterback with the intelligence to read defenses the way he does and call plays -- you have to consider him a credible source.
[+] Enlarge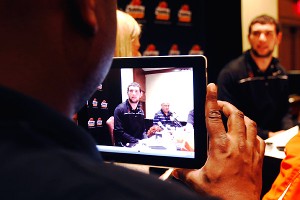 AP Photo/Paul Connors"I applaud him for being able to do it," former NFL quarterback Brian Sipe says of Andrew Luck calling plays for Stanford, "and for the coaches who are willing to give him that responsibility."
But he's also biased. Like any good coach, he sticks up for his guy. Pumps him up. Some have even accused Shaw of over-inflating his future No. 1 draft pick.
So to get unbiased sources, I looked to a pair of former NFL MVP quarterbacks from two different eras -- Steve Young and Brian Sipe -- for their take on Luck and the significance of a college football player calling his own plays. Young, a Hall of Famer, spent years carving up defenses just up the road from Palo Alto with the San Francisco 49ers.
And he knows a little something about the Stanford offense. It derives from the Bill Walsh offense Young ran with San Francisco. It's not identical, but as a Walsh disciple, Shaw kept many of the same principles.
Much is made about what Luck does pre-snap. He has a playbook of 250 plays each week in his mental Rolodex and he can pull from anything at any time. That's an awful lot to heap on a college kid. And the fact that Luck does it with amazing results is tangible, empiric evidence of his football IQ and NFL potential.
"What I appreciate is what [offensive coordinator] Pep Hamilton has done for Andrew, continuing what Jim Harbaugh did. They have really prepared him like a pro," said Young, a two-time NFL MVP. "They do pro game plans with pro verbiage and pro schemes. They can't push some of the other kids as much, because they don't have the experience. But they find ways to keep Andrew motivated. Calling his own plays, creating his own plays, putting more responsibility on him keeps him focused and sharp."
Sipe, now the quarterbacks coach with San Diego State, played during a transitional era -- spanning a time when all quarterbacks called their own plays to a time when none of them did. Sipe was one of the last to still make the calls in the huddle and at the line of scrimmage.
"[Luck] is obviously very intelligent and we know it can be done," said the 1980 NFL MVP. "What's shocking to me is that there is a coaching staff out there comfortable enough to relinquish that kind of responsibility. If we prepare these kids right, they know what we're trying to do and they should be able to do it. But at the same time, they don't have the luxury of all the information and data in front of them. I understand why coaches prefer to call their own plays from the sidelines and the press box. I applaud them for having that confidence in him."
That confidence comes from trust. Shaw said he knew early on he'd be able to take this leap with Luck -- and when Luck announced he was returning for another year and Shaw was promoted from offensive coordinator, the two clicked.
"As soon as I got the job, the first thing I said was 'Andrew, we're going back to the no-huddle,' and there was a big smile on his face," Shaw recalled. "He and I have both loved the idea from the beginning, and he's so good at it. It took a little bit of time, but he's a rare quarterback that can handle this."
Luck said they tinkered with the idea early in his career, but not until he proved he was ready to handle the extra responsibility did they start integrating his play calling into the game plan.
"Experience is a big part of it, and showing the coaches that you can execute their plan on the field," Luck said. "As a player, obviously it's great to know your coaches trust you. To go out there and make the call and know they are behind you, that's special."
Sipe said he enjoyed being able to call his own plays -- though he understands the game has evolved.
"As a quarterback, I felt like I had a feel for the game that could only come from being out on the field and being in the huddle with the guys and being close to it," Sipe said. "But at the same time I recognize the benefit of having data at your fingertips and hearing from everybody else. When you're out there, you are on your own and have to process it all … you have to think like an offensive coordinator, and I applaud him for being able to do it and for the coaches who are willing to give him that responsibility."
Chances are, Luck won't be calling his own plays at the next level. Young said the pro game has changed so much that quarterbacks actually calling their own plays could be detrimental.
"I think it's almost foolish -- like you're not a real man if you don't call your own plays," Young said, the second part tongue in cheek. "Good play-callers like Marty Mornhinweg or Mike Holmgren or Mike Shanahan, the all-timer -- in some ways the last thing you want to be doing is taking them out of the mix. I had free range to call whatever I wanted. But I liked calling their combinations. I think it's overrated a little bit in the pro game.
Drew Brees
could call his own plays. But Sean Payton can put together great combinations. I don't see it as a badge of honor.
"But in college, the way Stanford uses it for Andrew, I think it's really great. It's the perfect way to keep him active and keep him sharp."
It's when pulling those combinations together, Shaw said, that Luck is at his best.
"That's a big part of understanding the situations -- what do we need on second-and-5 as opposed to second-and-10," Shaw said. "He gets it. We don't give him any guidelines. We put it in his hands and he gets it naturally.
"We wanted to make sure we were continually challenging him. Let's give him options. Let's make sure he always has something to study. Andrew has taken it to the next level."
December, 21, 2011
12/21/11
7:26
PM ET
It's long been one of the difficult questions college football fans ask: Why won't anyone give Norm Chow a chance to run a program?
Chow, widely considered one of the best offensive minds in college football history, got plenty of interviews, most notably of late at Stanford in 2005, and made plenty of "candidates" lists during the annual coaching carousel. He also turned down the head coaching job at Kentucky in 2002 to remain at USC. But, in reputation and reality, he was the perennial bridesmaid.
You'd hear things, of course. All the why-nots. He wasn't terribly good at interviews. He was an Xs-and-Os guy who didn't have people or management skills. Most schools wanted a dashing, young, charismatic guy who could slap backs, enticing a flood of elite recruits and booster checks. Chow was never reputed to be much of a recruiter, something he doesn't particularly enjoy.
[+] Enlarge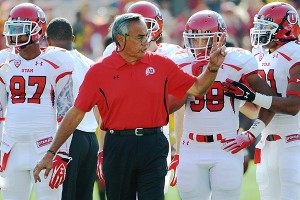 Kirby Lee/Image of Sport-US PresswireNorm Chow, 65, is moving up from Utah offensive coordinator to Hawaii head coach.
Chow, 65, is professorial. His personality isn't "big." He's not a commanding presence. He also is stubborn, territorial and not terribly good at coaching politics. He holds grudges — just ask Washington coach Steve Sarkisian and USC coach Lane Kiffin, whom Chow -- not unfairly -- believes pulled the carpet out from under him at USC with head coach Pete Carroll. (Carroll's almost childish jealousy of the credit given Chow during USC's glory days is another story entirely).
It also was perfectly fair to wonder if Chow's being Asian-American had anything to do with the critiques and whispers. His
hiring at Hawaii
, after all, makes him the first Asian-American head coach of a major football program.
First. That's pretty big, folks, even if most FBS rosters have little to no Asian presence, though if you go with that old standard "Asian/Pacific Islander" category, things change dramatically there.
Not only is Chow, after 39 years as an assistant coach, finally getting his shot as a head coach, he's going home to do it. He was born in Honolulu and is a Punahou School alum. He began his coaching career as head coach at Waialua High School on the North Shore of Oahu from 1970-72. This seems like a good fit, though coaching at Hawaii has built-in challenges, starting with geography.
Chow will serve as Utah's offensive coordinator in the Hyundai Sun Bowl against Georgia Tech on Dec. 31 before officially taking over the Warriors. For the Utes, it's a blow, but not a crippling one. Coach Kyle Whittingham brought Chow aboard to install a pro-style offense with a downhill running game, replacing the spread the Utes had long used. After quarterback
Jordan Wynn
went down in the fourth game against Washington with another shoulder injury, Chow's chief task was managing an extremely conservative, almost run-exclusive offense that didn't mess things up for a very good defense.
Chow did a good job of making running back
John White
into an effective weapon even when everyone knew he and his 24 carries a game were coming. But the Utes never got the full Chow offense. The expectation here is that Whittingham will look for a guy who believes in the same pro-style, run-first concepts. The Utes don't figure to go back to a spread, though that does seem to be the thing in the Pac-12 after the hiring of four new coaches who all run a version of it.
Utes fans should be more concerned about who's going to play quarterback in 2012. Whittingham is going to make a good hire at OC.
And this day is about Chow.
He's a three-time national assistant coach of the year. He's served as offensive coordinator for three national championship teams (Brigham Young, 1984; USC, 2003 and 2004). He has tutored three Heisman Trophy winners (Ty Detmer, BYU; Carson Palmer, USC; Matt Leinart, USC) and six NFL first-round draft picks.
His resume has always been impressive. Just not impressive enough to overcome the things whispered about him.
Over the past decade, he's been portrayed as a bit of a nomadic mercenary, but keep in mind he was a bastion of stability most of his career, coaching at BYU for 27 years before things turned sour and he bolted to N.C. State in 2000, the first of five jobs he'd hold over the next 11 seasons before landing at Hawaii.
Chow is coming home to get his big chance. No matter what happens at Hawaii, his coaching legacy is secure. But, let's face it, if he retires a big winner in 10 years, he'll surely enjoy at least thinking "I told you so" through a big grin.