NCF Nation:

Steven Manfro
April, 2, 2014
Apr 2
5:30
PM ET
One of the ways a football team transitions from a group of wishful maybes to a sense of near-ontological certainty is when its collection of spring practice questions becomes mostly an array of appealing potential options.
So we have
UCLA
as it transitions from an underachieving program (1999-2011) to a good one (2012-2013) to one that has the makings of a national contender in 2014.
[+] Enlarge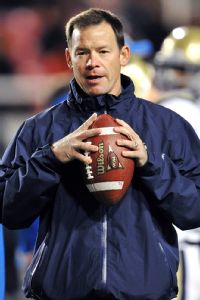 Gene Sweeney Jr/Getty ImagesWith few questions to answer this spring, Jim Mora has the makings of a special 2014 season with UCLA.
While the Bruins have questions on their depth chart, there isn't any particular area of vexing concern. The five positions where starters need to be replaced seem likely to be filled by promising athletes with playing experience. If those more veteran players don't rise to the fore during spring practices, that mostly speaks to the program's strong recruiting under Jim Mora.
Further, it's reasonable to project that those 20 or so freshmen and sophomores who saw significant playing time last year will physically and mentally mature into their primes.
There simply aren't any worrisome voids on this team.
As in:
There are, of course, important questions.
Is defensive end
Owamagbe Odighizuwa
fully healthy? He told reporters Tuesday that he is. So then is the former A-list recruit ready to break through as a senior?
What does LB/RB
Myles Jack
do for an encore after one of the best true freshman seasons in recent memory?
And speaking of what's next, is it reasonable to project Hundley taking a strong step forward as a third-year starter? Of course, that's why the program has already launched a Heisman Trophy campaign.
A lot of variables beyond personnel go into a special season -- a Rose Bowl-, College Football Playoff-type season. A team needs a great offseason. It needs positive chemistry and leadership. It needs to avoid injuries. It needs to stay hungry. It needs laser-like focus every week.
Returning starters do not guarantee anything. National champion Florida State only had 11 of them last year.
But on paper, UCLA appears to be the most likely candidate to break the five-year Stanford-Oregon Pac-12 hegemony atop the Pac-12. The Bruins might even be a team that catches the notice of the CFP selection committee in December.
September, 2, 2013
9/02/13
9:00
AM ET
So this is what life without Johnathan Franklin looks like for UCLA: 345 rushing yards and five touchdowns.

"I'll take that," said UCLA head coach Jim Mora.
Uh, yeah.
Granted, Nevada's rush defense wasn't exactly the '85 Bears. But for a UCLA team looking to replace its all-time leading rusher in Franklin, its running backs, who accounted for 288 of those yards and three of the touchdowns, performed probably as well as could be expected in their by-committee debut.
"It was a heck of a performance," Mora said. "The first thing they'll tell you was the blocking was outstanding."
As a matter of fact, they did. The backs and quarterback
Brett Hundley
alike (seven carries, 63 yards, two touchdowns) praised the big fellas up front for helping the Bruins roll up 647 yards of total offense in their 58-20 win over Nevada on Saturday.
Jordon James
had distanced himself from the committee during fall camp, and he rewarded his coaches for their confidence with a 21-carry performance for 155 yards and a touchdown.
"He is our No. 1 back," Mora said. "He's our starter right now, but we would like to be able to play
Steven Manfro
(5-32). It was great to see Malcolm [Jones, 2-14-1] in there and Rosie [
Roosevelt Davis
, 2-30] … but he's our No. 1 back. But you know how we play offense. We're going to roll those guys through. We have to. To play the tempo we play at, we're going to have to use multiple backs. The credit has to start with offensive line and the way they blocked and I think it has to start with the receivers and the way they got down the field and blocked."
Paul Perkins
had UCLA's fifth rushing touchdown, carrying five times for 55 yards.
With the Bruins holding a 17-13 lead at the half, the game plan was keep to pounding away. And the Bruins were consistent with 172 rushing yards in the first half and 173 in the second.
"I was happy with the way they came out in the second half," said offensive coordinator Noel Mazzone. "The running backs kept believing in the game plan, which was a shocker cause they think I throw too much anyway. It was a good effort by those kids. I was proud of them."
Obviously, there is much to watch on the film. And the Bruins will have an extra week to clean things up before making the trip to Nebraska for a showdown with the Huskers -- a team UCLA topped last year at the Rose Bowl.
And while the staff had praise for all of the backs, Mora and Mazzone both noted that they liked how James was a more confident runner.
"I thought he was really into it," Mazzone said. "He's worked hard to become a one-cut runner. I want him to one-cut and then get north and south for me and he did that a few times. And I have to watch the film, but it looked to me like all of them did a nice job in pass protection."
August, 28, 2013
8/28/13
10:00
AM ET
Across the ESPN blogosphere on Wednesday, we're looking at players/coaches/position groups with something to prove in each conference. In the Pac-12, the answers should be fairly obvious. Here are 10 from the league in no particular order.
1. Lane Kiffin
: OK, maybe this one is in particular order. USC's head coach is on the hottest seat in America after a disastrous 2012. There were embarrassments for the program on and off the field. That has led to plenty of speculation about what he needs to do to keep his job. Win 10 games? Nine? Win nine and beat UCLA or Notre Dame? Or both? This is a storyline that will no doubt carry deep into the season.
[+] Enlarge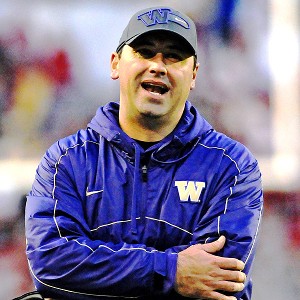 James Snook/US PresswireLane Kiffin isn't the only Pac-12 coach feeling growing pressure for a successful season.
2. Steve Sarkisian:
His seat isn't as hot as Kiffin's. But the heat index has certainly risen in the wake of another seven-win season. The Huskies have a lot of returning talent – including a quarterback with potential, a healthy offensive line, an outstanding running back and receivers (including TE), and a fairly veteran defensive core. The pieces are in place for Washington to, at the very least, get over the seven-win hump. Seven wins or fewer will be met with harsh criticism and questions about whether Sarkisian is the right guy for the job.
3. Oregon's linebackers
: This appears to be the only question mark for the Ducks, at least on paper, because they have a solid front and an outstanding secondary. Losing Michael Clay, Kiko Alonso and Dion Jordan is a big hit in terms of production, talent and leadership.
Boseko Lokombo
is a veteran presence, and
Tony Washington
,
Derrick Malone
and
Rodney Hardrick
have all been in the system for a few years. If they can match the production of their predecessors, the Ducks should be fine defensively.
4. Stanford's wide receivers:
Ty Montgomery
headlines this list. At the end of 2011, he showed explosive playmaking ability and his future looked sparkling. But injuries slowed him in 2012. With the Cardinal doing some overhauling after losing their top two tight ends, the receiver spot will likely take on more emphasis in 2013. Players such as
Devon Cajuste
,
Michael Rector
and
Kelsey Young
will need to be productive as well.
5. Paul Richardson
: The Colorado receiver missed all of last season with a knee injury and had to sit and watch his team fall apart around him. The Buffaloes went 1-11 and their coach was fired. A new coach, a new offense and a new enthusiasm in Boulder is motivating Richardson
to make up for lost time.
He is Colorado's most explosive player and knows he has the potential, and responsibility, to carry the offense. Now he just has to go out and prove he can do it.
6. Oregon State's receivers
: We know what we're getting with
Brandin Cooks
. He proved last season that he's an outstanding player. How much of that, however, was a product of the guy across the field, Markus Wheaton? With Wheaton gone, either
Richard Mullaney
or
Obum Gwacham
will have to step up as a complementary threat to Cooks -- along with
Kevin Cummings
in the slot.
7. QBs, old and new
: Not all the quarterback competitions are completed. But whoever wins the job at Arizona and USC will likely be looking over his shoulder for the bulk of the season.
Connor Wood
is back in the starting role for Colorado, true freshman
Jared Goff
gets the start for Cal, and
Sean Mannion
finally won Oregon State's job after a grueling seven-month competition with
Cody Vaz
. Nothing is set in stone at Washington State, so
Connor Halliday
will need consistent play to hold the job (we're assuming, for now, that it's Halliday). Expect these players to be under the microscope all season.
8. UCLA's running backs:
There are big shoes to fill with the departure of running back Johnathan Franklin, the school's all-time leading rusher and a Doak Walker finalist last year. Jim Mora has said that he'll likely use five backs throughout the season.
Jordon James
is the front-runner of the committee and has the best opportunity to distance himself. But expect
Paul Perkins
,
Malcolm Jones
,
Steven Manfro
and
Damien Thigpen
(health pending) to all fight for time and carries.
9. Utah's secondary
: It's not necessarily young. Just inexperienced. And in a pass-happy league, that could spell trouble. Free safety
Eric Rowe
has the most playing time among the group. Cornerback
Davion Orphey
is a juco transfer and opposite him is
Keith McGill
, a former safety and juco transfer who appeared in five games in 2011 but suffered a season-ending injury and then missed all of 2012. There is talent there. It's just mostly untested.
10. Arizona State:
Yep, the whole team. This is what you wanted, ASU fans … for the sleeping giant to be awoken. The alarm clock just went off. Now it's time to prove all the hype is worth it. A challenging schedule early -- including Wisconsin, Stanford, USC and Notre Dame in consecutive weeks -- will be a good measuring stick. Though the USC game is really the one that has South title implications. Still, the other three will go a long way toward determining how ASU is viewed nationally. Going 1-3 and beating USC wouldn't be disastrous. Going 0-4 will draw the requisite "same old ASU" criticisms.
February, 22, 2013
2/22/13
9:00
AM ET
Here are some keys and storylines to watch this spring in the South Division. Yesterday Ted looked at
the North Division.
ARIZONA WILDCATS

Start date:
March 3
Spring game:
April 13
What to watch:
New battery: The Wildcats are looking to replace a top-notch quarterback-center combo in Matt Scott and Kyle Quinn. The rock-solid duo helped produce one of the top offenses in the league. Jesse Scroggins and B.J. Denker are among those in the mix to run the offense and several returning offensive linemen are versatile enough to move around. Chris Putton and redshirt freshman Beau Boyster could be in the mix at center.
Many happy return(er)s: Arizona returns a big chunk of its offensive production -- including running back Ka'Deem Carey and receiver Austin Hill. Both should be on all sorts of preseason teams and awards watch lists. But behind the big names, there's also David Richards, Johnny Jackson, Tyler Slavin and Garic Wharton back in the mix.
No learning curve: Last spring, the talk was about Rich Rodriguez calling out his team for its lack of physical conditioning. The fact that the majority of the team understands what is expected -- and they don't need to spend the whole spring learning new systems, should be a huge help. Consider that the Wildcats return their entire defense from a group that was, at times, shaky, but will certainly benefit from another full season of playing in the 3-3-5 scheme.
ARIZONA STATE SUN DEVILS

Start date
: March 19
Spring game:
April 13
What to watch:
Plugging the middle: One of the few losses to ASU's roster is middle linebacker Brandon Magee -- a leader on and off the field and an all-around heck of a player. Carlos Mendoza looks to be a good fit -- though he's likely to miss spring while continuing to recover from a shoulder injury suffered against Illinois. Folks might remember his two interceptions before going down for the year.
Catching on: Unlike last spring, the Sun Devils have their quarterback. And he's a good one. Now, they need to find folks he can throw to. JC transfers De'Marieya Nelson (H-back, 6-3, 230) and Jaelen Strong (WR, 6-4, 205) are both big bodies who could step in and contribute immediately.
Wait and see: The kicker here is a lot of these players who are expected to compete won't arrive until the fall. So in the meantime, a lot of the younger players and redshirts will get a ton of reps in the system. And speaking of kicker, don't underestimate how much of an impact Josh Hubner made at punter. Iowan Matt Haack, who arrives in the fall, is a rugby-style kicker who can kick with either foot. That's just cool.
COLORADO BUFFALOES

Start date:
March 7
Spring game
: April 13
What to watch:
Meet your QB: Whomever it will be. There are five on the roster and a sixth coming in. Safe to say, quarterback play was extremely inconsistent last season for the Buffs. With an entirely new coaching staff coming in and installing the pistol, this could be one of the more interesting and wide-open position battles in the league.
Curious defense: One needs only to review Colorado's national rankings last year to realize they struggled. As one Buffs insider mentioned to me, they were ranked No. 1 in a lot of categories. Unfortunately, that "1" was followed by two more numbers. Only three defensive ends have playing experience. However a secondary that lacked experience in 2012 has a lot more looking into 2013.
Receiver options: The Buffs welcome back Paul Richardson, who missed all of last season with a knee injury. Colorado's premier offensive playmaker will be a nice veteran presence to whomever wins the quarterback job. Grayshirt Jeff Thomas also is back. An improved passing attack should help give the quarterback some confidence and open up the running game.
UCLA BRUINS

Start date:
April 2
Spring game
: April 27
What to watch:
Life after Franklin: The Bruins say goodbye to the best statistical back in school history -- leaving a huge void in the backfield. Johnathan Franklin was a great presence for young quarterback Brett Hundley, but now someone has to step up to fill that role, either solo or along with a committee. Look for Jordon James, Steven Manfro and Damien Thigpen to all get looks.
New No. 1: The Y-receiver, aka hybrid tight end, was filled wonderfully by Joseph Fauria -- Hundley's favorite red zone target. Darius Bell and Ian Taubler both had looks last year, but Fauria too will be tough to replace. Shaq Evans, Devin Fuller, Jordan Payton and Devin Lucien round out a pretty good receiving corps.
Secondary solutions: The Bruins must replace two corners and a safety -- Sheldon Price, Aaron Hester, Andrew Abbott -- and there isn't a ton of starting experience. Randall Goforth has five starts, but veterans such as Brandon Sermons and Anthony Jefferson have more special-teams experience than actual secondary play. Keep an eye on the secondary too when the Bruins start fall camp to see if any freshmen jump into the mix immediately.
USC TROJANS

Start date
: TBD
Spring game
: April 13
New defensive scheme: The Trojans will move to a 5-2 defensive scheme under Clancy Pendergast, and the spring drills will be the first opportunity to see the defense in action. The Trojans will have an experienced front seven, but four new starters are expected in the secondary.
Replacing Barkley: Max Wittek got the first extended audition in the battle to take over for Matt Barkley, but he didn't do enough in two late-season starts to claim the job. Cody Kessler and freshman spring enrollee Max Browne also will be looking to take the reins at one of the glamour positions in college football.
Lane Kiffin on the hot seat: The Trojans are coming off a disappointing season, and the fans are howling in protest, but so far his boss Pat Haden has maintained full support for his coach. Now is the time for Kiffin to show why that support is warranted. -- Garry Paskwietz, WeAreSC
UTAH UTES

Start date
: March 19
Spring game:
April 20
What to watch:
Erickson impact: The biggest question was what sort of role Dennis Erickson would play in the offense once he arrived. We'll know sooner than later. He already has talked about putting an identity on the Utah offense. That starts in spring when routines are established and expectations are set. And with Erickson on board to give the offense a push, the expectations will be much higher.
Wilson maturing: That leads us to the presumptive starting quarterback -- Travis Wilson -- who jumped in midseason after Jordan Wynn got hurt and Jon Hays struggled to produce. Wilson went from OK to pretty good in just a few weeks. A nice jump considering his experience level. With an entire offseason knowing he'll be the starter -- and with Erickson and Brian Johnson molding him -- it will be interesting to see what progress he makes this spring.
D-line makeover: The Utes lose some talent on the defensive line -- specifically All-American defensive tackle Star Lotulelei. Look for DE/LB Trevor Reilly to spend more time with his hand down. Tenny Palepoi, LT Tuipulotu and JC transfer Sese Ianu could all see time in the mix at defensive tackle.
May, 17, 2012
5/17/12
11:00
AM ET
Every spring, players break out. Here are a few that stood out in the Pac-12.

Ka'Deem Carey, RB, Arizona
: Carey was a hyped recruit from Tucson -- Canyon del Oro High -- and the local boy seems likely to make good this year after rushing for 425 yards as a freshman. He led a solid crew of backs this spring.
Brice Schwab, OT, Arizona State
: It's been a long time coming for Schwab, who has gone from heralded junior-college transfer to bust to likely starting right tackle. Schwab's problem when he arrived was conditioning: He was huge but it wasn't good weight. And he was way too weak. He started four games in 2010 and struggled, then redshirted last season in order to get in better shape. Once a 340-pounder, he's now 6-foot-7, 295. And he's a better player.
Deandre Coleman, DE, California
: Said coach Jeff Tedford of the 6-5, 311-pound junior: "He may be one of the best that we've ever had." That about sums it up. Coleman dominated this spring, looking like an all-conference candidate.
Tony Jones, RB, Colorado
: Replacing the highly productive Rodney Stewart was a spring priority and Jones, a sophomore, answered the bell. Jones is built a little like the diminutive "Speedy" -- 5-7, 175 pounds -- and he has a versatile range of skills, just like Stewart. With questions at quarterback, he will be asked to do a lot. Just like Stewart.
Colt Lyerla, TE, Oregon
: Lyerla should be a big weapon for whomever wins the Ducks' quarterback job. The 6-5, 238 pound sophomore should step in for the departed David Paulson and could end up as one of the Ducks' leading receivers. He caught just seven passes last year, but five went for touchdowns. He's a special athlete with a year of seasoning, which often is the foundation for a breakout.
Brandin Cooks, WR, Oregon State
: Cooks has speed and quickness and will play opposite one of the best receivers in the conference in
Markus Wheaton
. He caught 31 passes for 391 yards and three TDs last year while being extremely raw. He's less raw now and has good upside. And it will help that defenses will obsess over Wheaton.
James Vaughters, LB, Stanford
: The coaches have said they are going to let the leash off of this aggressive, physically imposing linebacker and see what happens. We know he'll be at middle linebacker (as opposed to just a third-down specialist last year) where he's expected to wreak havoc.
Steven Manfro, RB, UCLA
: Speed and quickness. There is a difference, but Manfro has both. He excelled in the spring sessions and though he sits third on the UCLA depth chart, he might work his way into carries if he continues to show explosive breakaway ability.
Isiah Wiley, CB, USC
: Wiley quietly started the final six games in 2011 and played fairly well. While he's a senior, this is only the JC transfer's second year in the program. This spring, he took a step forward and seems likely to start opposite
Nickell Robey
.
V.J. Fehoko, LB, Utah
: With possibly the best defensive line in the conference in front of him and offenses keying in on
Trevor Reilly
, Fehoko could be in position to be extremely productive filling the shoes of
Chaz Walker
. Similar build as Walker, who tallied 118 tackles last year.
James Johnson, WR, Washington
: After an injury-plagued career, Johnson is finally healthy and in the starting lineup. The physical tools are all there and the quarterback is in place for him to put up some solid numbers -- if he can stay on the field.
Andrei Lintz, WR, Washington State
: This converted tight end was the talk of WSU's spring session. He has the hands and size to be effective over the middle and he showed great chemistry with
Jeff Tuel
during the 15 practices. The more attention
Marquess Wilson
draws, the more opportunities there will be for Lintz to excel.