NCF Nation:

Steven Terrell
October, 21, 2014
10/21/14
12:00
PM ET
Texas A&M's
59-0 loss
to Alabama on Saturday raised a lot of questions about the Aggies. The team was inferior to the Crimson Tide in all three phases of the game -- offense, defense and special teams -- and the loss brings into question the direction the Aggies are headed.
One of the many areas of concern is a theme that hasn't drastically changed since last season: the struggles on defense.
Texas A&M's 2013 defense was poor by any measure. This season began with some promise, but many of the reasons for optimism have gone by the wayside with recent performances. Texas A&M head coach Kevin Sumlin, in discussing his team's loss Saturday, noted the Aggies had to evaluate where they are in all three phases of the game and that changes could be in store.
[+] Enlarge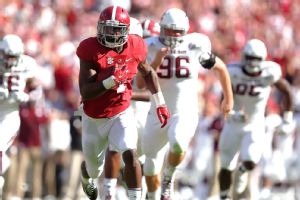 AP Photo/Brynn AndersonThe Texas A&M defense has been behind the curve far too often in the past four games.
Defensively, the question is whether the changes need to be in personnel, coaching staff or both. The reasons for the struggles have been varied, but let's take a look at each season and where the defense is under coordinator Mark Snyder, who is in his third season at the defensive helm.
The 2012 season was by far the Aggies' best under Snyder. Though depth wasn't ideal, the combination of experience and leadership in key areas in Texas A&M's first-team defense is something the group hasn't had since. Players like linebackers
Sean Porter
and Jonathan Stewart, safety
Steven Terrell
and defensive tackle Spencer Nealy (not to mention the pure pass-rushing production of defensive end
Damontre Moore
) are what the Aggies have been missing the last two seasons.
That season, the Aggies ranked in the top half or, in some cases, the top third nationally in several categories. They were 26th in scoring defense (21.8 points per game), 37th in yards per play (5.22), 31st in yards per rush (3.72), 43rd in yards per pass attempt (6.72) and 16th in third-down conversions (32.4 percent).
In other areas they weren't as strong but still respectable, like yards per game (390.2, 57th nationally), rushing yards per game (139.5, 35th), red-zone efficiency (58.1 percent, 51st) and goal-to-go efficiency (71.4 percent, 46th).
The 2013 season, on the other hand, was easily the worst so far. With those aforementioned veterans moving on as graduated seniors (or in Moore's case, early entry into the NFL draft), the Aggies plugged in a ton of youth and were a porous unit for virtually the entire season.
Last year's defense ranked worse than 100th nationally in yards per game (475.8), yards per play (6.36), rushing yards per game (222.31), yards per carry (5.38) and red-zone efficiency (71.4 percent).
Their rankings in several other areas weren't much better. Those included scoring defense (32.2 points per game, 95th), passing yards per game (253.46, 95th), yards per pass attempt (7.56, 91st), sacks (21, 84th) and third-down conversions (41 percent, 78th).
That brings us to 2014, where the Aggies have shown statistical improvement in every one of the above-mentioned statistical categories. A solid start in the first four weeks of the season against South Carolina and three non-Power 5 teams in nonconference play gave the illusion of marked improvement.
In addition, increased depth, particularly along the defensive line thanks to the 2014 recruiting class, has helped. A pass-rushing presence that was sorely missed last season has been found in a player like true freshman
Myles Garrett
, a four-star recruit who is closing in on
Jadeveon Clowney
's SEC freshman sack record.
Depth is still thin at linebacker, however, where the Aggies dismissed a starter this offseason (
Darian Claiborne
) and lost another to injury in the season opener (
A.J. Hilliard
). In the secondary, there's a mix of veterans and youth, seemingly plenty of depth but much inconsistency in terms of performance.
While the start to this season was good, the past four games, which have all been against SEC opponents (Arkansas, Mississippi State, Ole Miss, Alabama) have established an alarming trend. The Aggies' defense is trending statistically worse in that four-game stretch.
In just the last four games, the Aggies have allowed 42.5 points per game, which ranks 119th nationally. Yardage numbers have been poor, too: yards per game (495.8, 110th), yards per play (6.96, 117th), rushing yards per game (255.75, 117th), yards per carry (5.78, 117th) and yards per pass attempt (8.89, 115th).
In key conversion areas, Texas A&M has also struggled. The Aggies' third-down conversion defense in the last four games (41.2 percent, 75th nationally) is about where it was a season ago. Similar traits apply for red-zone efficiency (68.2 percent, 103rd) and goal-to-go efficiency (76.5 percent, 72nd).
And while the numbers tell enough of a story, so do a layman's eyes. It doesn't take a genius to understand the Aggies are struggling defensively. Just look at Saturday's game against Alabama and watch Crimson Tide quarterback
Blake Sims
evade about six Texas A&M defenders en route to a 43-yard touchdown run. Or
Amari Cooper
catch eight passes for 140 yards and two touchdowns. Or
T.J. Yeldon
run for 114 yards and two touchdowns on 13 carries. The Aggies allowed 602 total yards -- poor any way you slice it.
Senior linebacker
Justin Bass
put it plainly after Saturday's game.
"You can't play defense if you can't tackle," Bass said. "It's as simple as that. ... If you don't tackle, you aren't going to win games."
June, 30, 2011
6/30/11
1:15
PM ET
We'll move on to the safeties today in our position rankings across the Big 12.
Here's what we've covered so far:
The group of safeties across the Big 12 isn't fantastic, without any truly elite groups, but it's decent. There aren't any teams that look really hopeless at the position in the immediate future.
I haven't given it real close examination so far on the positions we haven't covered yet, but this is by far the closest gap between 1-10 of any position so far.
Here's how I ranked them. (Remember, I lumped in nickel backs with linebackers, so Ahmad Dixon and Tony Jefferson won't be found anywhere in this post.)
[+] Enlarge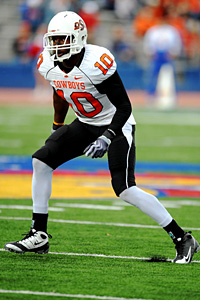 John Rieger/US PRESSWIREOklahoma State's Markelle Martin is the Big 12's best overall safety.
1. Oklahoma State
-- The Cowboys have Markelle Martin, the Big 12's best overall safety who's a big talent but a much better hitter than he is a cover man. Johnny Thomas is solid and both safeties got a lot better as the 2010 season progressed. OSU's depth lands them here, though. Daytawion Lowe could start for a few Big 12 teams and is slightly better than A&M and Texas' reserves, the other two teams with the deepest group of safeties.
2. Texas
-- Blake Gideon takes his share of criticism, a good deal of it fair, but there's a reason he's starting for Texas for a fourth season this fall. He knows what he's doing. Kenny Vaccaro will challenge OSU's Martin, among others, for the title of the Big 12's biggest hitter and Nolan Brewster and Christian Scott are strong reserves at the position. The Longhorns lose a lot at corner, but all the safeties are back from a defense that allowed just over 170 yards a game through the air in conference play last season.
3. Texas A&M
-- The Aggies' Steven Terrell and Trent Hunter are solid, and Hunter is a big playmaker who made 62 stops and picked off two passes last year. Toney Hurd Jr. is the backup and was one of the most impressive freshmen in fall camp last year, joined by Steven Campbell in the rotation.
4. Kansas State
-- Tysyn Hartman has loads of experience and is one of the Wildcats that Bill Snyder loves to rave about. Ty Zimmerman was one of the Big 12's best freshman last year, and picked off three passes. They should be solid again next year, and for as much criticism as K-State's defense faced last year, they were fifth in the Big 12 in pass defense. Logan Dold should be in the rotation, too.
5. Oklahoma
-- Reserve Sam Proctor has starting experience, but Javon Harris and Aaron Colvin enter fall camp as starters. That says plenty about how Bob Stoops and Brent Venables feel about them. In a word: confident. Colvin has the most potential in the group, but the two starters will have to learn on the go. Proctor, a senior, should be able to help. James Haynes will also be in the rotation.
6. Missouri
-- Jasper Simmons is gone, but Missouri's safeties might be a bit underrated in this spot. Kenji Jackson has loads of experience and should be solid, and Tavon Bolden and Matt White are a pair of promising sophomores who should compete at free safety. Kenronte Walker should be in the rotation, too.
7. Texas Tech
-- Injuries were a problem last year for the Tech secondary, but Cody Davis and D.J. Johnson will hold down the traditional safety spots away from the line of scrimmage in new coordinator Chad Glasgow's 4-2-5. The unit gave up lots of big plays in 2010 (151 over 10 yards, 46 over 20, and 25 over 30, all the most in the Big 12), but I'd expect that number to drop under Glasgow if the secondary stays healthy. Davis is the team's leading returning tackler, with 87 stops. Brett Dewhurst and Giorgio Durham should be in the rotation.
8. Kansas
-- Keeston Terry and Bradley McDougald give Kansas a lot of speed and athletic ability at the position, but both of the team's safeties from 2010 graduated and Terry and McDougald are short on experience. Lubbock Smith should add some solid depth to the position.
9. Iowa State
-- Iowa State loses their top playmaker at the position, David Sims, but returns starter Ter'Ran Benton. He'll be helped out by some combination of Jacques Washington, Earl Brooks and Deon Broomfield once the season starts. Iowa State's biggest weakness is on the defensive line, so it's hard to get a good read on how good the safeties really are with such a poor pass rush up front.
10. Baylor
-- This group might move up the list during the year under Phil Bennett, but the two best raw athletes (Ahmad Dixon, Prince Kent) at the position moved to nickel back and linebacker, respectively. The team's leading tackler, Byron Landor, graduated, and that left Mike Hicks as the other starter. He'll be helped out at safety by Sam Holl, Josh Wilson and K.J. Morton. Last year, the Bears ranked last in the Big 12 in pass defense in conference play, giving up over 300 yards a game. That'll have to change or Baylor won't get past seven wins.