July, 22, 2013
7/22/13
12:20
PM ET
Talk about a bad weekend for the Ohio State football program.
Less than two weeks from the start of preseason camp,
Ohio State has been rocked by two conduct issues
involving prominent players.
The Columbus Dispatch
reports starting running back
Carlos Hyde
has been dismissed from the program after being named a person of interest in a weekend assault against a woman at a Columbus bar. Starting cornerback
Bradley Roby
also was
arrested Sunday
in Bloomington, Ind., and faces a preliminary charge of battery resulting in a bodily injury.
According to a police report, Roby was asked to leave a bar after a disturbance, refused, and was subdued by bouncers at the bar before being taken into custody. Roby has an initial hearing scheduled for Monday afternoon.
Ohio State has yet to comment about either player, but a team spokesman said a personnel announcement would be made later today.
Hyde rushed for 970 yards and 16 touchdowns on 185 carries last season as Ohio State's primary back, earning second-team All-Big Ten honors from the media. Roby led the Big Ten with 19 passes defended (17 breakups, two interceptions) and added 63 tackles, a blocked kick and a fumble recovery en route to first-team all-conference honors.
Ohio State held a team meeting early Monday morning at the Woody Hayes Athletic Center. Athletic director Gene Smith attended the gathering.
Hyde's situation appears to be much more serious, although no charges have been filed. Former Ohio State linebacker Storm Klein was
dismissed from the team last July
after being charged with domestic violence and assault, but he was reinstated weeks later
after the domestic violence charge was dropped
.
The Buckeyes have good depth at running back as
Jordan Hall
returns from injury to join
Rod Smith
,
Bri'onte Dunn
and others. Dynamic recruit Dontre Wilson joins the mix in camp, which kicks off Aug. 4.
Roby would be the more significant loss if he misses any sustained period of time. The junior cornerback, who considered entering the NFL draft following the 2012 season, was scheduled to appear at Big Ten preseason media days Wednesday and Thursday in Chicago.
Ohio State's conduct issues undoubtedly will be a focal point in Chicago. Head coach Urban Meyer has avoided many high-profile off-field issues as Buckeyes coach, but his past at Florida, especially in light of the Aaron Hernandez situation, will make this a popular topic at media days.
More to come as this story develops ...
November, 26, 2012
11/26/12
2:30
PM ET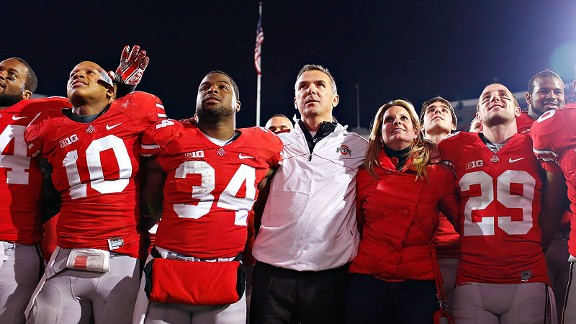 Kirk Irwin/Getty ImagesCoach Urban Meyer and his undefeated 2012 Buckeyes could have an even brighter future ahead.
I ventured out to a couple of places in Columbus on Saturday night to watch the USC-Notre Dame game. Plenty of Ohio State fans were cheering for the Trojans, hoping that their Buckeyes would end up as the only undefeated team in the country. After the Irish won, one well-lubricated fan kept yelling, "Congratulations on being the second-best team in the country."
Ohio State and its backers are relegated to just watching other teams from here on out and hoping to get recognized. The good news is, they shouldn't have to worry about that this time next year.
While the Buckeyes' 12-0 season won't end with a BCS national title shot, it does set up next year's team for a run at the crystal football. Urban Meyer's first year couldn't have gone any better, and Ohio State will almost certainly start next season in the Top 5 and possibly the Top 3.
"This sets the standard pretty high," senior tight end/receiver
Jake Stoneburner
said. "I don't think anyone really expected coach Meyer to come in and turn it around like he did. But for anyone who wants to be a Buckeye or is a Buckeye right now, there's no better place to be."
Ohio State went from a team that Meyer said repeatedly had a lot of holes during the first half of the season to one that had no holes in its résumé. That should frighten the rest of the Big Ten, as Meyer inherited a 6-7 team full of guys he didn't recruit, many of whom didn't really fit his offensive system, and he was still able to go undefeated. What will he do once he starts bringing in game-breaking receivers and running backs who can go the distance?
Even though Meyer said Monday that this team's passing game "is not even in the same hemisphere as what we want," the Buckeyes still led the Big Ten in scoring at 37.2 points per game. And that offense loses only two starters, Stoneburner and right tackle
Reid Fragel
, while hoping senior running back
Jordan Hall
gets a medical redshirt. Meyer said after Saturday's win over Michigan that
Carlos Hyde
has progressed into one of the top running backs in the country. Sophomore quarterback
Braxton Miller
is a possible Heisman Trophy finalist who still needs to make tremendous strides in his passing accuracy and pocket awareness.
"I don't see the ceiling yet," Meyer said. "He's got that much further to go."
The 2013 Buckeyes will be the heavy Big Ten favorites and their schedule is once again very manageable. They play Buffalo, San Diego State and Florida A&M at home, with only California on the road in the nonconference slate. In league play, they trade Nebraska and Michigan State for Northwestern and Iowa as non-protected crossover opponents from the Legends Division.
That doesn't mean next year's team doesn't have some major areas of concern. The defense could lose its entire front four if junior tackle
Johnathan Hankins
leaves early for the NFL as expected. Cornerback
Bradley Roby
, a redshirt sophomore, will have a decision to make on his future. If he goes pro, that would mean both starting corners are gone, since
Travis Howard
is a senior. And three of the team's top four linebackers --
Etienne Sabino
,
Zach Boren
and
Storm Klein
-- have used up their eligibility.
"The linebackers, we've got to get that right," Meyer said. "That's the weakest area of our team right now."
Ohio State will be starting a bunch of young players on defense and will need its offensive line to stay healthy again because there is not much depth. But intangibles, not talent, might be the biggest question mark.
Meyer said he wasn't sure the senior class was entirely on board with him until an emotional meeting before the Sept. 29 Michigan State game. He raves about that group's "complete selflessness" which he said might be the best of any team he's been around. He pointed to defensive end
John Simon
playing through severe shoulder pain, Boren switching from fullback to linebacker midseason and Sabino rushing back from a broken leg to contribute as key examples. Meyer said he will have a wall in the team's training facility dedicated to this year's team, complete with video highlights that feature the team's unselfish nature.
There's no guarantee that next year's team will repeat that. Meyer also worries about the complacency that success can bring. He said he'll try to find ways to motivate the players in the offseason, including using the fact that a bowl game was taken away from them in 2012.
"We've got to make sure that doesn't take place," he said. "We need an angry team next year. If we have to manufacture that, we will. We're going to try to push the right buttons to get an angry team. If they're not angry, [if they're] complacent this team's as good as dirt, just like any team."
This year's team was good enough to go undefeated, something Meyer never accomplished at Florida despite winning two national titles there. It's scary to think how good the Buckeyes can be in the future after the first year he had in Columbus. Buckeyes fans might not have to concern themselves too much with what other teams are doing in late November.
October, 8, 2012
10/08/12
1:25
PM ET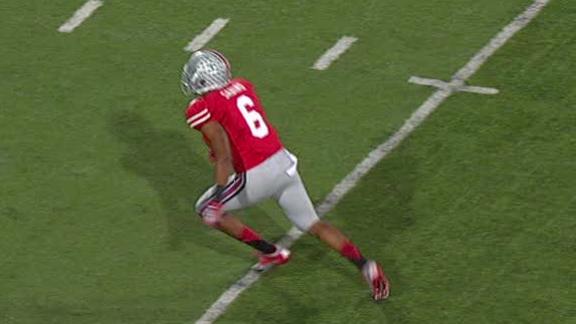 Ohio State is 6-0 and ranked No. 8 in the country. But there is one thing that could derail this great start for the Buckeyes: injuries.
Specifically, injuries would present serious problems at three positions for Ohio State: quarterback, offensive line and linebacker. The latter group received some bad news on Monday.

Senior outside linebacker
Etienne Sabino
fractured a bone in the fibula of his right leg during Saturday's 63-38 win over Nebraska, the team announced today. Sabino has already had surgery and had a plate inserted into his leg. Ohio State is saying he will be out about four weeks, though Urban Meyer said three weeks is a best-case scenario.
"Tremendous blow," Meyer said at his weekly news conference Monday. "Sabino is like a son and brother to everybody."
He's like an older brother to the Buckeyes' linebacking corps as one of its few veterans. Sabino has 11 career starts and 46 games under his belt. He's had an interesting career, struggling to get on the field early, then redshirting in 2010 for what would have been his true junior year. But Sabino has started to really come on this season and had his best game two weeks ago against Michigan State. He's third on the team in tackles (37), tied for second in sacks with two and has an interception and forced fumble.
His replacements, according to the team's latest depth chart, are a pair of true freshmen:
Joshua Perry
and
David Perkins
. Both are talented players, but they obviously lack much game experience. Ohio State's other starting outside linebacker,
Ryan Shazier
, is a sophomore who's backed up by two freshmen. Senior middle linebacker
Storm Klein
is the only elder statesmen in the group now.
Ohio State's defense has been susceptible to missed tackles and blown assignments this season, though it done a better job of that the past two weeks. Believe it or not, Indiana should actually present a good test for that linebacking group this weekend, as the Hoosiers do have a strong passing game.
Beyond that, the Buckeyes will face Purdue at home and then go to Penn State. Then they have a bye week, so hopefully Sabino can be ready for the final two games against Wisconsin and Michigan.
The pressure is now on Ohio State's young linebackers to produce. And Buckeyes fans will have to hope for no other serious injuries at the team's thinnest positions.
August, 28, 2012
8/28/12
4:00
PM ET
It's time for the second half of our Big Ten personnel roundup entering season-opening weekend. In case you missed Part I, which featured most of the Week 1 depth charts, be sure and
check it out
.
Michigan State released its depth chart, so we'll start there. Minnesota and Nebraska will release theirs later this week.

MICHIGAN STATE
Depth chart
There are two unsettled positions on defense as Michigan State lists co-starters at defensive tackle (Micajah Reynolds and Tyler Hoover) and at free safety (Jairus Jones and Kurtis Drummond). Head coach Mark Dantonio called the Reynolds-Hoover competition "a flip of the coin" and praised Reynolds' progress during fall camp. Reynolds has a 33-inch vertical leap and bench-presses more than 400 pounds. Hoover, a converted defensive end, missed all but one game last season with a fractured rib.
Linebacker Darien Harris and defensive end Lawrence Thomas both don't appear on the depth chart because of injuries but will be contributors this season. Harris could see the field early Friday night against Boise State. Sophomore Skyler Burkland is listed as the backup left tackle but likely won't play because of a hand injury.
Junior Bennie Fowler and sophomores Keith Mumphery and Tony Lippett are listed as Michigan State's top receivers. Tennessee transfer DeAnthony Arnett, who had 24 receptions last season for the Vols, appears as Fowler's backup.
Here are some other personnel notes from around the league ...

IOWA
Running back is the big question mark for the Hawkeyes after another summer of attrition. Iowa enters Saturday's opener with three primary backs --
Damon Bullock
,
Greg Garmon
and Michael Malloy -- as well as two fullbacks in
Brad Rogers
and
Mark Weisman
.
Bullock, who had 10 carries for 20 yards, likely will get the start against Northern Illinois, although Garmon, a heralded true freshman, should get plenty of work as well. Rogers is a familiar name, and coach Kirk Ferentz praised Weisman's progress during camp.
"You play the cards that are dealt," Ferentz said. "The running back position is one where we've had a lot of players playing. The good news is they've performed pretty well."
Sophomore
Jordan Canzeri
, who
suffered a torn ACL in spring practice
, has returned to practice, but Ferentz said it's "weeks or months before we talk about him entering contact or anything live at all." Iowa has been cautious about live tackling involving its running backs in practice, particularly those who have game experience.

PURDUE
Boilers coach Danny Hope didn't sound too concerned about playing without top middle linebacker Dwayne Beckford, indefinitely suspended Monday following his latest arrest. Purdue practiced without Beckford during spring ball -- he was working his way back from another legal issue -- and rotated several players at middle linebacker. Senior
Antwon Higgs
appears to be the next man in, and converted quarterback
Sean Robinson
is behind him.
Sophomore
Joe Gilliam
, who recorded seven tackles last year and made one start, should be a bigger part of the plan as well.
"I thought in the recruiting process he was one of the top players in our state," Hope said of Gilliam. "I thought Joe was probably the next guy in line [behind the starters]."

INDIANA
Not surprisingly, Tre Roberson has emerged as Indiana's starting quarterback after taking over the top spot as a true freshman in 2011. Roberson beat out junior college arrival Cam Coffman and freshman Nate Sudfeld for the job. Coffman will serve as Roberson's backup. Although Roberson struggled in Tuesday's morning workout, coach Kevin Wilson has been pleased with the sophomore. "He's embraced the challenge," Wilson said. "He definitely can make some plays as a bit of a dual-threat guy. He's embraced the competition. He has been by far our most consistent quarterback."
Roberson will be passing the ball more in 2012, and he'll have a deeper group of wide receivers at his disposal. How deep? Wilson said that veterans Kofi Hughes and Duwyce Wilson enter the season as the team's No. 5 and No. 6 receivers (Hughes is suspended for the opener against Indiana State). Kevin Wilson had high praise for sophomore Cody Latimer, limited by a sports hernia injury last season. Speedster Nick Stoner also should be a bigger part of the mix at receiver. "It's not because they've [Hughes and Duwyce Wilson] fallen off but because we've got some good players," the coach said. "We've got some competition, we've got some depth, we've got some young speed and I just think we're close to having a more complete unit there. We're not great at receiver, but we do have more playmakers."

ILLINOIS
Illinois' secondary isn't anywhere near full strength as it prepares to face Western Michigan and talented quarterback Alex Carder. The team's top two safeties, Steve Hull and Supo Sanni, both are nursing injuries and didn't appear on Monday's depth chart. Also, top cornerback Terry Hawthorne has a sprained ankle that will limit him only to defense for the first few games. Illinois wanted to use the athletic Hawthorne as another option at receiver, a position with little proven depth. The bigger question is how much the ankle will limit the senior with his primary cornerback responsibilities.
Although the Illini will rotate plenty at running back, receiver and tight end on Saturday, they won't employ a two-quarterback system, which had been rumored during camp. Co-offensive coordinator Chris Beatty said Tuesday that he's not a big believer in rotating quarterbacks, so junior Nathan Scheelhaase will take most or all of the snaps.

OHIO STATE
Urban Meyer expects "six seconds of great effort" from Ohio State's freshmen in Saturday's opener against Miami (Ohio). Asked which freshman he was most curious to see, Meyer identified defensive back Devan Bogard as well as freshman linebacker David Perkins, who "really exploded the last couple of days."
Meyer said freshman Bri'onte Dunn and sophomore Rod Smith are "very close" for the No. 2 running back spot behind Carlos Hyde. Dunn has been a bit more consistent in camp and has a slight edge.
Meyer said Storm Klein's role going forward is yet to be determined and that recently reinstated linebacker is still "making up a bunch of stuff" after missing almost all of fall camp. Meyer based his decision to reinstate Klein on a domestic violence charge being dismissed against the senior, who pleaded guilty to misdemeanor disorderly conduct.

NORTHWESTERN
Coach Pat Fitzgerald acknowledged that it has been easier to go through the preseason this year as opposed to 2011, when talk of quarterback Dan Persa's health dominated fall camp. Although Northwestern knew all along that Persa wouldn't play in the first few games and
Kain Colter
would start, it has been easier for Colter this time around.
"Unfortunately, Danny had to go through that tough offseason," Fitzgerald said. "That was not fun. Kain handled the opportunity really well a year ago. ... You could definitely tell it was his first start in college football Now he's settled down, he's settled into the role."
August, 23, 2012
8/23/12
10:10
PM ET
Ohio State
has reinstated linebacker Storm Klein
after his domestic violence charged was dismissed.

Klein instead pleaded guilty to misdemeanor disorderly conduct on Wednesday. The senior, who was kicked off the team after his initial July 6 arrest, will face at least a two-game suspension from head coach Urban Meyer. But he is back to being a Buckeye.
His reinstatement adds depth and experience to a position that has talent, but a lot of youth for Ohio State. Sophomores
Ryan Shazier
and
Curtis Grant
are slated to start next to fifth-year senior
Etienne Sabino
. Klein started 10 games last year at middle linebacker, collecting 45 tackles. He will likely serve as a backup to Grant when allowed to play.
Klein was originally charged with "violently and purposefully" removing the mother of his child from his off-campus apartment. But the woman later recanted her original accusation and said Klein did not strike her. She said she was injured while flailing around during the argument and wanted the charges dropped.
Meyer had dismissed Klein as part of his zero-tolerance policy involving violence against women. But domestic violence cases are often murky, and Klein was cleared of any violent charges. By welcoming Klein back but still suspending him, Meyer is still making a statement. Meyer's handling of discipline at Ohio State will be closely monitored because of his time at Florida, which included a string of arrests involving prominent Gators.
"As I had indicated previously, if there are changes in the charges against Storm, I would re-evaluate his status," Meyer said in a school release. "The charges that would have violated our core values have been totally dismissed.
"I have spoken extensively to members of both families and that has prompted me to reassess his situation and allow him back."
July, 7, 2012
7/07/12
10:14
AM ET
Some bad news in Buckeye Country as a man matching the description of
Ohio State linebacker
Storm Klein
was arrested Friday and charged with misdemeanor domestic violence and assault, according to
court records
.

According to the court records, a 6-foot-3, 240-pound man with blonde hair named Storm Klein was arrested Friday and is scheduled for arraignment on Saturday morning. Ohio State officials had not confirmed Klein's identity as of late Friday night, but the descriptions in the report match closely with the senior who left spring practice as the backup at middle linebacker.
An arraignment is scheduled for 9 a.m. Saturday. No other details are available at this time.
The 6-2, 242-pound Klein started 10 games last season but missed most of spring practice because of injury. Ohio State's coaching staff listed
Curtis Grant
ahead of Klein at middle linebacker on the
post-spring depth chart
issued in May.
It will be interesting to see how head coach Urban Meyer responds to the situation. Meyer set the tone for how he'd handle discipline with the Buckeyes in removing senior offensive starters
Jake Stoneburner
and
Jack Mewhort
from their scholarships for the summer session
after the players were arrested in early June. Although both Stoneburner and Mewhort can return to the team and are expected to be back for the season, Meyer's actions showed he's taking a hard-line stance toward discipline, a topic for which he drew criticism during his time at Florida.
Although Klein's alleged crimes are misdemeanors, they are much more serious than what Stoneburner and Mewhort did and would prompt a stronger punishment, perhaps dismissal from the team.
Stay tuned.
June, 7, 2012
6/07/12
2:00
PM ET
Everyone knows Terrelle Pryor headlined
Ohio State's nationally acclaimed recruiting class
in 2008.
But who can name the Buckeye's No. 2 rated player in the class, according to ESPN Recruiting? Hint 1: It wasn't Mike Adams, Mike Brewster, J.B. Shugarts or DeVier Posey. Hint 2: He's still in Columbus.
It might surprise some to know
Etienne Sabino
came to Ohio State with as much hype as the others, besides Pryor. ESPN Recruiting ranked him as the nation's top inside linebacker and
No. 18 player overall
. Sabino, who had an excellent size-speed combo coming out of Miami's Dr. Krop High School, received similar accolades from other recruiting services.
[+] Enlarge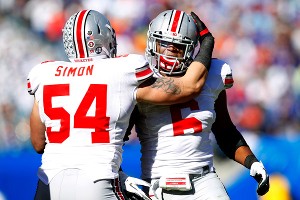 Joe Robbins/Getty ImagesEtienne Sabino, right, is looking to end his career at Ohio State the right way in 2012.
Yet unlike Pryor, Brewster and the others, Sabino didn't make an impact right away. He played mostly special teams as a freshman, recording six tackles. He had virtually the same results as a reserve in 2009 (13 games played, six tackles made).
Pegged
as a starter in the spring of 2010
, Sabino had high hopes entering fall camp. Linebackers coach Luke Fickell said of Sabino that spring, "He's the guy. ... This has been his best spring so far." But a great spring didn't translate into fall camp, as Andrew Sweat beat out Sabino for the third starting linebacker spot alongside Ross Homan and Brian Rolle. Sweat had been another decorated recruit in 2008, although not as heralded as Sabino.
Sabino and the coaches
agreed he should redshirt the season
, and while a rash of injuries midway through the season nearly forced him onto the field, he was able to sit out.
His wait for a bigger role finally ended in 2011, as he started five games and recorded 62 tackles, including 6.5 for loss and two sacks. It was a step, although not a huge one. Ask most Ohio State fans what they're excited about at linebacker entering 2012, and the name
Ryan Shazier
likely will be brought up before Sabino's.
"Coming in from high school, you want everything to happen right away," Sabino told ESPN.com. "You want to jump in, you want to contribute to the team, you want to be a superstar. Unfortunately, it doesn't always happen that way. As of right now, I think my career, would I want it to be a little better at this point? Yes. But I feel like it's getting better in the past year or so, and I'm looking to build on that.
"I just feel ready. I felt ready before, but I have such a good grasp of what we're doing and what's expected."
As one of just eight members of the 2008 class still with the Buckeyes, the 6-foot-3, 237-pound Sabino is embracing a greater leadership role. He called the most recent spring practice "the most comfortable I've felt since I've been here." He has embraced the scheme under Fickell, the team's defensive coordinator, and his role as an outside linebacker after getting a look at the middle earlier in his career.
Ohio State's defense took a step back in 2011, and the linebacker play was below program standards. While the Buckeyes have depth questions at linebacker outside of Sabino, Shazier and
Storm Klein
, Sabino has high hopes for the group.
"We pride ourselves on being Linebacker U," Sabino said. "There might be a little bit of a controversy everywhere else, but we truly feel this is Linebacker University and we're trying to uphold that tradition here."
Fickell, who like many had such high hopes for Sabino coming out of spring practice in 2010, has seen the fifth-year senior embrace the urgency before his final season in Scarlet and Gray.
"He is an unbelievable example to a lot of guys because he was one of those highly, highly recruited guys," Fickell told ESPN.com. "Things didn't happen for him really fast, and he's had a true up-and-down college career from what people might have thought or he might have thought when he came out. It just doesn't always happen for everybody really fast.
"We always try to tell them, 'It's not about where you start, it's where you finish.' He's on that route to really be able to finish very, very well."
Sabino still has time to make Ohio State fans remember his name.
October, 15, 2011
10/15/11
11:00
PM ET
It's time to recognize the best and the brightest from Week 7 in Big Ten play.
October, 15, 2011
10/15/11
8:58
PM ET
CHAMPAIGN, Ill. -- Ohio State players know many of you have been enjoying this.
After a decade of dominance in the Big Ten, the Buckeyes' backslide both on and off the field in recent months has brought delight to folks around the country. The suspensions, the departures, the NCAA issues and, most recently, the losses have created one giant Scarlet and Gray snowball, rolling down the mountain.
"A lot of people," cornerback Travis Howard said, "are waiting for us to fold."
They're still waiting.
Ohio State reached a crossroads Saturday at Memorial Stadium. After collapsing the week before at Nebraska, the Buckeyes were in danger of slipping to 0-3 in the Big Ten and below the .500 mark for the first time since 1999 (and this late in the year for the first time since 1988). Coach Luke Fickell took heat during the week. Backup quarterback
Joe Bauserman
took even more heat.
A loss to No. 16 Illinois might be the breaking point for Ohio State.
Instead, it could turn out to be the turning point.
Ohio State silenced Illinois in a
17-7 victory
and, in the process, sent a loud-and-clear message to the rest of the Big Ten.
"Ohio State is going to be here," Howard said. "This is Ohio State football. This is what we do, and we're going to continue to keep fighting."
The Buckeyes' unconventional method for victory suited what has been an unconventional season in Columbus. Their three scoring drives totaled 79 yards.
They completed one pass -- one! -- and attempted just four. It marked the first time since a 1976 loss to Missouri that Ohio State finished with just one pass completion.
Ohio State's coach that day? Woody Hayes. He would have loved this one. The current coach, a former Buckeyes defensive lineman and defensive assistant, didn't mind it, either.
"The game plan was to win," Fickell said. "That was the ultimate, most important thing, and however we had to do it, we were ready to to do it."
[+] Enlarge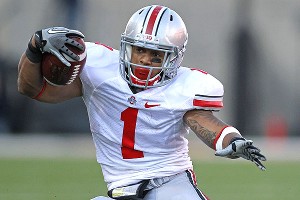 Jonathan Daniel/Getty ImagesIn his first game this season, Dan Herron rushed for 114 yards and one touchdown.
The Buckeyes won with physical strength at the line of scrimmage, hard-hitting defense, opportunistic play and running -- lots of it, 51 carries for 211 yards.
Running back
Dan "Boom" Herron
, one of the infamous Tat-5, made his season debut after serving a six-game suspension and looked like the freshest player on the field. He repeatedly evaded an aggressive Illini defense, racking up 114 rush yards and a touchdown on 23 carries.
Herron had spent the first six games watching at home, often with teammate
DeVier Posey
, who remains suspended until Nov. 19. Both men were suspended for multiple NCAA rules violations.
"I learned a lot," Herron said. "Just thinking twice before making decisions. It really made me grow up as a man. I'm just not taking anything for granted."
An Ohio State team that seemingly could take great seasons for granted no longer has that luxury. The suspensions of quarterback Terrelle Pryor, Herron, Posey and left tackle Mike Adams left the offense in a bind.
For the Buckeyes to succeed this fall, the defense would have to perform at a championship level. After falling apart at Nebraska, showing uncharacteristically poor tackling and an inability to stop big plays, Ohio State re-established its identity.
"We wanted to go out and prove something," said safety C.J. Barnett, who delivered several jarring hits. "We were kind of pissed off. ... Being at Ohio State, the people that came before us, they established a tradition of excellence. With the losses, we weren't really living up to that."
Ohio State received standout performances from linemen Johnathan Hankins and John Simon, the team's top two tacklers, who combined for six tackles for loss. Safety Tyler Moeller (5 tackles, forced fumble) and linebacker Storm Klein (forced fumble, fumble recovery, tackle for loss) helped the effort along with Howard and cornerback Bradley Roby, both of whom recorded interceptions.
With the offense struggling, the defense set up short fields with its first two takeaways, both of which led to touchdowns. Although Ohio State listed better tackling and limiting big plays as its top two priorities, the takeways proved to be huge.
"This is a game of momentum," Fickell said. "The one thing we've lacked on defense is making some plays."
Illinois had made plenty of play in its first six games, storming out to its best start since 1951. But Ohio State flustered quarterback
Nathan Scheelhaase
and prevented star receiver
A.J. Jenkins
from going off again.
Although the Illini received a strong performance from their defense, the offense didn't show up until the closing minutes.
"You can't scrap the season," coach Ron Zook said. "We have a chance to be pretty good."
The Buckeyes think they do, too, although they haven't looked the part for much of the year. While Saturday's win was anything but pretty, Ohio State improved to 1-0 in Leaders division play. Remember, the Buckeyes face division leaders Wisconsin and Penn State at Ohio Stadium.
They now enter a much-needed bye week before
Russell Wilson
and the Badgers come to town.
As players and coaches ran to the southeast corner of the stadium to celebrate with their fans and sing "Carmen Ohio," a jubilant Herron shouted, "We're back!"
Maybe not all the way back, but they're not dead, either.
Far from it.
"We got momentum," Fickell said. "It's so huge, that feeling is so huge. That's what drives you to do this. Those guys haven't had that in a while."
May, 30, 2011
5/30/11
10:25
PM ET
We know Jim Tressel won't be walking the sidelines for Ohio State this fall. But who takes the field for the Buckeyes remains very much in doubt.
The most damning part of
Sports Illustrated's investigation into Tressel
and the Ohio State program is the allegation that memorabilia sold for money and tattoos wasn't confined to the so-called "Tat-5" -- quarterback
Terrelle Pryor
, running back
Dan Herron
, wide receiver
DeVier Posey
, left tackle Mike Adams and defensive end Solomon Thomas -- who have been suspended for the first five games of the 2011 season. The SI report names at least 28 players who allegedly traded memorabilia or autographs for money and tattoos since 2002, including nine players on the current roster.
[+] Enlarge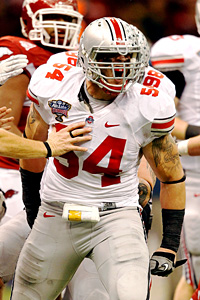 Matthew Stockman/Getty ImagesAccording to an SI report, starter John Simon is one of nine previously unnamed players on the current Ohio State roster who allegedly traded memorabilia or autographs for money and tattoos.
The current players named in the report are: safety C.J. Barnett, linebacker Dorian Bell, running back
Jaamal Berry
, running back
Bo DeLande
, defensive back Zach Domicone, linebacker Storm Klein, linebacker Etienne Sabino, defensive tackle John Simon and defensive end Nathan Williams.
Several of those listed are expected to play significant roles this season, most notably Simon and Williams, returning starters on the defensive line. Sabino and Klein are in the mix at linebacker, while Berry competed for the top running back spot this spring.
From the SI piece:
Ohio State's conclusion that only six players broke the rules is based in part on a list of the items the Department of Justice seized in raids of Fine Line Ink and [Edward] Rife's home on May 1, 2010. But that list, which mentioned 42 football-related items that Rife bought, received or acquired in trades from players, covered only a small fraction of what he got from the Buckeyes, Ellis says. "Eddie had storage units all over town," he says, "and he also sold some stuff off to people." (Through Palmer, his lawyer, Rife declined to comment on his involvement with Ohio State players.) Ellis estimates that Pryor alone brought in more than 20 items, ­including game-worn shoulder pads, multiple helmets, Nike cleats, jerseys, game pants and more. One day Ellis asked Pryor how he was able to take so much gear from the university's equipment room. Ellis says the quarter­back responded, "I get whatever I want."
Expect Ohio State and/or the NCAA to investigate these allegations. If the current players are found to have violated extra-benefit rules, they could face significant suspensions for the 2011 season.
Couple this with the
new NCAA/Ohio State probe into Pryor
and allegations he received cars and other extra benefits, and Ohio State's depth chart could be a mess heading into the 2011 season.
Other key points from the SI report:
Writers George Dohrmann and David Epstein paint the memorabilia sales among players as a systematic problem at Ohio State. It certainly calls into question athletic director Gene Smith's claim that the sales involving Pryor and the others were isolated. Ohio State's brief investigation into the memorabilia sales in December also looks shaky. The number of players alleged to have violated NCAA rules at two separate tattoo parlors, along with the time span in which these infractions possibly occurred, has to be unsettling. Former Ohio State player Rob Rose told SI that he traded memorabilia items for tattoos, as did 20 other players. With Tressel gone, much of the focus turns to Smith and Ohio State's compliance department. This report doesn't help them.

One element of the story that already is generating attention is the anecdote from a former colleague of Tressel's on Earle Bruce's staff at Ohio State. The former Buckeyes coach, who served with Tressel on Bruce's staff during the 1980s and asked to remain anonymous, told SI that Tressel rigged raffles at Ohio State's football camps so that elite prospects would win, a violation of NCAA rules. "In the morning he would read the Bible with another coach," the coach told SI. "Then, in the afternoon, he would go out and cheat kids who had probably saved up money from mowing lawns to buy those raffle tickets. That's Jim Tressel." If true, this is really creepy and disappointing.

The report also reviews Tressel's claims that he knew nothing about NCAA violations involving his players at both Youngstown State and at Ohio State. Those unaware of these aspects of Tressel's track record can get an education from this piece.
So there you have it. Quite a day in Columbus, and not much of a holiday for those of us covering the story.
We'll have much more on the fallout from Tressel's resignation and what's next for Ohio State on Tuesday, so be sure and check in early and often.
June, 2, 2010
6/02/10
11:00
AM ET
Wisconsin running back
John Clay
might be the Big Ten's best hope for the Heisman Trophy this season, which will make you scratch your head after reading this next statement.
The Badgers can survive without him.
Not to diminish Clay's size and power, which Wisconsin would miss if he goes down, but the Badgers aren't exactly starved for running backs.
Montee Ball
showed flashes as a true freshman the past season, and
Zach Brown
boasts more experience (36 games played) than any other Big Ten backup back.
And whomever carries the ball for Wisconsin will benefit from working behind one of the nation's top offensive lines. Left tackle Gabe Carimi and guard John Moffitt get most of the buzz, but Wisconsin returns all five starters up front, as well as others like Bill Nagy who boast game experience.
The Badgers are one of several Big Ten teams who can survive the loss of a key player or two, as long as it isn't quarterback
Scott Tolzien
.
The reason why Ohio State has won or shared the past five Big Ten championships: their depth chart. Take the linebacker position, for example. The Buckeyes have two of the Big Ten's best in Ross Homan and Brian Rolle, but they also can turn to a guy like Etienne Sabino, or younger backers Storm Klein, Dorian Bell and Andrew Sweat. Tyler Moeller also should return to the field this fall, although he'll likely see more time at safety.
Indiana's
Tandon Doss
and Purdue's
Keith Smith
were the media's picks for the first-team All-Big Ten squad in 2009, and both players are primed for big seasons this fall. While both also would be big losses, their teams have other options. Indiana can turn to
Damarlo Belcher
and
Terrance Turner
, or younger players like
Duwyce Wilson
. Purdue always boasts depth at receiver and has options like
Cortez Smith
,
Antavian Edison
and
Gary Bush
behind Smith. And don't forget about incoming freshman O.J. Ross or
Justin Siller
, the reinstated former starting quarterback.
Speaking of the offensive skill positions, Michigan State and Iowa boast similar depth. Both teams have potential All-Big Ten players --
Keshawn Martin
,
Derrell Johnson-Koulianos
,
Marvin McNutt
,
Keith Nichol
-- but can truly lean on their strength in numbers. Michigan State quarterback
Kirk Cousins
is a very lucky man, as he'll have four capable wideouts, three capable tight ends and at least two capable running backs at his disposal. Iowa's
Ricky Stanzi
also has weapons at wideout with Johnson-Koulianos and McNutt, as well as three solid options in the backfield with
Jewel Hampton
,
Adam Robinson
and
Brandon Wegher
.
Michigan has several areas of concern entering 2010, but offensive line shouldn't be one of them. The Wolverines return five linemen who started part or all of the past season, led by veteran guard Stephen Schilling. Michigan has five offensive linemen who have three years of experience under their belts, not to mention promising young prospects like Taylor Lewan and Michael Schofield.
Flipping to the other side of the line, look at Penn State. Sure, the Nittany Lions lose Big Ten co-Defensive Player of the Year Jared Odrick, but there's no reason to doubt defensive line coach Larry Johnson and his personnel. Penn State will have depth up front yet again with guys like Jack Crawford, Ollie Ogbu, Devon Still, Eric Latimore and Kevion Latham.