January, 10, 2012
1/10/12
6:19
PM ET
With New Orleans hospitals, schools and basic infrastructure in dire need of rebuilding following Hurricane Katrina, many taxpayers wondered aloud why the Federal Emergency Management Agency would allocate $156 million for a renovation of the Superdome.
Sure, the stadium was eligible for FEMA funding because it was state-owned, open to the public, and it sustained damage during Katrina. Yet questions came, anyway.
But for Louisiana, it marked a "If You Build It, They Will Come" idea. Fast-forward six years, and note that the Mercedes-Benz Superdome -- on the heels of $336 million, multiphase renovation -- is in the midst of playing host to a string of the country's major sporting events.
[+] Enlarge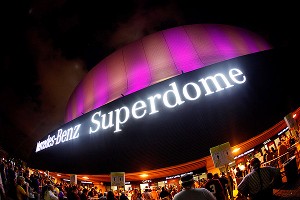 Chris Graythen/Getty ImagesThe Mercedes-Benz Superdome before the All-State BCS National Championship Game.
In addition to the annual Sugar and New Orleans bowls, the city that hosted the Allstate BCS National Championship Game on Monday night also has Saints playoffs games this winter, the SEC men's basketball tournament and men's Final Four this spring, the Super Bowl in February 2013, and the women's Final Four a few months later.
Landing such events was part of the post-Katrina recovery plan, says Mark Romig, chief executive officer of the New Orleans Tourism Marketing Corp., and a member of committees for the Super Bowl and Sugar Bowl. "We knew for us to come back and to lift ourselves up, we had to go through this process."
Romig says New Orleans annually ranks at or near the top of the list in hospitality jobs nationally, with between 70,000 and 80,000 positions. He says that number is "very close" to pre-Katrina levels and that there are more restaurants in New Orleans than before the hurricane, and hotel numbers are comparable.
John Williams, interim dean for University of New Orleans' College of Business Administration, attributes much of the city's jump from $4.3 billion in tourism spending in 2009 to $5.5 billion in 2010 to sports. Business travelers are staying an average of 2.2 days longer than their business plans, he says, often to attend sporting events.
Williams says studies also show fans visiting for sporting events are more likely to patronize local restaurants than other tourist segments, like day visitors or business travelers. It's why he thinks the city has seen a jump in restaurants from 805 pre-Katrina to 1,230 today. "Sports are really key to that," he says.
Williams says the city saw a 6.6 percent growth in tourism-related jobs in the first quarter of 2011 alone. While numbers have not yet been vetted for the remainder of 2011, he says the city has been experiencing a snowball effect since hosting Saints playoff games in 2009.
Romig says hosting events like the BCS game Monday essentially provide the city with immeasurable free advertising to help boost tourism unrelated to sporting events. ESPN logged more than 36 hours of programming on sets around New Orleans in the week leading up to the game, not counting the game itself, pre- or post-game shows or halftime shows.
Asked to estimate the value of the advertising New Orleans received around the BCS National Championship game, Malcolm Turner of Wasserman Media Group says, "There's no question we're talking in the tens of millions of dollars."
The projected economic impact from the recent Sugar Bowl and BCS National Championship games was $400 million. The R&L Carriers New Orleans Bowl played on Dec. 18 and the Saints playoff game last Saturday were expected to contribute another $45 million. But the Super Bowl is the big revenue generator, with estimates at about $900 million.
November, 3, 2011
11/03/11
12:00
PM ET
We've got bad news. College football rivalries aren't
really
about the emotional roller coaster, the good guys versus bad guys of a Hollywood movie. Their fundamental essence is far more akin to those self-help books you see stacked high on the deeply discounted table at your corner bookstore.
While Oregon and Washington fans have spent a lot of time this week painting each other as inferior, uglier, stupider and enemies of all that is right and good, the Huskies' and Ducks' locker rooms have been talking about focusing on "things they can control" and about the "importance of preparation" and about "winning the day."
[+] Enlarge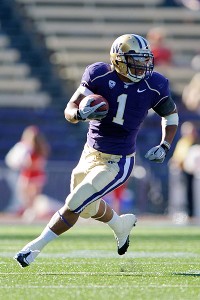 Steven Bisig/US PresswireWashington's Chris Polk remains friends with Oregon's LaMichael James despite the teams' rivalry.
Rivalry talk? It's for fans, not players.
"That stuff is so cool when you are on the outside," Washington coach Steve Sarkisian said. "That's why I love this sport. But from the inside, the rivalry is not going to make us play better. It's our preparation."
On Monday, some Oregon fans probably will make up stories about being spit on in Husky Stadium, just like some Huskies fans probably made up stories about being spit on at Autzen Stadium in the past, as if spitting on people is more accepted as proper behavior in Seattle/Portland than in Portland/Seattle.
And Huskies running back
Chris Polk
will still be from California and Ducks running back
LaMichael James
will still be from Texas and they will continue to like each other, because the different colors of their jerseys don't hide the fact they have a lot in common.
"He's a real cool person," Polk said. "It just so happens that he's a Duck and I'm a Huskie. I consider him a friend. I respect him as a player and a person."
Further, the bitter hate of this rivalry among fans apparently can be weened out of a young man if he should ever become a player in the game, either via coaching hypnosis, a magic ray beam set up in the locker room, or an untruth serum provided by a sports information department deeply paranoid about players saying anything inflammatory about the rivalry.
For example, Oregon defensive tackle Taylor Hart, a graduate of Tualatin (Ore.) High School, has this in
his official bio
: "Notable: Father is a UO graduate. Attended first Oregon game (against USC) when he was eight years old."
When asked about this, Hart acts as if he has little memory of it, other than admitting that, yes, he did root for Oregon growing up.
Asked if this game is special for him, he said: "We've been going into every game as the Ducks Super Bowl and that's worked for us. I feel like that's how we're going into this game."
Asked how his father, Doug, might feel about this game, Hart said: "I don't know how he feels."
Hmm.
This, of course, can be attributed to Ducks coach Chip Kelly's well-known mind-control techniques. While Kelly admits that he frequently hears from Ducks fans about their dislike of the Huskies -- "They bring it up. It's relevant to them," he said -- he also coaches by the mantra of playing a "nameless, faceless opponent" each week, and that each game is the equivalent of a "Super Bowl."
If you wish to mock this approach, please note that Kelly is 29-5 as the Ducks' head coach and is 22-1 in conference play.
"We don't get caught up in the 1923 game," Kelly said. "Or what happened in the '89 game or the '96 game. None of us were here. The only thing we can worry about is what we have an effect on. What we have an effect on is the game we're playing on Saturday."
By the way, the Huskies won 26-7 in 1923, 20-14 in 1989 and 33-14 in 1996. They, however, have lost seven in a row in the rivalry, each defeat by at least 20 points.
This "just another game" talk might feel like raining on a parade, but at least Ducks and Huskies are pretty good at handling rain.
Further, when taken as an observable social trend, this represents an interesting shift in thinking. Recall that some coaches celebrate rivalries and talk specifically about how rivalry games are more important than others. Jim Tressel was immediately embraced by Ohio State fans when he
started trash talking Michigan before he'd even coached in the game
.
And it wasn't too long ago that then-Huskies coach Rick Neuheisel and then-Ducks coach Mike Bellotti were
trading barbs in the newspapers
, players were
openly taunting each other
and Oregon players were wearing T-shirts that said, er, "Huck the Fuskies."
Now, instead, it's fairly clear that Sarkisian and Kelly like each other, at least as well as coaches in the same conference can.
"I think the world of Chip," Sarkisian said. "We've got a very good relationship. I probably communicate with Chip as much as any other coach in our conference in season or out of season."
Finally, the "nameless, faceless opponent" mantra makes sense. Shouldn't a team try to practice and play at its highest level every week? The whole "110 percent" cliche is mathematically impossible, after all, but giving just, say, 80 percent in practice and competition is something any coach or athlete would condemn. And the emotions of "We really hate these guys" can only last a few plays before the football part of football becomes most important: blocking, tackling, executing.
"I don't think you have the time or the energy to get up for one game more than another," Sarkisian said. "The preparation process is really more about us than about Oregon, and our ability to go out and play the best brand of football that we can."
Still, there is
something
there. Just as Kelly and Sarkisian admit that boosters frequently bring up the rivalry, Polk said he hears about Oregon "just about every day." Being that this is the last game in Husky Stadium before a massive renovation begins, and that former Huskies coach Don James and the 1991 national championship team will be on hand, there's an unmistakable gravitas to the approach of Saturday night.
Oh, and there's that whole Pac-12 North and Rose Bowl thing, too. Both teams have designs on those, the Ducks for a third consecutive time, the Huskies as a sign of program recovery from an extended downturn.
So the cumulative effect will be a game atmosphere that should feel more intense than, say, if either team were squaring off with Missouri State or Eastern Washington.
"There's definitely a sense of urgency," Polk said. "Win or lose, the most important thing is respect. Being that we've not really played our best game the last few times we've played them, and they kind of got in to us, we don't feel like they really respect us. They whole thing this weekend is to go out there and earn respect."
And the notion of earning respect works both as a self-help truism and as an us-vs-them cinematic plot point.
April, 11, 2011
4/11/11
12:41
PM ET
STANFORD, Calif. -- The media often falls for polite and polished and humble. It doesn't require a gaggle of publicists to know that a superstar athlete doing polite, polished and humble charms reporters and therefore the public. And, of course, it's often a con, or a least a public persona that doesn't match the reality of said superstar athlete.
[+] Enlarge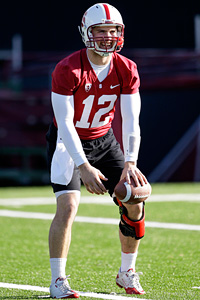 AP Photo/Paul SakumaStanford's Andrew Luck is a front-runner to win the Heisman Trophy next season.
Stanford quarterback
Andrew Luck
is a superstar athlete, even if trying to get him to engage the topic is like playing dodge ball with
Plastic Man
. He was the Heisman Trophy runner-up last season and he almost certainly would have been the No. 1 overall pick in the NFL draft on April 28 had he not opted to return for his redshirt junior season, in large part, he said, because he wanted to finish up his degree in architectural design.
This story, however, must now pause because Luck has walked away from an interview to help a woman open a door to the Stanford athletic building. She needs to use the restroom, and it doesn't require Woodward & Bernstein to ascertain that this might be a pressing need. Luck points her in the right direction but warns her that they might be cleaning up inside.
Where were we? Yes, moments before becoming a hero to a woman who had perhaps imbibed too much afternoon coffee, Luck walked past a ballroom dancing class and, making small talk, noted, "I don't think I'm coordinated enough for ballroom dancing."
Luck is a buffed-up, 6-foot-4, 235 pounds and, besides ranking third in the nation in passing efficiency in 2010, he rushed for 453 yards. But ballroom dancing students, now those folks are athletes.
Actual exchange once the interview starts again:
Hyperventilating reporter [Me]: "Now, everybody in the country knows who you are."
Luck: "I don't think everbody knows."
Said former Stanford coach Jim Harbaugh, now with the San Francisco 49ers, last fall: "He's almost embarrassed if somebody compliments him or wants to talk about him. He's very quick to deflect it to his teammates. He's someone people want to follow, want to emulate. It's a unique quality to be the sort of anti-celebrity quarterback, the anti-big-man on campus."
More than a few folks were stunned Luck opted to return, no matter how much he enjoyed college or wasn't burdened by financial need -- his father, Oliver, is a former NFL quarterback and presently the athletic director at West Virginia.
Said Stanford linebacker Shayne Skov, "Anybody's logic would have been to leave. We were all stunned."
There is a potential red flag here, though, on the football side of things. Some might observe that NFL coaches prefer the singular focus of the football obsessed over a Renaissance man who enjoys college. Further, the best quarterbacks are often swashbuckling sorts -- Tom Brady, Brett Favre (without the text messages), Joe Namath and Kenny "The Snake" Stabler -- so if Luck seems too much the Boy Scout, might that make it difficult for him to lead a locker room that includes an array of edgier personalities?
Ah, but not unlike Peyton Manning, Luck doesn't do Ned Flanders on the football field. Just ask former USC cornerback Shareece Wright and California safety Sean Cattouse, who both ended up on the losing end of a Luck hit when they stood between the quarterback and something he wanted during a game.
"My dad calls it 'crossing the white line'," said new Stanford head coach David Shaw, who's father, Willie Shaw, was a longtime college and NFL coach.
"You can be the greatest human being on the planet, but once you cross that white line, it's whatever it takes to win football games. Andrew has started to remind me of another guy who was like that: [former Cardinal and nine-time Pro Bowl safety] John Lynch. John Lynch was an all-time human being -- a phenomenal person. One of those guys you say you want your daughter to grow up and marry. That's the way Andrew is. But once he crosses that white line, he's such a competitor. He doesn't care who you are, he's going to try to knock you out. Andrew flips that same switch."
While Stanford practices are closed, the scuttlebutt is that Luck has been masterful this spring. Quipped offensive coordinator Pep Hamilton with a straight face, "He was able to complete 70 percent [71 percent actually] of his passes last year. Our goal is for him to complete 100 percent of his passes."
When asked about this, Shaw pointed out that Luck, indeed, missed a throw-- a 6-yard out -- at practice the previous day.
"You'd have thought it was the Super Bowl," Shaw said. "With a guy like this, you shoot for the moon. You see how far you can push him. And Andrew loves it. He wants to be pushed every day. He wants to be coached, he wants to be coached hard and he wants to be coached specifically. He doesn't know what his ceiling is. So let's not set it."
The high ceiling for Luck is a big reason the national perception is there's a high ceiling for Stanford. The Cardinal will be ranked in the preseason top-10, and Oregon's visit on Nov. 12 is likely the Pac-12 North game of the year, one that might have national championship implications. And if the Cardinal again surges a year after turning in its best season of the modern era, it's almost certain that Luck will be a Heisman Trophy front-runner.
That means even more celebrity for Luck. While Stanford's pristine campus and academically elite student body present a less football-obsessed environment that allows him some privacy, Luck's future is under the klieg lights. It's unavoidable and it will test him.
Luck is told a story about an early Ben Affleck interview with Jay Leno when Affleck tells of pulling out the "I'm Ben Affleck" for the first time to get a restaurant reservation. Luck's asked if he's had a similar moment when waiting for a table.
At first, he seems to be honestly baffled by the inquiry, then replies, "There are enough good restaurants in Palo Alto. We could leave. No, I haven't tried to do that. I don't think it's worth it."
December, 4, 2010
12/04/10
2:05
PM ET
CORVALLIS, Ore. -- Oregon coach Chip Kelly has said -- over and over and over this season -- that every game is a "Super Bowl" for the Ducks. Well, with the Civil War, he's got a point.
[+] Enlarge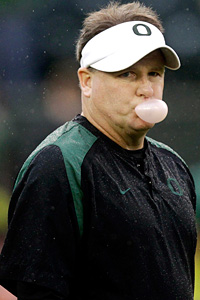 AP Photo/Rick BowmerCoach Chip Kelly and Oregon can reach the BCS National Championship Game by beating rival Oregon State.
Perhaps the battle with rival Oregon State is closer to the NFC championship. If the Ducks win, they advance to college football's Super Bowl: The BCS National Championship Game in Glendale on Jan. 10.
The Ducks have never finished a season unbeaten in the modern era, nor has the program won a national title. This, therefore, is uncharted territory. But for the laser-focused Kelly and his Ducks, it's just the next game. At least, that's the official word.
"Nothing has changed," Kelly said. "We feel we've got a formula that works for this group. It's worked 11 times and hopefully it will work a 12th."
The stakes are also clear for Oregon State. If it wins, it not only delivers an axe wound to its rival's season, it also reaches 6-6 on the year, which means bowl eligibility. The Beavers this week leaned on that as a primary motivation, not crushing the Ducks dreams (though the consolation prize for Oregon is the Rose Bowl, which typically ain't too shabby).
"There's no hatred," Beavers running back
Jacquizz Rodgers
said when asked if he were jealous of the Ducks' success. "When you win games, you get that attention."
So, for a third consecutive year, the Civil War is a high-stakes affair. The previous two seasons, it had major Rose Bowl implications. In 2008, the Ducks blew out the Beavers in Reser Stadium, which knocked Oregon State out of the Rose Bowl. Last year, the stakes were the Rose Bowl, and the Ducks won again in Eugene.
The Beavers, however, have won five of the past six in Corvallis, so home field has mattered of late in a series where the teams have split their past 12 meetings, though the Ducks actually have a better all-time winning percentage in Corvallis (.573) than in Eugene (.519).
Most prognosticators believe Oregon should roll. Even if Oregon State keeps things close, it's hard to believe a team that lost to UCLA and Washington State can keep up with the point-a-minute Ducks.
The Beavers will need to play a near-perfect game and hope that the Ducks are out of sorts. Perhaps the largeness of the moment finally gets to Oregon?
And you know what they say: You throw out the records in rivalry games.