November, 6, 2013
11/06/13
4:34
PM ET
By
Donald Hunt
| Special to ESPN.com
When you think about some of the top NFL prospects from historically black colleges and universities, the SWAC has a bunch of players who could play on Sundays. These players could also hear their names called in the 2014 NFL draft to be held May 8-10.
A year ago, Terron Armstead, a terrific offensive tackle from Arkansas-Pine Bluff, was a third-round pick of the New Orleans Saints. Armstead has a great deal of potential and should have a solid NFL career.
Of course, when you talk about great players from the SWAC who made it to next level, the name Robert Mathis immediately comes to mind. Mathis was just a fifth-round pick coming out of Alabama A&M. Nevertheless, he is easily one of the best defensive players in the NFL. Mathis, a defensive end for the Indianapolis Colts, leads the NFL in sacks with 11.5 this season. In 11 seasons, Mathis has been to five Pro Bowls and two Super Bowls.
There's a good possibility that some of the following players could be drafted in the spring. If not, they could find their way onto an NFL roster as an undrafted free agent. The SWAC has some quality players on both sides of the ball.
Offense
Arnold Walker, RB
Alcorn State
5-foor-11, 225 pounds
Walker has the ability to turn the corner with good speed. He runs well between the tackles. He has been a huge part of Alcorn State's offense. Walker has picked up 974 yards and should go over the 1,000-yard mark this season. He averages 5.3 yards a carry. Walker has no trouble finding the end zone. He's scored 12 touchdowns this season.
Deandre Cooper, WR
Prairie View A&M
6-3, 215 pounds
The NFL loves big receivers who can catch and run. That's why Deandre Cooper is such a great prospect. He can do all those things and more. Cooper can go up and make big catches in traffic. He has 64 receptions for 791 yards and seven touchdowns. He averages 12.5 yards a reception.
[+] Enlarge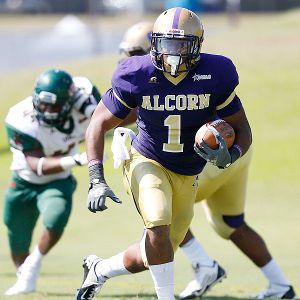 AP Photo/Rogelio V. SolisAlcorn State running back Arnold Walker has 974 yards on the season.
Lee Doss, WR
Southern
6-2, 180 pounds
Doss has a great pair of hands. He knows how to get open. When Southern needs a big third-down catch, he's always there. Doss has 59 receptions for 869 yards and six touchdowns. He averages 14.7 yards a reception.
Zachary Pendleton, WR
Jackson State
6-3, 190 pounds
Pendleton is truly a big-play receiver. He's big and fast. He has good moves in the open field. He's a threat to score whenever he makes a reception in the open field. He has 33 catches for 692 yards and eight touchdowns. He averages 21 yards a reception, which is really big time.
Defense
Jer-ryan Harris, LB
Arkansas-Pine Bluff
6-1, 220 pounds
Harris is always there. He knows how to make plays. He has good size and speed to play linebacker at the next level. He has 51 solo tackles. His 97 total tackles lead the SWAC. Harris can really play the run.
Raheem Cardwell, LB
Prairie View A&M
6-2, 225 pounds
Cardwell has great size and strength to play some inside linebacker in the pros. He does a good job of following the play. Cardwell comes up very quickly to fill the gaps and stop the run. He has 48 solo and 84 total tackles.
Leland Baker, LB
Alabama State
6-0, 200 pounds
Baker is one of those playmaking linebackers. He's all over the field. He can drop back in the pass coverage and stop the run. Baker has 45 solo and 77 total tackles. He also has six sacks.
Steve Orisakwe, LB
Grambling State
5-11, 225 pounds
Orisakwe has been one of the Grambling State's top defensive players. He's always around the football. He has great anticipation. Orisakwe has 40 solo and 80 total tackles.
Notes
Grambling State quarterback Johnathan Williams has been named the SWAC Offensive Player of the Week. Williams accounted for seven touchdowns to lead Grambling State to its first win of the season over Mississippi Valley State. The Tigers ended a 15-game skid and a 12-game losing streak in the SWAC. Williams picked 319 of the G-Men's 407 total yards, tossing five touchdowns and running for two scores.
Texas Southern cornerback Brandon Thomas was selected as the SWAC Defensive Player of the Week. Although Texas Southern lost to Southern, 31-24, Thomas led all defenders with 13 total and eight solo tackles. He also had 3.5 tackles for a loss, an interception, a fumble recovery and two pass breakups.
South Carolina State quarterback Richard Cue was chosen as the MEAC Offensive Player of the Week. Cue completed 15 of 25 passes for 163 yards and four touchdowns in the Bulldogs' 45-9 win over Savannah State. He also picked 128 yards on the ground and scored twice.
North Carolina Central linebacker Tazmon Foster was selected as the MEAC Defensive Player of the Week. Foster had a career high 18 tackles, 12 solo, including two for a loss, with one sack against Bethune-Cookman.
SBN Sports Network Black College Football Poll
1.
Bethune-Cookman
2.
Winston-Salem State
3.
Jackson State
4.
South Carolina State
5.
Alabama State
6.
Tennessee State
7.8.
Virginia State
9.
Prairie View A&M
10.
Alcorn State
August, 28, 2013
8/28/13
1:14
PM ET
By
Donald Hunt
| Special to ESPN.com
The ninth annual MEAC/SWAC Challenge presented by Disney will feature Florida A&M and Mississippi Valley State on Sunday, Sept. 1 (
11:45 a.m. ET on ESPN
) at Florida Citrus Bowl Stadium in Orlando, Fla. This huge rivalry game between the two FCS historically black colleges and universities (HBCU) conferences will be the premier black college football game this weekend.
Although the MEAC certainly has the advantage in regards to wins in this series with a 6-2 record, the game always has some big-time players to watch. And this year is no exception. The MEAC/SWAC Challenge has arguably two of the best players in HBCU football in Florida A&M quarterback
Damien Fleming
and Mississippi Valley State defensive lineman
Robert Simpson
.
[+] Enlarge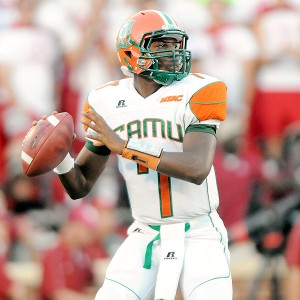 Jackson Laizure/Getty ImagesFAMU quarterback Damien Fleming threw for 2,157 yards and 16 touchdowns last season.
Fleming has a bundle of talent. The 6-foot-3, 180-pound junior, was selected preseason MEAC Co-Offensive Player of the Year. A year ago, he displayed a strong passing arm throwing the ball down the field. Fleming completed 214 of 308 passes for 2,157 yards including 16 touchdowns to just five interceptions.
He shows a lot of poise in the pocket. In last season's 24-22 victory over Delaware State, he connected on 30 of 37 passes for 399 yards and three touchdowns. Fleming has a bright future.
Simpson has played some great football for the Delta Devils. The 6-3, 267-pound senior was named to the Buck Buchanan Award watch list, an award annually given by The Sports Network to the best defensive player in FCS. Simpson has great quickness and strength up front.
Simpson finished second in FCS with 22.5 tackles for loss. The All-SWAC standout had 59 total and 29 solo tackles. He also finished fourth in the conference with seven sacks. His ability to play the run and rush the passer makes him a solid NFL prospect. He should get an invitation to the NFL combine next year.
In this HBCU classic, Fleming and Simpson give fans around the country a player to watch on both sides of the ball. Look for both players to be major playmakers in this game.
Notes
• Head coaches Earl Holmes of FAMU and Karl Morgan of MVSU will bring some NFL experience to the sidelines at the MEAC/SWAC Challenge. Holmes played his college football for the Rattlers. He was a fourth-round pick of the Pittsburgh Steelers in 1996. He played 10 seasons in the NFL at linebacker for the Steelers, Cleveland Browns and Detroit Lions.
Morgan played his college football at UCLA. He was a great nose guard for the Bruins. He played for the Tampa Bay Buccaneers from 1984 to 1986. Morgan played for the Houston Oilers, too.
• Fleming shared preseason conference player of the year honors with
Isidore Jackson
, Bethune-Cookman's outstanding running back. The Wildcats are the favorites to win the MEAC this season. Jackson has a lot to do with that. He rushed for 1,069 yards on 191 carries while scoring 11 touchdowns. He averaged 5.6 yards a carry.
• Speaking of running backs,
Isaiah Crowell
is an exciting runner for Alabama State. Crowell rushed for 843 yards on 159 carries last season. The 5-11, 190-pound junior, scored a league-leading 15 TDs last season. He was the SWAC Newcomer of the Year.