November, 1, 2011
11/01/11
11:11
AM ET
West Virginia University didn't hand out a Halloween treat to the Big East when it filed a lawsuit against the conference in a Morgantown, W.Va.
Full of legal claims like "breach of contract" and "breach of fiduciary duty," the lawsuit seeks to allow West Virginia to escape to the Big 12 without having to serve a 27-month mandatory waiting period required by the Big East's bylaws. I've
explained previously
why the Big East might enforce this provision.
Here's what West Virginia claims:
1. That the bylaws are void because of any one of the following reasons:
There has been a "material breach" of contract. WVU alleges that the Big East and its commissioner breached their fiduciary duties to the university by failing to keep the Big East a viable football conference.
WVU's performance under the contract has become "impossible or unreasonably burdensome" because the university contends it has always valued the strength of the Big East as a significant football conference.
The principal purpose of WVU entering into an agreement with the Big East has become "substantially frustrated." This means that although WVU could still perform under the contract, its purpose in entering into the contract has been destroyed.
2. That a new conference agreement was made between WVU and the Big East when the Big East accepted a $2.5 million payout from West Virginia when it told the conference it was leaving.
3. That the 27-month exit provision is an "unreasonable restraint on trade," meaning WVU believes the provision isn't necessary to protect the Big East's interests.
Here are the counter-arguments the Big East could be expected to make:
With regard to the material breach claim, one factor courts will examine is whether WVU is deprived of the benefit it expected to receive from its Big East contract. To this end, WVU states in its lawsuit that the material breach is due to the commissioner's "failure to maintain a ratio of football-to-non-football universities of eight-to-eight and maintaining and enhancing the level of competition in the Big East football conference."
However, the Big East can be expected to argue that during the 27 months WVU will remain a member of the conference there will be eight football members, as other defectors Pitt and Syracuse will also be held in the conference through the 2013 season as part of the 27-month requirement. In addition, the
BCS has confirmed
that the Big East will remain an BCS football conference through the 2013 season.
WVU's claim that performance under the bylaws has become "impossible or unreasonably burdensome" relies in part on the assertion that the Big East is "no longer a viable and competitive football conference." Again, the Big East will likely argue that there will be no change during the seasons WVU will continue to compete as a conference member, and the conference will operate the same in 2012 and 2013 as it did in 2010 and 2011. The same argument will likely be used to oppose WVU's claim that its purpose in entering into an agreement with the Big East has been "substantially frustrated."
Another argument by WVU is that even if the bylaws are valid, a new agreement was struck with the Big East for immediate withdrawal upon payment of $2.5 million. WVU claims the Big East accepted the new agreement by accepting the payment. However, the Big East requires such a payment be made when a school notifies the conference of its plans to exit, with another $2.5 million to be paid by the time a school exits. Without additional evidence from WVU on the new agreement it claims was reached, it appears the Big East could argue WVU was only remitting payment as required.
West Virginia's final argument is that the 27-month withdrawal period is an unreasonable restraint of trade, one that is unnecessary in order to protect the Big East's interests. Here, attorneys likely will point out that the Big East has already waived its right to enforce the 27-month notice period because it allowed TCU out of its commitment; essentially, the conference can't hold one school to the 27-month period and not another. Big East Associate Commissioner John Paquette said Tuesday afternoon that the Big East had a separate agreement with TCU that stated if it left before competing, it would not be subject to the 27-month provision.
Paquette said Monday evening that he could not reveal whether WVU voted in favor of the 27-month withdrawal period in the bylaws when it was added. But he did point out: "David Hardesty, the former WVU president, helped write the current withdrawal policies." Expect the Big East to bring this up in its response to the lawsuit.
The case is important, because it will likely decide the Big East fates of Pitt and Syracuse, which are bound to stay through the 2013 season before heading to the ACC. Although each of those schools could file suit in their respective states, Washington, D.C. law (where the WVU suit will be heard) would govern, according to the Big East bylaws. So any decision in WVU's case would create precedent for any case filed by Pitt or Syracuse.
Additionally, any decision rendered by a court in this case could impact future conference realignment involving any other conference. Although the decision wouldn't have to be followed by courts in other jurisdictions, it could be persuasive. No doubt WVU is gambling on the Big East settling the case before a decision is rendered which could impact conference realignment for years to come.
October, 25, 2011
10/25/11
5:55
PM ET
My colleague, Joe Schad,
is reporting
that the Big 12 has told West Virginia it will be accepted into the conference pending formal approval, which could happen very soon.
While Texas A&M and TCU, which recently announced conference moves, will join their new conferences for the 2012 season, Schad notes the Big East could try to keep WVU, along with Pitt and Syracuse, in the conference for up to 27 months, per conference guidelines.
Why would the Big East play hardball with its defectors? Because more than $20 million per year is at stake given the Big East's automatic-BCS-qualifying status.
For the 2011-12 school year, BCS conferences will receive $22.3 million for their qualifying team and can earn another $6.1 million if another member receives an at-large berth. A non-automatic-qualifying conference team selected for a BCS game receives $26.4 million but must divide that revenue with the other four non-automatic-qualifying conferences.
If the Big East were to lose Pitt, Syracuse and West Virginia at the end of this school year, it could jeopardize the Big East's BCS status. Here's how it works:
Current BCS conferences were determined based on data from the 2004-07 football seasons. Data from the 2008-11 seasons will be reviewed following this season to determine if a seventh conference makes the cut to be an automatic-qualifier for the 2012 and 2013 BCS bowl seasons. In addition to that review, each current BCS conference is reviewed for annual qualification.
This is where it gets dicey for conferences losing teams.
Three sets of data are considered in the annual review: First, the average ranking of the highest-ranked team in the BCS standings over the four-year period; second, the average rank of all the conference's teams based on rankings from each of the six BCS computers over the four-year period; and third, something called a conference's Adjusted Top 25 Performance -- a calculation based on a conference's number of teams in the Top 25 of BCS standings over the four-year period as a percentage of the top conference in this calculation, which would have been rated 100 percent.
The threshold for annual qualification requires each conference to be in the top six in the first two sets of data and in the top 50 percent in the third set of data. However, a waiver can be obtained from the BCS' Presidential Oversight Committee if a conference is in the top six of the first two sets of data and top 33 percent of the third set, or top five of one of the first two sets and top seven in the other, along with top 33 percent of the third set.
When asked how conference realignment might affect these reviews, Maxey Parrish of the BCS said: "Since it's impossible to determine how a team would have played had they been a member of another conference, the rankings count for the conference schools [which] were members of [the conference] at that time. For example, TCU is not factored into the Big 12's status as an AQ until the 2012 season."
What happens if a conference doesn't meet the annual threshold? "Then there is the potential for them to be taken off the list of AQ conferences," Parrish said. However, Big East Associate Commissioner John Paquette said the conference's BCS status is guaranteed through the 2013 season.
The Big East's 27-month waiting period for members exiting ensures the conference will have suitable time to find a replacement and that current members will be included in automatic-qualifying calculations following the 2013 season, which is when new BCS agreements would have to be put into place following the expiration of current ones.
September, 19, 2011
9/19/11
1:10
PM ET
Taking stock of the third week of games and looking ahead to Week 4.
[+] Enlarge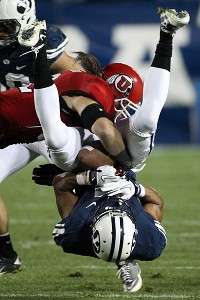 AP Photo/Colin E BraleyUtah linebacker Chaz Walker, left, upends BYU receiver Ross Apo during the Utes' 54-10 rout of the Cougars.
Team of the week
: Is there anything better than stomping your bitter rival in their own building? Answer: No (Well, touring the Mediterranean in your own yacht might be better, but it's close). The Utes' 54-10 crushing of BYU surely was great fun for the visiting team, particularly after the tough loss at USC. And it was meaningful because it was the first meeting between the two after Utah got invited to join the Pac-12 and BYU didn't (insert your own raspberry there, Utes fans, if you wish).
Best game
: A limited choice here in a weekend of blowouts, both in Pac-12 wins and losses. We're going to go with Arizona State's 17-14 loss at Illinois. Sure, the Sun Devils lost, and they didn't play particularly well. But it was the only game that was undecided deep into the fourth quarter.
Biggest play
: With 1:39 left before halftime in a tie game, Washington punted to Nebraska.
Tim Marlowe
called for a fair catch but muffed the catch, and the Huskies recovered. But the officials called the Huskies for interference. It one of those so clearly incorrect calls that it inspires fan suspicions -- "Hmm... Big Ten crew." Nebraska drove for a late field goal, the first three of 27 consecutive points.
[
Edit note
: The original post said incorrectly that the Huskies scored a TD on the muffed punt. As some have pointed out, you can't advance a muffed punt].
Offensive standout
: USC quarterback
Matt Barkley
completed 26 of 39 passes for 324 yards for five touchdowns with no interceptions in USC's
38-17 win
against Syracuse.
Defensive standout
: Utah linebacker Trevor Reilly had five tackles, two sacks, three tackles for a loss and three forced fumbles in the Utes' blowout victory against BYU. He also recovered a fumble and broke up a pass.
Special teams standout
: Stanford kicker Jordan Williamson was 3-for-3 on field goals at Arizona with a long of 45 yards, and he was 4 for 4 on PATs. Sure, Arizona coach Mike Stoops looked longingly at the redshirt freshman, seeing his kicker was 1 of 3 on field goals. Williamson is 6-for-6 for the season, including 2 for 2 from 40-49 yards. Honorable mention to Colorado freshman punter Darragh O'Neill who averaged 49.2 yards on six punts against Colorado State with a long of 56 and two killed inside the Colorado State 20-yard line.
Smiley face
: Utah and Colorado, the conference's two newest members, took care of their nonconference business. The Utes' 54-10 road-game vivisecting of BYU was particularly impressive.
Frowny face
: Arizona State is a better team that Illinois and it should have beaten Illinois. But it didn't, and there goes the national ranking. Honorable mention to the Washington defense, which was supposed to be much improved this fall, but so far hasn't been.
Thought of the week
: It seemed to become clearer over the weekend that the Pac-12 North game of the year will be Oregon at Stanford, and the Pac-12 South game of the year will be Arizona State at Utah. It mostly looked that way in the preseason, but it now appears that no surprise challenger will step up in either division.
Questions for the week
: Who is going to be a road warrior? Excluding Stanford, which is 2-0 on the road, the Pac-12 is 2-9 on the road so far this season. California, which is at Washington on Saturday, won at Colorado and Utah won at BYU (but lost at USC). Colorado is at Ohio State. Oregon is at Arizona. UCLA is at Oregon State. USC is at Arizona State. Good teams win on the road. Who steps up? And who falters?
September, 18, 2011
9/18/11
4:23
PM ET
SOUTH BEND, Ind. -- As the game of musical chairs that is conference re-alignment takes place across the nation, Brian Kelly remains head coach at Notre Dame, a football independent. Having coached at a Big East school, Cincinnati, two years ago, Kelly has had a view from both sides of the landscape.
"Football independence at Notre Dame, I think it's schedule and recruiting," Kelly said during his Sunday teleconference of the advantages. "Those are the two things. You can put together a schedule that gets you from the East Coast to the West Coast, and in recruiting it allows you to have that large sampling. You're not marginalized geographically in your recruiting. On the other side, you're not playing for a conference championship. So, there's pluses and minuses. I like the pluses that we have as an independent right now, but like anything else, I think I've said this a number of times, we'll keep our ear to the ground."
Notre Dame athletic director Jack Swarbrick was surprised by the departure of Syracuse and Pitt for the ACC, telling reporters Saturday that he never envisioned such a scenario.
The moves became official this morning, leaving the conference 18 of the Fighting Irish's other teams compete in smaller by two.
Still, Swarbrick insisted, football independence remains Notre Dame's intention,
according to the Chicago Tribune:
"We will approach this, no matter what the change is, with that as our goal," Swarbrick said. "We'll see whether we can manage our circumstances to meet that goal."
Kelly said the constant shuffling doesn't affect his day-to-day operations as a football coach, though he does feel the timing of the circus takes away from what college football Saturdays are generally about — football games.
"Yeah I think so," he said. "I think anytime there's movement like this, it takes a little bit away from the games on Saturday. But I think for the average fan, they care very little bit about this. They're more interested in their teams, and they know the networks are more interested in showing these games. So I think it's just good talk for the media. But I think the people that are involved, week-to-week, their focus is on the game and their opponent."
September, 13, 2010
9/13/10
9:06
AM ET
If you don't like where you are in the power rankings, play better (we're thinking of adopting that as the power rankings' official slogan).
1.
Oregon
: The Ducks started slowly -- REAL slowly -- at Tennessee, but then opened up a bottle of kick ax and used a 45-0 run to emerge with a 48-13 win. The Ducks are a decisive No. 1 and they mostly will be on the sidelines this week getting ready for Portland State while the rest of the conference tries to prove its mettle.
2.
Arizona
: Wildcats quarterback
Nick Foles
has completed 83 percent of his passes in two games. Sure, he hasn't faced dynamic competition, but it's hard to hit a stationary target from 15 yards away 83 percent of the time. Speaking of dynamic competition: Iowa comes to town on Saturday with one of the nation's best defense. This could become one of those before-and-after games for the program.
3.
Stanford
: Almost as often as we thought, "Wow, Stanford looks good," during the Cardinal's 35-zip win against UCLA, we also repeatedly considered this: UCLA might be a big reason Stanford looks so good. Stanford shouldn't forget that it went to sleep in the second half at Wake Forest last year and lost a game it seemed to have in hand.
4.
California
: So Cal fans, should we all get on the bandwagon? Is it safe to make that leap of faith? (Don't think I am not fully aware of your hand-wringing). Because I watched the beatdown of Colorado and couldn't find many things not to like. And get this: Look who's the
Pac-10's No. 1 QB
. Beware: A visit to Nevada could be tricky.
5.
Oregon State
: We don't think the Beavers are the No. 5 team in the conference, though the teams that we thought were behind the Beavers in the preseason have closed the gap. But Oregon State drops because it was off last weekend and, to point out the obvious, is 0-1. An impressive win against Louisville should provide a boost with a marquee visit to Boise State ahead.
6.
USC
: The bottom line is USC is 2-0 without having played a certifiable patsy. But the power rankings aren't about bottom lines. They are about measuring power on a weekly basis, and the Trojans have struggled to consistently show it in two games. In game one at Hawaii, the defense looked terrible. In Game 2 against Virginia, it was the offense.
7.
Washington
: After a slow start, the Huskies overwhelmed Syracuse and reignited the reasonableness of the position that if things fall into place, an upset of Nebraska on Saturday is possible. Not that we're ready to take that position.
8.
Arizona State
: The Sun Devils acquitted themselves reasonably well during the preseason (two games vs. FCS teams). This does not look like a team that will be an easy-out in the conference this fall. A visit to Wisconsin, however, will be a huge upgrade in competition.
9.
UCLA
: The Bruins rank 115th in the nation in scoring. It's hard to win when you rank 115th in the nation in scoring, particularly when the next two games are against Houston on Saturday and at Texas on Sept. 25. Suddenly, Game 5 -- at home vs. Washington State -- takes on an unanticipated and slightly desperate importance in terms of how things might ultimately stack up in the conference race.
10.
Washington State
: What to say about the Cougars after they rallied to beat Montana State, an FCS team? John Blanchette nails
the sane and reasonable position
. Instead of another round of forehead slaps, why not enjoy a gutty comeback win?
November, 23, 2008
11/23/08
11:47
AM ET
Posted by ESPN.com's Brian Bennett
Pat White, QB, West Virginia: White rushed for 200 yards, threw for 122 and accounted for five touchdowns in the Mountaineers' 35-21 win over Louisville. The senior became the NCAA's all-time leading rusher among quarterbacks and broke the Big East record for most career touchdowns.

Mike Teel, QB, Rutgers: Teel completed 23 of 33 passes for 359 yards and a touchdown in the Scarlet Knights' 30-3 win over Army. He became the school's all-time career passing leader, too.
Kenny Britt, WR, Rutgers: Had 10 catches for a career-high 197 yards in the Army win.
Tony Pike, QB, Cincinnati: The junior was nearly flawless in completing 26 of 32 passes for 309 yards and three touchdowns in Cincinnati's 28-21 win over Pittsburgh.
Syracuse: The entire team, including soon-to-be-unemployed coach Greg Robinson, deserves a helmet sticker for sticking together and beating Notre Dame, 24-23, in South Bend. The rest of the Big East is thankful that the Orange might have put the Gator or Sun bowl back in play for the league.