March, 7, 2012
3/07/12
11:00
AM ET
The pads went on in Baton Rouge, La., as LSU's football team participated in its fourth spring practice Tuesday.
"I liked practice today," coach Les Miles said. "We are getting better. I like the improvement that some of our young offense and defensive linemen are making. I think we threw the ball extremely well today considering how early we are in spring. It was a good, physical practice. We started well and finished on a good note."

The guy throwing the ball the best this spring is new starting quarterback
Zach Mettenberger
. So far, he has really impressed his head coach with both his passing ability and his leadership skills. That's certainly a good thing, considering how much both of those areas were criticized when
Jordan Jefferson
was under center for the Tigers last season.
"He has command of the huddle and it appears that he has anticipation as to where the ball is going," Miles said. "He's throwing it pretty well."
Miles also complimented the play of sophomore offensive lineman
Elliott Porter
, who worked out at center.
"I liked the way he practiced today," Miles said. "He got better today and he continues to improve. I think he will challenge for playing time."
The Tigers return a solid, veteran line in 2012, but it never hurts to have depth up front. Depth helped LSU out in 2011 when top lineman
Josh Dworaczyk
went down with a season-ending injury last year.
T-Bob Hebert
started the season off in Dworaczyk's spot at left guard, but
Will Blackwell
eventually moved there and had an All-American season.
LSU also moved pieces around when center
P.J. Lonergan
went down with an ankle injury halfway through the season. LSU had seven different offensive linemen make starts last season.
Miles also talked about the on-going tryout at kicker, where former LSU women's soccer keeper Mo Isom stole all the headlines. Miles said there isn't a timetable on making a decision about the kicking participants, including Isom, but he won't hesitate to use her if he feels she can be a real asset for the Tigers.
"If she gave us an opportunity and an advantage, we will certainly consider that," he said. "There has to be an advantage to the team.
"The good thing about this is that she's an athlete. She's been through a team before and she understands commitment. I would have much less reservations with her than I would with any number of other people who frankly didn't know what they were getting in to."
If she makes LSU's team, she would be the first female football player in school history. However, she'd have some tough competition this fall with rising senior
Drew Alleman
returning. He is coming off the most accurate season by an LSU kicker in school history, after hitting 16-of-18 field goals and 62-of-63 extra points in 2011.
The tryouts for placekicker will continue Thursday. For more information on Isom and her tryout with the Tigers, check out what GeauxTigerNation's David Helman
wrote about her Tuesday
.
LSU will take Wednesday off before returning to practice on Thursday. The Tigers will wrap up their first full week of spring practice Saturday and are scheduled to practice three times a week for the next three weeks.
February, 9, 2012
2/09/12
9:00
AM ET
LSU offensive guard
Josh Dworaczyk
has been granted a sixth year of eligibility, the NCAA and LSU announced Wednesday.

Dworaczyk, who was arguably the Tigers' top lineman heading into last season, suffered a season-ending knee injury during training camp in August and missed all of the 2011 season.
"I'm excited to be able to get another year so that I can finish my career on the field," Dworaczyk said in a release through the school. "I felt like I had some unfinished business, so being able to get this additional year is a blessing.

"Watching from the sidelines last year wasn't always easy, because I was so used to being a contributor on the field. Getting another year means that I get to wear the Purple and Gold again, and for that I'm very thankful.

"Getting to see the game through the eyes of a coach and understanding what they are looking for from the players on the field, it helped me fully understand our offense. It also gave me a different relationship with my teammates. As a player, I was a leader on the field. Last year, I couldn't be in the huddle with my teammates so I tried to be a motivator, giving words of advice or encouragement and doing whatever I could to help from the sidelines."
Dworaczyk's return will ease the loss of All-American
Will Blackwell
, who took over at left guard halfway through his past season.
Dworaczyk has started in 26 of the 38 games (all at left guard) that he's played in, and will add to an already experienced returning line. The addition of Dworaczyk means LSU's offensive line will enter the fall with 105 combined starts -- Dworaczyk (26), center
P.J. Lonergan
(26), right tackle
Alex Hurst
(24), left tackle
Chris Faulk
(15), and right guard
Josh Williford
(14) -- and will yet again cement itself as one of the top offensive lines in the SEC.
"This is great news for our program," LSU coach Les Miles said. "You never want to see a player have his career cut short because of an injury. Josh is a tremendous representative of our program, and it's nice to see that he's going to get a chance to finish out his LSU career on the field."
December, 3, 2011
12/03/11
11:27
PM ET
ATLANTA – Like waves rolling over rocks, the Tigers just keep coming.
Sometimes, there's a lull – that moment of naivety – where it seems like the surge won't come. But that feeling is always temporarily, as the Tigers find a way to kick their game into another gear.
"You want to be like a machine and you just keep on working," LSU offensive lineman T-Bob Hebert said.
That machine has proved to be unstoppable for 13 weeks now, as the Tigers are headed to the Allstate BCS National Championship Game riding an undefeated season and the endurance to maul anyone.
This team not only doesn't understand how to quit, it gets stronger as the clock ticks. Opponents can take leads or find weak spots, but that lasts long enough just to make LSU mad.
It happened last week when LSU outscored Arkansas 41-3, after trailing 14-0, and it happened again in the SEC title game, when Georgia jumped out to a 10-0 lead in the first half.
The Tigers found their switch, flicked it on, and went to pounding Georgia into the artificial surface inside of the Georgia Dome.
After spending the first 30 minutes setting offenses back 100 years, the Tigers strutted out in the second half with their usual bully demeanor. As usual, the defense feasted and the LSU ground game went to clubbing away.
LSU ran for a measly 5 yards in the first half, but at the end of
the Tigers' 42-10 victory
over Georgia had 207 debilitating rushing yards against the beat-up Bulldogs.
It was a complete change from a first half that featured some pretty revolting play by quarterback
Jordan Jefferson
. He was 2-of-8 passing for 7 yards and was getting eaten up in the pocket.
He overthrew and underthrew open receivers, while trying his hardest to turn the ball over with throws into double coverage.
In the second half, Jefferson and his coaches turned to handing the ball off more and it worked. Jefferson said his running backs took the pressure off him and bailed him out.
When you have four backs who average 223 pounds of pure hurt, it isn't that hard to get on a ground-game roll.
"We're very powerful because there are too many of us back there," said running back
Alfred Blue
, who led all rushers with 94 yards, including a 48-yard touchdown run. "We knew going into halftime that we were down and their defense was going to eventually wear out and we were going to start pounding them."
And did they.
LSU transformed in the second half. That solid Georgia defense that entered the game fifth in total defense and sixth against the run, looked tired and hopeless before the third quarter even ended.
Tyrann Mathieu got LSU's 42-0 run going with his 62-yard punt return for a score, but an
Aaron Murray
fumble and another scintillating Mathieu return nearly buried the Bulldogs as they set up LSU's first two offensive scores almost minutes apart.
It all cascaded down on the Bulldogs when
Kenny Hilliard
, the man behind LSU's first two third-quarter touchdowns, bulldozed over a helpless Brandon Boykin before walking into the end zone on an 8-yard reception to make it 28-10.
"When someone punches you in the mouth, you can either back down or you can come and punch them right back," Hebert said.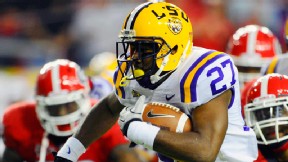 Dale Zanine/US PresswireKenny Hilliard had three touchdowns -- two rushing, one receiving -- in the third quarter.
LSU punched, kicked and totally had its way with Georgia. LSU forced three turnovers, harassed a completely flustered Murray and made Georgia's running game nonexistent until garbage time.
As frustrated as Murray looked after the handful of drops his receivers delivered him in the first half, the downtrodden expressions he showed in the second half appeared far more painful.
But it was the Georgia defense that looked even more abused. This group outplayed LSU's offense in the first half, but didn't have enough steam thereafter.
"It happens to every team we play," Blue said. "We know we're a four-quarter team and once we start going, it's on."
And the waves just keep coming.
November, 19, 2011
11/19/11
7:11
PM ET
OXFORD, Miss. -- Prior to Saturday's game with No. 1 LSU, 13 Ole Miss seniors were honored before their final home game.
Thirteen seniors tells the story of Ole Miss' depth issues during Houston Nutt's tenure.


Things have picked up in the stands as it looks like it's a packed house inside Vaught-Hemingway. The north end zone stands are covered with purple-and-yellow attire. There must have been quite the LSU caravan to Oxford Friday. It looks like there might be more LSU fans than Ole Miss fans, but the Ole Miss fans were rocking during pregame.
With all the wackiness going on in the SEC this weekend, the Ole Miss fans might be feeling better about their chances against the best team in the country.
Regardless, they are having fun down there.
Fans erupted with the traditional "Hotty Toddy" chant led by St. Louis Cardinals pitcher, and Ole Miss Alum, Lance Lynn via the video board before kickoff.
Also, LSU's T-Bob Hebert isn't expected to start at left guard, but is healthy and will play.
November, 5, 2011
11/05/11
7:51
PM ET
TUSCALOOSA, Ala. -- Even though LSU junior center P.J. Lonergan is healthy, the Tigers will stick with senior T-Bob Hebert as the starter.

Lonergan is expected to play Saturday night. He's missed the last two games with a foot injury.

Sophomore Josh Williford will start at right guard for the Tigers and senior Will Blackwell at left guard.
November, 4, 2011
11/04/11
2:30
PM ET
BATON ROUGE, La. -- Only a few feet from Les Miles' office lies total chaos.
A colorful mess of miniature candles sits blocking anything and everything that could be important to LSU football.
[+] Enlarge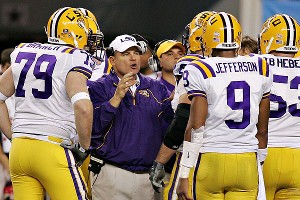 Tim Heitman/US PresswireLes Miles has the tough task of keeping his team focused during the bye week.
Instead of fielding calls or making sure Miles' creature comforts are in order, his secretary, Ya'el Lofton, is relaxing at her desk, laughing with the handful of other women who work behind the scenes in LSU's athletic department, trying to sell candles.
That's right, on the Tuesday before Armageddon, Miles' right-hand woman is peddling candles just in time for the holiday season.
From cotton scent to evergreen, Lofton has you covered.
Essentially, her football team's season is on the line and she's trying to convince people – even Miles – that this dark green candle smells more like bad men's cologne than anything else.
Miles passes twice, each time glancing down and giving an approving smirk before vanishing into one of his many workrooms.
(Don't worry, Miles' wife, Kathy, has already ordered six, so he's covered.)
But that's just how it goes when you work for The Hat. Even during a week as big as this, with No. 2 Alabama (8-0, 5-0) looking to derail the top-ranked Tigers' season, the stress level around Miles' office chair is surprisingly low.
It's not like they don't care, but when Miles is in charge, fun is always an option and you never know what you're gonna get.
"With Les, every day is a new day. It's fun," Lofton said. "Every day we laugh, we enjoy work.
"There's never a time when at some point during the day we can't have a good time and laugh about something and bring it back to reality."
Lofton has worked in LSU's football office for 25 years and has seen it all. From the days when LSU played not to lose instead of trying to win, to Nick Saban's national championship, to now -- the game of the century.
She has two national championship rings and a lifetime of stories. But she also has a dear friend in Miles, and of everyone she's worked for she's never felt so comfortable. When she broke down emotionally in front of him during the first part of the two-week hell that is preparing for Alabama, he was there to calm her down. When she needs to vent, he's there to listen.
And when he needs his bagel at 9 a.m. sharp, she's there before he even notices.
It's that sort of bond that keeps things as sane as they can be at a time like this. When asked if she could toss her cornucopia of candles out on her desk when Saban was around, Lofton let out a booming howl before releasing a "Oh, gosh, no."
But with Miles, it isn't a big deal. I guess that should be expected from a head coach who during his Monday news conference roasted himself about his own playing career, playfully blasted a reporter for dressing in the same color scheme of a jack-o-lantern and led things off by talking about how he scouted his family athletes before even thinking about recruiting.
"I like the position of my family as I do my team," Miles said.
When you talk to players about how cool and collected Miles is during Alabama week, they aren't surprised. This is who he is, no matter the opponent. There is no lack of intensity when it's time to work, but there is always time for fun.
"He keeps us kind of grounded," defensive end Barkevious Mingo said.
"He's not that uptight guy that freaks out and panics. He's calm and waits for things to unfold.
"If he's calm, we're calm."
Added offensive lineman T-Bob Hebert: "For him to come and do something like that it's one of the reasons why we love him so much because he's willing to show his human side. He's not just some robotic authority figure."
From flamboyantly dancing in front of his players to lumbering down the field with them during kickoff drills, Miles knows how to keep things enjoyable. His players can go from playful to focused instantly, but they're always relaxed because of their coach.
Miles admits the anxiety quietly eats at him until about 10 minutes before kickoff, but he doesn't let that deter him. Not now. Not when the stakes are so high. It's not time to be tense, it's still time to let loose.
"There are times as the coach that you enjoy the enthusiasm of our team," Miles said. "If you can't recognize youth and happiness and want to play; if that can't make you smile then I think … that's a mistake for me.
"At some point in time, it's time to play."
November, 1, 2011
11/01/11
1:44
PM ET
BATON ROUGE, La. -- It's not every day that a 6-foot-3, 304-pound offensive lineman can freely admit that he's a certified nerd, but LSU's T-Bob Hebert has no problem doing just that.

LSU's versatile lineman uses his downtime to perfect his third-person shooter skills on his Xbox.

"This fall, I've really hurt my wallet," Hebert said.

Anyone's wallet will take a hit when grabbing video games like "Gears of War 3," "Batman: Arkham City" and "Battlefield 3" off the shelves in a span of only a couple of months.

You'd think it might be pretty hard for an LSU football player to find time for video games, but as a fifth-year senior, his class schedule is pretty light, so when he isn't taking time to look at film of opposing teams, he's kicking back in either LSU's players' lounge or at his house playing away.

He takes his game online with the likes of fellow linemen Josh Dworaczyk and Will Blackwell. Hebert says he's pretty good, but Dworaczyk is the man when it comes to video games. Hebert fancies himself as more of a third-person expert, so "Gears of War" is more his style, but Dworaczyk is more first-person, making him the "Battlefield" champ. But Dworaczyk usually dominates no matter the title.

Hebert uses these games as a release from his football life, but with Alabama looming, he admits that his video game habit has been put on the backburner ... for now.

"I haven't gotten to get in much action this week, so I probably won't be playing too much," he said.
November, 1, 2011
11/01/11
8:00
AM ET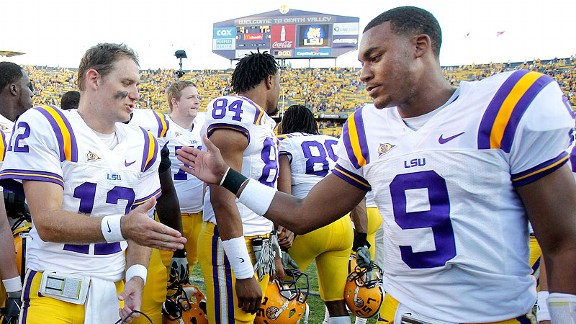 AP Photo/Bill HaberLSU's QB combination of Jarrett Lee (12) and Jordan Jefferson (9) has been efficient and effective.
BATON ROUGE, La. -- Les Miles has been down this two-quarterback road before.
It's not always ideal, but if run correctly, it can cause headaches for defenses and bring jubilation to an offense.
In 2007, Miles used it to near-perfection at times and won a national championship. Matt Flynn was the prototypical drop-back quarterback and grabbed the majority of the snaps, playing in 12 games, while the more athletic and agile Ryan Perrilloux played the part of the change-of-pace QB. He also played in 12 games.
When Flynn dealt with injuries, Perrilloux filled right in. His most notable play came in the SEC title game against Tennessee, when he replaced the injured Flynn and passed for 243 yards and a touchdown in a 21-14 win that sent the Tigers to the national championship.
So with title hopes on the minds of everyone in Baton Rouge, Miles finds himself running another successful two-quarterback system.
Entering the Alabama game, starter
Jarrett Lee
's passing efficiency is an SEC-high 157.4 and he has 13 touchdowns to just one interception. Lee has also thrown at least one touchdown pass in every game this year, making him the first LSU quarterback to throw at least one in the first eight games since 1998 (Herb Tyler did it in the first 10).
Yes, the same
Jarrett Lee
who had a knack for throwing more touchdowns to the defense early in his career.
[+] Enlarge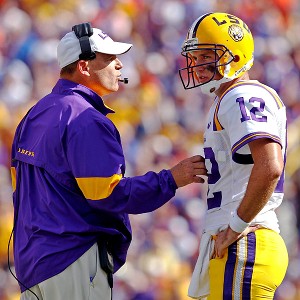 Derick E. Hingle/US PRESSWIRE"Whoever is on the field roots for who's taking the snaps and whoever is off the field is involved as that guy that's taking the snaps," Les Miles said of his two quarterback system.
Jordan Jefferson
has been used mostly in running situations, getting 111 yards and two touchdowns, but he has also passed for 123 yards and two more scores. Jefferson's stats aren't flashy, but his presence forces defensive adjustments across the board.
Together, the two have been extremely efficient, but don't ask Miles if he takes the credit.
"I don't know that it's my management skill in any way," Miles said. "I think it has to do with guys that recognize that they are part of a whole and that their contribution is significant. Whoever is on the field roots for who's taking the snaps and whoever is off the field is involved as that guy that's taking the snaps."
It would have been so easy for this strategy to backfire. Entering the season, Jefferson was the man until his involvement in a fight at on off-campus bar got him suspended for the first four games.
Lee took over and helped put the Tigers on top of college football. Bringing Jefferson back could have destroyed all that mojo the Tigers had after defeating three ranked teams in their first four games, but it actually made them better.
LSU has averaged 39.8 points and 394.3 yards in its past four games. Players feel it has brought them closer and think the offense is that much more potent with two under center rather than one.
"It's key when you have two quarterbacks that can step in and lead your offense down the field," wide receiver
Rueben Randle
said. "Coach Miles does an excellent job of switching his quarterbacks throughout the game.
"Whoever is back there, we're going to make plays on them."
It's also beneficial to have a healthy body waiting. Miles needed Perrilloux when Flynn went down in 2007, and while he hasn't had to deal with injuries at the quarterback position this time, Miles knows that nothing is guaranteed in this sport and especially not in this league.
(Just look at the significant offensive injuries we've seen in the SEC this season.)
"I can tell you that you need two quarterbacks," Miles said. "The idea that you go through a season without sustaining an injury at some point and time to one guy, you're going to in return need for the second quarterback to lead your team, function the offense and be capable. We're fortunate to have two very quality quarterbacks that way."
And the players around those quarterbacks obviously don't mind seeing either. This team has been through too much and has been bombarded by too many distractions, to let a quarterback shuffle bother them.
Players are ready to ride both to another championship run.
"It gives us a whole new dynamic back there having two guys that could probably start anywhere in the country," offensive lineman T-Bob Hebert said.
"The more the merrier to me. They can both play, and we as an offense support both guys and believe in both fully."
October, 8, 2011
10/08/11
3:49
PM ET
BATON ROUGE, La. -- There are a couple of changes to LSU's depth chart today.
Will Blackwell will move from right guard and start at left guard in place of T-Bob Hebert for the Tigers today. Hebert is expected to play, but won't start on the line today.
With Blackwell moving over to left guard, Josh Williford will start in his place at right guard.
LSU kicker James Hairston will wear No. 30 today instead of his regular No. 38.
The Tigers have just run out of the tunnel and things are definitely rocking inside Tiger Stadium. These fans and players have something special for Florida freshman quarterback
Jacoby Brissett
, who is making his first career start and will throw his first career passes today.
LSU won the toss and will defer to the second half. Florida has elected to receive, meaning we will see Brissett right from the start for the Gators.
It is around 86 degrees, but there is a slight breeze and the humidity is 51 percent.
August, 20, 2011
8/20/11
7:24
PM ET
Coaches (and fans) are always looking for good vibes going into a season.
But the vibes surrounding the LSU football program right now are the kind that would make anybody uneasy, especially LSU coach Les Miles.
Miles is peeved, and he should be.
The Baton Rouge Police Department is investigating an early morning fight Friday at a bar that sent four people to the hospital, and several of Miles' players have been implicated.
Not just any players, either, but senior leaders.
Starting quarterback
Jordan Jefferson
has been implicated, and Miles said Saturday at a
strongly worded news conference
, which included members of the team's unity council, that senior offensive guard T-Bob Hebert was also there at the bar. Police have said as many as 20 LSU football players were present.
To be fair, nobody has been arrested, and police are still conducting interviews.
Miles isn't waiting around. He said Saturday that's he already started disciplining some players and suggested that some suspensions could be forthcoming.
Over and above what the police determine, Miles said the players broke their 10:30 p.m. curfew on Thursday. He called his team's behavior "unacceptable" and apologized for the actions of the players involved.
"At the appropriate time, we'll take very strong action," Miles said. "I want to find out more that went on. The pieces that I have ... first of all, they should not have been there. So first and foremost, I take discredit for that."
Before anybody on LSU's team is branded as anything, let's first allow the legal process to play out. There are two sides to every fight, especially bar fights.
Though it's fair to question the leadership and the focus on this team when a bunch of players, including guys who are supposed to be senior leaders, not only violate curfew, but are shortsighted enough to get themselves involved in a bar fight at 2 0'clock in the morning during the middle of preseason camp.
It's not like LSU is opening the season in two weeks against some directional school. No. 3-ranked Oregon awaits in a game that will go a long way toward shaping the most anticipated season at LSU since the Tigers' last national championship in 2007.
This is not the way Miles wanted to go into that game, having police question his players and holding news conferences to apologize for his team's behavior.
And if Miles ends up having to suspend key players, it's a night out on the town that may well cost the Tigers a shot at the national title.
In the meantime, we'll wait and see what the police investigation turns up.
If the Tigers manage to make it through this unscathed, their fans can only hope that they're as willing to fight on the field this season as they were off it last Friday morning at Shady's Bar.
July, 22, 2011
7/22/11
8:15
PM ET
Alabama:
The Tide led the SEC with 16 players selected on the media's preseason All-SEC team. That's great for PR, and means that there should be some talent in Tuscaloosa this year, but neither the players nor head coach Nick Saban are paying attention to us and what we think.

Good, because the last thing Alabama needs is to get caught in the hype with the goal of winning multiple championships on the line.
"From a logical standpoint, I know there's a couple other teams in our division -- forget about the league -- that have just as many returners starting, and their quarterback," Saban said to the media when asked about being picked to win the SEC. "So even though I have a tremendous amount of respect for the intelligence level and your ability to prognosticate, which we really can't do, I'm not capable of doing it, I don't understand how you come to the decisions that you come to."

LSU:
The Tigers' offense was downright offensive to watch at times last fall, and they know it. LSU was 11th in the SEC in total offense, averaging 341.3 yards per game.
Now, under the tutelage of new offensive coordinator Steve Kragthorpe, there is more optimism on the bayou when it comes to talking about an offense that the Tigers expect to be more pass-friendly.
"I love it," offensive lineman T-Bob Hebert said of the offense. "Coach Kragthorpe brought a new intensity to the offensive side of the ball and he's injected new life in us. We can't wait to get back there during camp, start practicing, get more refined and more like a well-oiled machine. That's how an offense should work -- like a machine."

Ole Miss:
The loss of linebacker and emotional leader D.T. Shackelford this spring to a knee injury was absolutely devastating for the Rebels. The centerpiece of the defense is gone and Ole Miss didn't find a replacement this spring.
However, prized recruit C.J. Johnson appears to have what it takes and Houston Nutt isn't going to hesitate throwing him in the regular rotation early.
"C.J. Johnson doesn't look like a guy just coming out of high school," Nutt said. "Physically he looks the part. So I'm excited about him, getting him going. We'll give him every opportunity to get in the mix.
"Just by default because of D.T. Shackelford's injury, we lose a guy like that, he'll line up second team day one. He'll have every opportunity to play a lot of football."

Vanderbilt:
The Alabama secondary is getting a ton of preseason love, and so is LSU's secondary. But Vanderbilt senior cornerback Casey Hayward says not to sleep on the Commodores' secondary when you start ranking the best defensive backfields in the league.
Hayward was a second-team All-SEC selection by the coaches and media. Senior safety Sean Richardson had 98 tackles a year ago, and his running mate at the other safety spot, Kenny Ladler, was one of the most talented freshman safeties in the league last season. Junior cornerback Trey Wilson also looks like he's coming. He was one of the Commodores' most impressive players this spring.
"We don't get a lot of credit because of our record," said Hayward, who was second in the SEC last season with six interceptions. "But production-wise, when you look at the things we did last year, not too many secondaries did that. I think we'll take it to another step this year."