NCF Nation:

T. Boone Pickens
July, 10, 2012
7/10/12
9:00
AM ET
Our series on coaches marches on today. Today, we're looking more at the coaching jobs themselves, and less about the men who currently reside within them.
Who has the Big 12's best? It all factors in history, facilities, recruiting base, fan base etc. What are the best jobs in the league? Here's how I'd rank them.
1. Texas:
Ready-made recruiting base. The Longhorns are the flagship program in a state full of talented kids who (most of them, anyway) would die for an offer to wear the burnt orange. They've got a big fan base and college sports' biggest budget. What more could you ask for? Oh, a crazy awesome city surrounding your campus? Texas has that, too; this is arguably the best job in the nation.

2. Oklahoma:
The Sooners are a national power with a huge fan base and lots of money. Being just under three hours up the road from Dallas pays off in recruiting, too. Winning isn't automatic here (ask John Blake), but it's a lot easier than at most places. The gap between these two and the rest of the league? Enormous.
3. Oklahoma State:
Ain't nothin' wrong with a sugar daddy. T. Boone Pickens has helped elevate this program off the field and Mike Gundy turned it into a big winner on the field. OSU's facilities are impeccable, and its proximity to Texas allows it to reel in some top talent from the state.
4. West Virginia:
This is the only team on our list that truly has an entire state behind the program. That pays off, even if it's a small one like West Virginia. Being a historic winner helps, too. Big 12 membership will pay off in facility upgrades soon, too.
5. Texas Tech:
Tech's facilities are nice and the Red Raiders often get first dibs on the declining-but-still-underrated talent in West Texas. Winning big is possible, and the rowdy fan base provides a nice home-field advantage. Look out for that wind and lack of an indoor facility, though. Lubbock has a reputation as a small town, but it's actually one of the league's biggest with a population of well over 200,000. It's not the prettiest city, but there's more there than most think.
6. Baylor:
Waco's proximity to the metroplex makes it a nice draw for recruits, and though the city isn't a huge draw, the campus is nice and the facilities are strong. A small fan base is the biggest negative. It's never fun for coaches or players to play home games in atmospheres that feel like neutral-site games. It happens too often at Baylor.
7. TCU:
TCU has the same problem as the Bears, and we'll see if Big 12 membership fixes its home field getting flooded by opposing fans in Texas. Being located in the DFW metroplex is huge, and the facilities are in the process of a major upgrade that will be done soon. Gary Patterson winning for a decade gives this job a big upgrade for the next guy, too.
8. Kansas State:
Bill Snyder did the impossible and turned K-State into a power (albeit briefly), but no one else seems to be able to win in Manhattan. It's a tiny town in central Kansas, and unless you're arguably the greatest coach in the history of the game, nobody else has been able to consistently win there. The fan support is outstanding and way underrated, but taking the job has to give any coach pause, even if Snyder's done everything he can to make the program a winner for the next guy.
9. Kansas:
An apathetic fan base that seems more interested in basketball is the biggest problem with the KU job. It's the only school in the Big 12 that prefers the roundball. Mark Mangino proved you could win big there, but even he had trouble winning consistently. The stadium is quiet and underwhelming, but its proximity to Kansas City offers some nice payoff in recruiting -- if you can beat out Mizzou.
10. Iowa State:
Iowa State holds the distinction of being the only truly "little brother" program in its own state, and that lands it at the bottom of our list. ISU is way north in the Big 12, and in a state that has little football talent. Best of luck convincing top Texas talents to sign up for Iowa winters. Feign offense at the "little brother" tag, but Iowa has 11 conference titles, 22 consensus All-Americans and a Heisman Trophy. Iowa State has two titles, three All-Americans and no Heisman. It's not close. Iowa's also won 14 bowl games, compared to three for ISU. That said, Paul Rhoads is doing an unbelievable job in Ames. So did Dan McCarney.
November, 24, 2010
11/24/10
11:22
AM ET
Shy Huntington surely never guessed it would take this long for Oregon to become a national power. After he grabbed three interceptions in the Ducks' 14-0 Rose Bowl victory over the
Pennsylvania Quakers
, he probably thought things were just beginning for the Ducks.
It was 1917.
From 1918 through 1988, however, Oregon would play in just five bowl games, winning one. Its first coach to win more than 33 games was Len Casanova, who went 82-73-8 from 1951-66. Oregon's next coach to post a winning record? Mike Bellotti.
[+] Enlarge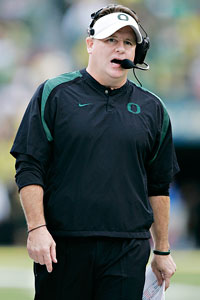 Joe Nicholson/US PresswireChip Kelly has the Ducks two wins away from their first undefeated season of the modern era.
Oregon is one of only 10 programs nationally to have played in at least 17 bowl games over the past 21 years, but it's clearly a member of the nouveau riche. The Ducks haven't finished unbeaten in the modern era and they've never won a national championship.
Yet now they are two wins away from doing the former and three from accomplishing the latter, starting with a home date with No. 21 Arizona on Friday.
This is uncharted territory for Oregon, but it also feels as if the arrival isn't temporary. The momentum -- having the right coach, great facilities, passionate fan base, national recruiting, a sugar daddy billionaire booster -- suggests Oregon is starting construction on a mansion in the neighborhood with programs like Florida, Alabama, Ohio State, Oklahoma, Texas and USC.
A character in "The Sun Also Rises" was asked how he went bankrupt. "Two ways," he replies. "Gradually and then suddenly." That description is apt for the Ducks, only in the opposite direction. Oregon broke through in the 1990s under Rich Brooks. Bellotti won 116 games from 1995-2008 -- the most in program history by a wide margin -- and created a Pac-10 and national contender.
Second-year coach Chip Kelly? He's on the cusp of winning a second consecutive Pac-10 title and earning a second BCS bowl berth, only this time in the national championship game on Jan. 10 in Glendale, Ariz. That qualifies as a good start to a career as a head coach.
For an Oregon fan in his or her 50s or 60s, this is a fairly shocking development. You remember cold, rainy days with only a few thousand fans on hand to watch the Ducks lose. You remember going down to Washington 58-0 (1973). Or tying rival Oregon State 0-0 in the 1983 Civil War (two bad teams, pouring rain, eleven fumbles, five interceptions, and four missed field goals, the last Division I game to end in a scoreless tie).
If you are, say, a 19-year-old freshman at Oregon, you grew up with the Ducks as a Pac-10 contender and a team that regularly appeared in the national rankings. Your first memory might be of Kenny Wheaton returning an interception 97 yards for a touchdown to beat Washington in 1994, the celebrated linchpin play of the Ducks' first Rose Bowl season in 37 years. You see your team headed for its sixth season with 10 or more wins since 2000.
You read about the construction of a new, $41 million, six-story, 130,000 square foot
operations building for the football program
that will begin early next year, and you (maybe) think, "About time."
"There is a difference between the people who have seen this program for 40 years and the people that have seen us for four years," Kelly said. "They obviously see it through a different set of eyes. This program wasn't always one of the top programs in the country... I still talk to some of the people who can remember the days gone by, when having a winning season was a big deal and making it to a bowl game was a really big deal."
Kelly adds that he's only known the good days. He arrived in 2007 as offensive coordinator, and Oregon has won 39 games -- and counting -- since then and finished each season nationally ranked, the last two in the top 11. Contemplating the present versus the past with nostalgia for days gone by? As he will tell you -- over and over and over and over -- he's only about winning the day, which is today and nothing else. Still.
"That's hard for me to fathom, this team struggling just to be bowl eligible," he said. "That's not the Oregon I know."
There is some respectful jealousy among other Pac-10 coaches. Want to know why California coach Jeff Tedford gets perhaps more understanding from sportswriters than Bears fans? Compare and contrast Oregon's facilities and the Bears'. It's major league vs. single-A (though Cal is -- finally -- in the process of a
major stadium project
that should help that).
Mike Stoops has led Arizona out of the Pac-10 cellar, but his facilities don't compare with Oregon's either. He noted -- indirectly -- that the Big 12's nouveau riche power, Oklahoma State, became a contender shortly after its billionaire sugar daddy, T. Boone Pickens, started to churn hundreds of millions of dollars into the program.
"They are both great examples of investing in your program, investing in your players and bringing first-class facilities to your program, and putting a lot of value to that," Stoops said. "You can see what's happened with Oregon. They continually won seven, eight, nine [games]. Now, all of a sudden, the last few years, they are competing for championships and competing for the national championship... Certainly, we are trying to do the same thing here in rebuilding our facilities as well."
Asked about whether he felt the powers-that-be at Arizona understood the value of facility upgrades, Stoops replied, "I can't erase 125 years of not going to the Rose Bowl. As much pressure as I can put on myself, I can't take all that responsibility. It can't be just all bad playing and all coaching."
(We, obviously, could start to debate the ethics and institutional value of the arms race in big-time college football when there are budget shortfalls on the academic side of things, but that prickly topic is for another day.)
Oregon's ascension also is fortuitously timed alongside the fall of USC. While the Ducks have won three of four versus the Trojans, the departure of Pete Carroll and the arrival of NCAA sanctions figure to benefit the Ducks as they tighten their moorings among the national elite.
Of course, the deal is not yet done. Irritated Washington fans, who have seen their Northwest supremacy taken away, would quibble: "Hey, win a Rose Bowl in the facemask era, would 'ya!" The Ducks haven't done that since Huntington's heroics. Two games remain in the regular season, and then there's the matter of closing the deal in Glendale.
But it's hard not to feel that Oregon is on the cusp of arriving. Consider this: Even if the Ducks don't win the national title game, when you look at what they have coming back in 2011, they are a good bet to begin next fall as the preseason No. 1.
January, 21, 2010
1/21/10
11:00
AM ET
By
Tim Griffin
| ESPN.com
The arrival of Mack Brown and Bob Stoops late in the 1990s helped rejuvenate dormant programs at Texas and Oklahoma. By the end of the following decade, both traditional powers were clearly the Big 12's top two programs and among the nation's best.
The return of Bo Pelini to Nebraska helped the Cornhuskers close the decade strongly and claim a spot just below the Big 12's "Big Two." Texas Tech has been among the nation's most consistent teams of the decade. North teams like Colorado, Kansas State and Missouri all popped up to make at least two appearances in the Big 12 title game.
But Oklahoma and Texas have been the Big 12's behemoths during the recent decade. Here's how I rank the programs ranked based on their accomplishments in the last decade.
1. Oklahoma:
The Sooners earn a slight edge over Texas despite the same number of victories in the decade because Bob Stoops took them to six Big 12 titles. The earlier teams depended more on defense, while Stoops' more recent squads have been offensive juggernauts to reflect the overall change in the Big 12.
2. Texas:
A victory in the BCS title game earlier this month might have catapulted Texas into the top slot. Mack Brown has pushed his program into parity with Oklahoma after struggling with the Sooner dynasty built by Stoops earlier in the decade.
3. Nebraska:
The Cornhuskers withstood more tumult in the last decade than in any era since Bob Devaney turned the program in 1962. Even with two coaching changes, Bo Pelini has the Cornhuskers steered to the top of the North Division and poised for much more heading into the new decade.
4. Texas Tech:
Mike Leach took the Red Raiders to an 84-43 record during the decade, with another victory added by Ruffin McNeill in the Valero Alamo Bowl for third place among Big 12 teams in victories. They fall behind Nebraska because they still have never advanced to the Big 12 title game or claimed a BCS bowl berth. That will be Tommy Tuberville's task to change the culture and break that ceiling for the program.
5. Kansas State:
The program was at its best during the early part of the decade when Bill Snyder took the Wildcats to the last title by a North Division team in 2003. The program dipped under Ron Prince, but could be poised to make another step forward after confounding prognosticators by remaining in the North Division title hunt until the last game in 2009.
6. Missouri:
Gary Pinkel has the program humming with two title-game berths, strong incoming talent and a reputation as the conference's foremost developers of unheralded recruiting talent. Pinkel's growth has been strong, but he still needs to take them another step where they start winning conference championships and appearing in BCS bowl games.
7. Oklahoma State:
The infusion of T. Boone Pickens' money has helped make the Cowboys' facilities as good as most in college football. That growth has helped pick up recruiting as Mike Gundy's program has made a bowl trip in four of his five years coaching the Cowboys.
8. Colorado:
Gary Barnett had the Buffaloes as the North Division's most consistent program with four championship game appearances in five seasons, including the 2001 Big 12 title. They haven't been nearly as successful since Dan Hawkins took over with one bowl trip, no bowl victories or trips to the championship game.
9. Texas A&M:
The Aggies still have the elements that could return them to prominence with rich tradition, strong facilities and an ideal recruiting location. But it's tougher for them to challenge in the South Division with Oklahoma and Texas at the highest levels in recent history and growing programs at Texas Tech, Oklahoma State and even Baylor.
10. Kansas:
Mark Mangino has awakened football interest here, but it will be up to Turner Gill to build on that growth. The North Division looks open, but Gill will be challenged to match Mangino's achievements early in his coaching tenure without an immediate replacement for
Todd Reesing
at quarterback.
11. Iowa State:
Dan McCarney's turnaround of this program in the early part of the decade is one of the more underrated building projects in recent college football history after taking the Cyclones to five bowls in the first six seasons of the decade. Included in that run were two near-misses where the Cyclones legitimately could have made a championship-game appearance with more consistent kicking. Athletic director Jamie Pollard went for the sizzle when he hired Gene Chizik to replace McCarney. He now appears to have found a McCarney clone with steady Paul Rhoads in charge.
12. Baylor:
The last decade will be marked by an incredible series of building projects at Baylor, but still no bowl game. The Bears appeared poised in 2009 before Robert Griffin's unfortunate season-ending knee injury. Art Briles turned down a couple of intriguing possibilities to remain at Baylor and try to stem the bowl drought, currently at 15 seasons and counting.
February, 3, 2009
2/03/09
12:30
PM ET
Posted by ESPN.com's Tim Griffin
No late signing-day announcements or juggling of school hats from me. Just a few Big 12 lunchtime links for your perusal.
December, 29, 2008
12/29/08
2:30
PM ET
Posted by ESPN.com's Ted Miller
This will be four days of HoneyBaked ham and it still tastes really good.
December, 8, 2008
12/08/08
6:28
PM ET
Posted by ESPN.com's Tim Griffin
Sure, the Big 12 couldn't fill all of its bowl agreements. Fans in Houston and Shreveport will have to do without a Big 12 representative in their bowls this season.
But the conference appears to have been situated in some winnable games. Early odds have not been released, but it would be surprising if more than a couple of Big 12 teams were underdogs in their games.
With that being the case, the Big 12's national stature may be riding on a big bowl season. Because if teams from the conference collectively fail this season, it will be presumed as little more than a pass-heavy league where defense isn't played.
Here's my own unofficial listing of the attractivness of the conference's seven bowl games this year.
1. BCS Championship Game


No. 1 Oklahoma vs. No. 2 Florida, Jan. 8, 8 p.m., FOX: This game has everything. It's the battle between two of three best scoring offenses in the country. Two likely Heisman finalists in Sam Bradford and Tim Tebow. And Bob Stoops needs a victory to restore some of the national lusture to his program -- against the school where he first emerged as a national name.
2. Fiesta Bowl


No. 3 Texas vs. No. 10 Ohio State, Jan. 5, 8 p.m., FOX: The Longhorns aren't exactly excited to be in the desert. But an impressive victory and a lackluster national championship game might give them an argument for a shared national title. The game will pit two traditional powers. And unlike most Big 12 games this season, defense won't be an afterthought.
3. Holiday Bowl


No. 13 Oklahoma State vs. No. 17 Oregon, Dec. 30, 8 p.m., ESPN: I can't wait for this game. Jeremiah Johnson vs. Kendall Hunter. Phil Knight vs. T. Boone Pickens. Pistol Pete vs. that crazy Duck mascot. This one will be like a game we've seen in the Big 12 a lot this season. First team to 50 points wins in a game where the two teams may combine for more than 1,000 yards.
4. Cotton Bowl


No. 7 Texas Tech vs. No. 25 Mississippi, Jan. 2, 2 p.m., FOX: It should be quite a show with Mike Leach and Michael Crabtree helping usher out the Cotton Bowl's era at the old stadium in Fair Park. The two teams had shootouts in 2002 and 2003 in an earlier series and I'm expecting a similar game in this one.
5. Alamo Bowl


No. 21 Missouri vs. No. 23 Northwestern, Dec. 29, 8 p.m., ESPN: The Big 12's North champions limp into this game coming off a two-game losing streak. And the game will be played in the Alamodome, a place where they were they lost the Big 12 title game last season. But Chase Daniel's final collegiate game promises to be a festive one, particularly when it's in his home state.
6. Gator Bowl


Nebraska vs. Clemson, Jan. 1, 1 p.m., CBS: This one will pit Nebraska's underrated offense against a Clemson defense that ranks in the top 17 teams in pass defense, total defense and scoring defense. But Clemson will be breaking in a new defensive coordinator and Roy Helu Jr. has been running strongly in recent games, likely given the Cornhuskers a slim edge.
7. Insight Bowl


Kansas vs. Minnesota, Dec. 31, 5:30 p.m., NFL Netwo
rk: The Jayhawks will toast their first back-to-back bowl appearances in school history by meeting a Minnesota team that lost its last four games and finished 91st in total offense and 104th in rushing. If the Kansas secondary can hold up, Mark Mangino could have his team in line for its third-straight bowl victory.
December, 8, 2008
12/08/08
12:59
PM ET
Posted by ESPN.com's Tim Griffin
Here's a look at my Big 12 power rankings, heading into the bowl games.
1. Oklahoma -- The most dominant offense in Big 12 history -- even if Bob Stoops kept his starters in too long to prove it against Missouri. The Sooners' defense is starting to grow some fangs, too. But they still have a lot of work before heading to huge BCS title game in reshaping their national image.
2. Texas -- Just missed playing in the BCS title game. Oh well, the airplane banners were fun the last few weeks or so. And it should give them a lot of inspiration heading into the Fiesta Bowl.
3. Texas Tech -- Their two best offensive weapons are banged up and their coach seems to be in limbo. Other than that, everything's coming up Cotton for the Red Raiders.
4. Oklahoma State -- Prepare for points and bucks. A lot of them on both sides. The Holiday Bowl not only will feature a battle between megabuck donors Phil Knight and T. Boone Pickens, but also should keep the scoreboard operators hopping in San Diego.
5. Missouri -- Tigers can still win 10 games this season. That was Chase Daniel's battle cry after the Oklahoma loss, but they need something to get back on track after their championship game blowout. Or else, it could be another bad trip to San Antonio.
6. Kansas -- The gritty Jayhawks shouldn't encounter many problems in the Insight Bowl against a Minnesota team that struggles running the ball collapsed with four straight losses down the stretch.
7. Nebraska -- Hey, I almost had a change of heart about the Cornhuskers. Bo Pelini's team can win me and even more converts by playing well on New Year's Day again. And it's even more promising for them considering they'll be facing a Clemson team whose defensive coordinator quit last week.
8. Colorado -- If any team could have used the extra bowl practice the next few weeks, it could have been the Buffaloes. But the time off will give them a chance to get healthy and ready for the spring.
9. Baylor -- It will be interesting this spring if Robert Griffin reconsiders his plans to run track in order to concentrate on football. Because he could turn into a monster if he dedicated himself simply to one sport -- or the other.
10. Kansas State -- Bill Snyder's staff is taking shape. Now the real work begins as he attempts to convince Josh Freeman to stay for one more year.
11. Texas A&M -- It will be a tough rebuilding job for Mike Sherman as the rest of the South Division might be competing at the highest level in history.
12. Iowa State -- Chizik's retooled staff will have much to work on over the winter. But the North Division should be competitive next season and experience should give them a chance.
August, 21, 2008
8/21/08
1:14
PM ET
Posted by ESPN.com's Tim Griffin
While driving down Interstate 35 last night, I came up with a mental exercise that helped me pass the time and avoid bad talk-show hosts.
To start, let's jump in the pretend machine. I'm a young coach starting out my career with limitless dreams and unmatched ambition. I want to direct a team at the highest levels of my profession and I'm willing to try my hardest to make it happen.
But the question is, which Big 12 team would be my dream job? What would be the best scenario for me to aspire to make my mark?
Here's a list I came up with where I ranked the Big 12 head-coaching jobs, in terms of prestige, livability of its city, tradition, facilities and chance to succeed at the national level.

I understand my perception might be different than others. But I'd be curious to find out some reader's comments about what they think. This is my list.
1. Texas -- Unmatched facilities, tradition and fan support. And you get to live in Austin and make a lot of money to boot. It might be the best job in the country, although it does come with some steep expectations of success.
2. Oklahoma -- Unbelievable tradition, improved facilities. Bob Stoops has helped make this one of five or six best jobs in the country.
3. Nebraska -- Unrivaled fan support and tradition. If you want to go to a place where your team is the main sports story nearly every day, this is the place. But make sure to play defense, or you will be run out on a rail only a year removed from a division championship. Just ask Bill Callahan.
4. Texas A&M -- Tradition-rich program with fervent fans that remember and revel in the past. Situated in the middle of one of the nation's richest recruiting bases, smack dab between Dallas and Houston. And it comes with one old rival (Texas) and another one that is growing (Texas Tech) for inspiration.
5. Colorado -- For the right person, this might be one of the best jobs in the country. If you like picturesque views and mountains, this would be your place. But it's kind of expensive to live there and sometimes tough to keep assistant coaches if salaries are higher at other jobs. And the facilities here aren't as good as the conference's really primo jobs.
6. Missouri -- Gary Pinkel seems to have finally awakened the sleeping giant, making the program relevant in the state. Two strong recruiting bases in St. Louis and Kansas City to draw from, as well as proximity to nearby Big Ten area. The facilities aren't as strong as some of those in front of it, but it still a solid, solid job.
7. Texas Tech -- Lubbock's isolated location might be a negative to some, but the locals seem to love the place. Growing area, but still perceived by many as wind-swept and flat. And progressives might fear this fact: According to the Bay Area Center for Voting Research, Lubbock is the second most conservative city in the United States with a population of more than 100,000. But they love their Tech football.
8. Oklahoma State -- The best part about this job might be T. Boone Pickens, a megabuck booster who has supplied hundreds of millions of dollars to his old school. The worst part might be T. Boone Pickens, who assuredly is bigger than any individual in the program. Has operated in the shadow of its rivals in Norman, although new facilities will be as good as any in the country. Stillwater might be too small for some, but you can have all the cheese fries you'd ever imagine at Eskimo Joe's.
9. Kansas -- For the right person, this might be one of the most attractive jobs in the country. The football program will always be in the shadow of the basketball program, but that's not always bad. Think what Rick Barnes has done at Texas, in reverse. Lawrence has a nice college-town feel and is still close enough to Kansas City to have all of the big-city attractions. And the football complex is as good as any in the country, although it could use a few more tall trees around its practice field.
10. Baylor -- Receives a small boost over the other schools because of its proximity to the rich Texas recruiting base. The school faces some unique challenges as the smallest school in the conference, along with its private-school status. Some might believe it's an impossible job, although Wake Forest's Jim Grobe has been successful in similar situation in the ACC. They always will have the daunting challenge of sticking with the South Division superpowers. But the Bears will have a new state-of-the-art football facility that will open soon. And if you really like Dr. Pepper, this would be your the place.
11. Kansas State -- Bill Snyder turned this program into a national power, transforming it in the most remarkable turnaround in modern college football history. But Snyder started to change the culture when KSU was in the Big Eight and not the Big 12. Its remote location in the North Division makes it difficult to recruit. But it can be done -- it's just not very easy. You just better know your way around the junior colleges in Kansas.
12. Iowa State - The Cyclones have struggled longer than any team in the conference, sharing their last conference title in 1912, back when they were members of the Missouri Valley Conference. Its recruiting area is limited and its facilities -- although improving -- don't match most in the Big 12. But if I was a young coach with boundless determination and wanted a challenge, this would be my place. Because I love a good pork tenderloin when I can find it.
If I was putting these jobs in an Olympic listing, the Big 12's gold-medal opportunities would be found at Texas, Oklahoma and Nebraska. Silver-medal jobs, in my opinion, are at Texas A&M, Colorado and Missouri. And the bronze jobs are Texas Tech, Oklahoma State and Kansas.
August, 21, 2008
8/21/08
11:45
AM ET
Posted by ESPN.com's Tim Griffin
And people thought it was known just for its jazz history and barbecue.
Kansas City is undoubtedly the northern hub of the Big 12. It was always the center for the old Big Eight Conference and some of the locals still haven't forgotten the interlopers from Texas who pushed the Big 12's offices to Dallas when the conference opened.
But "The City of Fountains" is bigger than just a few fax machines and file cabinets. And it will be proved again today when Iowa State and Kansas State announce they are coming soon.
Multiple newspapers reported this morning that the Cyclones and Wildcats will move 2009 and 2010 games to Arrowhead Stadium in Kansas City. Sources told the Topeka Capital-Journal the two teamswill receive payments of at least $1.8 million per game. KSU nets about $1 million from a normal game in Manhattan, according to the Kansas City Star and Wichita Eagle.
Kansas City is on a roll attracting Big 12 events. Arrowhead Stadium will be the site for the Big 12 championship game on Dec. 6. The breathtaking new Sprint Center was the host for the Big 12's men's basketball championships in March and will be solidly in the rotation for future tournament events. And the venerable Municipal Auditorium, with its stately art-deco ambience, is the best arena around for the women's title.
It's surprising that more regular-season Big 12 games don't end up in facilities like Arrowhead Stadium. The Missouri-Kansas game last season was one of the most ballyhooed sports events I've ever seen and the atmosphere lived up to the hype.
That game was bigger than any Texas-Oklahoma game I had ever attended because it had significant championship ramifications penned solely on that game. Now if we could get those Kansas City engineers to figure out how to get traffic moving a little faster, the next time might be easier.
The Kansas City Chiefs' organization appears more than willing to shell out big guarantees for games that it feels will be successful. I'm surprised that Nebraska hasn't convinced an opponent to move a home game to Arrowhead for those kind of windfall profits after a successful game there in 1998 against Oklahoma State.
So don't be surprised to see more Big 12 events end up at "The Paris of the Plains" in the future.
Just save a few extra cinnamon rolls for me at the legendary Stroud's Restaurant when you get there.
Until then, here are some tasty Big 12 links. They are almost as habit-forming and not nearly as gooey on your fingers.
July, 23, 2008
7/23/08
8:24
AM ET
Posted by ESPN.com's Tim Griffin
Nebraska coach Bo Pelini can hardly tell this is the Big 12 since his return after being away at the LSU since 2005. The proliferation of spread offenses has resulted in a record-setting binge on offensive numbers across the conference.Joseph Duarte of the Houston Chronicle gleaned that all Big 12 teams except Texas have set single-season passing records since 2002 -- including Missouri, Nebraska, Kansas and Kansas State last season.
"I think it's not just the Big 12, but college football in general," Pelini said. "You see all the spread offenses that are happening. It's gone from option football to zone read and spreading the field with fast break-type offenses."
Here are a couple of other numbers that Duarte developed to prove that point. In the conference's inaugural season in 1996, Colorado's Koy Detmer passed for a league-high 3,156 yards. That total would have been good for sixth in Big 12 passing last year as the number was eclipsed by five quarterbacks a year ago -- Texas Tech's Graham Harrell, Missouri's Chase Daniel, Kansas' Todd Reesing, Kansas State's Josh Freeman and Texas' Colt McCoy.
But most worrisome for Pelini is this: His leaky secondary will be playing all of them except McCoy this season.
Top of the mornin' from Kansas City, where we'll have one more day of hype about the upcoming season. Until then, here are some morning links tastier than any baby backs you might find at Arthur Bryant's legendary pits.
My take -- Robinson might be one of the most underrated players in the nation.
My take -- With $4 dollar a gallon gasoline prices, Pickens is finding it's a lot easier to get on the front page these days than when he was merely writing checks for buildings at his old school.
My take -- Graham Harrell and Michael Crabtree help make the Tech football program about as recession-proof an economic commodity in West Texas as can be found.
My take -- Nobody will be happier than Gundy to start the 2008 season. At least then, most of the attention will be focused on the results on the field rather than what happened last season.
My take -- Hard to believe that Freeman isn't mentioned in the same breath as some of the other top Big 12 quarterbacks -- particularly considering he was as highly recruited as any of them coming into college football.
My take -- If Scott gets banged up punting, Colorado fans will think that Hawkins is nuttier than when he made his legendary "This is Big 12 football, it ain't intramurals" declaration.
My take -- If the Jayhawks accomplish half of them, Mark Mangino might be cashing in on another contract extension.
My take -- Hypolite -- by far -- is the early leader in the clubhouse as the Big 12's quote machine for this season.