March, 21, 2012
3/21/12
12:00
PM ET
EUGENE, Ore. --
John Boyett
is still smiling. Everything seems fine. Up to the halfway point in a 15-minute interview, Oregon's free safety has been insightful and pleasant, even when a certain sportswriter started blathering about this or that.
But that smile hints at something else. It's a happy smile, yes, but happy in the way a lion looks just before he takes a huge chomp out of a gazelle.
Me
: I just made a
list of the top-25 of players in the Pac-12
.
Boyett
: [Big laugh] I heard.
Me
: You were left off.
Boyett
: [More laughing] I heard.
Me
: [Nervous laugh] Are you competitive with the other guys?
Boyett
: Very competitive.
If you've watched Boyett play, that shouldn't be a surprise. A soon-to-be four-year starter for the Ducks, the 5-foot-10, 202-pound senior from Napa, Calif., is child of a football family, and he's obsessed with the game, whether that's about conditioning or watching film or playing with an intensity that easily endures the filtering presentation of a TV camera.
[+] Enlarge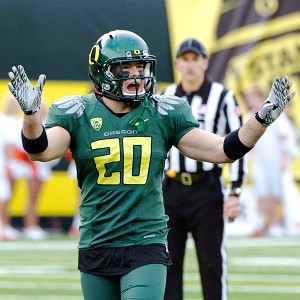 Jim Z. Rider/US PresswireJohn Boyett could be the best in a recent line of successful Oregon defensive backs.
"Football is in my blood," he said.
How competitive is he? Competitive enough to be, yes, just a bit irked not only at that ole top-25 list but also that he ended up second-team All-Pac-12.
"I'm not just going to say I feel like I'm the best safety because it's me. I'm a realist," he said. "But I really do feel I'm the best safety in the country. I probably wouldn't believe that if [secondary coach John Neal and defensive coordinator Nick Aliotti] hadn't told me the same thing."
But Boyett, who's led the Ducks in tackles two of the past three season and finished second in 2010, didn't come to this discussion unarmed. He's completely aware of who his rival is for best safety in the Pac-12: USC's
T.J. McDonald
. McDonald was first-team All-Pac-12, first-team All-American with The Sporting News, ended up ranked
19th on the top-25 list
and is widely considered the
best senior safety in college football
.

"I know T.J. McDonald's stats," Boyett said. "I know all the safeties I am competing with in the draft. I know all their stuff. But I'm not stupid competitive. I don't get into all the politics. I'm here to help my team win. If we get into another BCS championship game, I don't care if you give me first team or 20th team, I just want to help the team win."
But...
Boyett continues, "But it is crazy when you look at it. I look at my stats compared to everyone else. And I'm not a big stats guy, I just want to win games."
But...
"But of course you've got to look at it every once and a while. I've got 276 tackles, nine picks and like 29 pass breakups. And the other guy's [McDonald] got like [163] tackles, six picks and nine pass breakups. I've got him by [113] tackles, three picks and 20 pass breakups! And they are still getting...
But...
"That's why I don't get caught up in all that stuff."
Not completely, at least.
What Boyett really does get caught up in is winning. Oregon has done that during his career like it never has before with a 34-6 record over the past three seasons. He was recruited to a 2007 team that fell out of the national title hunt when quarterback Dennis Dixon blew out his knee. In 2008, his redshirt season, the Ducks went 10-3 and won the Holiday Bowl. Yet those were the down years. He became a starter in 2009 when T.J. Ward got hurt, and since then the Ducks have won three consecutive Pac-12 titles and played in two Rose Bowls -- winning one -- as well as the national title game after the 2010 season.
Boyett believes the Ducks will again be in the hunt in 2012. And he believes this defense might be the best unit with which he's played.
"We lose three or four guys, but all the guys coming in for them are just as good as them," he said. "[Aliotti] asks me how the defense is doing, and I seriously tell him, 'This defense is going to be the best since I've been here.'"
Boyett is part of an impressive recent legacy of Oregon defensive backs. When he arrived, the Ducks' secondary included Ward, Jairus Byrd, Patrick Chung and Walter Thurmond. The first three were second-round NFL draft picks, while Thurmond went in Round 4.
Those are the guys who first taught him how to play, but they aren't exempt from Boyett's competitive streak either. He's got big plans for this year, and part of that plan is leaving no doubt in the eyes of NFL scouts.
Said Boyett, "Coach Neal says if I have another great year I'm going to get drafted as high if not higher than them."
April, 24, 2010
4/24/10
11:28
AM ET
The NFL draft teaches hard lessons. Two USC players are learning that now:
Taylor Mays
and
Everson Griffen
.
Mays would have been a first-round pick last year. I know folks believe his perceived weaknesses would have
revealed themselves on film

then just as they did this season. But the 2008 USC
pass defense
was simply extraordinary in large part because of Mays playing an intimidating and impenetrable center field.
So Mays blew it by coming back for his senior season. And
he now knows this
.
As for you,
San Francisco 49ers
fans: Didn't you guys do fairly well a few years back with another
hard-hitting former USC safety
? I got a $5 bill right here that says Mays is going to become an outstanding NFL safety.
Griffen is another story: First-round talent with questions about his attitude and work ethic. (Keep this in mind about Mays: his work ethic couldn't be any better).
Who would have thought that Washington's
Daniel Te'o-Nesheim
would go before Griffen? Te'o-Nesheim is superior to Griffen in only one way but its a critical one: motor. Griffen's is questionable, Te'o-Nesheim's is not.
The lesson here is that being good isn't enough. The NFL cares about the entire package. And NFL teams don't want players who aren't self-starters, who don't motivate themselves.
Take note incoming five-star recruits.
Here are the Pac-10 picks to this point (11:15 a.m. ET ).
First round
DE
Tyson Alualu
, California, Jacksonville (10)
RB
Jahvid Best
, California, Detroit (30)
Second round
DT
Brian Price
, UCLA, Tampa (35)
S
T.J. Ward
, Oregon, Cleveland (38)
TE
Rob Gronkowski
, Arizona, New England (42)
S Taylor Mays, USC, San Francisco (49)
RB
Toby Gerhart
, Stanford, Minnesota (51)
OT
Charles Brown
, USC, New Orleans (64)
Third round
TE
Ed Dickson
, Oregon, Baltimore (70)
WR
Damian Williams
, USC, Tennessee (77)
LB
Donald Butler
, Washington, San Diego (79)
DT
Earl Mitchell
, Arizona, Houston (81)
DE Daniel Te'o-Nesheim, Washington, Philadelphia (86)
OG
Shawn Lauvao
, Arizona State, Cleveland (92)
CB
Kevin Thomas
, USC, Indianapolis (94)
Fourth round

DE Everson Griffin, USC, Minnesota (100)
CB
Alterraun Verner
, UCLA, Tennessee (104)
CB
Walter Thurmond
, Oregon, Seattle (111)
RB
Joe McKnight
, USC,
New York Jets
(112)
April, 12, 2010
4/12/10
8:08
PM ET
EUGENE, Ore. -- Quick: Who had the best defense in the Pac-10 last year?
Wrong. It was Oregon.
At least the Ducks had the best defense if you compare only Pac-10 games, which seems reasonable because of the broad range of relative difficulty with the nonconference schedules.
Oregon ranked No. 1 in the Pac-10 vs. conference foes in rushing defense (118.6 yards per game), No. 1 in total defense (316 yards per game), No. 1 in sacks (3.1 per game) and No. 2 in scoring defense (22.7 points per game).
(Some snarky sorts might point out that these numbers are skewed for a significant reason: Oregon's defense didn't have to play its offense, which was No. 1 vs. conference foes with 41.7 ppg).
Therefore, it's understandable that some Ducks might be affronted when pundits wonder whether Oregon, once viewed as the consensus conference favorite and a potential national title contender, will go south in 2010 because of the season-long suspension of quarterback
Jeremiah Masoli
.
"We took it as an insult because we're not just the quarterback position," linebacker Spencer Paysinger said.
Coach Chip Kelly has this to say about his defense: "We're going to be better than last year."
In one sense, the Ducks must replace four starters: end Will Tukuafu, tackle Blake Ferras, safety T.J. Ward and cornerback Walter Thurmond. But Ward and Thurmond missed significant action due to injury, so their backups actually qualify as returning starters.
Kelly believes he's two-deep at every spot on the depth chart. The loss of a pair of defensive linemen? He ticks off 10 guys he believes can contribute in 2010 and is particularly high on a guy who was a reserve tight end last year: sophomore
Dion Jordan
, who's moved to defensive end.
Jordan is 6-foot-7, 240 pounds and runs a 4.6 40-yard dash, according to Kelly.
"I think he's going to be a special, special player," Kelly said. "He's going to be the next really good football player here. He's shown it in just five practices. There are times he's unblockable."
Unblockable is good.
Moving speedy Eddie Pleasant from strongside linebacker to rover gives the Ducks secondary another physical presence -- as the hard-hitting Ward was -- while also opening up opportunities for Bryson Littlejohn, Bo Lokombo, Josh Kaddu and Michael Clay to get on the field at linebacker.
So how does Paysinger anticipate the Ducks defense will be different in 2010?
"We have a lot more speed," he said. "And hunger."
October, 28, 2009
10/28/09
8:13
AM ET
Posted by ESPN.com's Ted Miller
Oregon's defense doesn't pencil out. It's clearly very good, but it shouldn't be.
The Ducks lost six starters, four of whom were NFL draft picks, from a 2008 defense that ranked 82nd in the nation in total defense and 78th in scoring defense. T.J. Ward was a returning starter at free safety, but he's only recently returned to action after being injured in the first half of the season-opener at Boise State. Cornerback and team captain Walter Thurmond III, generally considered the Ducks' best player, blew out his knee on Sept. 26.
Look at it like this: Name a defensive starter for Oregon.
| | |
| --- | --- |
| | |
| | AP Photo/Chris Carlson |
| | Linebacker Spencer Paysinger and the Oregon defense have surprised many with their performance so far this season. |
Defensive end Will Tukuafu? Good for you. He's long been an underrated player. Clay Matthews? Actually, Oregon's middle linebacker is "Casey" Matthews, but it's the same gene pool, so that's not too bad.
It's a no-name crew that has been riddled by injuries -- Willie Glasper, who replaced Thurmond, also was lost for the year to a knee injury -- yet here Oregon is, ranked 19th in the nation both total defense and scoring defense.
When Washington scored a fourth-quarter touchdown in a 43-19 defeat last weekend, it was the first TD against the Ducks' defense in 15 quarters.
How can this be? Oregon hasn't ranked among the top 40 in total defense since 2004. It hasn't had a "special" defense since 1994, when the "Gang Green" led the Ducks to the Rose Bowl.
There are a lot of explanations, though.
"They're being very aggressive and they've really been aggressive mixing their odd front and their 4-2 front," said USC coach Pete Carroll, whose Trojans visit Oregon on Saturday. "It's been problematic for their opponents. They've had a lot of pressure and a lot of plays in the backfield."
That's true. Oregon ranks third in the Pac-10 and 10th in the nation in sacks (3.14 per game) and is 25th in the nation in tackles for a loss (7.0 per game).
UCLA had just 211 yards and didn't score an offensive touchdown against Oregon. Bruins coach Rick Neuheisel said the Ducks play hard, play their gap responsibilities and are good tacklers.
California's only points against Oregon in a 42-3 defeat came after the Ducks fumbled the opening kickoff. The drive totaled minus-8 yards. Coach Jeff Tedford said Oregon has speed at every position, which will be critical in the matchup with the Trojans.
"I think Oregon's defense is going to match up pretty favorably [with USC]," he said.
Washington moved the ball at times against Oregon, but the Ducks recorded four sacks and forced three turnovers, one of which concluded a first-half goal-line stand. Coach Steve Sarkisian said Oregon isn't giving up big plays, which has been a problem in the past.
"They're making teams drive down the field and not get yards in chunks," he said.
As for Oregon's longtime defensive coordinator, Nick Aliotti, he gives a jovial shrug. Why is his defense so good? Beats him.
"If I had the answer to that, I would bottle it," he said.
Maybe it's better chemistry. Maybe the focus and work ethic are better.
Of course, Aliotti is being a bit coy. There have been some scheme tweaks.
Coaches who have played the Ducks, as well as Carroll, note Oregon has diversified its defensive alignments and is running more zone blitzes.
"Yeah, we're doing more of that," Aliotti said after a brief pause. "I'm trying not to give away all our secrets."
Aliotti also admitted he's not trading out personnel groups as much, which can disrupt a defense's rhythm and sometimes lead to confusion. He also talked about the coaching staff being "on the same page," which suggests some staff changes, specifically the addition of defensive line coach Jerry Azzinaro, have helped.
Linebacker Spencer Paysinger, one of the returning starters you've never heard of but is, nonetheless, a really good player, said he likes how the defense is playing more aggressively and is "able to put bodies on people instead of just dropping into zones."
He's also noticed how the defense's play has turned Aliotti's frown upside down. More than a few Oregon fans have groused about Aliotti's defense through the years because it didn't match the typically high-powered offense. When Aliotti
defended his defense
, some rolled their eyes.
Those complaints are rarer these days.
"He does have a smile on his face," Paysinger said. "He knows his defense has been lights out the past few games."
While Aliotti clearly is enjoying the defensive renaissance -- he's coached at Oregon 19 seasons, split between three different tenures -- he's also quick to note the season is only seven games old and, oh by the way, USC is coming to town.
He's not ready to talk about this crew as the second-coming of his "Gang Green" unit just yet.
Not that he's ruling out a new nickname at some point.
"Maybe we'll give them something fancy at the end of the year," he said.
October, 10, 2009
10/10/09
5:18
PM ET

Posted by ESPN.com's Ted Miller
Ten years ago, would you have believed UCLA and Oregon would be 3-0 at halftime?


The Pac-10 is now a defensive league.
The Bruins lead on Kai Forbath's 52-yard field goal. And that's our scoring summary.
Oregon sophomore cornerback Anthony Gildon -- the Ducks third option at the position after Walter Thurmond and Willie Glasper went down to knee injuries -- has been flagged twice for pass interference, but the Bruins have been unable to exploit the Ducks secondary, which is also missing safety T.J. Ward and was riddled with illness this week.
Quarterback report?
Kevin Prince
and
Nate Costa
are both playing OK, but neither has strung a few good passing plays together.
Turning point
: Oregon posted an impressive goal-line stand when two quarterback sneaks by Prince from the 1/2-yard line failed.
Stat of the half
: Ducks are 1 of 6 on third down. Costa has played fairly well, but he hasn't been able to string together first downs.
Best player in the half
: Ducks running back
LaMichael James
has 83 yards rushing on eight carries. Of course, one carry -- from the Ducks' 1-yard line -- went for 49 yards.
What Oregon needs to do; What UCLA needs to do
: Both teams need the same thing. They need to keep playing stingy defense while finding an offensive rhythm. In a low-scoring game, turnovers are almost always critical. No turnovers so far. And both teams have made nice plays in special teams. In low-scoring games, field position is almost always critical. Wonder who gets to play on a short field more?
October, 9, 2009
10/09/09
5:00
AM ET

Posted by ESPN.com's Ivan Maisel
1. This from Brad Edwards and the ESPN research fiends: Florida has lost at least one game to an SEC West team in each of the past 10 years. Under coach Urban Meyer, the Gators are 6-6 against the West in the regular season, 2-0 in the league championship game. You could blame it on the familiarity that conference teams have with one another, but Meyer is 20-2 against the SEC East. Go figure.
2. Oregon began the season with three seniors in the secondary. T.J. Ward sprained his ankle at Boise State, and now both Walter Thurmond and Willie Glasper have suffered season-ending knee injuries. Ward came back to practice this week, which is good news. But which UCLA quarterback will the Ducks see?
Kevin Prince
, out four weeks with a broken jaw, is practicing. Omen alert: the Ducks' last 3-0 start in the Pac-10, 2001, had a BCS finish (Fiesta).
3. There is no better tradition in college football than the Army-Navy postgame, when both teams stand in front of the respective student bodies and sing each alma mater. Maybe it will spread. Tulane coach Bob Toledo had his team stand with the Black Knights and sing after the Green Wave won, 17-16, at West Point last week. "I was doing it out of respect for them," Toledo said. "I have great appreciation for those guys and what they stand for." Very cool.
September, 20, 2009
9/20/09
12:32
AM ET

Posted by ESPN.com's Ted Miller
Wow. What a day.
Washington broke through. USC went splat. California proved it can win on the road. Oregon put the loss at Boise State behind it by ending the nation's longest winning streak. Washington State posted a comeback victory.
Here's a look at the early games. Will come back with a post for the three late games.
Washington 16, USC 13
: The Trojans were sloppy and quarterback
Aaron Corp
didn't play well stepping in for the injured
Matt Barkley
. Washington played well on both sides of the ball and won the critical turnover battle 3-0. All three of USC's turnovers happened deep in Washington territory. A year after finishing 0-12, the Huskies and new coach Steve Sarkisian are 2-1 and 1-0 in the Pac-10.
Up next
: USC plays host to Washington State; Washington visits Stanford.
California 35, Minnesota 21
: Minnesota challenged Cal, tying the game 21-21 in the third quarter, but the Bears responded and won going away. That broke a four-game road losing streak.
Jahvid Best
scored five touchdowns and rushed for 131 yards, which should establish him as a legitimate Heisman Trophy candidate. With USC's loss, the Bears now become the Pac-10 front-runner. Of course, they've got another -- tougher -- road test coming up.
Up next
: California visits Oregon.
Oregon 31, Utah 24
: Reports of the Ducks' demise apparently were wrong, as they ended Utah's 16-game winning streak and improved to 2-1. While quarterback
Jeremiah Masoli
continues to struggle -- and Oregon had four turnovers -- the running game got back on track, with
LaMichael James
rushing for a career-high 152 yards and a touchdown. Safety John Boyett, who stepped in for an injured T.J. Ward, had a pick deep in Ducks territory to keep the Utes from tying the game.
Up next
: Cal comes calling.
Cincinnati 28, Oregon State 18
: The Beavers just couldn't stop Cincinnati quarterback
Tony Pike
, who threw for 332 yards, and receiver Mardy Gilyard. Oregon State continues to struggle to both pressure the quarterback -- just one sack -- and protect its quarterback -- the Bearcats had five sacks. Running back
Jacquizz Rodgers
, though bothered by a sprained ankle, rushed for 73 yards on 20 carries.
Up next
: The Beavers open Pac-10 play by hosting to Arizona. Both are coming off nonconference losses.
Iowa 27, Arizona 17
: Arizona only managed eight first downs at Iowa, and it's clear the Wildcats are still looking for answers at quarterback.
Matt Scott
and
Nick Foles
only combined for 105 yards passing, but Foles outplayed Scott, completing 6 of 11 for 55 yards with a touchdown. Scott was 4 of 14 for 50 yards with an interception. The receivers didn't help --
Delashaun Dean
dropped what would have been a big pass play. Arizona was 2 of 12 on third down; Iowa was 10 of 19. The Hawkeyes were able to push around a smaller Wildcats defensive front.
Up next
: Arizona heads to Oregon State to open Pac-10 play.
Washington State 30, SMU 27 OT
: The Cougars showed some guts, fighting back from a 24-7 third-quarter deficit to win over overtime. They grabbed four interceptions, including one by Chima Nwachukwu to stop the Mustangs on their first overtime possession. The Cougars' best offense, in fact, was its defense. Linebacker Alex Hoffman-Ellis returned one interception 52 yards for a touchdown, while linebacker Myron Beck grabbed one and went 67 yards for a score. While new starting quarterback
Marshall Lobbestael
wasn't terribly sharp, he led the Cougars on an 80-yard touchdown drive to tie the game with 28 seconds left in regulation. SMU outgained the Cougs 504 yards to 276, but the Cougs found a way to get their first win of the season.
September, 4, 2009
9/04/09
1:59
AM ET

Posted by ESPN.com's Ted Miller
There are many things that can be said about
Oregon's 19-8 loss
at Boise State, but really everything must start with this: Boise State converted the first 18 first downs of the game.
Eighteen to zero until 7:07 remained in the third quarter.
Stunning.
Oregon had plenty of chances to come back and win. But it twice failed to convert on fourth downs in Broncos territory in the second half.
| | |
| --- | --- |
| | |
| | Steve Dykes/Getty Images |
| | LeGarrette Blount is escorted off the field by Oregon coach Chip Kelly Thursday night after Blount punched a Boise State player. |
One was a fourth-and-1 -- mano-a-mano -- and the Ducks got whupped.
LeGarrette Blount
failed on that carry.
And then he went nuts after the game, punching a Boise State player and forcing security to drag him off the field when he went after some fans.
I feel sad for Blount.
But he deserves a long suspension, perhaps season-long, and he might have just cost himself an NFL opportunity.
A terrible night for the Ducks.
Great win for Boise State. Kudos to Broncos defensive coordinator Justin Wilcox, who just became the new hot coaching prospect on the West Coast.
Thoughts:
It wasn't the maligned Ducks defense's fault.
Chip Kelly's debut as head coach/playcaller from the sideline wasn't impressive.
Concerns about Oregon's offensive line proved valid. The Ducks got whipped up front, rushing for just 31 yards.
Oregon quarterback Jeremiah Masoli didn't carry over the poise and instincts he showcased at the end of the 2008 season.
Safety T.J. Ward injured his leg in the third quarter and had to be helped off the field. It didn't look good.
Boise State rushed for 141 yards; Oregon finished with 151 yards. Total.
Not a good night for the Pac-10, which failed to make a statement with an early-season battle.
So how will Oregon regroup? Purdue comes to Eugene on Sept. 12, and then Utah.
The Ducks bounced back from an ugly loss at home to the Broncos last year. But there were valid excuses in that game -- the whole quarterback injury issue, etc.
No excuses Thursday night on the blue turf. Oregon received the butt whippin' it promised to deliver.
So it took just one game for Kelly to encounter his first crisis as head coach.
We shall see.
Posted by ESPN.com's Ted Miller
Optimism is a powerful thing. And spring is a time for renewal. So this is a "Best of" list, without any of the "Negative Nellie" stuff.
Best spring game performance by a quarterback: Stanford redshirt freshman Andrew Luck all but won the starting quarterback job over incumbent Tavita Pritchard after completing 18 of 25 passes for 352 yards and five touchdowns to lead the White team to a 42-17 victory over the Cardinal.
Best spring game performance by a quarterback II: Washington quarterback Jake Locker seemed fine working in a pro-style offense after completing 16 of 18 passes for 200 yards and two touchdowns. The two incompletions, by the way, were drops.
Best spring game performance by two quarterbacks: Oregon's Jeremiah Masoli and Justin Roper combined to complete 37 of 56 passes for 516 yards and five touchdowns and neither threw an interception in the Ducks' spring game. Perhaps it was the rainy weather only fit for a Duck?
Best spring, overall, by a quarterback: Under intense, national scrutiny ,USC's Aaron Corp threw only one interception throughout spring practices and was consistently solid throughout the session, which earned him the nod as the Trojans No. 1 quarterback over spectacular freshman Matt Barkley entering the offseason. Under coach Pete Carroll, every previous Trojan quarterback who had been tapped No. 1 out of spring started the season opener.
Best performance by a true freshman: Barkley made the recruiting gurus who ranked him No. 1 look smart.
Best spring game on defense: Talk about a penetrating performance. USC's backup defensive end Nick Perry had six tackles for loss, including four sacks, among his seven tackles. Yeah, USC's defense is going to be hurting in 2009.
Best spring on defense: Six guys stood out: Oregon cornerback Walter Thurmond III, UCLA's tackle Brian Price, Oregon State tackle Stephen Paea, Arizona State defensive tackle Lawrence Guy, Arizona linebacker Vuna Tuihalamaka and USC linebacker Malcolm Smith.
Best surprise: USC transfer and notorious underachiever Jamere Holland suddenly decided to become Oregon's best deep threat and turned in an outstanding spring. Golly, sometimes listening to your coaches helps.
Best breakout: While California has questions at receiver, the general feeling is sophomore Marvin Jones is almost certainly one of the answers.
Best 'it's about time' breakout: USC's Everson Griffen might be the nation's most talented pass-rusher, but his high-performance engine has also been a high-maintenance engine. Yet his effort and intensity were consistentthis spring, which meant no one could block him.
Best comeback: California offensive tackle Mike Tepper has been through a lot, but he's hoping his sixth year will just be about anchoring a line with a lot of upside. Read Tepper's story here.
Best comeback II: Got a funny -- mean, but funny -- note during the 2008 season that instructed the Pac-10 blog to refer to Oregon State receiver Darrell Catchings as Darrell Droppings. Can't do that now because Catchings lived up to his name -- the real one -- this spring.
Best position change: Arizona sophomore Robert Golden, a marquee 2008 recruit, switched from cornerback to strong safety this spring, and early word is he could become an All-Conference player at his new position. The move further allowed the Wildcats to switch Cam Nelson to free safety from strong and get Trevin Wade on the field to complement Devin Ross at corner.
Best coaching decision: Stanford coach Jim Harbaugh wants his best 11 on the field at any given time, and he's willing to get creative to do it. That's why he's got a handful of guys playing both ways, including Owen Marecic (fullback and middle linebacker), Michael Thomas (cornerback and receiver), Richard Sherman (cornerback and receiver) and Alex Debniak (linebacker and running back). Will it work? We'll see. But it's undoubtedly interesting.
Best candidate for a karmic change: No team had worse injury issues this spring than Washington State, which is clearly in the midst of a major rebuilding project. Then promising defensive end Cory Mackay, who'd impressed this spring, suffered a serious back injury after he fell asleep at the wheel of his car. The Cougars are overdue for some luck. Perhaps it arrives this fall?
Best catch of the spring: You may have already watched this grab. Watch Arizona State receiver Kerry Taylor one more time. It's worth it.
Best position in conference: The Pac-10 might have the nation's best collection of talent in the secondary, with USC and California boasting units that should rank among the nation's best. Consider: FS Taylor Mays (USC), SS T.J. Ward (Oregon), SS Josh Pinkard (USC), CB Walter Thurmond III (Oregon), CB Alterraun Verner (UCLA), CB Syd'Quan Thompson (California), CB Devin Ross (Arizona), CB Omar Bolden (Arizona State), FS Rahim Moore (UCLA), CB Shareece Wright (USC), among others.
Best position in conference II: Five running backs who eclipsed 1,000 yards in 2008 are back, led by California's Jahvid Best and Oregon State's Jacquizz Rodgers.
Best potentially surprising position: If you talked about good Pac-10 defensive linemen in recent years, you were basically talking about USC. Not in 2009. Nine of the Pac-10's top 30 players, at least by, er, one person's accounting, are defensive linemen, and that list included only one player from USC (Griffen, at No. 30) and didn't include Cal's Cameron Jordan.
Best quote: "How do we go from nine to one?" said Chip Kelly on what he believes are his marching orders as Oregon's new coach. "Nine" is where the Ducks finished last y
ear in the final coaches' poll.
February, 27, 2009
2/27/09
10:47
AM ET
Posted by ESPN.com's Ted Miller
We had no idea who Oregon quarterback Jeremiah Masoli was at this time last year. Heck, he hadn't even signed, much less played for the Ducks.
Masoli didn't step out of the shadows, though. He was immaculately conceived.
But we did know who Mark Sanchez was. And Jahvid Best. And Brian Price. We just didn't know who they'd become.
We're thinking about guys taking the step up from being a good player to being a star player.
We're thinking about guys stepping out of the shadows and into the light and, to paraphrase the immortal words of Norma Desmond, saying, "All right, College GameDay, I'm ready for my close-up."
Arizona
WR Delashaun Dean: The junior will form a solid tandem with senior Terrell Turner. At 6-foot-4, 205 pounds, he's got the size that makes things easy on a first-year starting quarterback. Caught 13 passes for 173 yards with two touchdowns in the Wildcats' season-ending wins over Arizona State and BYU in the Las Vegas Bowl.
Arizona State
WR Kyle Williams: The senior ranked fourth in the nation in punt returns last season (17 yards per return) and sixth in the conference in all-purpose yards, but he needs to break out as a receiver in 2009. While he only ranked sixth on the Sun Devils with 19 receptions last year, four of those went four TDs and he averaged over 19 yards per catch.
California
DE Cameron Jordan: He stepped into the starting lineup when Rulon Davis got hurt, and he didn't play like a sophomore. He finished with 11 tackles for a loss, four sacks and an interception. He and the underrated Tyson Aluala might be the best DE tandem in the Pac-10.
Oregon
FS T.J. Ward and DE Will Tukuafu: These two seniors played well last year but mostly in the shadows of rover Patrick Chung and DE Nick Reed. Ward led the Pac-10 in solo tackles (64) and is a lights-out hitter, while Tukuafu recorded 7.5 sacks and 17.5 tackles for a loss (fifth most in the conference).
Oregon State
LB Keaton Kristick: Sure, he was second-team All-Pac-10, but it sure was hard for a LB outside of USC to get much attention last season. Kristick, a senior, had 14 tackles for loss among his 82 total stops in 2008. He will lead an LB corps that should be the strength of a rebuilding defense in 2009.
Stanford
LB Chike Amajoyi: The junior regressed a bit last year after hanging up impressive numbers as a freshman, but he has all the physical tools to be an outstanding linebacker. He's expected to step in for Pat Maynor at weakside linebacker.
UCLA
FS Rahim Moore: Moore ranked fourth on the Bruins' defense last year with 60 tackles and tied for the team lead with three interceptions as a true freshman. There's no doubt who the Pac-10's best free safety is -- USC's Taylor Mays -- but Moore may be the second-best guy as a sophomore.
USC
WR Damian Williams: He's hardly unknown -- he was the Trojans' leading receiver last year -- but Williams was merely honorable mention All-Pac-10 in 2008. In 2009, the junior transfer from Arkansas will be the best receiver in the Pac-10.
Washington
WR D'Andre Goodwin: Sure, he was the Huskies' leading receiver last year. But that's like being the leading scorer for the Washington Generals. But with a new pro-style offense being installed and the return of a healthy Jake Locker, Goodwin should see more balls and get more opportunities to show his stuff.
Washington State
LB Louis Bland: The undersized freshman -- he's listed at a cornerback-like 5-foot-10, 203 pounds -- was second on the team with nine tackles for loss, and he played a key role in the triumph over Washington in the Apple Cup. His quickness will make him a playmaker on the Cougars' defense in 2009.