April, 30, 2013
4/30/13
9:00
AM ET
One of the bigger surprises nationally from an NFL draft weekend that produced no shortage of them was just how well UConn fared. The Huskies had a school-record five players selected in the 2013 draft, a number that was tied for 10th-most among all colleges, along with Oregon, Texas A&M and North Carolina.
Gee, which of those is not like the other?
In fact, you could extend that question to include all 13 schools that had five or more players taken in this year's draft. The Tar Heels are the only team among the group of 13 that did not play in the postseason, and that's because the 8-4 program was dealing with a bowl ban.
Do UConn fans look at this year's record NFL sendoff as a positive recruiting tool, or does it just make consecutive 5-7 seasons in Paul Pasqualoni's first two years all the more disappointing?
To be fair, anyone who has followed this program closely either during this past season or throughout the lead-up to the draft should not be all that surprised by the showing this past weekend.
Trevardo Williams
(fourth round, 124th overall, Texans) led the Big East in sacks in each of the past two seasons,
Blidi Wreh-Wilson
(third, 70, Titans) was the team's MVP and
Sio Moore
(third, 66, Raiders)
dazzled throughout the evaluation process
.
The Huskies, after all, ranked No. 9 nationally in total defense in 2012, allowing just 309.92 yards per game. Four of their five draftees were on the defensive side of the ball, with tight end
Ryan Griffin
(sixth, 201, Texans) being the lone outlier.
The problem, of course, was an offense that ranked 110th nationally in yards per game, 118th in scoring, 117th in rushing and, most of all, 110th in turnover margin.
Pasqualoni
was quick to the point in an interview Monday with the Hartford Courant's Desmond Conner
:
"Well if you turn the ball over [on offense] and you give up a big play at an inopportune time [on defense] regardless you're chances of winning are slim," Pasqualoni said. "That would be my first response to it. The biggest factor in winning football games, still, and it's no revelation, nothing new and it's not anything anybody doesn't know, it's that the turnover…if you turn the ball over in tight games you stand a good chance of losing, No.1."
UConn brings back
Chandler Whitmer
under center and
Lyle McCombs
in the backfield, along with its entire starting offensive line from 2012. It also stripped George DeLeone of his offensive coordinator duties, though he is still in charge of the line.
Whether all of those pieces, plus the addition of offensive coordinator T.J. Weist, can help the Huskies make the jump to postseason play in 2013 remains to be seen.
April, 19, 2013
4/19/13
9:00
AM ET
Nine of 10 Big East teams will be through with spring practices come Monday, with Rutgers serving as the outlier. With UConn, Temple and SMU all gearing up for their annual spring games this Saturday, here's a peek at what to look for.

UCONN
Fans in attendance for the noon start at Rentschler Field should keep an eye on how the offense moves under new coordinator T.J. Weist. The Huskies ranked 118th in total offense last year as coordinator George DeLeone was stripped of his duties, though he remains the offensive line coach. But the squad returns all five starters up front to protect incumbent quarterback
Chandler Whitmer
, as well as top running back
Lyle McCombs
, as the unit will look to keep pace with a defense that was nothing short of outstanding last season but is down a few stars who will hear their names called next weekend in New York.
Hank Hughes is the new man in charge of the defense, and he has
Yawin Smallwood
back to anchor a unit that has said goodbye to
Sio Moore
,
Jory Johnson
,
Trevardo Williams
and
Blidi Wreh-Wilson
. The Huskies boast plenty of potential in the middle with linebackers
Graham Stewart
,
Ryan Donohue
,
Jefferson Ashiru
and
Omaine Stephens
-- but that is just potential, for now.
UConn needs answers on both sides of the ball if it hopes to improve off head coach Paul Pasqualoni's consecutive 5-7 seasons.

SMU
The Mustangs will have an open practice at 9 a.m. local time at Pettus Practice Field, with many current and former players signing autographs afterward. There will be an NFL Punt, Pass and Kick competition afterward for kids ages 6 through eighth grade.
The Mustangs are intriguing, first and foremost, because they brought Hal Mumme aboard as their assistant head coach and passing game coordinator. Pairing the Air Raid curator with head coach June Jones and his run 'n' shoot pedigree is a fascinating experiment in and of itself.
Kenneth Acker
, who is coming off a second-team All-Conference USA season in the secondary, is another experiment this spring, with the staff splitting the cornerback wide to catch some passes with the offense.
Defensively, the Mustangs are replacing a bulk of their production from last season, with
Margus Hunt
,
Ja'Gared Davis
and
Taylor Reed
all gone.
Kevin Pope
and
Robert Seals
must step up at linebacker.

TEMPLE
Head coach Matt Rhule's first spring will feature live kicking and punting, normal scoring and 15-minute quarters. Who will eventually emerge as quarterback, however, is another matter. Juice Granger and
Thomas Rumer
will see action on the Cherry squad, which is coached by defensive coordinator Phil Snow, while
Chris Coyer
and
Connor Reilly
will take reps for the White team, coached by offensive coordinator Marcus Satterfield.
Reilly has thrived under the pro-style attack, ascending to No. 1 on a depth chart that was expected to see Coyer and Granger fight for the top spot. Coyer has seen time as an H-back in practice, but Rhule said he will remain under center.
Kevin Newsome
, out with a shoulder injury, has been moved to H-back.
Reigning conference freshman of the year
Tyler Matakevich
leads a defense that struggled across the board last season, while
Levi Brown
and
Sean Daniels
are the big guys up front worth keeping an eye on.
The live kicking and punting part of Saturday's 1 p.m. contest at Edberg-Olson Hall is worth noting in that the Owls need to replace
Brandon McManus
, who held the school records for field goals made and punting average.
April, 17, 2013
4/17/13
4:00
PM ET
Look up the definition of workhorse back, and you are likely to find a photo of Connecticut's
Lyle McCombs
.
In two seasons, McCombs has carried the ball a whopping 518 times for the Huskies -- one of seven players with at least 500 carries in the past two seasons. According to ESPN Stats & Information, McCombs is the last man standing of the group. In other words, there are no other returning backs with as many carries as he had the past two seasons.
[+] Enlarge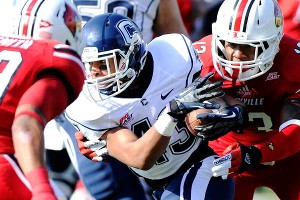 Jamie Rhodes/US PresswireUConn RB Lyle McCombs hasn't let his relatively small size affect his durability.
Depth has been a big reason why UConn has relied so heavily on him, but McCombs also has proven he can shoulder the load. I asked new offensive coordinator T.J. Weist if he wants McCombs to be a workhorse back again, or whether he wants to try and even up the carries more this season.
"I'm not going to force it," Weist said. "And it all comes down to, if he's out of the game, who's in the game? I could be a workhorse guy, but I'm not going to force it based on if we have another back or two. It's hard to keep some guys off the field. Lyle has done a good job,
Joe Williams
has done a good job. Joe's really unproven from that standpoint but he's very talented.
Max DeLorenzo
has been a good player for us but Lyle, I'm excited about his playmaking ability."
The Huskies hoped to rely on
Martin Hyppolite
this season, but his status remains unclear after he was seriously injured in a car accident in February. So for the spring, UConn was left to rely primarily on McCombs, Williams and DeLorenzo as it works to rebound following a miserable year running the football.
McCombs took a step back after a 1,000-yard season as a freshman, rushing for 860 yards on 243 carries. DeLorenzo had the next highest total among the running backs, with 36 carries for 119 yards. For his part, McCombs says he is using not only his performance last season but the team results from 2011 and 2012 as extra motivation.
"I'm very motivated," McCombs said in a phone interview. I have still yet to play in a bowl game, still have yet to get a Big East title, so I'm motivated to work hard, and I know my teammate are motivated to work hard this year."
McCombs says he likes what Weist has brought to the offense so far, noting he feels his group is much more aggressive. "Just the receivers blocking, the offensive line blocking, the running backs blocking -- it's a more aggressive approach to offense. I think it will hep us tremendously."
Despite all the carries, McCombs is not the biggest back in the world. In fact he is relatively small, comparatively speaking. Last season, McCombs played at 169 pounds. He says he has gained 10 in the offseason, and wants to put on five to 10 pounds more to improve his strength so he can break more tackles.
"If anything I feel faster and quicker than I was last year," he said. "The offseason program has put some weight on me and made me get stronger. I haven't lost speed. I've gained speed, and I hope to keep on going as the season comes."
And if that means another workhorse back type of season, so be it.
March, 29, 2013
3/29/13
9:00
AM ET
Paul Pasqualoni is about halfway into his third spring with Connecticut. ESPN.com caught up with the head coach for a few minutes this week to check on the Huskies' progress as they look to build off consecutive 5-7 seasons.
I know you guys have been pleased with Chandler Whitmer's progress so far this spring. What specifically are you looking to see from him to take that next step moving forward?
Paul Pasqualoni
: We're hopeful that, obviously, this is his second year here now and becoming more comfortable with the offense. He's done a good job in Year 1 of knowing what he had to do, what his assignments are. Hopefully Year 2 at the quarterback position he really starts to get familiar and comfortable with what everybody on the offense is doing so that when problems and issues come up on the field, he can get things corrected out there, almost like being a coach on the field in between series, being able to get over with the offensive line, backs, receivers and talk about what happened on the field during the last possession. I really think that when quarterbacks really get to be really comfortable in total schemes of what everybody's doing, that gives them the authority become like a coach on the field, because they know what everybody's doing and they know what happened and they know what's got to be done to get it corrected. So when you look at the great quarterbacks, if you ever on a Sunday watched a [Peyton] Manning or a Drew Brees or a [Matt] Schuab, those kind of guys, you'll notice that on the field they're really authoritative, they're directing people, in between series they're over there if there's an issue with their teammates, or they're talking to the coaches and discussing things that are happening on the field. These guys are great at that because they not only know their position but they know the entire offense and what everybody's doing. It gives them a license to be an authority on it. You're hoping in the development process that Chandler takes a step in that direction this spring.
[+] Enlarge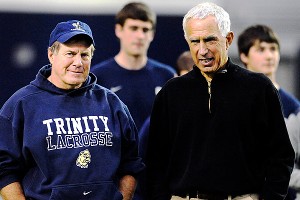 AP Photo/Jessica HillPaul Pasqualoni, right, chats with New England Patriots coach Bill Belichick during UConn's pro day.
How much will it help him having five starters back on the offensive line?
PP
: It's going to help a great deal, especially in the context of what I'm talking about. They've been through it -- the communication process with the offensive linemen in the run game, in the pass game; obviously should be really more advanced the second year than it was the first, so that's a big part of it this year.
What do you expect transition-wise with a new coordinator [T.J. Weist] this spring? Do you expect to have the whole offense installed by the end of the spring or does that process take a bit longer?
PP
: I expect it to go pretty smoothly. We're learning our offensive terminology and that type of stuff has not really changed, so there's going to be somewhat of a transition, but I hope it would be minimal and that we'd be moving along in that area.
Defensively you lose some pretty talented guys at linebacker. What are you looking for from that position this spring?
PP
: We're looking, first of all,
Yawin Smallwood
's coming back, he's a pretty good anchor there in the middle of the defense. We're looking for
Graham Stewart
to see exactly what Graham can do this spring.
Ryan Donohue
I think is practicing really well right now in spring ball, and
Marquise Vann
has had a lot of reps out there -- as has
Jefferson Ashiru
, he's had a lot of reps out there.
Brandon Steg
is playing pretty good in coverage right now. We've got
Omaine Stephens
, who had a shoulder surgery done after the season, so he's a young guy who's got some talent there as well. So I think we've got some guys, some good players we've got to replace --
Sio [Moore]
, we've got to replace
Jory [Johnson]
and various players, but I think if we can stay healthy and they can keep making progress, I think we've got the potential to be good at the linebacker position.
Defensive lineman Andreas Knappe is a guy with an interesting background, having started playing football later in life than most. What have you made of his progress so far, and what do you expect from him this fall?
PP
: He's taken big steps, but the nice thing about Andreas is he finds a way each day to get things corrected, to improve and get better on a daily basis. What I really like about Andreas is his focus, his concentration -- his attention to what he's doing is there every single day. He's a very steady, consistent-effort player, which is a really good sign. And the fact that he is getting better every day is terrific. So we're going to see just how far he can come this spring and how far he can come in the summer and preseason, and then see where he's going to be able to help us defensively and see exactly what he can get done for us next year.
February, 26, 2010
2/26/10
10:06
AM ET
In a world of constant job changes, you need a scorecard just to keep up with who is on the sidelines. So here is your guide to all the coaching changes this offseason in the Big East:

CINCINNATI

In:

Head coach Butch Jones (from Central Michigan)

Steve Stripling, assistant head coach/defensive line (from Central Michigan)

Mike Bajakian, offensive coordinator/quarterbacks coach (from Central Michigan)

Tim Banks, co-defensive coordinator (from Central Michigan)

Jon Jancek, co-defensive coordinator/linebackers (from Georgia)

Mark Elder, running backs/recruiting coordinator (from Central Michigan)

Don Mahoney, offensive line (from Central Michigan)

T.J. Weist, wide receivers (from Western Kentucky)

Phil Zacharias, tight ends/special teams coordinator (from Central Michigan)

Out:

Head coach Brian Kelly and his entire staff except for Kerry Coombs, associate head coach/defensive backs coach

CONNECTICUT

In:

Jon Wholley, tight ends (from Fordham)

Darrell Perkins, defensive backs (from Louisiana-Monroe)

Out:

Dave McMichael, tight ends (to West Virginia)

Scott Lakatos, defensive backs (to Georgia)

LOUISVILLE

In:

Head coach Charlie Strong (from Florida)

Vance Bedford, defensive coordinator (from Florida)

Mike Sanford, assistant head coach/offensive coordinator (from UNLV)

Dave Borberly, offensive line (from Virginia)

Kenny Carter, running backs (from Florida)

Ron Dugans, wide receivers (from Georgia Southern)

Mike Groh, quarterbacks (from Alabama)

Clintt Hurtt, defensive line/recruiting coordinator (from Miami)

Brian Jean-Mary, linebackers (from Georgia Tech)

Out:

Head coach Steve Kragthorpe and his entire staff except for Larry Slade, secondary

PITTSBURGH

In:

Bernard Clark, linebackers (Hampton)

Scott Turner, wide receivers (promoted from administrative role)

Out:

Joe Tumpkin, linebackers (to Central Michigan)

Bryan Bossard, wide receivers (not retained)

RUTGERS

In:

Phil Galiano, tight ends (from Florida International)

Randy Melvin, defensive line (from Temple)

P.J. Fleck, receivers (from Northern Illinois)

Out:

Gary Emanuel, defensive line (to Purdue)

Joe Susan, tight ends/recruiting coordinator (to Bucknell)

Brian Jenkins, wide receivers (to Bethune Cookman)

SOUTH FLORIDA

In:

Head coach Skip Holtz (from East Carolina)

Rick Smith, assistant head coach/defensive backs

Mark Snyder, defensive coordinator/linebackers (from Marshall)

Todd Fitch, offensive coordinator (from East Carolina)

Vernon Hargreaves, special teams coordinator/defensive ends

Peter Vaas, quarterbacks

Steve Shankweiler, offensive line (from East Carolina)

Out:

Head coach Jim Leavitt (fired)

Mike Canales, offensive coordinator (not retained)

Joe Tresey, defensive coordinator (not retained)

David Blackwell, linebackers/co-defensive coordinator (not retained)

Mike Simmonds, offensive line (not retained)

John Hendrick, special teams (not retained)

New role:

Kevin Patrick, from defensive line coach to defensive tackles

Carl Franks, from running backs coach to administrative position

SYRACUSE

In:

Rob Moore, receivers (from Phoenix Junior College)

Tyrone Wheatley, running backs (from Eastern Michigan)

Jimmy Brumbaugh, defensive line (from Louisiana Tech)

Nathaniel Hackett, quarterbacks (from Buffalo Bills)

Out:

Rob Spence, offensive coordinator (not retained)

Derrick Jackson, defensive line (not retained)

Jamie Elizondo, receivers (not retained)

Stan Drayton, running backs (to Florida)

New role:

Head coach Doug Marrone will serve as offensive coordinator

WEST VIRGINIA

In:

Dave McMichael, tight ends/special teams co-coordinator (from Connecticut)

Out:

Doc Holliday, associate head coach/tight ends/recruiting coordinator (to Marshall)