NCF Nation:

T.K. Wetherell
August, 24, 2010
8/24/10
11:24
AM ET
In a recent interview with The Sporting News, former Florida State coach Bobby Bowden
said he was fired
-- he didn't resign or retire.
In a recent interview with the Palm Beach Post, former FSU president T.K. Wetherell said his relationship with Bowden
is now "strained
."

Bowden
Well, you don't say.
What did Wetherell think was going to happen, he'd still be a BFF? (Bowden's Favorite Friend).
Wetherell actually states in this interview that he'd like to get back to the days of playing golf and having barbecues, but it's "going to take some time to get there."
Like, forever.
Regardless of how you felt about Bowden during his final seasons, whether or not you thought it was time for him to step aside, the way it happened was shameful. It was ugly. And it was embarrassing for Florida State. Are the Seminoles better off now with Jimbo Fisher at the helm? It certainly appears they're headed in the right direction, and more importantly, they
have
direction. But was it worth all of this to get there one year earlier? Some say yes. And yet many of those same people will be among the first in line for an autograph of Bowden's new book, "
Called to Coach
."
Wetherell said he won't read it. Why would he? He already knows how the story ends.
October, 7, 2009
10/07/09
11:49
AM ET

Posted by ESPN.com's Heather Dinich
This just in: Florida State is playing Georgia Tech on Saturday.
It's been overshadowed, though, by
the other game
going on in Tallahassee -- the one being played in suits, not uniforms.
It's been the matchup of the century at Florida State, a prime-time war of words between the Bowdens (including an angry wife) and everyone who wants to see the legendary coach step down after this season. And right now, the only losers are the players.
| | |
| --- | --- |
| | |
| | Rick Dole/Getty Images |
| | The questions surrounding Bobby Bowden's future have taken the focus from Saturday's game. |
There have been at least two closed-door meetings this week that have resulted in little more than a distraction to the players' preparation for No. 22 Georgia Tech. The future of the program has been discussed by Florida State officials behind a cloak of secrecy, with no clear direction emerging for the fans, players or coaches to take comfort in. All that's being made public right now is what we already know -- Florida State has a succession plan in place for offensive coordinator Jimbo Fisher.
"Jimbo Fisher will be Florida State University's next head football coach," outgoing university president T.K. Wetherell said in a
prepared statement
released this morning. "We expect to work with Coach Fisher on a contract toward that end, and I will evaluate the program with the athletics director at the end of this season."
The truth is, those meetings were held this week to evaluate it now. Otherwise, why meet?
"If I was 40 years old I'd be shakin' in my boots," Bobby Bowden said on Wednesday's ACC teleconference. "But I'm 79. I've been through it. Most of my coaching is behind me."
There is an inner circle of those in the know right now, and that doesn't even include some of Florida State's staff members. It's money men like Wetherell, Jim Smith, the chair of the university's board of trustees, athletic director Randy Spetman, and Seminoles booster president Andy Miller -- men who don't know how to defend the triple option on Saturday, or who should cover
Demaryius Thomas
.
Georgia Tech does not have a base offense you can prepare for in four days. This is a tricky spread-option offense that Clemson and Miami began preparing for this past summer. It's an offense that requires disciplined defenders, and assignment football -- exactly what the Noles have been missing. The Jackets are No. 6 in the country in rushing offense. They have the ACC's defending player of the year in B-back
Jonathan Dwyer
. They don't throw it a lot, but when they do, they're No. 8 in the country in passing efficiency. And Florida State's defense is No. 98 in the country.
If there is one week on Florida State's schedule where coaching should be the priority, this is it.
There have been the usual position meetings and practices this week, but they've been overshadowed by two pow-wows between the heavy hitters. Bowden met on Monday with Wetherell, and there was another long meeting on Tuesday night to discuss the future of the program.
There's no need to meet to figure out it's going nowhere fast at this rate.
By all appearances, Florida State is in complete disarray. Spetman wasn't athletic director when this coach-in-waiting plan was drawn up, and he hasn't been able to assert himself with Wetherell's shadow still looming over the football building.
Bowden has never been the CEO type. Defensive coordinator Mickey Andrews has hinted at retirement at the end of this season, and Wetherell, who announced his retirement in June, will remain in office until his replacement is named. And how is Fisher to have any authority right now, when the head coach wants to hire Andrews' replacement?
In his statement, Wetherell, a longtime Bowden loyalist, put the burden on Spetman to make the toughest decision Florida State will ever have to make -- whether to renew Bowden's contract at the end of this season or usher him into retirement.
"Any coach can choose to retire at any time," Wetherell said. "However, it is the athletics director's responsibility to determine which coaches are hired and which contracts are extended."
For now, it's a moot point because Bowden isn't going anywhere this season. If any changes are made, it will be at the end of what's going to be a long, tumultuous season -- a season that could be Bowden's last. The program's first 0-2 start in the ACC since it joined the league has many thinking it should be, but what is the "right thing" for Florida State to do? Only those within the inner circle know whether Bowden will have a say in that.
"I have talked with him at length, and I know that he will do the right thing, as he always has done," Wetherell said. "I know the man and I know what's in his heart."
Bowden said that it's the "same old story."
"When the season's over," he said, "I'll let them know if I want to come back."
The question is whether they want him.
The Florida State officials who started these conversations this week had to know the ensuing distraction would take away from Saturday's preparation for Georgia Tech. If Bowden's future isn't going to be determined until after Florida State finishes its 2009 season, what possible reason would there be to even talk about it in October? Unless, the intent is to make it even more difficult for Bowden to turn this season around and subsequently increase the support for his early retirement.
"You heard the expression, 'You listen to your critics you'll be sitting up there with them?'" Bowden said. "So don't listen."
It's been hard to tune out the in-fighting this week, though.
Forgotten in all of this is a young, mistake-prone group of football players who are just trying to beat Georgia Tech this weekend -- something that's now seemingly impossible because the grown men who are supposed to care the most about this program are too busy drawing up their own game plan behind a closed door.
Good luck on Saturday, Noles, because defending the triple option just got even more difficult thanks to the distraction of a bureaucratic game in which it appears nobody will win.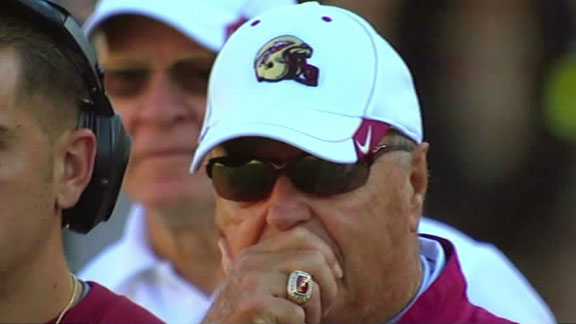 Posted by ESPN.com's Heather Dinich
TGIF, ACC fans. Here are a few links to hold you over until Monday. And who knows, with so many spring games this weekend, maybe you won't have to wait that long.
Here's something worth watching if you'll be at Georgia Tech's spring game on Saturday: How often the offensive linemen can get defenders on the ground. It's something the Jackets' staff will be watching -- and counting.
Wake Forest fans can expect to see a few new faces at the Deacs' scrimmage on Saturday. Who's at the top of the depth chart depends on what day it is.
Is there anything Clemson quarterback/slugger Kyle Parker can't do? His hitting coach certainly thinks we're seeing history in the making.
There appears to be some miscommunication at Florida State. In what the Tallahassee Democrat described as a "scathing e-mail" to athletic department officials, university president T.K. Wetherell said that everyone -- including Bobby Bowden -- is subject to pay cuts and/or furloughs as a result of massive budget deficit.
"If this is unacceptable to the boosters or athletics," FSU's president wrote, "they can come see me with their resignation in hand."
And finally, if you're catching up on Greg Paulus, ESPN has you covered. Check out the potential quarterback on PTI. Of course, the NCAA won't make it easy for him to transfer.
Posted by ESPN.com's Heather Dinich
Here's your daily dose of ACC news and notes:
Florida rejected Miami's proposal for the two schools to play each other more frequently. That's a bummer. Seriously. Why not play?
Here's a cartoon that made me laugh and probably made FSU president T.K. Wetherell wince.
Just about everyone in the ACC is recruiting this offensive lineman from Florida.
It's officially spring in Atlanta. Here are five questions facing the Yellow Jackets this year.
There were a lot of changes in Charlottesville this offseason -- enough for a list of 10 issues facing Virginia this spring.
Posted by ESPN.com's Heather Dinich
Miami is on spring break, so you'd think the Canes wouldn't be in the news -- think again.
Miami and Notre Dame are flirting with the idea of playing each other again. Ah, the good old days of "Catholics vs. convicts." Hey, I didn't make it up.
UNC receiver Brandon Tate said he still expects to be drafted, despite the fact he's still rehabilitating his knee and couldn't work out for scouts on Tuesday.
The whole FSU/NCAA sanctions story has been written to death, but it's hard to ignore when the university president accidentally calls Samford a "dip____" school. Whoops. Apparently T.K. Wetherell got a little "wound up."
The injury to backup quarterback E.J. Manuel leaves Christian Ponder the only scholarship quarterback on FSU's roster this spring.
Here are a few questions facing the ACC this spring, and a few answers.
Posted by ESPN.com's Heather Dinich
I didn't forget the links, but I did forget to eat lunch. Here's a look at what's happening around the ACC today:
Florida State president T.K. Wetherell said today the university plans to appeal the NCAA's sanction requiring the Noles to vacate wins. I listened to this teleconference, and there wasn't much new that came out of it. Wetherell tried to get the reporters in the room to look at the big picture and insisted they weren't just doing this for coach Bobby Bowden.
Here is the Orlando Sentinel's story on it. The man at the heart of the controversy, though, won't say a peep. Not that anyone had a chance to ask on Monday. (As an added note for FSU fans, Corey Surrency DID practice today, but still no ruling.)
And you thought I was kidding about NC State needing a little luck. Once quarterback Russell Wilson returns from his knee injury, he'll have some work to do if he wants to keep his job.
Former Miami recruit Bryce Brown handed a Miami cap to his brother during his announcement on Monday and said, "I'm going to let you handle that down there." Um, I think Miami had already handled it a few weeks ago.
Boston College started spring practice today without one of its top defenders.