NCF Nation:

Talmadge Jackson
June, 16, 2011
6/16/11
9:00
AM ET
This is about Cliff Harris and his bright idea to drive 118 mph at 4:30 a.m. last Sunday. But first, two stories.
Went to my annual doctor's checkup a couple of weeks back. The nurse and I were looking at a cool new Mustang through the window while she took my blood pressure. She casually told me a friend of hers had driven his Mustang at 150 mph on the 101 in the wee hours of the morning, just to see what would happen. She said the car handled the speed well. And my blood pressure was good.
[+] Enlarge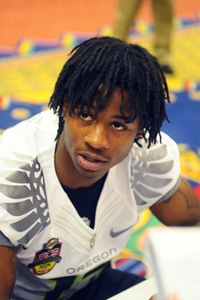 Mark J. Rebilas/US PresswireCliff Harris, who was clocked driving 118 mph Sunday, has had speeding and license-related issues before.
In other words, driving fast on an empty stretch of highway is not the worst thing anyone has ever done, though Harris' doing so with a suspended license, well, we'll get back to that in a second.
Second story: When I used to write about baseball, I remember having an interesting conversation with a personnel guy who talked about durability as a critical, measurable skill. Lots of guys had skills, but would they show up every day and play? It wasn't just about staying healthy. It was about being ready to play every day with an optimum level of focus.
This is not a revolutionary notion
, but it's worth noting that showing up and doing what you are supposed to do is perhaps even more important than being a spectacular talent who regularly does spectacular things.
Let's also bracket off for a moment whether Harris' use of the rental car in question with two other football players might raise some eyebrows with the NCAA and that pesky extra benefits rule (Rob Moseley does a nice job her of suggesting that the Ducks.
might be OK here
.)
I wasn't in the car with Harris, nor were you. But it's easy to imagine a range of reasons Harris might have chosen to drive 118.
He was in a hurry.

He did it to impress -- or perhaps scare -- his passengers.

Someone double-dog dared him to do it.
There is no space in any these possible scenarios, however, for Harris' behavior to be judged anything other than forehead-slappingly stupid.
More than a few Oregon fans were unhappy when the Pac-12 blog ranked Harris only
No. 22 on our ranking of the best players in the Pac-10 in February
, and some of the irritation was augmented by our then rating Ducks cornerback Talmadge Jackson
No. 20
.
Many Oregon fans love Harris big-play ability both as a corner and as a punt returner. They didn't care that Pac-10 coaches named Jackson first-team All-Pac-10 and Harris second-team. They didn't care that Oregon coach Chip Kelly said this at the national championship game: "Obviously Talmadge is our
best player in the secondary
."
They didn't care that defensive coordinator Nick Aliotti
said this at midseason
.
Fans love CB Cliff Harris. He's made so many big plays. Why is he not a starter?

NA: That's a tough question. I'll answer it the best I can. He's not a starter now because he needs to learn to go hard and do the things we ask him to do all the time. I think he'll get there. That comes across as negative and I don't really like that. But he's getting much closer to conforming to what we want. He's a really good kid and he really cares. He's getting closer to having a knowledge of what we want and conforming to what he needs to do.
If we can assume that Aliotti wants to play his best players so the Ducks can play their best defense, why was he reluctant to start Harris? If you watched Harris highlights on YouTube, you would think Aliotti was cracked.
But if you watched cut-ups from the Ducks' film room where Harris was out of position, loafing or getting pushed around, you might understand Aliotti's reservations.
Further, there's maturity. How does Harris carry himself on and off the field? Kelly and Aliotti will be supremely chaffed at Harris gunning a rental car at 118 mph. But they won't be shocked by it.
Harris, despite four punt returns for touchdowns and six interceptions in 2010, has yet to arrive, on and off the field, as a player and as an adult.
Harris has great talent and special instincts. He could enter the NFL draft early after the 2011 season and get picked in the first round.
And he just as easily could blow it.
Plenty of examples of that
, by the way.
Harris might want to think about that next time Aliotti is asking him to play within the Ducks' defensive scheme. Or when a buddy double-dog dares him to do something he knows he shouldn't.
The NFL takes note of both of those situations, Cliff.
January, 6, 2011
1/06/11
10:00
AM ET
SCOTTSDALE, Ariz. -- Auburn quarterback
Cam Newton
has feasted on teams when they've blitzed him this season.
Not only has he burned them by running the ball, but he's completing 72.4 percent of his passes with 10 touchdowns and no interceptions when defenses send extra people after him.
Those numbers haven't deterred Oregon, which loves to blitz. That's not likely to change Monday night in the Tostitos BCS National Championship Game.
"We've watched a lot of film of people trying to blitz him, and we can tell off the film that they're not really getting the right kind of blitz," Oregon linebacker Spencer Paysinger said. "We feel like our defensive schemes match up really well with them."
Blitzing the 6-6, 250-pound Newton is one thing. Getting him on the ground is quite another.
He shook off blitzing safeties and linebackers all season long, and is actually bigger than eight of Oregon's starting defensive players.
Newton said one of the things that stands out about Oregon's defense is how much pressure they get on the quarterback.
"They blitz a lot and try to cause a lot of confusion," Newton said. "With all that confusion, they end up being very successful."
The Ducks say they have all sorts of different looks in store for Newton.
"We throw a lot of things at a quarterback and have had a month to prepare for this game," Oregon cornerback Talmadge Jackson said. "We're going to mix it up. We're not going to be in one defense the whole game. We'll show one thing and jump into something else. We'll change up coverages. We'll change up where we come from.
"We're going to keep him guessing."
Auburn offensive coordinator Gus Malzahn said the Tigers have already seen just about every plan imaginable from defenses this season trying to slow down Newton.
"It's just a matter of being able to execute and being able to recognize what they're giving us and take it," Malzahn said. "Cam's got that unique ability, when things do break down, he can make a play.""
December, 8, 2010
12/08/10
10:30
AM ET
We tried to emphasize consistent production this year on our All-Pac-10 team, not just NFL prospects. That's why some big names are missing.
For comparison, here is the
coaches team
, which was announced Tuesday.
We didn't include a tight end because receiver was a far deeper position. And, unlike the coaches, we didn't make a wishbone backfield just to accomodate Stanford's
Owen Marecic
. Instead, we made up a specialist position for a guy who starts at both fullback and linebacker: "STUD."
So here you go.
Offense

QB
Andrew Luck
, So., Stanford
RB
LaMichael James
, So., Oregon
RB
Jacquizz Rodgers
, Jr., Oregon State
WR
Juron Criner
, Jr., Arizona
WR
Jeff Maehl
, Sr., Oregon
WR
Jermaine Kearse
, Jr., Washington
OL Chase Beeler, Sr., Stanford
OL Colin Baxter, Sr., Arizona
OL Tyron Smith, Jr., USC
OL Bo Thran, Sr., Oregon
OL Jonathan Martin, Jr., Stanford
Defense

DL Brandon Bair, Sr., Oregon
DL Cameron Jordan, Sr., California
DL Stephen Paea, Sr., Oregon State
DL Jurrell Casey, Jr., USC
LB Chase Thomas, So., Stanford
LB Mason Foster, Sr., Washington
LB Casey Matthews, Sr., Oregon
DB Talmadge Jackson, Sr., Oregon
DB Omar Bolden, Jr., Arizona State
DB Delano Howell, Jr., Stanford
DB John Boyett, So., Oregon
Specialist
s
PK Nate Whitaker, Sr., Stanford
P Bryan Anger, Jr., California
KOR
Robert Woods
, Fr., USC
PR Cliff Harris, So., Oregon
STUD (FB-LB) Owen Marecic, Sr., Stanford
June, 2, 2010
6/02/10
6:07
PM ET
At what position is the Pac-10 deep? At what position in the Pac-10 thin? Here's the second of three parts taking a look at just that.
(By the way, some of you wondered about QB. The Pac-10 is, without question, the nation's deepest conference in terms of quarterbacks -- and it would have been deeper if not for
a certain Duck
making a very, very poor decision. But that's so obvious and been
written about so much
that we're not including it in this three-part package).
Deep: Running back
[+] Enlarge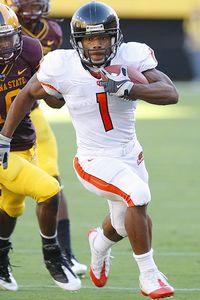 Rick Scuteri/US PresswireJacquizz Rodgers is one of several talented running backs returning to the Pac-10 this season.
Why is it deep
? Six of the top-10 running backs from 2009 are back, and four of them rushed for more than 950 yards. Eight teams welcome back a player who qualifies as a starter or at least an experienced veteran. Only Arizona State and Stanford, which is replacing Heisman Trophy runnerup Toby Gerhart, are uncertain at the position. But it's not just about starters. There's depth. Most teams can point to one or more solid backups, not to mention there are a number of elite incoming freshmen recruits expected to immediately contribute.
The big names
: Start with Oregon State's
Jacquizz Rodgers
, the conference's top Heisman Trophy candidate, and Oregon's
LaMichael James
, who has All-American potential. They combined for just under 3,000 yards and 35 TDs in 2009. Then there's Washington's
Chris Polk
(1,113 yards rushing), California's
Shane Vereen
(952 yards, 12 TDs) and Arizona's
Nic Grigsby
, who rushed for 1,153 yards in 2008. The Wildcats, in fact, have their top four rushers back, including
Keola Antolin
, who's rushed for over 1,100 yards and 14 TDs over the past two seasons. USC and UCLA are both experienced in the backfield and have highly rated freshmen recruits who figure to be in the mix, particularly USC's
Dillon Baxter
, who was spectacular this spring. Washington State has three of its top four rushers back.
Thin: Cornerback
Why is it thin?
Three of the four All-Pac-10 cornerbacks are gone: UCLA's Alterraun Verner, California's Syd'Quan Thompson and USC's Kevin Thomas. Each of them were NFL draft picks. Only second-teamer Trevin Wade of Arizona returns. In fact, only one returning CB even earned honorable mention all-conference recognition (Washington's Desmond Trufant). Only Oregon, Stanford and Washington welcome back both starting CBs from 2009, and each of them is hardly settled at the position after spring practices. Arizona State and USC are replacing both corners, though the return of Omar Bolden from injury and Shareece Wright from academic ineligibility should bolster the Sun Devils and Trojans, respectively.
Fill the void
? Wright might turn out to be the conference's best cover corner and a top NFL draft pick. Wade had five interceptions last year and could earn national attention. Bolden had a great spring after missing last season with an injury and suffering through a disappointing sophomore year. Trufant, UCLA's Sheldon Price, USC's Torin Harris and Oregon's Cliff Harris are youngsters who might break through. Oregon's Talmadge Jackson and Oregon State's James Dockery are veterans who could take the next step.

Posted by ESPN.com's Ted Miller
Who bought Nick Aliotti stock before the season?
If you did buy stock in the much-criticized Oregon defensive coordinator, there's no recession for you.
Oregon
whipped UCLA 24-10
, despite playing with its backup quarterback and an injury-riddled secondary, and the result was mostly about the Ducks' dominant defense, which has surrendered just 19 points in three Pac-10 games.
That doesn't even do the Ducks' D justice because UCLA's touchdown was scored by its defense, and its field goal was due to a fumble on the opening kickoff.
No. 13 Oregon won its fifth in the row. The Ducks are off next weekend. They travel to rival Washington on Oct. 24, and then face USC in Autzen Stadium on Halloween night.
That bye probably will come in handy for a team with injury issues, but the Ducks are riding some furious momentum.
UCLA managed just 211 yards. The Ducks are giving up 280.8 yards per game. They sacked Bruins quarterbacks four times and forced three turnovers, including two interceptions.
The defense also scored a touchdown, with cornerback Talmadge Jackson returning an interception 32 yards for a score that put the Ducks up 14-3 early in the third.
Nate Costa
didn't need to do much in
Jeremiah Masoli
's stead at quarterback. He passed for just 82 yards with a touchdown and an interception.
The Ducks relied mostly on their running game, which rolled up 222 yards. Redshirt freshman
LaMichael James
led the attack with 153 yards on 21 carries.