NCF Nation:

Tampa Bay Buccaneers
December, 28, 2012
12/28/12
11:00
AM ET
SCOTTSDALE, Ariz. -- There is a school of thought, now apparently subscribed to by a handful of desperate NFL teams, that if that uber-suave, hirsute gentleman from those wildly entertaining Dos Equis beer commercials revealed his true identity, he would rip off a bearded mask and reveal Chip Kelly.
Is Kelly the most interesting man in the world?
Pause for a moment before chortling over our potential hyperbole, for Kelly has packed a lot into his 52-game tenure at Oregon, including 45 victories.
[+] Enlarge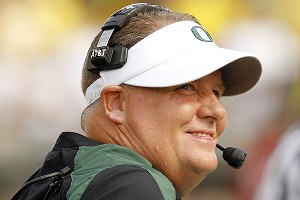 AP Photo/Don RyanChip Kelly doesn't often discuss his life with writers, but when he does, his answers are revealing.
He has run with the bulls in Pamplona. He has led the Ducks to three Pac-12 titles and four BCS bowl games. He has done humanitarian work in Africa. He has produced Oregon's first Rose Bowl victory in 95 years. He has visited U.S. troops in Iraq and Afghanistan.
Kelly, 49 and single, is also fiercely private. He has never cooperated with any truly in-depth "This is your life, Chip Kelly!" story, which is exceedingly rare for a high-profile coach. Nearly all his close friends are back in New Hampshire, where he's from and where he went to college.
Kelly doesn't like glad-handing boosters, something often viewed as a prerequisite for being a college coach. He particularly dislikes talking to reporters, and he goes to great lengths to make sure they understand.
The Dos Equis guy says, "Stay thirsty, my friends." Kelly would say, "Stay away, annoying hangers-on."
Yet the vast majority of Ducks fans not only love all the winning, they love Kelly for his wiseacre, smirking self. They chant "Big Balls Chip!" inside rocking Autzen Stadium to celebrate Kelly's penchant for going for it on fourth down, going for 2 and launching onside kicks at surprising times.
He tells fans, "Shut up!" for cheering behind him during an ESPN postgame interview, and they love him more. A Twitter page,
Chipisms
, celebrates not only Kelly's amusing or insightful wisdom -- "I saw the 'Feel Sorry for Yourself' train leaving the parking lot & none of our players were on it, so that was a good sign" -- but also for his snark.
Inquiries that Kelly doesn't like might get one-word answers, clichéd responses or snappy rejoinders that belittle his inquisitors. Questions that engage him, however, receive full and thoughtful treatment. Consider this response from an ESPN story on Kelly's trip to Africa, when he worked with adolescent girls who had no idea who he was.
"The real heroes are the little girls in Africa who are trying to better themselves so they can help their families," he said. "When I hear a coach say, 'We're grinding.' I'm like: You're sitting in a room with air conditioning watching videotape. That's not grinding."
There seem to be three facets to Kelly. His standoffish public face, the detail-obsessed coach and the Renaissance man determined to drink life to the lees away from the game. Even the hard-driving, "win the day" side of Kelly can loosen up behind closed doors; those who work with him frequently cite his sense of humor.
"He [jokes around] all the time," said offensive coordinator Mark Helfrich, a leading candidate to replace Kelly should he bolt for an NFL job. "It's not: 'Aha, he smiled! Isn't that amazing?' It's daily. We have a lot of fun."
Further, while Kelly's offense almost always runs like a finely tuned machine, plenty of, er, interesting things have been interspersed with winning during Kelly's tenure. Drama has not been lacking over the past four seasons.
His first game as Oregon's head coach remains his worst: A 19-8 loss at Boise State. Not only did the Ducks gain an embarrassing 152 total yards, but Kelly's star running back LeGarrette Blount punched a Broncos player afterward, bringing the hot light of controversy to his team's feckless performance.
Some thought Kelly was in over his head. He answered that by becoming the first Pac-10 coach to lead a team to an outright conference championship his first season.
Oh, and in a sign of interesting things to come, when a season-ticket holder wrote Kelly demanding a refund for his expenses incurred after attending that disastrous trip to Boise, Kelly quickly fired off a note with a personal check for $439.
Heading into 2010, starting quarterback Jeremiah Masoli was suspended after he was involved in the burglary of an Oregon fraternity house. Losing a star quarterback typically would damage a team's chances, but all Kelly's team did was finish undefeated and play for the national championship, losing 22-19 when Auburn kicked a last-second field goal.
The NCAA came calling during the 2011 offseason, wanting to know details of Kelly's and the program's dealings with street agent Willie Lyles. A distraction? Nope. Oregon won the conference a third consecutive year and the Rose Bowl against Wisconsin.
Kelly then nearly left for the Tampa Bay Buccaneers. His quarterback, two-year starter Darron Thomas, had already opted to leave the program, which again threw into question the Ducks' prospects. But Kelly returned and so did the winning, with redshirt freshman
Marcus Mariota
earning first-team All-Pac-12 honors while leading the Ducks to a No. 4 ranking and a Fiesta Bowl berth opposite Kansas State.
Yet he arrives at the Fiesta Bowl amid swirling rumors that he's about to leave for his pick of available NFL jobs. Asked about his NFL ambitions this week, he gave a 235-word answer that essentially said "no comment."
"My heart is to win the day, and that's it," he concluded. "I know everybody wants to hear a different answer, and I know at times when I don't give you guys the answer you guys want, then I'm being evasive. I'm not being evasive. My job is to coach the University of Oregon football team, and I love doing it. And that's what I'm going to do."
So the question will linger for a coach who at the very least is currently the most interesting man in college football: Will the Fiesta Bowl be his last day to win for Oregon?
October, 10, 2012
10/10/12
3:30
PM ET
We can eliminate two things that Oregon coach Chip Kelly could be doing during the Ducks "improvement" week: Fishing and watching the NFL.
Kelly was asked about both this week and said neither was on his agenda.
The fishing question was a joke on the Pac-12 coaches call Tuesday. The Ducks, after all, will begin earnest preparations this weekend for their intriguing visit to Arizona State on Thursday, Oct. 18, so there's little time for recreation. Kelly's response to a question about New England coach Bill Belichick using an up-tempo offense was more interesting.
Kelly not only pooh-poohed the idea he'd had much influence with Belichick,
despite it being documented in the Boston Globe this week
, he claimed he had little idea what might be going on in the NFL, despite more teams experimenting with up-tempo, no-huddle attacks he'd help popularize.
[+] Enlarge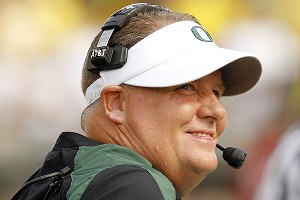 AP Photo/Don RyanChip Kelly isn't interested in big picture assessments of Oregon's season. The Ducks are "on one-week missions," according to Kelly.
"We're working all day Sunday," Kelly said. "The only thing you'll see is a clip on 'SportsCenter' when you're brushing your teeth. I couldn't tell you the last time I sat down and watched an NFL game."
Ducks fans might like the sound of that. In January, it seemed that Kelly was on the cusp of being hired by the Tampa Bay Buccaneers, but he
pulled back at the last minute to stay in Eugene
.
We do know two things: 1) Kelly strongly values relationships with other high-level coaches in many sports because he's clearly obsessed with the nuances of coaching; 2) Kelly has little interest in sharing interesting information with the media and fans.
He was asked to assess how his 6-0, No. 2-ranked team had played so far.
"We don't really think of it that way," he said. "Every week is a season for us. Our sole focus right now is we're in an improvement week for us."
That's Kelly's brand of a beige response. Most other coaches would have said something like this: "I like our focus and effort, how hard guys are playing and practicing. But we can get a lot better. We can -- and need to -- improve in every area."
Kelly doesn't reject every question just for the sake of rejecting it. He is very good at talking about his players. Want to know what he thinks of quarterback
Marcus Mariota
so far?
"He's a tremendous learner," Kelly said. "He works extremely hard at the game of football."
But he doesn't entertain queries about scheme, hypotheticals or big-picture issues. That means he'll leave the midseason assessments to everyone else.
"We don't really look at the totality of anything," he said. "We'll do some offseason stuff of overarching things -- what we're doing well, what we're not doing well -- but really we're on one-week missions here. That's the way we've always approached it."
And, as Kelly enjoys noting, it's worked fairly well so far.
February, 6, 2012
2/06/12
9:00
AM ET
We like doing Power Rankings at ESPN.com. These are the post-signing day Power Rankings.
If you want to see where your team stood on Jan. 10,
go here
.
The schedule does not factor into these. This is a projected pecking order based on where a team stands right now.

And if you don't like where your team is in the post-signing day Power Rankings, then I'd suggest whining about it until your team plays better.
1.
USC
: The Trojans ranked 13th in the final recruiting rankings with just 12 signees. They will be ranked in the preseason top five, perhaps even No. 1. If things go according to plan, USC will blow a big raspberry at Paul Dee next January.
2.
Oregon
: The Ducks surprisingly lost QB Darron Thomas to the NFL, but the far more important news is not losing coach Chip Kelly to the Tampa Bay Buccaneers. A strong recruiting class and another likely top-five preseason ranking sets the Ducks up nicely to enter the national title chase.
3.
Stanford
: Stanford signed the best recruiting class in the Pac-12. It was ranked 12th by ESPN Recruiting and much higher by just about every other recruiting service. While the Cardinal have big holes to fill -- most notably behind center -- a glance through the roster suggests those rooting for the program to topple after a grand rise will be disappointed.
4.
Washington
: Much of the recruiting season had been disappointing for the Huskies, particularly losing almost all of the top in-state prospects, including a pair of A-list linemen who would have addressed major needs. But Steve Sarkisian made a series of aggressive moves rebuilding his coaching staff, most notably with the hiring of defensive coordinator Justin Wilcox and ace recruiter Tosh Lupoi. That supplies much of the positive momentum here.
5.
Utah
: The Utes signed a strong recruiting class and welcome back a wealth of starters from a team that won eight games without much production at QB. The promotion of 24-year-old Brian Johnson to offensive coordinator was a surprising move, particularly with fans rooting for a "celebrity" hire. It could prove to be a stroke of genius, but the onus is now on Johnson to make it become so.
6.
UCLA
: The Bruins are the big climbers from our Jan. 10 power rankings -- moving up from No. 10 -- but that's what happens when new coach Jim Mora punches back at skepticism with an outstanding recruiting class. A team that looked like a "meh" is moving closer to a "maybe."
7.
California:
Despite all the hand-wringing over the loss of Lupoi and receivers coach Eric Kiesau to Washington, the Bears still signed a top-25 recruiting class that addresses needs. Still, perception matters, and at present, Bears fans seem more worried than optimistic. Nothing, of course, that a few wins in a shiny remodeled stadium can't change.
8.
Arizona
: Rich Rodriguez's recruiting class finished at or near the bottom of the Pac-12, according to most rankings. That said, Rodriguez got his man at defensive coordinator, Jeff Casteel, which is significant because most trace the problems at Michigan to his failure to do so for the Wolverines.
9.
Washington State
: The Cougars didn't soar in the recruiting rankings just because of the hiring of coach Mike Leach. Still, that doesn't appear to be dampening the enthusiasm in Pullman.
10.
Arizona State
: New coach Todd Graham did a solid job salvaging the Sun Devils' recruiting class. But the loss of QB Brock Osweiler to the NFL and the NCAA's rejection of receiver T.J. Simpson's bid for a sixth year of eligibility leave the program with plenty of questions on offense. And just as many on defense.
11.
Oregon State
: The Beavers were victimized by a handful of late recruiting flips that put dents in what was shaping up to be a strong class. And the loss of secondary coach Keith Heyward to Washington also was a blow. On the plus side, the Beavers will see 17 returning starters during spring practices.
12.
Colorado
: The Buffaloes remain at the bottom because the bottom line is this: They welcome back 13 starters from a team that went 3-10 and ranked last in both scoring offense and scoring defense. Still, coach Jon Embree put together a solid recruiting class, one that could become the foundation of his substantial rebuilding project.
February, 1, 2012
2/01/12
8:00
PM ET
Even before his flirtation with the Tampa Bay Buccaneers, Oregon coach Chip Kelly heard a lot of rumors during recruiting. Rumors about himself.
"When I heard I was going to Manchester United in the English Premier League, that was a little far-fetched," he said.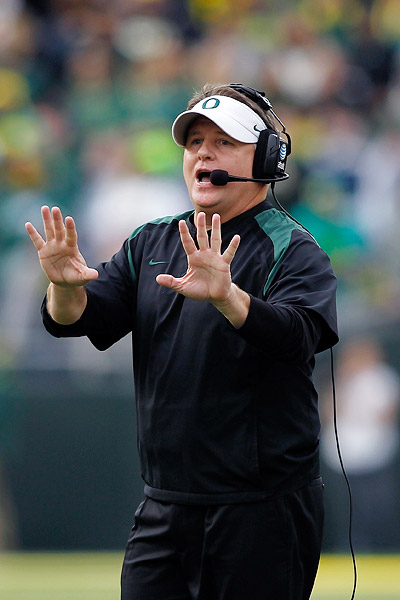 Jonathan Ferrey/Getty ImagesChip Kelly didn't let rumors about his leaving Oregon keep him from landing a top-10 class.
Yes, that was far-fetched, but even the general rumors about Kelly not being long for Oregon didn't seem to work well. The Ducks
signed 21 recruits
for what is likely to
become a top-20 class
.
There were no negative surprises on signing day. The Ducks flipped a couple of receivers --
Bralon Addison
from Texas A&M and
Chance Allen
from Oklahoma State -- without losing any players who were previously committed. On a day of flips, the Ducks weren't victimized.
Not that Kelly wasn't bothered by other programs using rumors, as well as the Bucs courtship, against the Ducks.
Said Kelly, "I don't understand that approach: 'Please don't go to that school because that coach is successful. Come to ours because our coach is really mediocre and will never be offered a job."
Hmm, wonder to whom he might be referring?
As it was, the Ducks' highest-rated recruit, defensive lineman
Arik Armstead
, actually
cited Kelly's honesty before he committed
, saying it was meaningful that Kelly refused to give him a guarantee that he'd remain in Eugene for Armstead's entire career.
In fact, Kelly was able to use his NFL vs. Oregon situation to his advantage. After all, he was asking prospects to choose Oregon over other intriguing suitors.
"I told them I was in the same situation they are in," Kelly said. "I was presented good opportunities and made an educated decision about what the best situation for me was."
Kelly's class featured 10 players on defense, eight on offense, two athletes and one special teams player. The Ducks inked 18 prep players and three junior college transfers. Three were ESPNU 150 players. Nine earned some sort of high school All-Americans, the most in a single recruiting class in program history.
The Ducks signed five defensive linemen and four defensive backs. The only other positions with multiple signees were quarterback, tight end and wide receiver with two apiece.
You can check out the Ducks
full class here
.
January, 27, 2012
1/27/12
11:20
AM ET
Oregon coach Chip Kelly told Eugene sports radio talk show host Steve Tannen Thursday that he never flip-flopped from the Ducks to the Tampa Bay Buccaneers and back again last weekend, as reported in both Tampa and Oregon.
"The only decision I ever made was to not accept the job," Kelly said. "I never changed my mind. I never committed to the job and then flip-flopped."
You can listen to the
full interview here
.
First, response: Interesting, but it doesn't matter. He's still the Ducks' coach. End of story.
But as far as reading the entrails on this, there are four options you can choose from: 1) Kelly is telling the truth; 2) Kelly is lying; 3) Kelly is splitting hairs; 4) Kelly is shortly going to improve to 35-6 at Oregon and not 1-0 at Tampa Bay -- again, end of story.
[+] Enlarge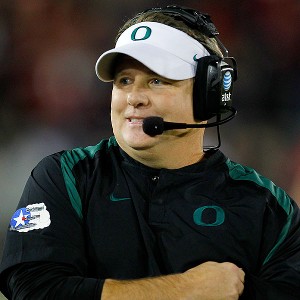 AP Photo/Tony AvelarChip Kelly flirtation with the NFL was a win-win for Kelly and the Ducks.
Whatever Kelly said on the radio, lots of people believed Sunday night that he was headed to Tampa. It's possible -- and perhaps likely in some way -- that Kelly gave a strong indication to principals on both ends that he was leaning toward Tampa and away from Eugene, but when it came time to put pen to paper he got cold feet, likely considering the spiraling void of darkness that would ensue without regular chats with the Pac-12 blog. "Eeek," he said. "Can't do it."
Yes, no one can prove that Kelly didn't return to Oregon because the Pac-12 blog has very little interaction with the coach of the Tampa Bay Buccaneers.
Just as no one can prove that Kelly said "yes" to Tampa before he said "no."
Why is it important whether Kelly flip-flopped or not? In either scenario, he turned down a hefty raise to remain at Oregon. So this flirtation wasn't about contract leverage, and it's reasonable to conclude that money isn't solely driving him. An interesting tidbit from the Eugene Register-Guard:
Kelly pointed out that his decision "obviously wasn't financial, because I turned it down and it was more than I got paid." The Register-Guard has reported that Kelly received a contract extension but that his deal with the Ducks wasn't otherwise dramatically overhauled.
Further, Kelly got to cite a heart-warming reason for returning: "... the relationships I have with the current coaches on our staff and the players was the underlying reason why I came back."
Oregon fans can look at this any way they like, but I'd rate it a win-win for Kelly and Oregon.
The football nation -- NFL and college -- got to see how highly Kelly is held in esteem. Multiple NFL pundits, including former Indianapolis Colts coach Tony Dungy, have said of late that Kelly would be a good NFL coach. Kelly's star, which is already high, just climbed a bit higher. That's good for him, of course, but it's also good for Oregon as long as Kelly is in Eugene.
Some have said Kelly's flirtation would hurt recruiting. They are not only wrong; the opposite is true.
Players respect superstar coaches. Recall that, in his heyday, Florida State's Bobby Bowden used to crush it the final week of recruiting with that last in-home visit. So did Pete Carroll. So does Nick Saban, etc. Oregon fans, not satisfied with winning three consecutive conference titles, want to move up the recruiting rankings. Lots of five-star guys -- in 2012-13 and beyond -- just learned a little bit more about Kelly.
The NFL banging on Kelly's door makes him more of a star, and that will play well in living rooms, much more so than the idea that Kelly might leave for an NFL job at some point.
Further, some have tried to diminish Kelly as a "system" coach. In recruiting, some coaches say that Oregon is a great program but it's not an NFL feeder with pro-style schemes. Well, now there's clear evidence the NFL thinks highly of Kelly and his systems.
The key thing on the Oregon end of things: It will be a huge mistake if the Ducks' top boosters -- Phil Knight, et al. -- want to get grumpy over this. Creating friction to make a point about loyalty or acting wounded will only hasten Kelly's exit. And hurt the program.
The most interesting aspect coming out of this was detailed in
this column from George Schroeder
: Oregon's potential succession plan would have made offensive coordinator Mark Helfrich the head coach.
Helfrich is highly respected, but I'd always thought he'd have to leave for another job -- and call his own plays -- to escape Kelly's considerable shadow and land a head-coaching gig. Schroeder's column shows that the same folks who quickly and accurately identified Kelly's rising star believe Helfrich is made of the same coaching stuff.
So just as Kelly's star rose this week, and Oregon fans got a huge relief after it stayed in the Eugene sky, so did Helfrich's. Know that more than a few ADs at some AQ schools added his name to their list of coaches to watch.
January, 23, 2012
1/23/12
8:38
AM ET
Chip Kelly
is staying at Oregon
.
Oregon fans ... you can now breathe. By holding your breath, you turned purple and, well, you know that's not what you want to do.
This has been confirmed
by the general manager of the Tampa Bay Buccaneers, who were deep in the process of trying to lure Kelly out of Eugene and into the NFL this past weekend.
"His heart is with college football and Oregon and he's no longer being considered," Mark Dominik said Monday, according to the Tampa Bay Times.
A handful of news outlets had reported that Kelly was leaving Oregon. George Schroeder of the Eugene Register-Guard, however, was the first to report Kelly's
change of heart
.
This hullabaloo leads to two questions: 1. How long will Kelly stay at Oregon, as it is now evident the NFL intrigues him -- an idea that was just a theory before? 2. Does this provide the Ducks a boost of momentum -- he's staying because we are awesome! -- or is there some damage control to undertake?
Oregon fans got to experience what it would feel like to lose Kelly, who is 33-6 at the Ducks' helm after winning three consecutive conference titles. Some panicked. Some said, "We'll be OK." Some felt a little of both.
The first reaction of many will be that it's now clear that Kelly will eventually leave. That's not necessarily true. A flirtation that doesn't lead to a divorce can often lead to a renewed loyalty and sense of purpose. Recall that Joe Paterno was, in 1972, out the door at Penn State to coach the New England Patriots.
But Kelly is incredibly competitive, so the juice of competing at the highest level might eventually overcome him. And the non-coaching aspects of leading a major college football program also might wear him down.
Just not yet.
The immediate reaction among the Ducks' rivals was that perhaps some of Kelly's
top recruits might waiver
. And Oregon did
lose a committed player over the weekend
. Kelly reportedly missed a recruiting trip to Sacramento during his chats with the Bucs. The guess here is he'll be making a few phone calls today.
Are bridges rebuilt immediately, only with stronger materials? "He loves us, he really loves us!"
Or are questions going to linger? "He flirted once, which means his eyeballs are prone to wander."
The answer -- in some ways unsatisfying -- is "both."
Ah, but too much introspection and navel gazing won't lead to any permanent insight, though Oregon athletic director Rob Mullens now knows that his "Plan B" file needs to be kept updated.
The Pac-12 blog's advice to Oregon fans is to live in and enjoy the present, perhaps with even more appreciation for this golden age of Ducks football. Kelly isn't leaving. His 2012 team is loaded. His focus is back on winning a fourth consecutive conference title.
There will be plenty of time to fret about 2013 and beyond.
January, 22, 2012
1/22/12
10:19
PM ET
ESPN's Adam Schefter
is reporting
the
Tampa Bay Buccaneers
"have identified Oregon head coach Chip Kelly as the main target of its search for a new head coach and the two sides are involved in active contract discussions."
Schefter reported Kelly "interviewed with the Buccaneers last week and the two sides are aiming to work out a deal within the next 48 hours."
So not a done deal, but obviously this would feel fairly cataclysmic for Ducks fans. The Pac-12 blog was of the mind at the Rose Bowl that Kelly was in for the
long term with Oregon
.
Couple of quick thoughts.
Tampa Bay must really want Kelly. Unless there's a negotiated settlement, Kelly's buyout is $3.75 million and he's scheduled to make $3.5 million next year. So we're talking -- conservatively -- $8 million just to get started. Of course, top NFL salaries are $7 million.
Would Kelly bring a spread-option to the NFL (even though he ran less spread-option last year than ever)? Maybe. It seems the NFL, long staid about what offenses should look like, has become more open-minded of late.
Some will immediately think Kelly is getting out ahead of NCAA sanctions, see Pete Carroll at USC. That's not my take. The recent scuttlebutt has hinted that the sanctions won't be severe.
That said: Kelly is a football savant who loves coaching and watching film -- and watching film and coaching. College coaching includes a lot of non-coaching responsibilities, including the NCAA, recruiting and boosters, etc. That has never been Kelly's cup of Joe.
If this happens and Kelly leaves, the name you would hear immediately would be Boise State's Chris Petersen. While his name comes up with just about every major opening, he has strong ties to Oregon. He coached there from 1995-2000. When people talked about jobs that might lure Petersen away from his comfort zone in Boise, Oregon often topped the list.
The Ducks could double his $2 million salary -- and give his assistant coaches huge raises, too.
So stay tuned. As stories go in the Pac-12, this could become a biggie.
The Oregonian
reacts here
.
And the
Eugene Register-Guard
.
May, 1, 2011
5/01/11
12:26
PM ET
The Pac-12 provided 37 players to the NFL draft over the weekend, one fewer than the SEC, which led all conferences.
If the six combined picks from Colorado and Utah are taken away from the conference, the old Pac-10 provided NFL teams 3.1 draft picks per team, also just behind the SEC at 3.17.
Here's where the Pac-12 players went:
First round
No. 8
Jake Locker
, QB, Washington: Tennessee
No. 9
Tyron Smith
., OT, USC: Dallas
No. 17
Nate Solder
, OT, Colorado: New England
No. 24
Cameron Jordan
, DE, California: New Orleans
No. 27
Jimmy Smith
, CB, Colorado: Baltimore
Second round

7.
Akeem Ayers
, LB, UCLA: Tennessee
10.
Brooks Reed
, DE, Arizona: Houston
13.
Rahim Moore
, FS, UCLA: Denver
21.
Stephen Paea
, DT, Oregon State: Chicago
24.
Shane Vereen
, RB, California: New England
Third round

13.
Jurrell Casey
, DT, USC: Tennessee
20.
Mason Foster
, LB, Washington: Tampa Bay
25.
Shareece Wright
, CB, USC: San Diego
29.
Christopher Conte
, S, California: Chicago
33.
Sione Fua
, DT, Stanford: Carolina
Fourth round

5.
Jordan Cameron
, TE, USC: Cleveland
19.
Casey Matthews
, LB, Oregon: Philadelphia
21.
Jalil Brown
, CB, Colorado: Kansas City
27.
Owen Marecic
, FB, Stanford: Cleveland
Fifth round

8.
Brandon Burton
, CB, Utah: Minnesota
9.
Gabe Miller
, DE, Oregon State: Kansas City
14.
Jacquizz Rodgers
, RB, Oregon State: Atlanta
23.
Richard Sherman
, CB, Stanford: Seattle
Sixth round

2.
Ryan Whalen
, WR, Stanford: Cincinnati
14.
Caleb Schlauderaff
, OG, Utah: Green Bay
17.
Ronald Johnson
, WR, USC: San Francisco
19.
David Carter
, DT, UCLA: Arizona
22.
Allen Bradford
, RB, USC: Tampa Bay
24.
Mike Mohamed
, LB, California: Denver
32. Ricky Elmore, DE, Arizona: Green Bay
38. Zach Williams, C, Washington State: Carolina
Seventh round

12.
D'Aundre Reed
, DE, Arizona: Minnesota
24.
Scotty McKnight
, WR, Colorado:
New York Jets
30.
Lawrence Guy
, DT, Arizona State: Green Bay
37.
Stanley Havili
, FB, USC: Philadelphia
38.
David Ausberry
, WR, USC: Oakland
39.
Malcolm Smith
, LB, USC: Seattle
By Pac-12 school:

Arizona (3)
Arizona State (1)
California (4)
Colorado (4)
Oregon (1)
Oregon State (3)
Stanford (4)
UCLA (3)
USC (9)
Utah (2)
Washington (2)
Washington State (1)
The final tally by automatic qualifying conferences
:
SEC... 38
Pac-12... 37
Big Ten... 36
ACC... 35
Big East 22
Big 12...19
Nebraska was a big swing to the Big Ten from the Big 12 with seven picks. With Colorado and Nebraska, the Big 12 provided 30 selections.
This was the tally through three rounds
:
SEC: 20
ACC: 19
Pac-12: 15
Big Ten: 13
Big 12: 9
Big East: 4
February, 17, 2011
2/17/11
7:12
PM ET
Scott Brown, who's coached the past four seasons at Colorado State, is Arizona State's new defensive line coach. He replaces Grady Stretz, who left to take the same position with the Tampa Bay Buccaneers.
Brown, 59, was at Duke 12 years before arriving at Colorado State. He's also coached at Minnesota and TCU.
"Scott Brown brings a wealth of knowledge to Arizona State on coaching defensive line play," head coach Dennis Erickson said in a statement. "Everyone I spoke with talked about his work with the players and how much they learned from him. Scott will be a tremendous help to Craig Bray in our game planning during game week. I was extremely impressed with his ideas and concepts of a defense. He brings us so much more than just a position coach in that regard. He gave us a very impressive interview. Our defensive linemen, who met with Scott while he was on his interview, were very impressed with his style and his passion for the game. They were ready to play immediately."
Erickson also cited Brown's recruiting experience in Texas.
"He has recruited the state of Texas for 30 years," Erickson said. "He has extensive contacts there and not just in a certain area, but in the entire state of Texas. Trying to get into the state of Texas with no connections is difficult. With Scott's connections we will have instant credibility in that state."
The
Arizona Republic
reported that "Brown likely won't replace Stretz as recruiting coordinator. Those duties could fall to receivers coach Steve Broussard or running backs coach Bryce Erickson."
February, 8, 2011
2/08/11
4:22
PM ET
Arizona State is looking for a new defensive line coach after Grady Stretz was
hired by the Tampa Bay Buccaneers
, a school spokesman confirmed.
Stretz, who was also the Sun Devils recruiting coordinator, spent five seasons at ASU. He signed a three-year contract with the Buccaneers, according to the Arizona Republic, which includes a significant raise.
Whoever replaces Stretz inherits one of the few questionable positions for Arizona State, which welcomes back 19 starters and is the probable favorite in the Pac-12 South Division. Two of the three lost starters -- other than both specialists -- are at defensive tackle: Lawrence Guy, who opted to enter the NFL draft a year early, and Saia Falahola.
February, 3, 2010
2/03/10
7:49
PM ET
Arizona State wide receivers coach Eric Yarber has been hired by the Tampa Bay Buccaneers, the
Arizona Republic reported
.
Yarber leaves the Sun Devils after three seasons.
As far as the signing day news, the Sun Devils
signed 25 players
, a class that includes six junior college players, including four mid-year transfers who have already enrolled and will participate in spring football.
April, 30, 2009
4/30/09
10:40
AM ET
Posted by ESPN.com's Tim Griffin
MANHATTAN, Kan. -- The game-clad figure in purple and white jumps out from the billboards along the Kansas prairie, standing apart from the notices for truck stops, ice cream parlors and outlet malls.
The image of Kansas State coach Bill Snyder can be found at several locations along Interstate 70, pointing across expanses of the Sunflower State as he seemingly implores motorists to get out of their cars to hurry into game action.
| | |
| --- | --- |
| | |
| | John Rieger/US Presswire |
| | Bill Snyder knows he has his work cut out for him at Kansas State. |
While Snyder says he's uncomfortable with becoming such a front-and-center symbol of the school's intended resurgence, it's understandable why he has become spotlighted so much since his return.
"I'm not a big fan of that," Snyder said. "This is about a program and not Bill Snyder. But maybe I'm in a position where I can help smooth the waters. I'd like to think I could do it without my face being all over billboards. It's not appropriate, because it's never been about Bill Snyder. I'm just a part of it."
On the school's Web site, Snyder's return has been given a prominent constant presence. An advertisement for season tickets harkens that "the Hall of Fame can wait" and "the tradition continues" with Snyder's return to bring the Wildcat program back from its recent doldrums.
As fans and players exit Interstate 70 and head to Manhattan, they turn onto the Bill Snyder Highway. And when they arrive in Manhattan the focal point of the campus is where the Wildcats play their games -- the Bill Snyder Family Stadium.
But even with that exalted status after his legendary career, Snyder was restless during retirement. Those concerns led him to return to coaching after a three-year sabbatical, eager to resume coaching with another challenging rebuilding job facing him.
It won't be easy. When asked about where the Wildcat program is and where he wants it to eventually be, Snyder has a succinct answer.
"I can't see there from here." Snyder said. "It's a long ways from where I would like it to be."