NCF Nation:

Tanner Hawkinson
December, 10, 2012
12/10/12
11:26
AM ET
Congrats to all these guys for turning in fantastic seasons. Naturally, there will be some snubs and some things that need to be explained. Check the blog later today for more thoughts.

Without further ado, here's the All-Big 12 team from ESPN.com.

OFFENSE

QB: Collin Klein, Kansas State
RB: Joseph Randle, Oklahoma State
RB: James Sims, Kansas
FB: Trey Millard, Oklahoma
WR: Stedman Bailey, West Virginia
WR: Terrance Williams, Baylor
WR: Tavon Austin, West Virginia
TE: Jace Amaro, Texas Tech
OL: Cyril Richardson, Baylor
OL: Gabe Ikard, Oklahoma
C: Joe Madsen, West Virginia
OL: Lane Taylor, Oklahoma State
OL: LaAdrian Waddle, Texas Tech

DEFENSE

DL: Devonte Fields, TCU
DL: Meshak Williams, Kansas State
DL: Calvin Barnett, Oklahoma State
DL: Alex Okafor, Texas
LB: A.J. Klein, Iowa State
LB: Arthur Brown, Kansas State
LB: Jake Knott, Iowa State
CB: Jason Verrett, TCU
CB: Aaron Colvin, Oklahoma
S: Ty Zimmerman, Kansas State
S: Tony Jefferson, Oklahoma

SPECIALISTS:

PK: Quinn Sharp, Oklahoma State
P: Quinn Sharp, Oklahoma State
KR: Tyler Lockett, Kansas State
PR: Tavon Austin, West Virginia

Honorable mention: Geno Smith, QB, West Virginia; Landry Jones, QB, Oklahoma; Anthony Cantele, K, Kansas State; Kenny Vaccaro, S, Texas; Justin Brown, PR, Oklahoma; Tanner Hawkinson, OL, Kansas; Jake McDonough, DL, Iowa State; Lane Johnson, OL, Oklahoma; John Hubert, RB, Kansas State; Travis Tannahill, TE, Kansas State; Durrell Givens, S, Iowa State; Cody Davis, S, Texas Tech
December, 12, 2011
12/12/11
11:30
AM ET
Kansas coach Charlie Weis wasn't looking to make friends the first time he addressed his new football team.
Christmas break is approaching after a week of finals tests, and Weis warned his Jayhawks. They'd better enjoy it. When they returned to campus, the mood wouldn't be quite so jolly.
"It's not going to be pleasant," he told them. "I can't promise you much, but I can promise you that."
[+] Enlarge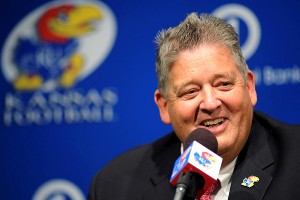 Peter G. Aiken/US PresswireCharlie Weis has promised the Kansas Jayhawks a tough offseason training program.
If he was going to rebuild a program, he was going to start it with a grueling offseason conditioning program, and the least he could do was offer his new team a fair warning.
"Honestly, some guys, their ears perked up when they heard him say that," said senior offensive lineman Tanner Hawkinson. "But hey, I'm all for working hard. That's what builds a team, ultimately. Knowing you're playing with guys to your right and left that went through those grueling workouts with you in the offseason."
Hawkinson has been through coaching changes before. He signed with Mark Mangino in 2008 and stuck around for the transition to Turner Gill after earning All-Big 12 and Freshman All-American honors in 2009.
Players like Hawkinson will be charged with the oft-mentioned "senior leadership" in smoothing over the transition this time around.
"There's just a lot of excitement and anxiousness. Some guys are ready to get other coaches in place so we can get the ball rolling. Everyone's excited," he said. "There was quite a bit of surprise on the team when he was named head coach because, following the search this past week and a half or so, his name never really came in the conversation."
Hawkinson followed the search closely like many of his teammates, waiting to hear who would coach his final season of college football.
Weis brought with him a reputation and respect earned in the NFL and at Notre Dame and Florida, where other candidates with less experience may have had to build up.
"He's really easy-going, really personable," Hawkinson said. "He's cracking jokes every now and then, but he's also getting his point across about how he's wanting to build this program back on top."
He added: "You hear him, but never would I have thought he'd be the coach at Kansas while I was here."
The Jayhawks have a long, long way to go to reach the top after a 2-10 season that features six losses by 30 points or more. Weis' focus for now is taking down the "other program in the state" that finished the year 10-2 and worrying about the rest of college football once that score is settled.
Kansas State has beaten Kansas in all three seasons since coach Bill Snyder took over, including 52 and 38-point losses in each of the last two meetings.
"He told us as well, from what he's seen, it all goes back to those little things, making sure you do the little things right, even making it to class on time. All that kind of starts in the weight room," Hawkinson said.
The hard part is waiting to hear who the new man would be, but the hard
est
part will arrive next month.
"You worry about the future and who's coming in, but we've got coach Weis in place. We don't have to worry about that anymore. We've just got to worry about these workouts coming up."
November, 23, 2011
11/23/11
11:00
AM ET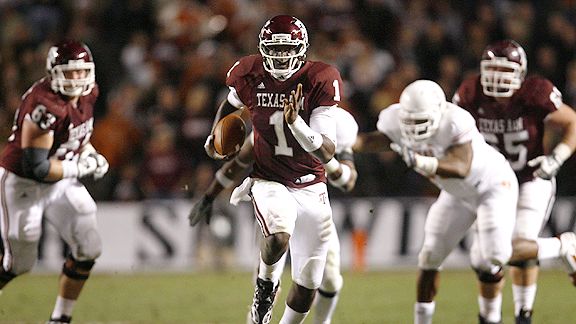 Aaron M. Sprecher/Getty ImagesAfter their 118th meeting, Texas A&M is running away from Texas to the SEC.
Texas says, "Sorry, our schedule's booked up."
Turner Gill says the rivalry belongs in the Big 12.
Thursday night, Texas and Texas A&M will play for the 118th time. Only two rivalries have been played more.
It might be the last time. It will be the last time for the foreseeable future.
On Saturday, Missouri and Kansas will meet for the 119th time. Minnesota and Wisconsin are the only teams that have met on more occasions.
Realignment will claim two more victims upon Missouri and Texas A&M's exits to the SEC: Two of the nation's best rivalries.
"It'll be difficult to ignore. Everybody knows what's out there," Texas A&M coach Mike Sherman said. "It's all part of it. I think there's enough things on the table to motivate them. It's certainly something everybody's aware of."
That includes players. Here's thoughts from a few that grew up around the rivalry think about the rivalries' existence and ending.
Additional reporting by Carter Strickland of
HornsNation
.
What's your best memory in this rivalry, whether you played in the game or watched it?
Ryan Swope, WR, Texas A&M:
Growing up as a Longhorn, I just remember how intense these games were. It didn't matter, the rankings didn't play a factor. Every game was just a battle. It was hard-nosed football. So much tradition involved in the game, and that's the main thing.
Tanner Hawkinson, OT, Kansas:
Most recently, the one in '08 when Todd Reesing hit Kerry Meier at the end to win the game. I was redshirting, but I was at the game and it was just a crazy, crazy game. One of the better games I've witnessed.
There's quite a bit of hatred between the two schools going back to the Civil War and the battles between the Jayhawkers and Missouri. There's just a lot of hatred between the two schools.
T.J. Moe, WR, Missouri:
The one in '07, the big one, was when I started watching because (former MU corner) Carl Gettis was playing and he was my high school teammate. Everybody knows what kind of game that was. That was kind of the start of, when both teams had great seasons, they started calling it the Border Showdown. That was a big game and a fight for No. 1. We got that safety in the end zone on Todd Reesing, and in 2008 they came back and got us, and thats how rivalry's supposed to be, back and forth like that. The '09 game was great, too. We had to win on a last-second field goal.
Are you for or against Texas A&M leaving for the SEC?
Blake Gideon, S, Texas:
Against.
Does it matter that they're leaving?
Gideon:
It doesn't matter to me. This is my last year playing them anyway. It's definitely one of those deals kind of
like Nebraska last year
that we want to send them off the right way. At Missouri we failed to do that this year.
What did you think when you heard it was probably ending?
Hawkinson:
It's something that's gone on for a ton of years now, I'm not even sure how many. Obviously, it's disappointing. I wish it could go on, but we wish them well. It's something I feel like should stay in the Big 12, and they're going to the SEC, so, it's something they're going to just have to deal with if they're not in the Big 12 anymore.
Moe:
I don't have any control over that. As far as players go, I think both sides would love to play each other. I can't speak for the administration. I think the administration over there keeps saying it's done if you're not going to be in the Big 12 anymore, but I'm sure players on both sides would love to continue the rivalry and we hope to do that.
Swope:
There's so much tradition and history involved, it's going to be tough not to see Texas on the schedule, but it's a fun game. We're going to enjoy this one and we want to go out the right way.
Where you're from [Gilmer, Texas], are there a lot of Aggies?
David Snow, OL, Texas:
Let's just be honest — I'm the only one in my top 10 percent that came here. Everybody else is at A&M. Once they went to the dark side, I haven't really stayed in that much contact with them. Changing my phone number and stuff.
Is there more pressure to win because it is the last one?
Snow:
We have a lot of pressure every week to win, hell we're Texas. You don't expect to lose and you don't want to lose.
Would you call it a nasty rivalry?
Snow:
Yeah. I mean certain things happen there. When you hate two people certain cheap shots go on, especially on the other side. Never by us.
What's this rivalry mean to you?
Swope:
It's a very personal game for me. I've got a lot of friends that are graduated from Texas or at Texas right now. Growing up in Austin, growing up a Longhorns fan, it's going to be real personal. My dad graduated from Texas. I have friends that go to school there and friends that are players for the other team.
Hawkinson:
It's a great sense of pride for not only the university, but for the state of Kansas. It'd be a huge win not only for the university, but for the people that live in Kansas.
Moe:
I didn't watch a whole lot of college football growing up, but when I did, it was Missouri-Kansas. It's a pretty special thing. It's been so close. It's almost tied up for the 100-something years we've been playing. It's just fun and something you look forward to. It doesn't matter if either team is bowl-eligible. We might have both gone winless and this game would still be special. It goes back to the Civil War days when it was a lot more serious than it is now.
What will you miss most about it?
Hawkinson:
Getting prepared. The week leading up to it, this week, guys come in to practice and they're already excited. It's kind of an easy week to get pumped up for and practice hard for. Especially going up and playing at Arrowhead, it's a great environment, especially with two teams playing against each other with all the hatred toward each other. All that leading up to the game and one you get to the game, just playing in that atmosphere.
Swope:
All the tradition and the history in this game. It goes back to the Bonfire and how big this game is and how much history it holds. It's one of those things. Everyone pulls tickets for this game. It's on Thanksgiving. It's a very traditional game being played and they've been doing it for so long, I think I'm just going to miss almost everything about the game.
Moe:
If I miss a year of it, that's pretty sad. It's your rival. We had Nebraska, we lost them and we had Kansas. Those were our two big rivals. Now, of course, we'll move to the SEC and we'll kind of have A&M maybe as our new rival or whatever, but I don't know if it's ever going to be the same without Kansas because it has such deep roots, especially the guys on the team from Kansas City. They live in the war zone over there and it's pretty special to them.
I did my best to answer your questions. I've been
more or less banned from speaking about Kansas this year
, so I couldn't have a whole lot of fun.
July, 22, 2010
7/22/10
11:44
AM ET
The Big 12 announced its preseason award winners and All-Big 12 team Thursday. Here's who's on the list:
Offensive Player of the Year:
Jerrod Johnson
, QB, Texas A&M
Co-Defensive Players of the Year:
Jared Crick, DT, Nebraska; and Von Miller, LB, Texas A&M
Newcomer of the Year:
Toney Clemons
, WR, Colorado
Offense
QB: Jerrod Johnson, Texas A&M
RB:
DeMarco Murray
, Oklahoma
RB:
Daniel Thomas
, Kansas State
WR:
Ryan Broyles
, Oklahoma
WR:
Jeff Fuller
, Texas A&M
TE:
Mike McNeill
, Nebraska
OL: Ryan Miller, Colorado
OL: Nate Solder, Colorado
OL: Tim Barnes, Missouri
OL: Tanner Hawkinson, Kansas
OL: Stephen Good, Oklahoma
OL: Kyle Hix, Texas
PK: Alex Henery, Nebraska
KR:
Cyrus Gray
, Texas A&M
DEFENSE
DL: Aldon Smith, Missouri
DL: Jared Crick, Nebraska
DL: Jeremy Beal, Oklahoma
DL: Sam Acho, Texas
LB: Travis Lewis, Oklahoma
LB: Von Miller, Texas A&M
LB: Keenan Robinson, Texas
LB: Brian Duncan, Texas Tech
DB: Prince Amukamara, Nebraska
DB: Aaron Williams, Texas
DB: Quinton Carter, Oklahoma
DB: Blake Gideon, Texas
DB: Curtis Brown, Texas
P: Derek Epperson, Baylor
PR: Ryan Broyles, Oklahoma
A few notes/thoughts from the team:
Only three players were unanimous selections: Jared Crick, Travis Lewis and Jeremy Beal. Other guys I'm surprised didn't earn that distinction: Ryan Broyles at receiver, Aaron Williams and Nate Solder.
Ties at linebacker, defensive back and offensive line forced the conference to make room for an extra spot.
The media's opinion of DeMarco Murray is somewhat divided, so I was a little unsure who would nab the second spot on the ballot. I'd be interested to see how close it was between him, Roy Helu, Kendall Hunter and Alexander Robinson.
Home run selection of Toney Clemons as Newcomer of the Year. If I'm guessing, the fact that he was the No. 1 pick in Colorado's spring game helped him earn this honor. An action like that by players speaks pretty loudly.
I definitely prefer football over basketball in these situations, which doesn't have to deal with freshmen on the preseason all-conference team.
I'm interested in how close the vote was between Missouri's Grant Ressel and Nebraska's Alex Henery. Henery's punting skills make him the clearly more valuable player, but talking strictly place-kicking, it's pretty close, and Ressel's additional accuracy is quantifiable.
Here's the list breakdown by team:
1. Oklahoma - 7
2. Texas - 6
3. Nebraska - 4
3. Texas A&M - 4
5. Missouri - 2
5. Colorado - 2
7. Baylor - 1
7. Kansas - 1
7. Kansas State - 1
7. Texas Tech - 1
11. Oklahoma State - 0
11. Iowa State - 0
September, 15, 2009
9/15/09
5:45
PM ET

Posted by ESPN.com's Tim Griffin
Opposing teams have accounted for Kansas' potent passing game early this season. Nickel and dime pass defenses have been the rule as teams have tried to snuff out
Todd Reesing
's aerial attack on nearly every down.
| | |
| --- | --- |
| | |
| | Kenny Felt/Icon SMI |
| | Jake Sharp has gained over 100 yards in both of Kansas' games this season. |
It's almost seemed like opposing teams have been willing to dare the Jayhawks to beat them with a ground game and an offensive line that were presumed to be question marks entering the season.
Consider the dare answered after the first two weeks of the season, thanks to the potent one-two rushing attack of senior
Jake Sharp
and bullish freshman
Toben Opurum
.
"Teams have realized that we have a great quarterback and receiver combination and have been willing to do what they can to try to stop our passing game," Sharp said. "They've been willing to challenge us. And so far, we've been able to capitalize."
The Jayhawks' running game has been one of their biggest surprises as they have averaged a Big 12-leading 291.5 yards per game in their impressive 2-0 start.
Kansas started the season by gashing Northern Colorado for 334 yards. It was the Jayhawks' top rushing performance since 2001. And they followed that with 255 yards against UTEP to spark a 34-7 victory.
"A lot of people have had questions about the offensive line coming in," Opurum said. "They've had a lot of people moving around and some that maybe some people haven't heard of. But they've done a good job of opening holes for me and Jake. They've played well, exceeded expectations and can only get better."
Sharp has built on a fast 2008 finish to rush for 100 yards in both games, becoming only the second player in the Big 12 along with Kansas State's
Daniel Thomas
to accomplish that feat this season.
And the muscular 235-pound Opurum has also had a blazing start, inviting comparisons to former Kansas tailback Brandon McAnderson because of his size and tough inside running ability.
Despite the offensive line's lack of experience together, Sharp has been impressed with their work.
"Everything came together with confidence and a better understanding," Sharp said. "When I'm going to hit the hole, I have confidence it will be there. Our offensive line has done a great job so far."
And Oburum has quickly shown that same kind of ability, averaging 70.5 rushing yards per game to rank ninth in the conference.
Kansas coach Mark Mangino credits some of Sharp and Opurum's quick start to the growth of a precocious offensive line.
"Jake Sharp is quicker and faster than he was a year ago. And Toben is a young running back who is learning and has a lot of natural ability and a lot of tools," Mangino said. "But the other key is our line. We have a bunch of young guys, but they are very talented."
Mangino switched starting left tackle Jeremiah Hatch to center and inserted 285-pound redshirt freshman Tanner Hawkinson, a converted defensive end, into the starting lineup.
"The way I describe our offensive line is that you'd like to have experience, toughness and talent," Mangino said. "We have the talent and toughness, but what we lack in experience we are making up because of the other two. It's a combination of those things."
But the real test for the Jayhawks will be when they start facing conventional defenses that aren't skewed to the pass.
That trend, Sharp said, would be the biggest indicator that Kansas' ground game finally has arrived.
"I would like to think they would have to do that before long," Sharp said. "The spread offense we run is obviously very explosive and they have to account for that. But we take what people give us. We can throw the ball, no question. But we've shown we've got a balanced attack and can run the ball a little, too."