January, 29, 2013
1/29/13
3:30
PM ET
After the NFL and the
Manti Te'o
questions came football talk, bringing some good and bad news to a 22-day-old Notre Dame offseason that has felt much longer.
Starting cornerback
Bennett Jackson
had surgery to repair a labrum tear. Starting inside linebacker
Dan Fox
had a similar operation. Both are expected to be limited to non-contact portions of spring practice, which starts March 20.
Safety
Austin Collinsworth
is expected to be ready this spring after missing the 2012 season because of separate shoulder and back surgeries. Brian Kelly also sounded optimistic about the playing future of center
Matt Hegarty
, who was shut down for the season following a Nov. 8 mini-stroke, while cornerback
Lo Wood
continues to recover from an Achllies tear suffered in fall camp.
Constant leg problems, meanwhile, may force offensive tackle
Tate Nichols
to take a medical redshirt.
Kelly pegged Hegarty,
Nick Martin
and
Mark Harrell
as players in the mix to replace
Braxston Cave
at center. Kelly said Fox,
Carlo Calabrese
and
Jarrett Grace
are the front-runners to replace Te'o at the MIKE linebacker spot, with
Kendall Moore
and potential incoming freshmen having a chance to be included as well.
The mentioning of Fox and Calabrese means both will likely be back for a fifth season in 2013, though Kelly said the official process needs to still take place.
"We're going to sit down when we get back, as we always have from recruiting, once we finish up our numbers in recruiting, then we start to talk about our fifth-year guys," Kelly said. "But they'll all, as we have in the past, they'll continue to train because they're in school anyway. And then we'll let them know our decisions as we talk to the university, relative to granting that additional year."
Kelly also said he is hoping the NCAA's ruling on safety
Jamoris Slaughter
's appeal for a sixth year will come before national signing day. Kelly said Slaughter is still in school.
January, 3, 2013
1/03/13
2:31
PM ET
DAVIE, Fla. —
Everett Golson
was much more vocal Thursday than he was in fall camp, naturally. That was one of the first things that jumped out during the media's first viewing of Notre Dame practice since August.
Here are a few other notes and observations from Nova Southeastern University — the practice facility of the Miami Dolphins — as media members were allowed to watch the first 15 minutes, which consisted mostly of tempo drills. (Defense was on an opposite field, so the offense received most of the visitors' attention.)
DaVaris Daniels looks pretty much recovered from the broken left clavicle he suffered Nov. 10 at Boston College, as he was active throughout. Offensive coordinator Chuck Martin jumped on the redshirt freshman at one point, telling him if his running wasn't better on a particular route, then the Irish would have no chance.
Freshman quarterback Gunner Kiel, normally No. 1, was wearing a No. 10 jersey to play the role of Alabama quarterback AJ McCarron on the scout team.
Head coach Brian Kelly alluded to depth concerns on the offensive line, and he wasn't kidding. The second-team offensive line consisted, from left to right, of Nick Martin, Conor Hanratty, Mark Harrell, Bruce Heggie and an unidentified walk-on wearing No. 76. (Hanratty and Harrell were both wearing No. 65, too.) Tate Nichols (knee) and Ronnie Stanley (elbow) have been out, as has Matt Hegarty for a non-football medical issue.
September, 15, 2012
9/15/12
7:32
PM ET
EAST LANSING, Mich. -- Greetings from Spartan Stadium, where No. 20 Notre Dame and No. 10 Michigan State are about an hour away from kickoff.


We already know what's at-stake here for the Irish, who begin a six-game stretch in which they face five ranked opponents. They are 0 for their last 9 against top-10 teams, losing by an average margin of 15 points per game. A 2005 victory at then-No. 3 Michigan was Notre Dame's last victory over a top-10 opponent, and the Irish will hope to replicate that performance again tonight in the Mitten.
A couple travel items: USC running back transfer
Amir Carlisle
did not make the trip after being cleared for action two weeks ago. Carlisle suffered a broken ankle before the spring and has yet to play for the Irish, who bring back former starter
Cierre Wood
for his first game of the season.
Defensive end
Chase Hounshell
did not travel with the team, either. Brian Kelly has said that Hounshell not playing through two games is a matter of having too many players in front of him, though. Tackle
Tate Nichols
(right knee subluxation) did not travel, either, as he has yet to play this season.
One player who did make the trip is linebacker
Danny Spond
, who is expected to appear in his first game of 2012 after suffering a preseason head injury. Spond will likely see time at the dog spot with
Ben Councell
, moving the
Dan Fox
/
Carlo Calabrese
tandem back to the will spot. Calabrese was at the will last week in his first game back from suspension, but Fox was moved outside, as Kelly wanted Councell to see a traditional offense from the sideline before stepping in.
The student section is full and the rest of the crowd is beginning to file in, with Spartans players heading over beforehand to greet their classmates. We'll be back with any breaking news throughout the game and to recap the night's events here,
with in-game observations coming from Twitter
. We'll also have a
live chat going throughout the game
, with yours truly chiming in during the second and fourth quarters.
If history's any indication, it will be a fun one. Looking forward to it.
September, 3, 2012
9/03/12
10:00
AM ET
Here's one last look at what was a successful opening weekend for the Irish:
The good
: Each line received a game ball for its efforts Saturday, and deservedly so. Yes, there is plenty of talent in the Irish's backfield, but that talent doesn't get the chance to do what it did to Navy without the push up front. Remember,
Navy
was supposed to have the strong ground game. Notre Dame's 292 rushing yards -- and the Midshipmen's 149 -- were a testament to the strong play from both of Notre Dame's lines.
The bad
: It wouldn't be a Notre Dame game without a red zone turnover, right?
Everett Golson
's first career gaffe came midway through the second quarter, when he was picked off by
Parrish Gaines
at the Navy 4. Fortunately for Golson, he and his teammates did more than enough to make up for it in a 40-point win.
Biggest surprise
: Tackle
Ronnie Stanley
saw some playing time in the second half, a rarity for a freshman offensive lineman. Of course, Jordan Prestwood's departure and
Tate Nichols
' injury left the Irish thin there. Brian Kelly said Sunday that the decision was made before the trip that Stanley would play if the opportunity arose.
Best quote
: In what is probably the most accurate way to describe 303-pound teammate
Stephon Tuitt
, who returned a fumble 77 yards for a score, Braxston Cave
told reporters
: "He's a freak."
Next up
: And you thought Notre Dame once had quarterback conundrums? The Irish return to the United States to kick off their home schedule against rival Purdue, which has three capable signal-callers and is coming off a 48-6 rout of Eastern Kentucky.
August, 21, 2012
8/21/12
1:47
PM ET
Brian Kelly confirmed reports of
Lo Wood
's season-ending Achilles' injury, which will require surgery Wednesday and should sideline the junior for 4-6 months.

The Notre Dame coach said during Tuesday's news conference that Wood suffered a non-contact injury, as Wood heard a pop while simply back-pedaling during Monday's practice.
Five cornerbacks will compete for the No. 1 field spot opposite boundary corner
Bennett Jackson
, Kelly said, with the distinction between the two positions fading a little for those five players.
Fifth-year safety
Jamoris Slaughter
will not move to cornerback, nor will first-year receiver Davonte Neal.
Elsewhere ...
Everett Golson and Andrew Hendrix are still splitting practice reps evenly. Kelly had said during Thursday's media day that he hoped to separate the reps some more this week.
Redshirt sophomore right tackle Tate Nichols, who has a patella subluxation in his left knee, will likely not be available for the Navy opener. Kelly is hoping Nichols is back for Week 2 against Purdue.
March, 28, 2012
3/28/12
9:00
AM ET
With Notre Dame a week into spring practice, the fifth-year players officially returning and the 2012 recruiting class finalized (we think), let's break down the Irish's complete roster, position-by-position, as it gears up for Year 3 under Brian Kelly.
We'll start with the offense today and delve into the defense tomorrow, with special teams coming Friday.
QUARTERBACK
The players:
Tommy Rees
,
Andrew Hendrix
,
Everett Golson
, Gunner Kiel
The incoming:
None
The breakdown:
Experience is the only real way to rank these guys, as Rees has 16 starts, Hendrix has played in five games, Golson has sat a year learning the offense and Kiel arrived on campus just two months ago. Nonetheless, that likely won't matter as Kelly goes to a square-one approach, opening the playbook from the beginning to allow for a fair chance for everyone. The decision -- which will likely be up in the air deep into the summer -- may prove to be Kelly's biggest so far with the Irish.
RUNNING BACK
[+] Enlarge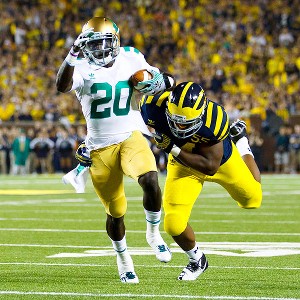 Rick Osentoski/US PresswireCierre Wood is still the clear favorite in Notre Dame's backfield, but the Irish have other running backs ready to vie for playing time.
The players:
Cierre Wood
,
Theo Riddick
,
George Atkinson
,
Amir Carlisle
, Cam Roberson,
Tyler Plantz
The Incoming:
Will Mahone, KeiVarae Russell
The breakdown:
Wood is the clear No. 1, as he was heading into last season as well. Riddick broke off a pair of huge runs toward the end of Saturday's scrimmage, and Kelly wanted both him and Atkinson to see more time back there as Wood rested with a minor quad injury. (Kelly said Wood did go in the rodeo drill earlier.) Both Riddick and Atkinson are capable of playing in the slot, and may end up seeing more time catching balls this season than taking handoffs, though Tony Alford will coach both regardless.
Carlisle, the USC transfer, is eligible to play in 2012 but out for the spring with a broken ankle. Where he fits in will be interesting, as carries may be hard to come by if Atkinson really progresses this spring in the backfield. The 5-foot-10, 185-pound Carlisle was featured on kickoffs last season with the Trojans, and there, or on the punt return team, may prove to be the fastest way on the field for him.
WIDE RECEIVER
The players:
John Goodman
,
T.J. Jones
,
Robby Toma
,
DaVaris Daniels
,
Daniel Smith
,
Luke Massa
,
Eric Lee
,
Nick Fitzpatrick
,
Ryan Liebscher
The incoming:
Justin Ferguson, Davonte Neal
The breakdown:
Goodman has talked about making the most of this last chance, and the coaching staff would not have invited him back for a fifth year had it not believed in him. Whether he can be a top target is up in the air, but he should bring some stability and leadership to a group loaded with youth. Jones has been solid through two years and Kelly has said he is on the cusp of breaking out. Toma has done everything asked of him and then some in the slot when replacing the oft-injured Riddick, and he may have the position to himself this year.
Daniels has the complete package physically, but he has yet to take a snap after redshirting last season. He was seen running with the 2s to start spring, but that could easily change with a strong showing. Smith, too, ran with 2s to open spring, but he must stay healthy first. Ferguson has the tools to compete for playing time upon arrival, but that could likely depend on how the incumbents step up in front of him. Neal is pegged as an athlete, but Kelly said there are no plans right now to play him at corner upon his arrival. He could possibly be a playmaker at receiver or on special teams.
TIGHT END
The players:
Tyler Eifert
,
Troy Niklas
,
Alex Welch
,
Ben Koyack
,
Jake Golic
,
Arturo Martinez
The incoming:
None
The breakdown:
We all know what Eifert can do, which is why he almost entered the draft this year. Niklas is the big question mark. And by big, we mean it literally. A switch from linebacker -- where he started one game last fall as a freshman -- to tight end for the 6-7, 252-pounder has many excited to see what the offense can do with a potential two tight end set. Everyone saw what the
New England Patriots
did last year with
Rob Gronkowski
and
Aaron Hernandez
.
It would be foolish to expect that much so soon -- both without
Tom Brady
as the Irish's quarterback and without Niklas having played the position since high school. How quick Niklas can master the playbook and blocking could go a long way in seeing some of these sets come to fruition. The move does leave some to wonder what this means for Welch and Koyack, but the duo is young and, according to tight ends coach Scott Booker, up for the challenge.
OFFENSIVE LINE
The players:
Zack Martin
,
Chris Watt
,
Braxston Cave
, Mike Golic,
Tate Nichols
,
Christian Lombard
,
Bruce Heggie
,
Jordan Prestwood
,
Matt Hegarty
,
Conor Hanratty
,
Nick Martin
,
Brad Carrico
,
Matt Tansey
,
Dennis Mahoney
The incoming:
Mark Harrell, Ronnie Stanley
The breakdown:
Cave will not be playing much, if at all, this spring as he recovers after injuring his foot last season. Golic, who started in his place, is the center with Cave out, but it would not be surprising to see Golic move to right guard upon Cave's return. Right now Lombard is manning the right guard spot, with Nichols at right tackle. How the second unit gets shuffled upon Cave's return to the starting unit remains to be seen, but to open spring, it consisted of Heggie, Prestwood, Hegarty, Hanratty and Martin.
August, 10, 2011
8/10/11
11:00
AM ET
Notre Dame has an experienced team coming back in 2011, with 20 players who started at least seven games last season. But there are also plenty of opportunities for young players to make an impact, like
Tommy Rees
and
Cierre Wood
did last year.
Today, we'll take a look at a few underclassmen who could step up and become difference-makers this season. We'll define underclassmen as those who are in their first or second year of playing -- remember, Notre Dame doesn't officially do redshirts -- then talk about a few true freshmen who could make a splash. We'll limit these to three in each category and try to focus on those players who haven't seen a lot of action so far.
Sophomores who have played
[+] Enlarge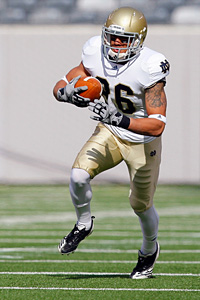 Jim O'Connor/US PresswireBennett Jackson, recruited as a receiver by Notre Dame, will move to cornerback this fall.
1. Bennett Jackson, CB:
Jackson was recruited as a receiver but did his best work in 2010 on special teams as both a returner and a tackler. He was moved to cornerback in the spring to help shore up a thin position. He'll see some playing time there, and if anything happens to Gary Gray or Robert Blanton, Jackson will instantly become vitally important.
2. Prince Shembo and Danny Spond, OLB:
We're combining these two into one because both are expected to compete for the starting job at one of the outside linebacker positions. Both saw action last season as backups and showed promise at times. Shembo has excellent speed, while former high school quarterback Spond has adjusted well to defense.
3. Kona Schwenke, DE:
The Hawaiian became a surprise contributor late in the season after Ian Williams' injury. He has put on a lot of weight since coming to campus and is now up to 6-foot-4, 285 pounds. He'll push for playing time in what is becoming a very deep position for the Irish.
Sophomores who haven't played
1. Lucas Nix, NG:
Nix was a highly rated recruit who came to campus extremely overweight. He has shed more than 40 pounds and was listed at 326 to start fall practice. He still might not be in good enough shape to play every down, but if he can give about 20 quality snaps in the middle of that defensive line, he can provide a valuable run-stuffing presence.
2. Andrew Hendrix, QB:
The offensive MVP of the spring game, Hendrix is in a four-way competition for the starting quarterback job. Or, more accurately, he's in a competition with true freshman Everett Golson to be the change-of-pace, running-threat quarterback in special packages. Either he or Golson will likely have an impact on the season at some point.
3. Christian Lombard and Tate Nichols, OT:
Lombard and Nichols are big, talented tackle prospects Notre Dame had the luxury of grooming without playing last season. With Zack Martin and Taylor Dever returning as the starting tackles, Lombard and Nichols will begin the season as backups but will factor into the rotation. They're just an injury or a lackluster performance away from being very important.
True freshmen
1. Aaron Lynch, DE:
The breakout star of the spring game, Lynch wowed everybody with his speed and instincts as a pass-rusher. He'll likely start out as more of a situational player, but if he continues to grow and play like he did in the spring, he'll force his way into more and more snaps.
2. DaVaris Daniels, WR:
The Irish are looking for more playmakers at wide receiver to complement
Michael Floyd
and
Theo Riddick
, and the coaching staff is high on Daniels' potential. The 6-foot-1 freshman has the pedigree, as his father played 15 years in the NFL at defensive end. He'll have to learn quickly, though, as he did not arrive until the summer.
3. Ishaq Williams, OLB:
Like Lynch, Williams went through spring practice to get an early acclimation to college. The highly rated recruit has more experienced players in front of him at outside linebacker, but he's a physical force at 6-5, 255 pounds. At the very least, he can be used on third downs as a pass-rush specialist.
August, 17, 2010
8/17/10
1:38
PM ET
Tuesday was media day in South Bend, and here's a quick recap of what head coach Brian Kelly had to say in his 40-minute news conference:
[+] Enlarge

AP Photo/Joe Raymond"All the players have done exactly what we've asked them to do," said Brian Kelly in a 40-minute press conference on Tuesday.

Kelly said his spread offense has a place for the Wildcat formation. The three guys he's looking at to run the Wildcat are tailback Armando Allen, receiver Theo Riddick and somewhat surprisingly, tight end Kyle Rudolph.
Kelly said there has been little resistance from the players since he came in to replace Charlie Weis. "All the players have done exactly what we've asked them to do," he said. "They knew there had to be a sense of urgency. They were sick and tired of being sick and tired too. It's just different leadership styles."
Riddick and Cierre Wood will be the kick returners, and Kelly called them "dynamic." Allen leads John Goodman for punt return duties.
Plenty of young players could see the field right now. Kelly identified nine true freshmen which his staff is preparing to play this year. They are, on offense, Rees, receiver T.J. Jones, linemen Tate Nichols, Christian Lombard tight end Alex Welch and receiver Austin Collinsworth, who will play a lot on special teams. On defense, freshmen Lo Wood (cornerback) and Prince Shembo (linebacker) and Danny Spond (safety/special teams) have impressed. Kelly said this is the most true freshmen he's readied to play in his career.
Injured linemen Dan Wenger and Matt Romine (concussion symptoms) have returned to practice, but Kelly said Nichols and Lombard asserted themselves in their absence. Mike Ragone (heat illness) and Rudolph (hamstring) are back to doing individual work.
The battle for the inside linebacker job continues to rage on between Anthony McDonald and Carlo Calabrese. Both bring separate strengths."Mac needs to be more physical, and Calabrese needs to be more finesse," Kelly said.
In maybe the most interesting exchange, Kelly said he thought star receiver Michael Floyd was "overhyped" when he first watched film upon taking the Irish job. His opinion has changed 180 degrees."In 20 years, I have not had a player who has worked as hard as Michael Floyd has worked," Kelly said. "He has outworked everybody on the offensive side of the ball to the point where he has singlehandedly set the bar for where everybody else needs to bring their play. He's been dominant."
Finally, Kelly said his goal is for his team to "be better in November than they are in September." That certainly hasn't been the case in recent years.