February, 8, 2011
2/08/11
9:00
AM ET
We continue our look at spring quarterback competitions with a look at Conference USA. This league is actually pretty solid when it comes to its top quarterbacks, with
Case Keenum
coming back and joining
G.J. Kinne
of Tulsa,
Austin Davis
of Southern Miss and
Dominique Davis
of East Carolina among others. But a few others have some question marks:
UTEP
[+] Enlarge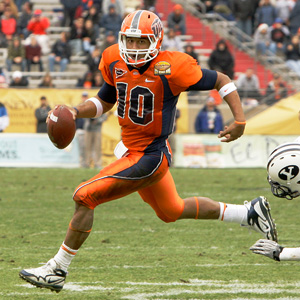 AP Photo/Ross D. FranklinUTEP is replacing school record-holder Trevor Vittatoe and has to find a new starting quarterback for the first time since 2006.
Who's out:
Trevor Vittatoe
, the school's all-time leader in passing yards (12,439), passing touchdowns (97) and total offense (12,291).
Who's competing:
The Miners will also have a new starting quarterback for the first time since 2006 after Vittatoe started every game since 2007 (49 total). Redshirt freshman
Javia Hall
, sophomore
Carson Meger
, senior
Tate Smith
and junior college transfer Nick Lamaison are the candidates. Meger and Smith saw limited action last season, but Lamaison is the most intriguing candidate. Lamaison was the Offensive Player of the Year for both the All-California and All-American teams after leading Mt. San Antonio College to a 13-0 record. He went 300-of-499 for 3,993 yards with 30 touchdowns and 12 interceptions last season and has two years of eligibility remaining.
Marshall
Who's out:
Brian Anderson
.
Who's in:
A.J. Graham
and
Eddie Sullivan
return. Graham was a redshirt freshman last season and Sullivan a true freshman and both played. But the most intriguing candidate could be Conelius Jones, a January enrollee who will be eligible to play in the spring. Jones signed with Michigan out of high school last season but did not qualify academically. He sat out this last year but was able to get his test score and should be in the mix to compete for the starting job.
Memphis
Who's competing:
Nobody is really out, but the job will be open again.
Ryan Williams
started the last 10 games last season as a true freshman but struggled with consistency. Coach Larry Porter will want to take another look at
Cannon Smith
, who went into the season as a starter before sustaining a concussion and then playing sporadically. There also
Andy Summerlin
, a junior college transfer who signed in 2010 but injured his shoulder last spring and was out for the fall. Memphis is considering moving back to the spread, but there's nothing definitive on that just yet.
May, 19, 2010
5/19/10
10:57
AM ET
Quarterback
Tate Smith
has left the New Mexico football team.
Smith missed all of last season after having shoulder surgery and missed most of spring football because of a partially torn back muscle on his right side.
Because of his limited action, Smith slipped behind sophomore
B.R. Holbrook
, who finished the spring as the top quarterback. Junior
Brad Gruner
, who suffered a knee injury late in the spring, also slipped out of spring contention.
However, with two incoming freshman quarterbacks, coach Mike Locksley maintained that he would wait before naming a starter.
"We're not going to name a starter until August," Locksley told ESPN.com in April. "We're using this spring, the three on campus are battling. But they all know that we've got to get through spring ball and see. The two freshmen that we recruited have both been told that they're going to have an opportunity for a starting job once we get into camp. So, depending on how fast they can develop and come along will dictate us announcing who our starter will be for Oregon."
Smith was granted his release to any school except one in the Mountain West or any of the nonconference opponents the Lobos play in the next two seasons.
Smith played in four games in 2008 after transferring from Cisco Junior College. He completed 7 of 21 passes for 82 yards and two interceptions. He also rushed for 25 yards on 18 carries.
April, 8, 2010
4/08/10
11:00
AM ET
After a 1-11 season, there's nowhere to go but up for New Mexico, and coach Mike Locksley believes that's where his team is heading this spring. Despite some off-field distraction, the Lobos actually got better as the season progressed last year and Locksley is confident that his team is better for the experience.
Here's a look at the strongest and weakest positions for New Mexico this spring:

Strongest position: Defensive line
Key returners:
Junior defensive end Johnathan Rainey (52 tackles, 15.5 tackles for loss, 9.5 sacks), senior tackle Peter Gardner (39 tackles, five tackles for loss), junior end Jaymar Latchison (46 tackles, 8.5 tackles for loss, 4.5 sacks)
Key departures:
Tackle Kendall Briscoe (46 tackles, 13.5 tackles for loss, three sacks)
The skinny:
Rainey led the Mountain West Conference in tackles for loss and returns as one of the better defensive ends in the conference. The defensive line was one of the few bright spots for the Lobos last year and should continue to get better this season with three returning starters and new coach Rubin Carter. Also, the Lobos stand to get a significant talent boost this summer when prized recruit Calvin Smith arrives on campus. That should more than make up for the loss of Briscoe.
Weakest position: Quarterback
Key returners:
Sophomore
B.R. Holbrook
(19-of-34 passing, 170 yards, one touchdown, two interceptions), junior
Brad Gruner
(in 2008: 53.8 completion percentage, 1,037 yards, three touchdowns, six interceptions)
Key departures:
Donovan Porterie
(57.6 completion percentage, 2,411 yards, 12 touchdowns, 13 interceptions)
The skinny:
Holbrook is the last quarterback standing halfway through spring football after both Gruner and junior
Tate Smith
went down with injuries. Gruner suffered a torn MCL earlier this week and Smith has been recovering from offseason shoulder surgery and a slight strain in his upper back. New Mexico has no plans to announce a starting quarterback until August when incoming freshmen Darian Godfrey and Tarean Austin have a chance to compete. The Lobos are looking for someone who can lead them into the end zone and limit turnovers. They ranked 113
th
in scoring offense and 97
th
in turnover margin nationally last season.
April, 7, 2010
4/07/10
11:00
AM ET
New Mexico quarterback
Brad Gruner
suffered a torn MCL during Monday's practice. Gruner will have an MRI Thursday, but Locksley is optimistic that Gruner's injury will not require surgery and will only keep him out 4-6 weeks.
Before Gruner's injury Locksley said, if he had to name a starting quarterback,
B.R. Holbrook
would get the nod. But Locksley isn't ready to make such a proclamation anymore.
Although Holbrook completed 17 of 22 passes for 199 yards and a touchdown during Saturday's scrimmage and has separated himself from Gruner and
Tate Smith
, Locksley said he promised incoming freshmen
Stump Mitchell
and
Tarean Austin
a fair shot at the starting position in the fall.
"We're not going to name a starter until August," Locksley said. "We're using this spring, the three on campus are battling. But they all know that we've got to get through spring ball and see. The two freshmen that we recruited have both been told that they're going to have an opportunity for a starting job once we get into camp. So, depending on how fast they can develop and come along will dictate us announcing who our starter will be for Oregon."
Holbrook will likely be the only healthy scholarship quarterback for the final seven spring practices with Gruner out and Smith already limited because of offseason shoulder surgery. Recently, he's been sidelined with a slight tear in his upper back muscle.
Locksley wants offensive production from his starter. Last season, the Lobos ranked 103rd in total offense (315.33 yards per game) and 113th in scoring offense (16.33 points per game).
"The big thing with quarterbacks, and I think Bill Parcels may have said it best, is that statistics don't mean anything at the quarterback position" Locksley said. "The big thing for quarterbacks is, which guy is going to get his team in the end zone? Obviously, we had our scoring woes last year, especially early on, not really scoring a touchdown until like game three. And so I would say the most important thing for the quarterback that starts for us is going to be the guy that gives us the best chance of moving the ball, taking care of the ball, and getting it into the end zone."
February, 18, 2010
2/18/10
11:00
AM ET
Here's a breakdown of three issues facing each program heading into the spring:

Air Force Falcons
Spring practice starts:
Feb. 18
Spring game:
March 17
What to watch:
Air Force is in a comfy position because it has all of its passing, rushing and scoring back from 2009. The biggest key to next season will be the play of quarterback Tim Jefferson. He didn't get to go through spring football last year, so this should help the Falcons even more for 2010.
While all of the offensive skill positions return, the offensive line is depleted. All five starters are gone and while there are competent backups ready, they'll need to use the spring to get on the same page and continue to open holes for the Falcons' triple option.
The defense returns six starters, but they'll be learning under a new full-time defensive coordinator in Matt Wallerstedt. Wallerstedt was the co-defensive coordinator last year, but it will be interesting to see what twists he adds to one of the NCAA's best defenses in 2009.

BYU Cougars
Spring practice starts:
March 15
Spring game:
April 10
What to watch:
The top position battle for the Cougars this season will be at quarterback. Riley Nelson has the edge since he was Max Hall's backup last year, but returning missionary James Lark and early enrollee Jake Heaps will be in the mix, too. The Cougars will add one more quarterback competitor in the fall.
Tight end is another interesting competition since both Dennis Pitta and Andrew George are gone. Devin Mahina, Richard Wilson and Mike Muehlmann all will be competing for that starting spot.
The Cougars lost their entire starting defensive line and four of the six on the depth chart. The other two players on the two-deep played and there are some returning missionaries that could step in and help right away.

Colorado State Rams
Spring practice starts:
March 25
Spring game:
April 24
What to watch:
Quarterback seems to be the popular question for the Colorado State in the spring. This year, there's much anticipation over early enrollee Pete Thomas. Thomas will challenge senior Jon Eastman, junior T.J. Borcky, and redshirt freshman Nico Ranieri. Borcky will also play wide receiver.
A year ago, the offensive line was a position of strength for the Rams, this year they're trying to replace four starters and the only returner, tackle Paul Madsen, didn't even start the entire seasons. Guard Jake Gdowski and tackle Mark Starr figure to be in the mix along with several redshirt freshmen and sophomores.
The defense should be a strength for the Rams this year. They lose just two starters and return 24 lettermen, including linebacker Ricky Brewer, who was an all-conference performer in 2008 but was suspended all of 2009.

New Mexico Lobos
Spring practice starts:
March 23
Spring game:
April 17
What to watch:
With Donovan Porterie still waiting to hear about a sixth year, there will be a quarterback competition this spring. Sophomore B.R. Holbrook is the favorite against juniors Tate Smith and Brad Gruner, but the spring winner will have to fend off top recruits Tarean Austin and Stump Godfrey in the fall.
Running back Terence Brown, who was the penciled in starter last season before tearing his ACL in the spring, will once again be the favorite to win the top rushing spot for the Lobos. While two freshmen and a sophomore manned the position last year, the Lobos ranked 110th in rushing.
In making the running game better, the Lobos have to get better on the offensive line. They lose three starters, including center Erik Cook. There are a few young players waiting in the wings, and the Lobos added three more in this recruiting class.

San Diego State Aztecs
Spring practice starts:
Feb. 20
Spring game:
March 20
What to watch:
The biggest issue facing San Diego State has got to be its running game and coach Brady Hoke has stockpiled running backs in an effort to solve the problem. Dwayne Garrett, Adam Muema and Deonte Williams will compete for backfield playing time with returning starter Brandon Sullivan, backup Davon Brown, and three other running backs who were signed in the 2009 class. as well as, Atiyyah Henderson, who is trying to get a sixth year of eligibility. Figuring out which of those players can balance this offense will be the spring focus.
The offensive line also will be an interesting competition to watch. Since Hoke didn't recruit any offensive linemen in his first class and has to replace seniors at right tackle and left guard, the Aztecs brought in junior college linemen Juan Bolanos, Riley Gauld and Joe Unga to compete immediately.
The search for speed on the edges of the defense will begin this spring as defensive coordinator Rocky Long looks to get better at defensive end and at the Aztecs hybrid position. Perry Jackson is the only defensive end joining the Aztecs this spring and they return both of their starting ends from last season.

TCU Horned Frogs
Spring practice starts:
March 24
Spring game:
April 10
What to watch:
Replacing All-American defensive end Jerry Hughes will be a big task, but TCU has a history of finding diamonds in the rough. In fact, when Hughes replaced Chase Ortiz, no one knew who he was. D.J. Yendrey, who played defensive tackle last season, and Braylon Broughton, who was Hughes' backup, will compete for the starting role.
The Horned Frogs will look for a replacement for Clint Gresham at deep snapper. Gresham was the team's deep snapper for the past three seasons and in that time TCU never had a bad snap.
Aundre Dean, a running back transfer from UCLA will work at strong safety this spring. He worked out at strong safety some last season, but now the move will likely be permanent. It's just as well. The Horned Frogs have a quite a few running backs lining up for playing time.

UNLV Rebels
Spring practice starts:
March 15
Spring game:
April 17
What to watch:
UNLV's offense will undergo a makeover with new coach Bobby Hauck at the helm. Instead of the spread style that the Rebels ran the past five season, they'll switch to a more run-based, possession attack. The transition shouldn't take long to master, but finding the right players to run the scheme will be a chore.
One of the top goals this spring will be finding a more consistent power attack that goes along with Hauck's offensive coaching philosophy. Channing Trotter was the Rebels top rusher with 479 yards and eight touchdowns, but the next two top rushers were the Rebels' quarterbacks. UNLV ranked 86th in the country in rushing with 126.83 yards per game.
The speed defense will also be a focus this spring as the Rebels struggled against the run (220.58 yards per game allowed) and ranked 106th in sacks and 117th in tackles for loss. Only two starters from the defensive line return and the depth is not experienced, so finding some players to fill those holes will be a major concern.

Utah Utes
Spring practice starts:
March 9
Spring game:
April 17
What to watch:
One of the things to watch this spring is the development of junior college transfer John Cullen and how he fills in for departed senior Zane Beadles at left end. Cullen was brought in specifically to fill that hole and him jelling with the rest of the line will be important for quarterback Jordan Wynn this spring.
The defensive end position is up for grabs this spring with transfer James Aiono, Junior Tui'one, Christian Cox, Nai Fotu and Lei Talamaivao, who is moving from tackle to end. Talamaivao won the starting defensive tackle spot twice, but suffered a broken leg in each of those years.
Former backup quarterback Chad Manis is set to be the starting middle linebacker for the Utes. Manis spent some of last year still working at the quarterback position while making the transition to linebacker. The Utes lost all of their starting linebackers from 2009.

Wyoming Cowboys
Spring practice starts:
March 6
Spring game:
April 17
What to watch:
Wyoming will spend the spring transitioning from a 3-4 to a 4-3 base defense. The Cowboys, who allowed 393.31 yards per game and 27.31 points per game, will still be multiple, but will work out of the 4-3.
The Cowboys graduated both of their top defensive ends, so they moved Gabe Knapton and Josh Biezuns, two of their better defensive players, to defensive end. Knapton ranked second on the team in tackles and Biezuns was third on the team in sacks and tackles for loss.
With Knapton and Biezuns moving to the defensive line, the Cowboys will be entertaining some competition at linebacker this spring. Players such as Ghaali Muhammad and Ben Durbin, who both played in 2009, will have the opportunity to earn starting roles.