NCF Nation:

Tavares Pressley
June, 8, 2010
6/08/10
11:00
AM ET
Florida State fans can rest assured their quarterback situation is in good hands. After all, how many other teams could lose their starter and have the backup earn MVP honors in a Gator Bowl win?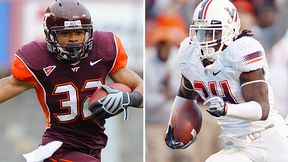 US PresswireVirginia Tech has the luxury of two 1,000-yard rushers in the same backfield.
E.J. Manuel
proved
Christian Ponder
isn't irreplaceable last season, and that's a good thing for a program vying to win the Atlantic Division title in the first season under Jimbo Fisher. When it comes to the offense, there isn't much Florida State is missing, but the Seminoles are just one of several teams in the ACC prepared to replace key players if need be.
The deepest position throughout the ACC appears to be at running back, where numerous programs have to figure out how to divvy up the carries this fall. Clemson, Florida State, Georgia Tech, Maryland, Miami, North Carolina, Wake Forest and Virginia Tech are all at least two deep at the position -- at least. The Hokies are fortunate enough to have two former backups turned 1,000-yard rushers in
Darren Evans
and
Ryan Williams
, both of whom got their opportunities at the expense of an injured teammate.
At Florida State, running back
Chris Thompson
passed
Jermaine Thomas
on the unofficial post-spring depth chart, but there's also
Lonnie Pryor
,
Tavares Pressley
,
Ty Jones
and junior-college transfer Debrale Smiley, who is a fullback/tailback like Pryor. Both Florida State and Boston College return at least four starters each on their offensive lines, which immediately helps the depth there.
Miami has four returning receivers who had at least 200 yards receiving a year ago, and Duke had so much depth at receiver that it was able to move one of its top four pass-catchers --
Johnny Williams
-- to cornerback this past spring.
Miami is also stocked on the defensive line, where the defensive ends go about three-deep on each side. The same can be said at Clemson, which returns three starters on the defensive line, and can also depend upon DE Andre Branch (38 tackles, 7.5 for loss) and DE Malliciah Goodman (26 tackles, 6.0 for loss).
Maryland returns all three of its starting linebackers and their backups. At Boston College, defensive coordinator Bill McGovern's scheme utilizes a lot of players, which helps continue the strong defensive tradition there because the players are always prepared. Reserves from 2009 such as CB Donnie Fletcher (51 tackles), DE Brad Newman (45 tackles), LB Dominick LeGrande (36 tackles), LB Anthony DiSanzo (28 tackles) and CB Isaac Johnson (27 tackles) all saw significant playing time.
No team in the ACC, though, is as loaded on defense as North Carolina, which returns nine starters. They have combined for 234career starts -- the most of any team in the ACC, with S Deunta Williams and CB Kendric Burney making 38 starts each. The challenge for Butch Davis this fall will be getting the backups some playing time in preparation for 2011.
The goal of course for all coaches is to use their backups when they want to -- not when they have to.
August, 21, 2008
8/21/08
8:53
AM ET
Posted by ESPN.com's Heather Dinich
One more member of the Wolfpack just got voted off of Quarterback Island. Freshman Mike Glennon will redshirt this year to learn the offense. What started out as a five-man competition is now down to two -- Russell Wilson and Daniel Evans.
Odds are both play. (Where have we heard that before this summer? Miami, Maryland, Virginia Tech ...)
Smart move, especially considering Glennon has guys in front of him who know the offense better. While I trust Tom O'Brien's judgment on his quarterbacks, the fact that he withheld passing stats from the media (and in turn Steve Spurrier) for the second straight scrimmage is a little much. Either you've got a quarterback or you don't.
FSU offensive coordinator Jimbo Fisher has three, and he's prepared to wait longer if he has to before he names the Seminoles' starter for the season opener.
Nobody in Tallahassee seems to be willing to wait, though, for late-arriving running back Tavares Pressley to learn the offense.
The offense isn't the problem for senior wide receiver Richard Goodman -- his knee is.
Here's more from around the league:
* Wake Forest corner Alphonso Smith is trying to fuel the rumor that his team is pretty darn good. One more winning season would certainly help.
Wake Forest fans have been asking about Skylar Jones. Well, he's a heck of an athlete, but barring something crazy happening, he's not going to play this season. Here's further evidence why -- they don't need him to.
* Miami is practicing at 5:30 a.m. on Friday. Wake-up call, anyone?
* Keep an eye out for Boston College linebacker Mark Herzlich this season. The NFL certainly is. Not only is he an incredible athlete, but he's also well-spoken and a good guy.
* If Virginia fans are looking for some sort of a sign that everything is going to be OK this season, they might want to look outside the stadium. The university just banned signs at games.
* Clemson beat writer Paul Strelow sat down with the university president and asked some important questions about Tommy Bowden and the football program. Here's a lighter Clemson story with a neat twist on the Alabama game.
* This future Hokie might have earned a scholarship by not following directions, and he couldn't be happier.
* Terence Moore and I are on the same page when it comes to Paul Johnson -- it's only a matter of time.
* Here's a more extensive breakdown of Deacon Tower, one of the places I got to visit this summer.
August, 14, 2008
8/14/08
8:58
AM ET
Posted by ESPN.com's Heather Dinich
CHAPEL HILL, N.C. -- Morning, ACC fans. Getting ready to roll out to Winston-Salem today, but not before we check out the small disagreement between Joe Tiller and Paul Johnson.
Regarding the transfer of former Tech receiver D.J. Donley, Purdue coach Joe Tiller says the Yellow Jackets are "dragging their feet."
This Yellow Jacket isn't. With Josh Nesbitt listed as day-to-day for a shoulder injury, backup Jaybo Shaw has no time to stand around against the first-team defense.
Boston College coach Jeff Jagodzinski certainly doesn't have to worry about his defense. But can the offense get a first down by the season opener?
Maryland can, if Ralph Friedgen ever decides on a starting quarterback or three.
Randy Shannon needs to name a starter, too. That news could come any time next week, and Friday's scrimmage is a good time for one of them to make a move.
The quarterbacks aren't the only ones working to make an impression, though. Not that Marcus Forston hasn't made one already.
Has sophomore safety JoJo Nicolas already earned the starting nod? Some people think so.
Miami had four players miss practice with "nagging injuries."
NC State receiver Geron James is finally healthy and seems to have everything in order this season, but how much of an impact can he have after missing the first season in Tom O'Brien's system? At this point, maybe he should switch to safety.
Virginia linebacker Denzel Burrell is done with his crutches and in a "dogfight" for the spot opposite Clint Sintim at outside linebacker.
When will Tavares Pressley, Florida State's transfer running back, finally start practicing? It looks like it's still dragging on. Once he finally arrives, how will it affect the position? Not much, other than boosting the competition.
After a bleak outlook early on, Florida State's offensive line is quickly progressing. Not that they didn't have a little motivation.
At Clemson, Mason Cloy appears to be a player who can help out an offensive line trying to replace four starters.
Duke offensive lineman Cameron Goldberg seems ready to make the most of his second chance.
Here's more on the man I'll be visiting today at 2:30 p.m., followed by a scrimmage. Much of Jim Grobe's success has come as a result of his emphasis on defense. Can the Demon Deacons repeat last year's defensive scoring?
I'll let you know later this afternoon.