NCF Nation:

Taylor Embree
October, 26, 2011
10/26/11
9:00
AM ET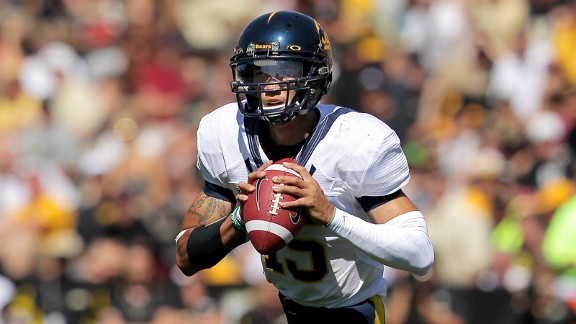 Doug Pensinger/Getty ImagesZach Maynard, like the rest of the Cal team, has been inconsistent this season.
A coach walks into his pregame locker room. He looks at his team. And he really has no idea how it will play.
That's a reality that more than few coaches have owned up to, if reluctantly. A good week of practice more often than not leads to at least a solid performance. But sometimes it doesn't. And sometimes a poor-to-middling week of practice yields a team on fire.
California turned in its most complete performance of the year while dominating Utah 34-10 last weekend. The Bears, coach Jeff Tedford said, had a good week of practice. They seemed to hold onto their confidence, despite losing 30-9 to USC in their previous game -- a second-consecutive Thursday night blowout on ESPN.
Still, he didn't know that the Bears would come together in all three phases as they did against the Utes.
"I have no idea before the game if they are ready or not," Tedford said. "I've given up on that because sometimes you think they are really ready and they're not. And other times they're quiet and you think, 'These guys got to get ready!' And they play great."
The next step, of course, is doing it again, starting against UCLA in the Rose Bowl on Saturday. Or perhaps doing it even better.
Yet, as Cal fans are more than aware, consistency has been a big bugaboo for the Bears during recent seasons.
In 2009, a 3-0 start was followed by consecutive defeats to Oregon and USC by a combined count of 72-6. Then the Bears won three in a row again. Then they got drubbed 31-14 in Berkeley by Oregon State. They upset Arizona and Stanford. Then they lost to underdogs, Washington and then Utah in a bowl game.
Last season, it was the same. Whip UCLA 35-7, lose to USC 48-14. Blow out Arizona State 50-17. Fold at Oregon State 35-7. Nearly upset Oregon, then lose the last two games to finish 5-7, Tedford's first losing team.
Up and down. Hope and despair. Corners turned. Corners turned into oncoming traffic.
At 4-3, which isn't so bad, and 1-3 in Pac-12 play, which sorta is, Cal's season still could go either way. But there are reasons for hope, if you are in the mood for positive spin.
The Bears likely will be favored in their next three games. A potential four-game winning streak would get theme to seven wins -- and bowl eligibility -- before rugged road trips to Stanford and Arizona State to conclude the season.
Perhaps a confident team riding a winning streak might steal one of those, and suddenly it's a nice season with a bowl game ahead and great promise for 2012.
Ah, yes, but that scenario requires consistency, as in the Bears showing up like they did against the Utes in all three phases every weekend.
The foundation for hope that can happen was a strong, bounce-back effort from quarterback
Zach Maynard
against the Utes. After putting together progressively worse performances during the 0-3 start to conference play, Maynard showed mental toughness by shaking that off and playing well against the Utes. He completed 19 of 35 passes for 255 yards with a touchdown and no interceptions and he rushed for 36 yards and a score.
Long touted as a dual-threat, Maynard did much of his damage out of the pocket on roll-outs -- finally -- and forced a good Utes defense to account for him as a runner. It might be premature to play the "something clicked" card, but it's not far-fetched to entertain the notion.
"I think the game slowed down for him a little bit," Tedford said. "I think the week before he was trying a little too hard and forced a couple of things."
Tedford said that Maynard, who transferred from Buffalo last year, played with more composure, perhaps feeling more comfortable with the routines of preparation as well as the speed of the game in the Pac-12.
On the other sideline, UCLA looks like a team in disarray. Not only is coach Rick Neuheisel on the hottest seat in the conference, not only are the Bruins coming off an embarrassing 48-12 blowout loss at Arizona, but they also will have six players suspended from the game due to a brawl with the Wildcats: defensive tackle Cassius Marsh, offensive guard Albert Cid (first-half suspension) and wide receivers
Taylor Embree
,
Randall Carroll
,
Ricky Marvray
and
Shaquelle Evans
.
But Cal is not in position to take anything for granted. Tedford noted it will take a mature team to "not get complacent with one win."
Many Bears fans are taking the measure of their program this year. And that means taking the measure of Tedford.
Cal should win its next three games. If it does, things will cool down. If not, the grumbling around the program will only increase.
October, 22, 2011
10/22/11
10:25
AM ET
More often than not, a bar-room brawl is entertaining to watch -- in a bar room as well as just before halftime in a college football game -- but it almost always has bad repercussions for the participants.


And that's the case for the 10 Arizona and UCLA players who opted to
go nuts with 0:04 remaining before halftime
Thursday, immediately after a streaker interrupted play.
The Pac-12 announced suspensions for all 10 Friday night, and neither team has the depth to make the personnel hits not matter.
In the immediate aftermath of the fight, UCLA senior receiver
Taylor Embree
and Arizona sophomore cornerback Shaquille Richardson were penalized by on-field officials for unsportsmanlike conduct and ejected for fighting. The penalty, by NCAA rule, required the individuals to sit out the second half of the game.
In addition to the on-field penalties assessed to Embree and Richardson, and based on further review of available game footage, the Pac-12 extended an additional one-game suspension for both players.
The suspensions will occur during the next scheduled contest. Both teams play on Oct. 29: UCLA plays host to California, and Arizona is at Washington.
The Pac-12 also suspended eight other players who engaged in the on-field incident. Those penalties are as follows:
UCLA
Sophomore guard Alberto Cid - Half-game suspension
Sophomore wide receiver
Randall Carroll
- One-game suspension
Sophomore wide receiver Shaq Evans - One-game suspension
Sophomore wide receiver
Ricky Marvray
- One-game suspension
Sophomore defensive tackle Cassius Marsh - Two-game suspension (consecutive games)
Arizona
Senior cornerback Lyle Brown - Half-game suspension
Junior strong safety Mark Watley - Half-game suspension
Freshman nickelback Jourdon Grandon - One-game suspension
"The Conference is extremely disappointed in the actions of the student-athletes involved in this incident. It is unacceptable behavior and violated Conference rules, as well as NCAA fighting rules. I have taken these actions today because it is imperative that we hold our student-athletes and coaches to the highest standards of sportsmanship," Pac-12 commissioner Larry Scott
For UCLA, the suspensions will hit an already struggling passing game hard -- three receivers will be out next weekend. Arizona's secondary already has seen multiple starters lost to injury, so losing three defensive backs in advance of a visit to Washington, where it will face quarterback
Keith Price
and a deep crew of receivers, is especially troublesome.
In other words, these suspension hurt two teams that can't afford to be hurt.
LA Times
on the suspension
. The
Orange County Register
. And the
Tucson Citizen
.
October, 21, 2011
10/21/11
12:29
PM ET
From a sports entertainment perspective, Arizona's 48-12 beatdown of UCLA was awful.


While Wildcats fans certainly enjoyed it -- and deserved it after watching 10 consecutive defeats to FBS foes -- the Bruins' utter lack of resistance was embarrassing for the program and for coach Rick Neuheisel.
And it looked like, by the way, the Bruins got
the worst of it in the pre-halftime brawl
, which started -- strangely -- just after a streaker dashed onto the field dressed as an official and then was tackled, arrested and will certainly disappear back into the complete anonymity from which he came. Only now with a record. Congrats.
Streakers and brawls break up the droning of a bad football game -- hey, look at that! -- but they also produce ramifications.
Arizona cornerback Shaquille Richardson and UCLA receiver
Taylor Embree
, son of Colorado coach Jon Embree, were ejected for committing flagrant personal fouls. Both will face suspensions, and the Pac-12 likely will hand out more when it reviews game film.
From the
Arizona Daily Star
:
According to the NCAA rule book, if video review "of a game by a conference reveals plays involving flagrant personal fouls that game officials did not call, the conference may impose sanctions prior to the next scheduled game."
Translation: If video review finds players who threw punches or players that left the bench, those players might not be in uniform next week. Also, according to the rule book, players ejected because of a flagrant personal foul "shall automatically initiate a video review for possible additional sanctions before the next scheduled game."
Richardson, you might recall, originally signed with UCLA but left the program after he and fellow incoming freshmen, receiver
Paul Richardson
and linebacker Josh Shirley were
arrested for suspicion of felony theft
after allegedly stealing a student's bag on campus. Paul Richardson transferred to Colorado, Shirley to Washington. UCLA could use all three, by the way.
More on the brawl here
.
October, 2, 2011
10/02/11
1:05
AM ET
PALO ALTO, Calif. -- Stanford picked up its second touchdown off a UCLA turnover. First, it was a forced fumble in the second quarter that led to a 2-yard
Stepfan Taylor
run.
In the third quarter, it was a booted punt return from UCLA's
Taylor Embree
. Rather than calling a fair catch, Embree was hit by Stanford's
Ty Montgomery
just as he caught the ball. Montgomery caused the fumble and recovered it at the 39. That set up a 16-yard touchdown run from
Tyler Gaffney
, who was working at quarterback out of the Wildcat formation.
Two turnovers, two touchdowns. Pretty good ratio. Good teams make you pay for your mistake. And right now the Stanford offense is taxing UCLA.
Cardinal lead 31-13 at the end of the third quarter.
March, 25, 2011
3/25/11
1:00
PM ET
Last summer, we took a look at "
three-headed monsters
" -- elite combinations of quarterback, running back and receiver in the conference.
Seems reasonable that we revisit the idea this spring. (And we may revisit our revisitation this summer, when some position battles begin to clear up).
Ranking these isn't easy. The challenge is priority and value. What if a team is, say, outstanding at running back and receiver but inexperienced at quarterback? How does that measure up with a team that is merely good but also experienced at all three positions?
The only "pure" three-headed monsters in the Pac-12 are Arizona and USC, in that the Wildcats and Trojans welcome back their quarterback, leading rusher and leading receiver.
Arizona

QB
Nick Foles
, RB
Keola Antolin
, WR
Juron Criner
USC

QB
Matt Barkley
, RB
Marc Tyler
, WR
Robert Woods
California, Utah and Washington get "incompletes" because we have no idea who will be the starter at at least one position, though the Utes and Huskies are pretty strong at two of the spots. This summer, after spring practices have possibly created a pecking order, we'll likely be able to include them in our overall ranking.
Utah

QB
Jordan Wynn
, RB ?, WR
DeVonte Christopher
Washington

QB ?, RB
Chris Polk
, WR
Jermaine Kearse
California

QB ?, RB
Isi Sofele
, WR
Marvin Jones
So, of those nine remaining, here's our ranking:

1. Stanford

QB
Andrew Luck
, RB
Stepfan Taylor
, WR
Chris Owusu
The skinny
: Luck is the best QB in the country. Taylor rushed for 1,137 yards and 15 TDs in 2010. Owusu, when healthy, is the Cardinal's most dangerous receiver.

2. Oregon

QB
Darron Thomas
, RB
LaMichael James
, WR
Lavasier Tuinei
The skinny
: James is the best RB in the country. Thomas is one of the nation's best QBs. Tuinei is a big target who caught 36 passes last year. You could flip the Cardinal and Ducks here and probably not get much argument from neutral observers. (Neutral observers, Ducks fans).

3. Arizona

QB Nick Foles, RB Keola Antolin, WR Juron Criner
The skinny
: Foles and Criner are the best pass-catch combination on the list. Antolin struggled to stay healthy but he rushed for 668 yards last year.

4. USC

QB Matt Barkley, RB Marc Tyler, WR Robert Woods
The skinny
: It's possible Barkley and Woods will challenge Foles and Criner for best pass-catch combination this fall -- Woods, after all, was a true freshman in 2010. Tyler struggles to stay healthy but rushed for 913 yards and nine TDs in 2010.

5. Washington State

QB
Jeff Tuel
, RB
Logwone Mitz
, WR
Marquess Wilson
The skinny
: Lookie here! The Cougs on a list! Wilson ranked second in the conference as a true freshman with 83.8 yards receiving per game, averaging a strong 18.3 yards per catch. Folks who pay attention know Tuel can play. Mitz was the Cougars' second-leading rusher.

6. Colorado

QB
Tyler Hansen
, RB
Rodney Stewart
, WR
Paul Richardson
The skinny
: Hansen is experienced -- 16 starts --and has looked good at times. Stewart rushed for 1,318 yards last season. Richardson, a UCLA transfer, caught 34 passes for 514 yards with six TDs as a true freshman and looks like a budding star.

7. Oregon State

QB
Ryan Katz
, RB
Ryan McCants
, WR
Markus Wheaton
The skinny
: The Beavers would look even better here if WR
James Rodgers
were certain to be healthy. He and Wheaton are a strong combo. Katz flashed plenty of ability last year. The issue is running back: McCants is merely the first in line to replace
Jacquizz Rodgers
.

8. Arizona State

QB
Brock Osweiler
, RB
Cameron Marshall
, WR
Mike Willie
The skinny
: This is a solid threesome that lacks star-power. Osweiler was outstanding at the end of the year when he replace an injured -- and now retired --
Steven Threet
. Marshall led the Sun Devils with 787 yards rushing and nine TDs. Willie was the second-leading receiver with 36 receptions for 442 yards with six TDs.

9. UCLA

QB
Richard Brehaut
/
Kevin Prince
, RB
Johnathan Franklin
, WR
Taylor Embree
The skinny
: The Bruins maybe should have been left off this list with the "incompletes" because we don't know what will happen at QB. But Prince and Brehaut have plenty of starting experience, Franklin rushed for 1,167 yards and eight TDs -- let's not recall the fumbling issues -- and Embree has finished first or second on the Bruins in catches and receiving yards in each of his first three seasons.
July, 27, 2010
7/27/10
1:30
PM ET
Receiver is a difficult position to evaluate this year. Just about every team has a solid (or better) lead receiver back and some intriguing, but inexperienced, talent around him. But, other than Washington, no team should feel completely secure.
There is, however, a lot of potential at the position. Many of the names below who appear as secondary options could end up competing for All-Pac-10 spots.
Note: Tight ends and running backs don't count here.
Great shape
Washington: The Huskies entire two-deep is back, topped by second-team All-Pac-10 pick Jermaine Kearse and Devin Aguilar, who ranked seventh in the conference in receiving yards per game in 2009. James Johnson was probably the best freshman receiver in the conference last year.
Good shape
[+] Enlarge

AP Photo/Ben MargotOregon State's James Rodgers caught 91 passes for 1,034 yards and nine TDs last year.
We'll see
California: The Bears only lose No. 2 WR Verran Tucker and the underwhelming Nyan Boateng, but, other than Marvin Jones, they didn't get much production here in 2009.

Arizona State: The Sun Devils lost their top-two WRs, but the cupboard isn't empty, with Oregon transfer Aaron Pflugrad, who would have started for the Ducks in 2009, and JC transfer George Bell, Gerell Robinson, Jamal Miles and Kerry Taylor. Still, it's not a proven group.

Washington State: The Cougars went through spring with just four scholarship receivers, a crew topped by Jared Karstetter and Gino Simone. The incoming recruiting class features five receivers, and at least a couple will get on the field. The Cougars are OK here but they did rank last in the conference in passing in 2009.
June, 25, 2009
6/25/09
12:01
PM ET
Posted by ESPN.com's Ted Miller
If you just want to cut to the chase, he's the best offensive coordinator in the history of college football.
In 33 seasons at the collegiate level, Norm Chow has been part of three national championships, guided three Heisman Trophy winners, coached eight of the NCAA's top 30 in career passing efficiency and produced six first-round NFL draft picks at quarterback.
But UCLA's offense stunk last year.
| | |
| --- | --- |
| | |
| | AP Photo/Ric Francis |
| | UCLA offensive coordinator Norm Chow is hoping to see improvement in his offense in 2009. |
It ranked 116th in the nation in rushing, 111th in total offense, 109th in scoring, 109th in passing efficiency and 110th in sacks allowed.
Bad. Very bad.
The good news for Bruins fans, however, is that it seems almost impossible to imagine things not getting better. A lot better, in fact.
It's hard to bet against Chow, 63. His head coach, Rick Neuheisel, also owns a highly respected offensive mind -- though it often appeared that mind was about to explode as TV cameras zeroed in on his reactions to the offensive foibles last fall.
The question is: What are realistic expectations in 2009?
Improving from bad to merely below average might get the Bruins enough juice to win six games, particularly with a defense that should be very good.
But going from bad to average might boost UCLA back into the top half of the Pac-10.
So we thought nothing of calling Chow during his annual Hawaiian get-away to see what he's thinking this off-season.
Taking a quick look backwards: Is there anything you'd change about how you guys ran the offense last year?
Norm Chow: No. I think we were obviously all disappointed. I'm not so sure there was much else we could have done as far as personnel went. We were down to our third quarterback. We started 10 different combinations on the offensive line. Obviously, we were disappointed we didn't do better with just what we were doing. I don't think we could have made dramatic changes. That wasn't our style. We just didn't play well enough and coach well enough.
Considering how successful you've been running offenses, how tough was it for you watching your players struggle to get much of anything going?
NC: It was hard. But it's not about me. It's about our players and their willingness to work, which they did. They played as hard as they could and they did everything we asked them to do. It just didn't work out. It's not their fault. We as coaches have to take the major part of the blame because we didn't get it done. The guys are working hard now and we're looking forward to everything. We've been together for a year now. Prior to us getting there, the quarterbacks told me that we were their fourth different offensive style of ball in four years. What we called 12, [former coach] Karl Dorrell called 92. You go through that four times and it's hard on young guys. Perhaps we should have gone a little slower. We just didn't do what we should have done.
Obviously Rick Neuheisel, a former UCLA quarterback, is an offensive guy. And he's a hands-on head coach. Did you guys ever butt heads during the season?
NC: Not at all. We have respect for each other. We're both trying to get the same things done. We have very similar ideas about offense. No, it was a joy. This past year, of all the years I've ever coached, was the first time I worked with an offensive coach, an offensive-minded head coach. I've always worked with defensive-minded head coaches, both in college and the NFL. They kind of have a tendency to leave you alone. But Rick was very good about suggestions and thoughts. All you're trying to do is get better. We got along very well. In fact, it was fun. He was a joy to work with. He's a nice guy. He's a fun guy. He's an intense guy. He's perfect for the head coaching position at UCLA.
September, 3, 2008
9/03/08
12:35
PM ET
Posted by ESPN.com's Ted Miller
A look inside the Pac-10 this week.

Washington: The heat is on coach Tyrone Willingham, and his likely tall order is producing an upset victory over No. 15 BYU at Husky Stadium this weekend in front of an increasingly disgruntled fan base. It's obvious that the Huskies defense can only do so much with schemes to mask talent gaps. But it's the offense that severely underachieved at Oregon. That should improve this week inside a home stadium where calling audibles at the line of scrimmage will be far easier than inside boisterous Autzen Stadium. The offensive line, which was surprisingly bad against the Ducks, also should feel challenged this week, and a less athletic BYU defense should help. Moreover, offensive coordinator Tim Lappano told reporters he plans to expand the playbook after holding back with so many freshmen in the playing rotation.

Arizona State: The Sun Devils offensive line -- picked apart during the preseason -- mostly passed its first test against Northern Arizona. Give them a gentleman's C, considering the absence of a running game while yielding only one sack. Stanford will offer a far stouter test. For one, the Cardinal feature a veteran defense with nine starters returning. Second, that defense was strong against the run vs. Oregon State but gave up 404 yards passing, which means ASU QB Rudy Carpenter will be firing away. But will he be safe in the pocket? This won't just be a test of the OL, either. It will be a test of whether Carpenter will stick to the plan to get rid of the ball quickly instead of trying to wait for a big play to develop downfield. It's notable, though, that the Beavers rebuilt offensive line only gave up two sacks in 54 pass attempts to the Cardinal.

Oregon State: It's interesting how so many appear to be expecting Penn State to roll through the Beavers. That gets a big "hmmm" here. Are folks supposed to be impressed with the Nittany Lions bludgeoning Coastal Carolina 66-10 with 334 yards on the ground and six rushing TDs? If so, why isn't Arizona getting more hype for its 70-zip win over Idaho, which would beat Coastal Carolina, a team that, apparently, is located on the coast of one of the Carolinas? I see an Oregon State team that will shock Penn State with its speed on the perimeter. If the Beavers maintain something approaching parity in the trenches, this will be a close game. The return of safety Al Afalava also will substantially help the Beavers run defense, which was so porous against Stanford. One caveat: It's also possible that some of OSU's younger players will be wide-eyed playing in front of 107,000-plus at Beaver Stadium, so that could lead to early and critical mistakes.

USC: Which is more important a RB's foot or an LB's finger? While most eyes are on Ohio State RB Beanie Wells' injured foot in anticipation of the Buckeyes Sept. 13 visit to USC, it might be as important to pay attention to Trojans LB Rey Maualuga's broken finger, which he aggravated vs. Virginia while turning in a performance well below the All-American's standards. The thing with a RB's foot -- it becomes obvious when it's injured and the back can't play. With a finger, the feeling is tape it up and go. But it's often worse to play with a seemingly minor injury because it can lead to major mistakes. Recall QB John David Booty playing with an injured hand in the upset loss to Stanford and tossing four interceptions. What if a RB or TE escapes a Maualuga tackle and transforms a routine play into a TD? Moreover, USC has been quietly hit by injuries to its LB depth, most particularly Maualuga's talented backup Chris Galippo (back). At present, Maualuga's backup is true freshman Uona Kaveinga, though Galippo could be back for the Ohio State game.

UCLA: If we can step away from the glow of an upset win over Tennessee for a moment, the present and future reality is the Bruins need to replace three injured offensive starters. Recall: This offense already has a patchwork line and is using its third QB. So who steps in for TE Logan Paulsen (broken foot), WR Marcus Everett (toe) and TB Kahlil Bell (ankle)? Well, Paulsen's replacement Ryan Moya didn't look like a lightweight after leading the Bruins with seven receptions for 65 yards against the Vols -- including the go-ahead 3-yard TD pass with 27 seconds left -- but Paulsen's absence hurts the viability of two-TE sets. With Everett out a few weeks, junior Terrence Austin steps in. He caught five passes for 37 yards against the Vols. Sophomore Dominique Johnson and freshman Taylor Embree both played well against Tennessee, so there's encouraging depth there. And at TB, Raymond Carter jumps to the first team, but count on Rick Neuheisel tapping into his talented freshman class, including Aundre Dean.
August, 29, 2008
8/29/08
1:02
PM ET
Posted by ESPN.com's Ted Miller
How about Stanford! Glad I picked that upset. Wait. I didn't pick that upset. D'oh.