NCF Nation:

Tebucky Jones Jr.
May, 24, 2012
5/24/12
2:00
PM ET
PONTE VEDRA BEACH, Fla. -- I had a chance to catch up with UConn coach Paul Pasqualoni during the Big East spring meetings. We talked about where the quarterback race stands and some of his remaining questions heading into fall practice.
Do you have a front-runner in the race to be your starting quarterback?
PP:
Chandler Whitmer had the best production in the spring game, so I think there are members of the media, and I've been through this before, that like to choose the quarterback. If the members of the media, based on the spring game, were choosing the starting quarterback, Chandler Whitmer would be the front-runner. But I've been in this long enough to know that it's not based on one performance. It's the body of work over an extended period of time. They all did some pretty good things in the spring. Having said that, we're going to come back into preseason camp and we're going to continue the competition but I would like very, very much to make a decision as soon as I can.
[+] Enlarge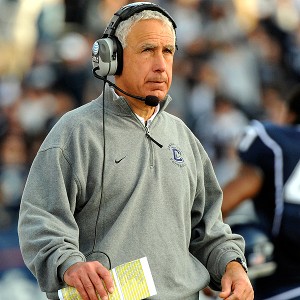 AP Photo/Tomasso DeRosaPaul Pasqualoni still has a decision to make regarding his starting quarterback.
It did drag on into the season opener last year.
PP:
I preferred for that not to happen. Years back when we had Donovan McNabb, Kevin Johnson and Keith Downing all competing, it was the same thing; we were trying to figure it out. We weren't able to do it early in preseason, so we did it in the end to get all the scrimmages in and get all the opportunities to watch and see them play and produce. If we have to, we're going to do that, but if we don't have to, we're not going to do that. I'd like to be able to say tomorrow, 'Here it is, let's go,' but I just can't do that. So we're going to grind it out. It's a big decision, obviously, and we're going to try to make the best, informed decision that we can.
How will you manage the reps with all five still competing?
PP:
We did a great job of managing the reps in the spring, so we'll go back in and we'll manage the reps the same way. They'll each get a significant number of reps. Scotty McCummings will still have the majority of the Wildcat reps, although he works on the entire game plan and we're trying to develop him as a drop-back passer as well. We'll divide them up and we'll do the best we can with it.
If Casey Cochran doesn't emerge as your starter, have you given thought to redshirting him?
PP:
We haven't discussed any of that yet. We really don't talk about redshirting anyone at this point. My policy is I want them coming in with a non-redshirt mentality when they get on campus. My fear has always been if you start to talk that redshirt mentality and they come into camp and they're not ready enough, it affects their conditioning and the way they go through practice. I want them coming in and all competing.
How about the development of your offensive line this spring. Where does that group stand?
PP:
We're anxious to get
Jimmy Bennett
back. He'll be back. He's been cleared, he'll work out full go here in early June. He was really one of our better tackles last year. The biggest issue with Jimmy is to get him ready to go but keep him healthy.
Adam Masters
got nicked up in the spring, we have to get Adam back, and over at right tackle,
Kevin Friend
has been working hard. So if Jimmy's back and Jimmy's playing tackle, it gives us flexibility to put Adam back at guard.
Alex Mateas
and
Tyler Bullock
are competing at center. There are a few freshmen I want to see practice, Tyler Samra, Rennick Bryan. I want to see where they can fit in the top 10. So those are going to be all really big things for us with the offensive line in camp.
How about the defensive line? It seemed Ryan Wirth had a good spring game.
PP:
Ryan Wirth got nicked up but then he came back for the spring game and had a very productive spring game. He's a senior, and we expect to get senior leadership out of him.
Shamar Stephen
,
Angel Pruitt
, I thought
Julian Campenni
had a productive spring until he got hurt. He cut his ear and was unable to play in spring game but he had a productive spring. We're not there yet on the defensive line, and we're not there yet on the offensive line, but we're going in the right direction. We've got the right guys on the bus. It's a matter of getting them in the right seats now.
What are your biggest questions then, aside from quarterback?
PP:
Offensive line, defensive line, and what the depth is going to be at both the tailback position and the wide receiver position.
Losing D.J. Shoemate was obviously tough.
PP:
It was. We know what
Lyle McCombs
can do. But we've got to find out who the next two guys are.
At receiver, Shakim Phillips seemed to have a good spring as well.
PP:
Shakim had a good spring,
Mike Smith
is back and he's played a lot of football for us.
Nick Williams
is back. We've got the two young guys in
Tebucky Jones
and
Geremy Davis
who have done pretty good, and then we moved
Deshon Foxx
out to wide receiver and he showed some promise. I think we know who the older guys are there. Now we have to figure out the younger rookie guys and see what kind of depth we have. I want each of them to have a role. To say that I've got all that figured out right now -- I don't.
June, 28, 2011
6/28/11
8:23
PM ET
We continue our team position rankings today with receiver. This is an area of great potential for plenty of teams around the league, especially with some of the high-octane offenses that we are going to see. Only three teams return their leading receiver from last season. The overriding theme seems to be this: there is a lot of talent, but much of it is unproven. So how are these receivers going to step up?
To make these rankings, I considered returning starters, accolades for returning starters, depth and potential.
[+] Enlarge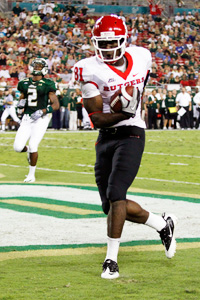 AP Photo/Mike CarlsonMark Harrison caught 44 passes for 829 yards and 9 touchdowns last season.
1. Rutgers.
The Scarlet Knights have proven talent and depth at this position, putting them at the top spot in these rankings. When healthy,
Mark Harrison
and
Mohamed Sanu
form one of the top 1-2 punches in the entire league. Add in
Brandon Coleman
, who had an outstanding spring, along with Tim Wright returning from injury and the top four looks as solid as it gets. Let's not forget incoming speedsters Miles Shuler and Tejay Johnson, who have the potential to play as well.
2. West Virginia.
The Mountaineers have
Tavon Austin
,
Stedman Bailey
and a whole bunch of questions at the position. But with the new offense Dana Holgorsen is bringing in, other receivers have a chance to be more effective. Austin is about as close as you can come to a surefire first-team All-Big East player.
Ryan Nehlen
had a nice spring and could be the surprise of the season. So could
Tyler Urban
, a converted tight end. How will
Brad Starks
do after shoulder surgery? Will
Ivan McCartney
live up to his potential? There is talent here and great potential if everybody lives up to expectations.
3. Cincinnati.
The Bearcats are stocked with talent, but many of these skill players have got to gain experience and fast with
Armon Binns
,
Marcus Barnett
,
Vidal Hazelton
and
Ben Guidugli
gone.
D.J. Woods
is expected to be a first-team All-Big East selection. But beyond he and
Anthony McClung
, you have got young guys -- junior college transfers
Kenbrell Thompkins
and Damon Julian, redshirt freshman Dyjuan Lewis, freshmen Shaq Washington, Chris Moore, Alex Chisum and Max Morrison. Thompkins showed great promise in the spring.
4. Pittsburgh.
The Panthers lose their leading receiver in Jon Baldwin, but the duo of
Mike Shanahan
and
Devin Street
could each be 1,000-yard receivers. Behind them, though, there are some questions and inexperience. Junior
Cameron Saddler
is going to have to step up. Redshirt freshmen
Salath Williams
,
Drew Carswell
, junior college transfer Josh Brinson and true freshman Justin Jackson are all young but have a chance to be big contributors. Pitt also is waiting to hear whether UNC transfer
Brendon Felder
will have his petition for immediate eligibility granted.
5. Syracuse.
The Orange have plenty of solid returning receivers in
Van Chew
,
Marcus Sales
and
Alec Lemon
but what this team is really lacking is big-play potential. In five games last season, Syracuse failed to complete a pass that went longer than 30 yards. In fact,
Ryan Nassib
averaged 6.5 yards per pass attempt. A healthy
Jarrod West
could help those numbers improve.
Dorian Graham
has to work on his hands, too.
6. USF.
The Bulls lose leading receiver
Dontavia Bogan
, but they return injured players
Sterling Griffin
and
A.J. Love
to the mix, which is going to be huge.
Lindsey Lamar
and
Evan Landi
also return, along with
Terrence Mitchell
,
Joel Miller
and
Faron Hornes
.
Deonte Welch
had a nice spring game and is listed as a backup behind Landi. True freshman Andre Davis has the potential to contribute as well. The Bulls have plenty of depth here but there are still some questions about this group, especially with Griffin and Love coming off injuries.
7. Louisville.
The Cardinals lose their top two receivers, and have got to figure out a way to make big plays and stretch the field with a young group.
Josh Bellamy
appears to be the go-to man headed into 2011, and much is going to be expected of
Andrell Smith
and
Michaelee Harris
. Both are coming off injuries and were unable to practice in the spring. True freshmen are most likely going to be relied upon, giving Eli Rogers and DeVante Parker and opportunity to play.
8. Connecticut.
A playmaker has got to emerge from this group to help out whoever is going to be playing quarterback. The Huskies lost leading receiver
Mike Smith
because of academics.
Kashif Moore
,
Ryan Griffin
and
Isiah Moore
return but UConn is going to need some of its redshirt freshmen like
Geremy Davis
and
Tebucky Jones
Jr. to step up. The Huskies are not preparing to run the spread, so the potential for a 1,000-yard receiver in this group is low.
Previous rankings:
TOP 25 SCOREBOARD
Thursday, 12/5
Friday, 12/6
Saturday, 12/7
TOP PERFORMERS