October, 14, 2013
10/14/13
9:00
AM ET
Ohio State still sits atop the Power Rankings, but there has been a significant shake-up after the Buckeyes.

Wisconsin's impressive victory against lifeless Northwestern vaults the Badgers to No. 2, as we consider Gary Andersen's team the closest to Ohio State at this point in the season. Northwestern takes a significant tumble, and Michigan also falls after failing to pull off another escape against Penn State. Nebraska and Michigan State are taking care of business against weak competition, which helps both teams now but won't mean much when the schedule gets tougher in November.
Penn State makes a move in a positive direction following its dramatic win against Michigan in four overtimes. The bottom of the rankings holds steady as most teams were off.
Here's one last look at the
Week 6 rankings
.
Week 7 rankings in three, two, one …
1. Ohio State (6-0, 2-0 Big Ten; last week: 1):
After two hard-fought victories to open Big Ten play, the unbeaten Buckeyes had a well-deserved week off. Their young defensive front seven is starting to blossom, which should help against Iowa's power run game on Saturday at The Shoe. Running back
Carlos Hyde
takes aim at an Iowa defense that has yet to allow a rushing touchdown. Ohio State is halfway to another perfect regular season.
2. Wisconsin (4-2, 2-1; last week: 3):
The Badgers looked refreshed, recharged and exceptionally prepared for Northwestern following their open week. Wisconsin's defense completely flustered Northwestern, particularly on third down, where the Wildcats typically excel.
Melvin Gordon
did his thing and Wisconsin moved the ball despite playing without top receiver
Jared Abbrederis
for most of the game. The schedule is favorable the rest of the way and a 10-2 mark is hardly out of the question. Wisconsin visits Illinois this week.
3. Nebraska (5-1, 2-0; last week: 5):
Credit Nebraska for handling its business against inferior competition and not even flirting with a loss for the second consecutive Big Ten game. The defense once again took a step forward as one-time Purdue recruit
Randy Gregory
had two tackles for loss and a fumble recovery. Backup quarterback
Tommy Armstrong Jr
. struggled, but he had plenty of help from the run game, led by
Ameer Abdullah
(126 rush yards, 1 TD). The Huskers once again are off this week, which should allow top signal-caller
Taylor Martinez
to heal from his toe injury.
4. Michigan State (5-1, 2-0; last week: 6):
Defense always will be the Spartans' bread and butter, but Michigan State is capable of winning games with its offense. Sure, Indiana's defense isn't a great barometer, but Spartans fans have to be encouraged by quarterback
Connor Cook
, running back
Jeremy Langford
and a unit that seems to be gaining more confidence by the week. Like Nebraska, Michigan State is handling its business during a favorable stretch of the schedule, which continues this week against flailing Purdue.
5. Michigan (5-1, 1-1; last week: 2):
The Wolverines twice had flirted with losing in their first five games, only to find a way to pull through. They nearly pulled off another escape at Penn State after a strong second half, but breakdowns in all three phases led to a crushing loss in four overtimes. The defense broke down at the end of regulation, the offense couldn't find the end zone in overtime and the normally reliable
Brendan Gibbons
missed three attempts (one was blocked). Michigan will need to grow up in a hurry to challenge for the Legends Division title.
6. Northwestern (4-2, 0-2; last week: 2):
It's a four-spot drop for the Wildcats, and that might be kind after the egg they laid Saturday in Madison. Northwestern clearly had a hangover from the Ohio State game, although there are some troubling trends on offense, namely the inability to covert manageable third downs, which has been a hallmark of past Wildcats teams. The injuries are piling up for Pat Fitzgerald's crew, as
Venric Mark
(ankle) barely played and
Kain Colter
(ankle) didn't do much at quarterback. Northwestern really needs to get well this week against Minnesota.
7. Penn State (4-2, 1-1; last week: 9):
What do we make of Bill O'Brien's Lions? A week after Penn State's first loss to Indiana -- by 20 points, no less -- the Lions rebounded to outlast Michigan 43-40 in a four-overtime thriller. O'Brien played to win while Michigan's coaches went conservative, and freshman quarterback
Christian Hackenberg
rebounded from some mistakes to lead the game-tying touchdown drive at the end of regulation. This Penn State team isn't as good as its predecessor, but it exhibits the same type of resilience and toughness. Penn State gets a well-deserved week off before heading to Ohio State.
8. Iowa (4-2, 1-1; last week: 7):
The open week arrived at a good time for Iowa, which came out of the Michigan State loss with several injuries, although none of the long-term variety. The Hawkeyes need to reboot
Mark Weisman
and the run game after being shut down by the Spartans. Iowa's defense faces its first major test of the season in Ohio State, which will try to stretch the field. The Hawkeyes last won in Columbus in 1991.
9. Indiana (3-3, 1-1; last week: 8):
The inconsistency that has plagued Indiana through the first half of the season showed up Saturday against Michigan State. The offense had more success against Michigan State's venerated defense than most opponents but still left points on the field. Indiana's defense, meanwhile, took a step back as the Spartans had success both on the ground and through the air. The Hoosiers' quarterback situation took another turn as
Tre Roberson
outperformed
Nate Sudfeld
. IU heads back to the Mitten State this week to face Michigan.
10. Illinois (3-2, 0-1; last week: 10):
The Illini didn't play for the second time in four weeks after struggling on both sides of the ball at Nebraska. If Tim Beckman's squad intends to go bowling, it might need a home upset victory in the next two weeks as it hosts Wisconsin and then Michigan State. Illinois hopes to get defensive lineman
Teko Powell
back from injury before facing the dominant Wisconsin rush attack. Quarterback
Nathan Scheelhaase
must rebound after completing only 50 percent of his passes against Nebraska.
11. Minnesota (4-2, 0-2; last week: 11):
Adversity continues for the Gophers as head coach Jerry Kill has taken a leave of absence as he tries to get his epilepsy under control. Although Minnesota assistants and players know how to adjust without Kill, it doesn't make the situation much easier. The big on-field concern for the Gophers is the schedule, which doesn't get any easier this week against Northwestern. The Gophers are still looking for more explosiveness on offense.
12. Purdue (1-5, 0-2; last week: 12):
There will be better days ahead for
Danny Etling
and the Boilers, but it's very ugly right now. Purdue never challenged Nebraska at Ross-Ade Stadium, and the Boilers' problems on offense clearly go beyond the quarterback position as Etling couldn't get much going. Purdue didn't cross midfield until the fourth quarter. The defense had no answers for Nebraska, which piled up 435 yards. This is a really bad football team, folks, and things don't get easier with Michigan State and Ohio State to follow.
March, 4, 2013
3/04/13
9:00
AM ET
Very little went right for Illinois under first-year coach Tim Beckman last year. After a 2-10 season, the Illini are ready to turn the page and look forward to 2013 when they hit the practice field Tuesday.
I recently caught up with Beckman to ask about the pressing issues his team faces this spring. Here is that Q&A:
[+] Enlarge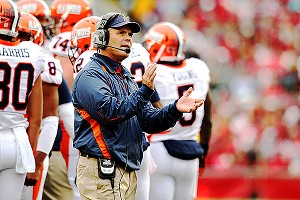 Brace Hemmelgarn/USA TODAY SportsDespite a 2-10 record this past season and a slew of changes on his staff, Illinois' Tim Beckman is full of optimism heading into spring workouts.
You turned over half your staff from last year, with some voluntary departures and some not. What has that been like and how much transition are you going through right now?
Tim Beckman:
Well, it's kind of crazy, because I saw a stat the other day where there's only, like, 22 staffs that haven't changed in college football, so it's been the norm. But I think with the professionalism that coaches have and the guys I've been able to hire into this new family, they're outstanding people. They're professionals, they've been coordinators, they've been head coaches, they've been in great programs. The transition has been good. I've been able to hire two Illini, which is huge, with [receivers coach Mike] Bellamy and [defensive line coach Greg] Colby.
So I think it's been a great transition. Our players have been really excited. With Mike Bellamy, he's been involved with this program for a year. So the kids were pumped when he was hired on staff, because they know him. And now he brings that Illinois flavor to the staff. All the other coaches, we've been working with each other. Jim Bridge was telling me the other day there are four or five other guys that he's been with at other places. So that's one of the unique things, because it's like a fraternity. These guys have worked with one another.
How much will the offense change with new coordinator Bill Cubit?
TB:
Well, it's Bill's offense. It's what Bill was hired for. And that's how it's always been, really, with the coordinators. But I think the uniqueness that Bill has, in coaching against him, is that he's been able to adapt his offense based on personnel. He's had
Jordan White
, a great, great football player. He's had great wide receivers, and he's been able to move them around and adapt his offense to the guys that need to be getting the football.
After a year like last year, what do you do to keep the players' confidence up?
TB:
We went back to a lot of competition, back to a lot of leadership building. We addressed the situation that occurred. I met, as I always do, with each one of the players for 10 minutes. That takes a good week. We did that in December. I asked them what their goals were, because we split up the season into four quarters -- winter workouts, spring practice, summer workouts and then the most important quarter, the season. And I had them set goals for themselves to attain each quarter. So they just wrote out their goals out for spring ball. And I also do the same thing for the team. "What do you want this team to be able to say they can do after each quarter?"
Our motto is win whatever is needed, and win the day. Whatever is needed today for us to become a better and closer football team.
What are your primary concerns for this spring?
TB:
The scenario here is depth. There hasn't been depth. And when you get a young man injured, it hits you drastically because you just don't have that depth. We were able to get 10 young men here in January, five junior college players and five high school players. Junior college wise, there hasn't been a whole bunch here before. There might have been one or two. But we needed to add age to our football team, and that's what the junior college players help us do.
You've only seen the junior college guys in winter workouts so far, but what is your early impression of those guys?
TB:
The first thing that I look at always is how have they been accountability wise. Because it's new. They get in here, and, bam, they're thrown into the fire right away. I'm proud, because they've all been very accountable. We haven't been late for things. Being in school and being a football player hasn't got their minds out of whack or anything like that. They've shown football wise that they can compete, but they've also shown that they're doing a very good job of being accountable on and off the football field.
How do you see the quarterback competition, where you've got a veteran starter in Nathan Scheelhaase but also a guy in Reilly O'Toole who's played a lot and a big-time recruit (Aaron Bailey) coming in?
TB:
As in any position, there's competition. Nathan will go in as the guy, being the starter. Somebody's got to beat him out. But Nathan's won a lot of football games here. We had a tough year, no question, but that's not going to be on Nathan's shoulders. He was getting sacked too many times. All those things you can't have your quarterback doing, getting hit. We've got to get better at protecting our quarterback, and we've got to be able to get the ball out quicker and do those types of things so our quarterback can be successful.
[+] Enlarge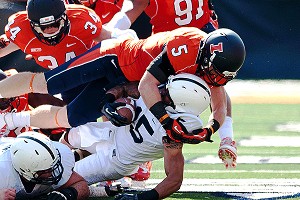 Bradley Leeb/USA TODAY SportsSteve Hull will be trading in delivering hits for making catches on offense this spring.
You talked often last year about the lack of depth at the offensive skill positions. How has that come along?
TB:
It's getting better. Those young men we played with last year have moved up in age. We've taken
Steve Hull
and moved him to offense, so that adds age and depth to that position. Wide receivers and DBs are the big concern here. And we've been able to add freshmen and junior college players to those positions.
Why did you move Hull to receiver?
TB:
He's had some issues with injury. We felt that Steve, for his fifth year, would be better suited to play on the offensive side of the ball to take out maybe some of the direct collisions he was getting as a safety. And he's been great with it. He loves it, and he's emerged as being one of the big vocal leaders on the team.
The offensive line really struggled last year, and you lost two senior starters in Graham Pocic and Hugh Thornton. How does that position group look going into spring?
TB:
Losing the two senior starters, they were dinged up a little bit during the season, so we had to move some players around. But we also had three, really four, players that got a lot of playing time last year. So they should be a year better. I like the philosophy that coach Bridge brings in here as our offensive line coach and what coach Cubit does with the running game. Our offensive line has done a great job these last three months -- and [strength coaches] Aaron Hillman and Dave Andrews get a lot of credit for it -- of getting stronger, getting bigger and doing those things you need to do to be a Big Ten offensive lineman.
You played a lot of freshmen on defense last year, like Monheim and Mike Svetina. Do you expect them to be much farther along this spring because of that experience?
TB:
No question. They're not going to be freshmen that are 18 years old out there starting in the Big Ten. They're going to have a year's experience. We played
Teko Powell
on the defensive line last year so he could gather experience.
V'Angelo Bentley
played a bunch last year as a true freshman, so he got a bunch of experience. Now these players that were just brought in in January, plus the redshirt freshmen, are going to have to step up and be involved in the front and in the back end. You had a guy like a
Jake Howe
, who was playing very good and then broke his hand and was out for the year. You have
Austin Teitsma
, who got quite a few reps last year. Darius Caldwell.
Houston Bates
, who got hurt last year.
Jonathan Brown
. We've got to get those guys back and healthy.
You mentioned concerns about depth in the secondary. What young players do you expect to step up there?
TB:
I think
Eaton Spence
has done a good job for us. V'Angelo Bentley has done a good job. The two freshmen we brought in have done a good job in winter workouts. I haven't seen them on the football field, but they've been doing their change of direction stuff very well. A young man named
Taylor Barton
, a true freshman, has done a good job. Eric Finney, who came in from junior college,
LaKeith Walls
,
B.J. Bello
,
Jevaris Little
-- these are names who have worked extremely hard this season. They're not names a bunch of people know because they've not played yet, other than Spence and Bentley. But these guys have definitely improved.
Have you started identifying leaders on this team yet?
TB:
Well, we have really been pushing it. We've been meeting on it. We've been talking about it as a team and then as individual classes, and then our honor council. We've had a guest speaker come in every Monday and talk about leadership, from military people to a gold medal winner in the wheelchair marathon. So we've really built that in. I've seen players from young and old step up in winter workouts, step up and be leaders. Steve Hull has emerged as a guy who definitely does an outstanding job of leading this football team.
Mason Monheim
, who was a freshman, he's jumped up and taken control.
Earnest Thomas
. Guys that probably weren't as much leaders last year that might not be seniors have jumped up and tried to lead this football team well.
We've got 62 players who are freshmen and sophomores, so there's a big number of guys who have been here three or less years because of redshirts. So we've got to be able to all be leaders in this program, and that's what we're stressing.
Not surprisingly, the fan base was really down on last year. What can you do to create some more optimism?
TB:
I opened up the Friday practices again to the community. This is the University of Illinois. It's our state, our team. We talk about it, and that's the truth. I want to get the community involved in this program. I've always wanted to do that and we're going to do it even more. We're going up to Chicago for a practice. Of course, we've got a game in Chicago at Soldier Field, which is an outstanding opportunity for Illini Nation and those things. We're moving forward.
Nobody was happy with last year. I mean no one. I haven't been involved in that type of year. So we have to move forward and we have to take this program forward. And that's what we asked this football team and this coaching staff to do.
January, 22, 2013
1/22/13
9:00
AM ET
Michigan State fans would understandably disagree, but the Big Ten overall wasn't hit that hard by early departures to the NFL draft this year. Only six Big Ten underclassmen declared for the draft (Note: Purdue linebacker Dwayne Beckford already had been dismissed from the team).
Let's take a quick look back at the winners and losers of the early entries and how the decisions impact several teams going forward.
1. Biggest winner:
Michigan. Almost everyone expected Wolverines left tackle
Taylor Lewan
to enter the draft after earning Big Ten Offensive Linemen of the Year honors and other accolades as a junior. Lewan had been projected by many as a top-15 pick, if not a top-10 pick, and his departure seemed like a foregone conclusion after he held up well against
Jadeveon Clowney
in the Outback Bowl. But Lewan delivered the biggest draft decision surprise -- and a delightful one for Michigan fans -- when
he announced Jan. 9 that he'd return to Ann Arbor
for the 2013 season. He provides a huge boost for a Wolverines offensive line that endured an up-and-down season and loses three starters. Lewan sought advice from former Michigan star tackle Jake Long, who opted to remain in school for his senior season and ended up becoming the No. 1 overall pick in the 2008 draft.
[+] Enlarge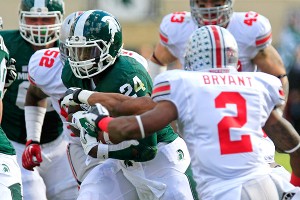 AP Photo/Carlos OsorioMichigan State will certainly miss the production of running back Le'Veon Bell.
2. Biggest loser:
Michigan State. The Big Ten had a smaller than normal group of early NFL departures, but Michigan State accounted for 50 percent (3-of-6) as running back
Le'Veon Bell
, tight end
Dion Sims
and defensive end
William Gholston
all made the jump. None of the early exits comes as a major surprise, as Bell led the nation in carries (382) and ranked third in rushing average (137.9), Sims flashed next-level potential and Gholston clearly has the physical skills to succeed in the NFL. But the departures of both Bell and Sims really sting an offense that lacked consistently productive players. Bell accounted for 92.3 percent of Michigan State's rushing yards and 38.4 percent of MSU's total yards, while Sims had 36 receptions for 475 yards and two touchdowns despite missing time with an ankle injury. A Spartans offense that struggled mightily for most of the season enters the offseason with even more question marks.
3. Head-scratchers:
Lewan's decision comes as a major surprise, as
few saw him slipping below the middle of the first round
in the draft. He could end up leading Michigan to a Big Ten championship and a Rose Bowl berth as a senior, and improve his draft stock in the process, like Long did in 2007 when he earned unanimous All-America honors. But Lewan certainly is gambling a bit, as an injury or a drop in performance could hurt his future earning potential. Michigan State coach
Mark Dantonio reportedly was "taken aback
" by Bell's decision to leave, and some thought Gholston would have benefited from another season after falling short of preseason expectations. But aside from Lewan, the players who left were mostly expected to leave.
4. The replacements
February, 2, 2012
2/02/12
10:30
AM ET
National signing day is in the books, and it's time to evaluate the Big Ten teams and their classes. Although several potential Big Ten recruits are announcing their plans after signing day, most of the classes are complete.
Here's how ESPN Recruiting
graded the Big Ten classes

.
Let's take a look at how teams filled their big recruiting needs:

ILLINOIS
The Illini have had a nice run at defensive tackle with 2011 NFL first-round draft pick Corey Liuget and Akeem Spence, who enters 2012 as a legitimate pro prospect. They solidified the interior line for the future with recruits like
Teko Powell
and
Vontrell Williams
.
INDIANA
It's no secret Indiana needs to make significant upgrades on defense, and coach Kevin Wilson looked to the junior college ranks for help. Indiana added six juco defenders, including cornerback
Tregg Waters
and linebacker
Jacarri Alexander
. These players give the Hoosiers a chance to get better in a hurry.
IOWA
Running back has again become a pressing need for Iowa with the departures of Marcus Coker and Mika'il McCall. While Iowa has lost running backs at an alarming rate, it also has developed young backs very well in recent years. The coaches hope to work their magic with
Greg Garmon
, who could be the most significant recruit of the 2012 class.
MICHIGAN
Arguably no staff in the country makes defensive line a bigger priority than Michigan, which has three coaches, including head man Brady Hoke, focused on the front four. The Wolverines lose standouts Mike Martin and Ryan Van Bergen from the 2011 line, but they addressed the situation in recruiting with pickups like defensive tackle
Ondre Pipkins
and defensive end
Chris Wormley
.
MICHIGAN STATE
Michigan State is creating a nice recruiting pipeline at the wide receiver position. The Spartans lose their top two wideouts from 2011 (B.J. Cunningham and Keshawn Martin) but added several nice receiver pickups in the 2012, including Tennessee transfer
DeAnthony Arnett
and four-star prospects
Monty Madaris
and
Aaron Burbridge
.
MINNESOTA
Quarterback MarQueis Gray returns, and Minnesota needed to get him some help in the passing game after the departure of Da'Jon McKnight. The Gophers added some excellent pickups at the wide receiver position in
Andre McDonald
and
Jamel Harbison
.
NEBRASKA
The Huskers were thin at linebacker in 2011 and lose standout Lavonte David to graduation. Nebraska coaches also have discussed the need to add more traditional linebackers to face Big Ten offenses. Big Red filled the need in the 2012 recruiting classes with players such as
Michael Rose
and
Jared Afalava
.
NORTHWESTERN
Defense has been Northwestern's downfall in the past two years, and the Wildcats need more difference-makers on that side of the ball. They likely landed one in end/linebacker
Ifeadi Odenigbo
, an ESPNU 150 prospect who is Northwestern's most decorated defensive recruit in recent memory. Odenigbo could help immediately as a situational pass-rusher.
OHIO STATE
No Big Ten team made a bigger impact at one position than Ohio State did along the defensive line. The Buckeyes, who were a bit thin up front in 2011, got a lot better with this class, which is headlined by ESPNU 150 prospects
Noah Spence
,
Adolphus Washington
,
Se'Von Pittman
and
Tommy Schutt
.
PENN STATE
Skyler Mornhinweg
's decommitment stings a bit, as Penn State needs more quarterbacks in the mix, but the Nittany Lions also need more difference-makers at wide receiver and tight end. They helped themselves in the 2012 class with wide receiver
Eugene Lewis
, ranked as the nation's No. 34 wideout by ESPN Recruiting. Tight end
Jesse James
is another nice pickup.
PURDUE
Offensive line has been a position of stability for Purdue the past few seasons, but the Boilers lose two starters from the 2011 squad (Dennis Kelly, Nick Mondek) and will say goodbye to several more after 2012. Purdue had to reload up front, and the two highest-rated players in the 2012 class, according to ESPN Recruiting --
Jordan Roos
and
Cameron Cermin
-- all play offensive line.
WISCONSIN
Quarterback is undoubtedly Wisconsin's top priority as
Russell Wilson
departs and Jon Budmayr and Curt Phillips battle back from major injuries. The Badgers needed a signal-caller in a small class and landed a decorated one in
Bart Houston
, a four-star prospect from California powerhouse De La Salle High School.