NCF Nation:

Tennessee Titans
November, 19, 2012
11/19/12
5:00
AM ET
1. The demise of Midwestern college football has been relentlessly chronicled over the 25 years. The population shift to the Sun Belt left fewer players for the Big Ten. The game's emphasis on speed favors warm-weather recruits and the colleges that sign them. A BCS Championship between the last two unbeaten teams, traditional powers from the Rust Belt, would be a powerful tonic. And a Notre Dame-Ohio State game could fall into place next week, if only former Buckeyes head coach Jim Tressel hadn't lied to the NCAA.

2. It may not pass muster under the bowl rules but I want to see Iowa (4-7) play Ole Miss (5-6) in this postseason. The Hawkeyes are 2-4 in games decided by three points or fewer. The Rebels have lost their last two games in the 60th minute. Iowa has been slammed by injuries. Ole Miss is a young, improved team learning hard lessons under first-year coach Hugh Freeze. Both teams could use a break.

3. Derek Dooley didn't win enough (15-21) to get a fourth year at Tennessee. Given the dire financial and roster problems that Dooley inherited when he arrived three years ago, he was doomed. Vince Dooley, his Hall-of-Fame coaching dad, wouldn't have won in that situation, and I'm not so sure that Gen. Robert Neyland, the greatest coach in Vol history, would have, either. Derek Dooley, like Mike Shula at Alabama, served as a bridge across troubled waters. Not that Dooley or Tennessee will find solace in that.

February, 3, 2012
2/03/12
1:23
PM ET
Stanford's recent success just about
Andrew Luck
? That's just silly talk.
If ESPN NFL draft guru Todd McShay is on target with his mock 2012 NFL draft, plenty of evidence to the contrary
will be produced on draft day
.

McShay projects that Luck will be the No. 1 overall pick, of course, but he also projects that Luck will be joined by three teammates in the first round.
How many other teams will produce that many first-round picks? One: National champion Alabama.
The Pac-12 has seven first-round picks in McShay's mock draft.
Here's how McShay sees things, with some comments included.
1. Andrew Luck, QB Stanford (Indianapolis Colts)
2. Matt Kalil, OT, USC (St. Louis Rams)
13. David DeCastro, OG, Stanford (Arizona Cardinals)
This might seem a bit high for a guard, but DeCastro was the most dominant interior offensive lineman in the nation in 2011 and has a chance to develop into one of the elite NFL players at his position. Offensive tackle is also a need area, but DeCastro is a much better overall player than the top available tackle. Cornerback could also be a consideration, but both
Janoris Jenkins
(North Alabama) and
Dre Kirkpatrick
(Alabama) carry off-field baggage.
18. Jonathan Martin, OT, Stanford (San Diego Chargers)
20. Nick Perry, DE, USC (Tennessee Titans)
The Titans have three defensive ends set to become free agents and need a dynamic pass-rusher to complement Derrick Morgan. While Perry is raw, he has good initial burst and natural pass-rush skills. Cornerback, safety and offensive line are also need areas, but Perry makes the most sense in this situation.
26. Coby Fleener, TE, Stanford (Houston Texans)
The Texans would rather get a wideout here to complement Andre Johnson, but Rutgers'
Mohamed Sanu
and South Carolina's
Alshon Jeffery
would be reaches at this point. A difference-maker at tight end would help, though, and Fleener is a reliable target with toughness, a competitive nature and underrated speed/athleticism. He could draw some attention to the middle away from Johnson, and with a deep wideout class Houston could find a quality receiver in the next couple of rounds.
29. Vontaze Burfict, LB, Arizona State (Baltimore Ravens)
Burfict is a physical freak with tremendous athleticism and explosive power. He's a top-20 talent, but questions about his discipline on and off the field are hurting his stock. However, Burfict could contribute immediately and would benefit greatly from the leadership and guidance of Ravens middle linebacker Ray Lewis. And you have to wonder whether the Ravens would press their luck and take another player with character flags after bringing cornerback Jimmy Smith into the fold last year.
Here's McShay's
player rankings
.

Here's Kiper's
Big Board
.

And here's Kiper's
top-five by position
,

which is chock full of Pac-12 players.
Most interesting: Kiper ranks former Arizona State's Brock Osweiler No. 3 among the quarterbacks, ahead of former Arizona's
Nick Foles
, who is fifth. Luck, of course, is No. 1 and Heisman Trophy winner
Robert Griffin
III is No. 2.
If Osweiler ends up getting picked on the first day -- first two rounds -- it certainly will validate his surprising decision to enter the NFL draft.
May, 1, 2011
5/01/11
12:26
PM ET
The Pac-12 provided 37 players to the NFL draft over the weekend, one fewer than the SEC, which led all conferences.
If the six combined picks from Colorado and Utah are taken away from the conference, the old Pac-10 provided NFL teams 3.1 draft picks per team, also just behind the SEC at 3.17.
Here's where the Pac-12 players went:
First round
No. 8
Jake Locker
, QB, Washington: Tennessee
No. 9
Tyron Smith
., OT, USC: Dallas
No. 17
Nate Solder
, OT, Colorado: New England
No. 24
Cameron Jordan
, DE, California: New Orleans
No. 27
Jimmy Smith
, CB, Colorado: Baltimore
Second round

7.
Akeem Ayers
, LB, UCLA: Tennessee
10.
Brooks Reed
, DE, Arizona: Houston
13.
Rahim Moore
, FS, UCLA: Denver
21.
Stephen Paea
, DT, Oregon State: Chicago
24.
Shane Vereen
, RB, California: New England
Third round

13.
Jurrell Casey
, DT, USC: Tennessee
20.
Mason Foster
, LB, Washington: Tampa Bay
25.
Shareece Wright
, CB, USC: San Diego
29.
Christopher Conte
, S, California: Chicago
33.
Sione Fua
, DT, Stanford: Carolina
Fourth round

5.
Jordan Cameron
, TE, USC: Cleveland
19.
Casey Matthews
, LB, Oregon: Philadelphia
21.
Jalil Brown
, CB, Colorado: Kansas City
27.
Owen Marecic
, FB, Stanford: Cleveland
Fifth round

8.
Brandon Burton
, CB, Utah: Minnesota
9.
Gabe Miller
, DE, Oregon State: Kansas City
14.
Jacquizz Rodgers
, RB, Oregon State: Atlanta
23.
Richard Sherman
, CB, Stanford: Seattle
Sixth round

2.
Ryan Whalen
, WR, Stanford: Cincinnati
14.
Caleb Schlauderaff
, OG, Utah: Green Bay
17.
Ronald Johnson
, WR, USC: San Francisco
19.
David Carter
, DT, UCLA: Arizona
22.
Allen Bradford
, RB, USC: Tampa Bay
24.
Mike Mohamed
, LB, California: Denver
32. Ricky Elmore, DE, Arizona: Green Bay
38. Zach Williams, C, Washington State: Carolina
Seventh round

12.
D'Aundre Reed
, DE, Arizona: Minnesota
24.
Scotty McKnight
, WR, Colorado:
New York Jets
30.
Lawrence Guy
, DT, Arizona State: Green Bay
37.
Stanley Havili
, FB, USC: Philadelphia
38.
David Ausberry
, WR, USC: Oakland
39.
Malcolm Smith
, LB, USC: Seattle
By Pac-12 school:

Arizona (3)
Arizona State (1)
California (4)
Colorado (4)
Oregon (1)
Oregon State (3)
Stanford (4)
UCLA (3)
USC (9)
Utah (2)
Washington (2)
Washington State (1)
The final tally by automatic qualifying conferences
:
SEC... 38
Pac-12... 37
Big Ten... 36
ACC... 35
Big East 22
Big 12...19
Nebraska was a big swing to the Big Ten from the Big 12 with seven picks. With Colorado and Nebraska, the Big 12 provided 30 selections.
This was the tally through three rounds
:
SEC: 20
ACC: 19
Pac-12: 15
Big Ten: 13
Big 12: 9
Big East: 4
April, 6, 2011
4/06/11
6:56
PM ET
One half of USC coach Lane Kiffin's Tennessee feudin' is over.
Kiffin, USC and the Tennessee Titans have settled their differences. The Titans last July
filed a lawsuit
against Kiffin and USC for interfering with the contract of running backs coach Kennedy Pola, who was hired to be the Trojans running backs coach.
Most observers (perhaps it was just me) believed the Titans were acting like big babies -- litigious and disingenuous ones at that -- so it's nice to put this to bed.
Here's a joint statement from USC and the Titans on the matter:
"We are pleased to be able to conclude a mutually satisfactory arrangement between the University of Southern California and the Tennessee Titans that concludes the litigation involving the hiring of Kennedy Pola. The settlement terms are private, but include opportunities for both parties to avoid future disagreements and disputes over employment of persons who are already employed by either party. With this amicable resolution, the Tennessee Titans and the University of Southern California have restored their long-time mutual relationship, and anticipate that the suit will be dismissed within the next few weeks."
Kiffin continues to have his NCAA issues based on his brief but colorful tenure coaching the Tennessee Volunteers, who volunteered Kiffin as
their fall guy for rules violations
.
February, 7, 2011
2/07/11
9:00
AM ET
While both Utah and Colorado are joining the Pac-10 to make the conference the Pac-12 this season, Utah might be the more interesting addition.
Colorado comes from the Big 12, an AQ conference. While the Buffaloes have struggled in recent years, they arrive having a pretty good idea what the competition will be like in the Pac-12.
[+] Enlarge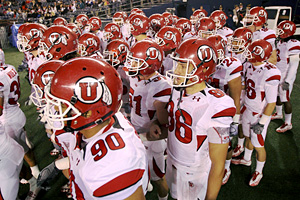 Stephen Dunn/Getty ImagesHow will the Utah Utes handle the competition in an automatic qualifying conference?
Utah is coming from the Mountain West Conference. While the MWC has long been thought of as the best of the non-AQ conferences, there's still a bit of AQ snobbery out there that questions how well the Utes might handle the grind of a nine-game schedule in an AQ conference.
We'll soon find out, but before we do, national and non-AQ blogger Andrea Adelson and Pac-12 blogger Ted Miller decided to chat about it.
Andrea Adelson
: Ted, today marks a momentous milestone. You get custody of Utah, which leaves the ranks of the Little Sisters of the Poor to join the all-mighty Pac-12. Congratulations. So how about a little back on forth on how you think Utah may fare as an automatic qualifying team? We know the Utes were the original BCS busters from among the non-AQs. What are your biggest concerns for Utah headed into uncharted waters?
Ted Miller
: Andrea, glad to take hold of the Utes! Welcome to the new Pac-12 blog! The immediate measure is testing the old axiom that was consistently used against non-AQ schools in the past: While they can beat even an elite AQ team on any given day, they couldn't successfully negotiate the rigors of playing a full slate of games in an AQ conference. The idea is that playing BYU and TCU is tough, but when you throw in Wyoming, New Mexico and UNLV life is much easier. It's about getting ready to play USC one week, Oregon the next and Arizona the week after. Washington State a patsy? Well, the Cougars are a Pac-10 patsy -- at present -- but they won't feel like that after playing Arizona State, Oregon State and Washington. That week in, week out grind is what separates the AQ and non-AQ conferences. At least, that's the theory. And if the Utes go 8-1 or even 6-3 in Pac-12 play in 2011, they could take a big step toward invalidating that theory.
So, knowing what you know about Utah, what do you think will happen? How high are the expectations in Salt Lake for the Utes in Year 1 of Pac-12 play?
AA
: I agree, Ted, I think there is a great unknown about how a non-AQ will do in an AQ conference. I have dismissed those "grind in, grind out" arguments in several debates with other bloggers and Mark Schlabach as well, but there is no question folks will be watching to see how Utah handles better competition on a week-to-week basis. I may be overly optimistic but I have Utah at 9-3 at this point. A lot of it depends on
Jordan Wynn
and how he recovers from his shoulder surgery. Utah gets kudos for hiring Norm Chow to help with the transition. I think Utah fans are very optimistic about their school's chance for success from the outset because of how the Utes have handled themselves against AQ teams in non-conference and bowl games. Utah posted a 21-12 record against teams from AQ conferences since the BCS began in 1998. That is tops among all non-AQ teams. I know the "grind" argument comes into play there, but Utah is generally well-coached and solid in all phases. The one thing that concerns me is the way the Utes played in losses to TCU, Boise State and Notre Dame last season. There were breakdowns all over the field, very uncharacteristic for a Kyle Whittingham team. I saw you had Utah at No. 7 in your
way-too-early Pac-10 preseason 2011 rankings
. Can you give us a more in-depth sense of why you have Utah there?
[+] Enlarge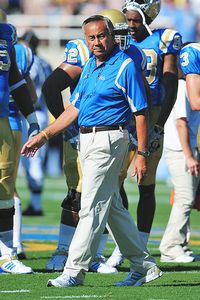 Chris Williams/Icon SMINorm Chow will lead Utah's offense after three seasons at UCLA.
TM
: The good news is Utah will provide an answer to the "grind it out" theory. I'm sure Boise State will be rooting for the Utes to prove the AQ snobs wrong. As for Utah being No. 7 in my power rankings, perhaps that's my AQ bias coming out. But there's annually a little of the ole "throw them into the hat" in the middle of the Pac-12. It's easy to see a top (Oregon and Stanford) and bottom (Colorado and Washington State), but the middle is a bit of a muddle, and that's the case most years. Utah seems to have some questions on both sides of the ball. Sure, Wynn is back, but most of his top weapons are gone at running back and receiver. The defense also takes some personnel hits, particularly in the secondary. As for Chow, well, he's a legend. But his previous three jobs -- USC, Tennessee Titans and UCLA -- ended badly. Is he still really "Norm Chow?" We'll see. I go through Utah's schedule and see 6-6 and think every win over .500 should feel like gravy. It is worth noting that not playing Oregon and Stanford seems like some serendipitous scheduling for Year 1! The schedule was not factored into my power rankings.
Tell me why the other 11 teams should fear the Utes?
AA
: I understand where people say that about Chow given what happened in his past few stops. But he does bring a knowledge of the Pac-12 that nobody else on the Utah staff has, and that should be able to help when it comes to scouting and game planning. Receiver
DeVonte Christopher
showed flashes last season, and the incoming running backs, Harvey Langi and John White, have great potential. Defensively, safety Brian Blechen had a terrific season as a true freshman, and linebackers Chaz Walker and Matt Martinez return, and JJ Williams should be healthy. I think a lot depends on how the offense does under Chow. Will it be radically different from the spread Utah generally runs, and runs well? Can Utah actually score against good teams, something it had trouble with last season? Does Utah have the depth to be able to compete in an automatic qualifying conference? There are definitely personnel questions and questions about joining one of the bigger conferences, so it is impossible to know for sure exactly what will happen. Your guess is as good as mine.
TM
: A couple of things we can agree on. First, it's going to be interesting. If Utah goes 9-3, as you predict, there will be a lot of cheering and a lot of "I told you so" from non-AQ conferences. Particularly since Utah looks like it is in a moderate rebuilding phase with just 13 starters coming back. Neither of us root for teams, but more than a few folks would view that as a positive for college football, increasing respect for some of the so-called "have-nots," even as one of their own becomes a "have." It also will be interesting to see how Utah changes with a seat at the big table. Does recruiting get a big boost? Does Utah get treated differently in the national polls? The Pac-10 becoming the Pac-12 is a significant alteration of the college football landscape. It will be fun to see how things play out.
January, 23, 2011
1/23/11
12:03
PM ET
And so the uncomfortable Norm Chow-UCLA-Rick Neuheisel tango ends. Chow is off to Utah after reaching a "
mutual agreement on the terms of their separation
with the school," and the Bruins' offense moves on with Mike Johnson as offensive coordinator in what appears to be a make-or-break season for Neuheisel.
Neuheisel's staff vacancies aren't all filled, however, which is why he and former Miami coach Randy Shannon are going to chat about a
vacancy at defensive coordinator
.
Chow and his new team will visit their new Pac-12 South rivals on Nov. 12 in a game primed for media folk -- who me? -- who like to stir things up.
Everyone put a good face on this weekend. Neuheisel and Chow expressed their admiration for each other as well as disappointment that their pairing failed to create even mediocre offenses.
"We're disappointed it didn't turn out the way we hoped it would, but it wasn't because of a lack of effort or a lack of teamwork," Chow told Ramona Shelburne of
ESPN Los Angeles
. "Rick and I are friends. I feel like we worked very, very well together and it's just unfortunate that the results didn't show that.
"I told Rick, when all this settles down, the four of us [Chow and his wife, Diane, and Neuheisel and his wife, Susan] should all go out to dinner. "
For Utah,
it looks like a big win
. It gets an
offensive coaching legend
who knows the Pac-12 and really knows the Bruins' personnel, which will help in the head-to-head meeting.
But Utes fans shouldn't do a celebratory back flip just yet. You may want to wait for results. Start with this from the Salt Lake Tribune:
Terms of [Chow's] contract and salary with the Utes are unknown, as is the fate of current Utah co-coordinators Dave Schramm and Aaron Roderick.

Chow will be the fourth coach to serve as Utah's offensive coordinator under [head coach Kyle] Whittingham, who just completed his sixth year as the Utes' head coach.
Two Utes assistants will either get dumped, demoted or leave on their own (
both are highly thought of
). Or, if Schramm and Roderick stay, how will the offensive staff mesh? The lack of offensive continuity also is notable.
Further, Chow, 64, has now completed his third uncomfortable exit, starting with USC in 2005 and the Tennessee Titans before he arrived at UCLA. His three years at UCLA were not successful. He is one of the all-time greats, without question, but he hasn't been his all-time great self for a while.
As for UCLA, this probably feels like old news because
it was reported here weeks ago
. Still, there is a notable takeaway. While the headlines were about Chow leaving and the "
chemistry issues
" that caused it, the more important change going forward is Neuheisel taking over as his own quarterbacks coach.
Think about that for a moment. The best way to illustrate Neuheisel's frustration with the offense (Chow) the past two seasons is by playing highlights of him constantly berating his quarterbacks after they trudged off the field. Neuheisel has said this offseason that he recognizes he needs to change that -- yelling at struggling QBs typically is a recipe for disaster -- but now he'll have to hold up a mirror when he wants to hand out blame.
Chow and Neuheisel clearly had different ideas about the position. Now there's one less person at whom to point the finger.
The chief reason UCLA is 15-22 in three seasons under Neuheisel is poor QB play (poor offensive line play is a close second, which is a horrible combination to have). Neuheisel will be coaching two guys --
Kevin Prince
and
Richard Brehaut
-- with starting experience (Prince might not be 100 percent this spring after knee surgery). A third option is true freshman Brett Hundley, an elite recruit who is already enrolled and who is the future of the program.
That means Neuheisel, as head coach and QBs coach, faces a huge question this spring and preseason that might ultimately decide his fate: Who's his QB? Does he go with experience, which should be more reliable if less talented, or does he go with youthful upside that might be infuriatingly inconsistent when his job status is almost entirely about the present?
Neuheisel likely needs seven or eight wins to coach into his fifth season. The single-biggest factor in whether the Bruins get there is likely QB play.
And that will be on Neuheisel.
July, 26, 2010
7/26/10
6:36
PM ET
Lane Kiffin and USC just can't
stay out of the news
.
The Tennessee Titans filed a lawsuit Monday against Kiffin and USC for interfering with the contract of running backs coach Kennedy Pola, according to
a report in The Tennessean
.
Kiffin hired Pola away from the Titans to be his running backs coach and offensive coordinator over the weekend, and it
didn't go over well
with Titans coach Jeff Fisher.
Apparently, Fisher -- a former Trojan -- wasn't fully mollified after a conversation with Kiffin when he was given "an accurate understanding of the timeline of events," according to a statement from Kiffin.
From the newspaper:
The lawsuit was filed in Davidson County [Tenn.] Chancery Court and it claims Pola breached his contract with the Titans after being induced by Kiffin. Pola, hired by the Titans in January, was hired by USC over the weekend as the school's new offensive coordinator.

The lawsuit states "as a result of USC and Kiffin's tortuous conduct, Tennessee (Titans) football has been damaged in an amount proven at trial.''
First thought: How sympathetic would a judge or jury from the state of Tennessee be towards Kiffin?
Second though: Really?
I know it's practically un-American to take any position that is remotely sympathetic to Kiffin, but this is frivolous litigation, and USC fans should be furious at Fisher for apparently allowing it to go forward.
Fisher didn't get a courtesy call from Kiffin about Pola: So, yes, he had a right to be steamed.
Yet now his justifiable anger has become a lawsuit against is alma mater, which he might have read hasn't had the greatest of offseasons. Why file the lawsuit? One reason: To embarrass Kiffin. But by doing so, Fisher is harming USC.
Fight on! Jeff.
Sniff, sniff: Anyone else smell a PR stunt from the Titans intended to make Volunteers fans -- read: the entire state -- giddy with Schadenfreude?
January, 10, 2010
1/10/10
12:32
PM ET
If you were ranking the wish list pecking order for who USC might want to hire to replace coach Pete Carroll -- and, yes, we
continue to wait
for an official announcement from the Seattle Seahawks -- it likely would go: 1. Oregon State's Mike Riley; 2. Tennessee Titans coach Jeff Fisher; 3. Jacksonville Jaguars coach Jack Del Rio.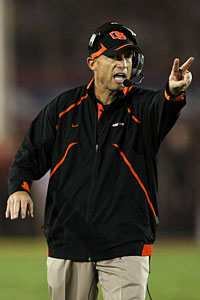 Stephen Dunn/Getty ImagesMike Riley and the Beavers finished 8-5 this season.
From the moment Bruce Feldman first reported it -- and other insiders have since backed it up -- Riley has been
choice No. 1
.
Riley would be an interesting hire. Combine his acumen as a talent evaluator and X's and O's skills with USC's recruiting base and national reach, and the end-result could be outstanding. His sterling reputation of a man of integrity also would go over well with the NCAA, which is investigating the Trojans' football program.
The question is whether Riley wants the job. There's a big difference between Oregon State and USC, Corvallis and LA, from expectations to lifestyle. Heck, start with traffic.
Riley has repeatedly said since he returned for his second tenure at Oregon State that he wants to retire a Beaver and he's never seemed driven by money, which he certainly could make more of with the Trojans. He's repeatedly said that his "grass is always greener" life lesson was when he left Oregon State for an ill-fated stint with the San Diego Chargers.
That doesn't mean he's not going to talk to the Trojans, but for the sake of this blog entry, let's say he doesn't want the job.
Then comes Fisher, who like Riley, USC athletic director Mike Garrett
tried to hire
before. But Fisher, who played at USC, has two years left on a contract that pays him $5.5 million a year, not to mention that he is a career NFL coach.
Let's say he also doesn't want the job.
What about Del Rio?

Del Rio
That could be an interesting choice, starting with the fact that he
might want the job
.
He's a former USC linebacker and has an impressive
coaching resume
, particularly on defense.
On the downside, like Fisher, Del Rio is a career NFL coach. And he has three years left on a contract that will play him more than more than $15 million.
Ah, but there's also an intriguing upside.
Check this out
. That's Del Rio's coaching staff in Jacksonville. See the offensive coordinator and running backs coach?
If Del Rio could bring Dirk Koetter and Kennedy Pola with him to USC, that would be a major coup.
Say what you want about how things went for Koetter at Arizona State -- and things didn't go well toward the end -- but the man knows offense. Just ask current Nebraska coach Bo Pelini. When Pelini was LSU's defensive coordinator -- and a highly respected one at that-- Arizona State rolled up 560 yards in a 35-31 loss.
Koetter and quarterback
Matt Barkley
could make beautiful music together.
Moreover, Koetter knows the Pac-10 and the recruiting landscape of the West Coast. If Del Rio needed help finding his way around a college coaching job, Koetter obviously could offer guidance.
And USC folks surely remember Pola, also a former Trojans player and coach. He was a USC assistant from 2000-2003 and earned a reputation as an outstanding recruiter.
Del Rio also may soon be available, or at least the Jaguars might embrace a way to save themselves some money on his contract. According to Gene Frenette of the Florida Times Union, "Del Rio is expected to meet with Jaguars owner Wayne Weaver on Monday or Tuesday to discuss this past season which ended with a four-game losing streak, a 7-9 record, and many fans calling for Weaver to bring in a new coach."
Hmm.
You know, the last time Garrett was unable to hire his first -- or second -- choice, things seemed to work out OK for the program.
July, 9, 2009
7/09/09
12:01
PM ET