April, 30, 2010
4/30/10
2:00
PM ET
During his two-plus seasons at Michigan, Rich Rodriguez often has mentioned the numbers game on defense, a game that the Wolverines have been losing.
Rodriguez isn't talking about numbers of points allowed or yards allowed, although it's all connected to the larger problem the Wolverines' defense has endured. Michigan simply hasn't had enough capable players to succeed on that side of the ball. And without the numbers, or adequate depth at certain positions, the defense has plummeted. In the last two seasons, the Wolverines have finished 67th and 82nd in yards allowed, and 84th and 77th in points allowed, respectively.
[+] Enlarge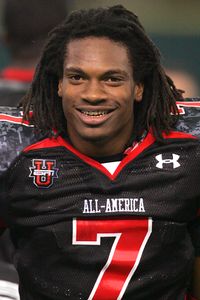 Cliff Welch/Icon SMIThe Wolverines will likely be counting on highly touted cornerback Demar Dorsey to contribute right away as a freshman.
High attrition has certainly played a major role, and of those who left, many were top defensive prospects. Recruiting also has played a significant role, much of it before Rodriguez's arrival, as Michigan signed small classes with not enough defensive recruits. Mgoblog has a great breakdown of the problems
here
and
here
.
Heading into a pivotal season, can Michigan survive the numbers situation on defense?
"It's still limited, to an extent, this spring," defensive coordinator Greg Robinson told me earlier this month. "Now there's going to be 14, 15 guys walking in the door [in the summer]. How many can you count on as freshmen? Time will tell that. Craig Roh played as a freshman [in 2009].
"So it can be done."
Michigan's incoming freshman class will be a huge factor in the defense's results, one way or another. Unlike past classes, the 2010 crop is both sizable and filled with defensive players.
Cornerback Demar Dorsey, the Big Ten's highest-rated recruit according to ESPN recruiting, will contribute right away as long as he qualifies for admission. Other defensive recruits like Cullen Christian and Marvin Robinson also are good bets to see the field this fall.
"We may have some young guys come in this fall and provide some competition, which is a little scary when you're talking about true freshmen," Rodriguez said. "But we want to play more people defensively and offensively."
Several defenders who stepped up this spring also should help in the numbers game.
Safety Cameron Gordon, a converted wide receiver, was arguably Michigan's top spring performer. The coaches also singled out linebacker Kenny Demens, cornerback J.T. Floyd, Teric Jones, defensive linemen Adam Patterson and Renaldo Sagesse and others for their play. Redshirt freshmen like Cameron Gordon and safety Thomas Gordon drew more attention during the spring session.
"You notice them," Robinson said, "and that is good. It's just the numbers aren't there yet. There will be a real infusion in August. We're going to get it done, but I know where the work is. It's about developing young players as quickly as we can. You've really got to count on 18, 19 guys, so the depth is what we have to establish."
Robinson admits Michigan never truly had adequate depth in 2009, and the results showed.
"We lacked depth, we lacked maturity at times," he said. "But that's last year. It doesn't really matter. There's no reason to be putting rose-colored glasses on it. At the same time, can it be an improved defense? Yep. It's the year 2010 and it's the 131st defense to perform here at Michigan.
"And doggone it, we're going to find a way to be better."
April, 8, 2010
4/08/10
5:00
PM ET
ANN ARBOR, Mich. -- A public-service announcement to Big Ten fans: the area code around here hasn't changed to 335.
Those three numbers have dominated the discussion about Michigan ever since the Wolverines began using the alignment more during spring practice. In recent weeks just about everyone has weighed in on the 3-3-5: who will go where, who fits the scheme and whether it will help the Wolverines' defense rebound from two subpar seasons.
[+] Enlarge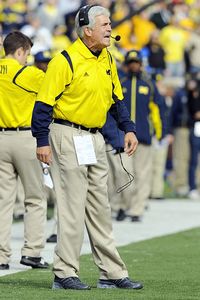 Eric Bronson/Icon SMIMichigan defensive coordinator Greg Robinson says it's not the scheme, but fundamentals that will determine the success of the Wolverines this fall.
Defensive coordinator Greg Robinson has some advice about the 3-3-5: don't get too bogged down with it.
"It's not about the schematics," Robinson told me Thursday. "It's about fundamentals. The fundamentals have got to improve. To the average fan, they want to know the schematics because that's Madden football. But wait a minute. Anybody can say they play two-deep coverage or anybody can say they're running the zone dog. But the fundamental techniques and all those things -- how you tackle, how you defeat a blocker -- that's what it's about."
The truth is Michigan will run the 3-3-5 at times in the 2010 season. The Wolverines will also use four-man fronts and bring extra linebackers to the line of scrimmage. Hybrid players like Craig Roh will play integral roles this fall, just like they did last year.
An alignment won't fix Michigan's defense unless the players can execute a lot better.
"It's work," Robinson said. "There's work ahead of us. The best thing is if we can get these young people to understand that. Can we get there? Yeah, if we work really hard at it, we will get there. But don't think that it's just like a magic wand.
"It's hard work to get good."
A few quick takeaways from Robinson:
The competition at middle linebacker is really heating up between Obi Ezeh and Kenny Demens, who has come on strong this spring. "This is a dogfight," Robinson said. "And I like it. It's amazing when you have competition, how much the improvement comes."

Like everyone else, Robinson praised the play of safety Cameron Gordon (more on Gordon next week) and also singled out safeties Thomas Gordon and Teric Jones for their play this spring. He also likes the improvement cornerback J.T. Floyd has made from last fall. Robinson expected Vladimir Emilien to return to practice Thursday after suffering a knee injury early in spring ball.

The defensive line has been dealing with injuries this spring, and Robinson said defensive tackle Renaldo Sagesse is the latest player to get banged up a bit. "We're hoping we can get him back [before the end of the spring]," Robinson said. "Because if we can really count on him as a guy that's in the constant flow, that's good."

Robinson started talking about William Campbell, pointing out that the sophomore defensive tackle needed to keep growing and developing. Then he caught himself. "He doesn't have to keep growing," Robinson said. "He's got to keep developing." Campbell checks in at 6-5 and 324 pounds this spring. "That's a never-ending battle," Robinson said of Campbell's weight and conditioning, "and he's realizing that. He's maturing. God, he was a 12th grader here last year at this time. God forbid what I was like back then."