NCF Nation:

Terps-Canes-090511
September, 6, 2011
9/06/11
1:24
AM ET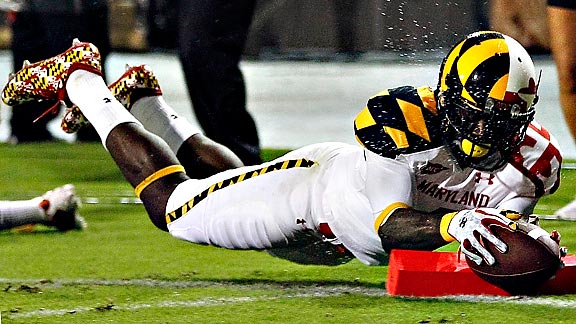 AP Photo/Patrick SemanskyRonnie Tyler had the lone offensive touchdown as the Terps debuted their new coach and uniforms.
COLLEGE PARK, Md. -- On the sideline before the game, Maryland receiver
Kevin Dorsey
approached first-year coach Randy Edsall and reminded
him
just how big Monday night's game against Miami really was.
"I said, 'Here's the first one, the first one's very important. It's a statement game,'" Dorsey said. "It's a new era: new things, new coaching staff, new uniforms, everything."
Including a new result against Miami.
From how they looked to how they played, this season's Maryland team bore no resemblance to the teams of the Ralph Friedgen era. Fortunately for the Terps -- who were lambasted in the Twitter world for their newest uniform combination -- they weren't playing for style points. Against a Miami team determined to overcome the suspensions of eight players, Maryland avenged last season's fourth-quarter loss to the Canes with a
32-24 win
in the first ACC game of the season.
It was a wild, entertaining, see-saw game in which Maryland struggled in the red zone and Miami doomed itself with turnovers (again). But both programs also looked prepared to play under their respective first-year head coaches. Much has changed in both Coral Gables and College Park since the 2010 season ended, but Miami has stolen all of the headlines heading into this game because of the NCAA investigation.
[+] Enlarge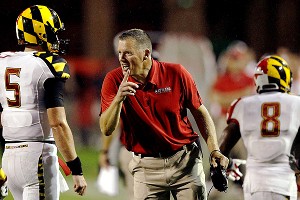 Rob Carr/Getty ImagesThe Terps were able to hold on for the win in Randy Edsall's first game as Maryland's head coach.
In the end, though, it was Maryland who made the statement.
"I feel like it put us on the map," left guard Andrew Gonnella said. "I feel like it let everyone know that we're not here joking around. We're here to win. A lot of the media was doubting us. It was great to show them that Maryland is here to be a competitor."
They wasted no time in doing that.
The Terps unveiled a no-huddle, up-tempo offense that wore down the depleted Miami defense. They ran 78 offensive plays and racked up 499 yards of total offense. The first touchdown of the game came within the first four minutes.
"It was like the blink of an eye before we scored," said quarterback
Danny O'Brien
. "We ran 49 plays in the first half, which is like three whole quarters from last year of our offense."
But still not fast enough for Edsall.
"I thought sometimes the officials were taking too long to put the ball down," he said, "standing over the ball and slowing us down just a little bit."
The Terps slowed themselves down, though, in the red zone. Maryland was inside the 20-yard line seven times and came away with just one touchdown. It was the defense that got the biggest score, as Cameron Chism's 54-yard interception return for a touchdown turned out to be the game-clincher, and Kenny Tate's interception on the final play of the game sealed it.
Last season, the Terps lost to Miami 26-20 after the Canes scored with 37 seconds remaining in the game.
This is not your 2010 Maryland team.
Did you
see
their helmets?
In addition to the new coach, new look and new offense, another noticeable difference was the crowd. There was one. Despite a driving sideways rain that turned on and off for four quarters, an attendance of 52,875 was announced as the seventh-largest in school history. That was another score for Edsall, who will receive a $100,000 if season ticket sales increase 25 percent or more in a year.
Despite the differences both on and off the field under Edsall, he insisted that he didn't make any changes.
"All I tried to do was get them to believe they could push themselves further maybe than they thought, that there was going to be higher standards for them to achieve in everything they were going to do," he said. "But all the credit in the world goes to those kids, because they bought into the team concept."
Just how good Maryland will be this season remains to be seen. Its red zone struggles can't be ignored, and it will face better defenses that are at full strength.
For now, though, a new era of football has begun at Maryland under Edsall, and so far, it's 1-0.
September, 6, 2011
9/06/11
12:41
AM ET
By
ESPN.com staff
| ESPN.com
Heather Dinich talks with Maryland quarterback
Danny O'Brien
after the Terps beat Miami 32-24.
September, 5, 2011
9/05/11
11:19
PM ET
COLLEGE PARK, Md. -- What. A. Game.


It was an impressive effort from Miami, despite the suspension of eight players, but the Terps pulled off the
32-24 win
over the Canes behind a strong performance by quarterback
Danny O'Brien
, and a game-clinching 54-yard interception return for a touchdown.
With 39 seconds still left on the clock, Maryland's players went over to the student section, waving their arms, and getting the soaking wet crowd jumping in the rain in celebration of the first win under coach Randy Edsall.
Both teams have plenty to build on and got ACC play off to a great start. I'm heading down to do interviews now, so check back later for more.
September, 5, 2011
9/05/11
10:55
PM ET
COLLEGE PARK, Md. -- You thought the offseason, off-field drama was entertaining?

This game has matched it. All of it.

Maryland and Miami have delivered in this opener. It's been a nonstop, back-and-forth matchup going down to the very end. One of the biggest plays of the game was the defensive holding call on Maryland that gave Miami an automatic first down on a blown third-and-17 play. The call led to a field goal which gave Miami a 24-23 lead. It seems like every drive, Maryland is giving the Canes another gift. But the Terps always seem to find a way to respond. They've got four minutes to answer again.

Regardless of who wins, this has been a great game to start the ACC season.
September, 5, 2011
9/05/11
10:22
PM ET
COLLEGE PARK, Md. -- Five red zone trips, 16 points for the Terps.

And therein lies the difference in this game.

So far, the story here hasn't been about what Miami doesn't have to work with (although it's an obvious factor), it's been about what Maryland hasn't capitalized on -- it's trips inside the 20-yard line. Maryland has had one touchdown, one interception, and three field goals (also including a dropped touchdown pass in the end zone in there).

Those mistakes are adding up, and giving Miami a lifeline. Maryland has had numerous opportunities to distance themselves, but instead lead 23-21 with about three minutes remaining in the third quarter.
September, 5, 2011
9/05/11
10:12
PM ET
COLLEGE PARK, Md. -- This reminds me of the North Carolina-LSU game in last season's opener.
The Tar Heels had it worse. Their roster was even more ravaged by suspensions and injuries than Miami's is right now. And yet I remember sitting there astonished that North Carolina still almost won that game. Could have won that game.
Miami is putting up a similar fight.
In the first quarter, it looked as if they didn't stand a chance, but they're now leading 21-20 after a productive, methodical drive which showed a lot of patience and promise. Coming into this game, we knew that Miami's offense would be the least affected by the suspensions -- it's the defense that's in trouble. And that has been the case. If Miami is going to hang onto this precarious lead it has to a) hold onto the ball and b) rely on its offense under
Stephen Morris
. So far, Morris has proven capable of getting the job done.
The fact that Miami is even
in
this game, though, is an accomplishment in itself.
September, 5, 2011
9/05/11
9:51
PM ET
COLLEGE PARK, Md. -- It is an absolute downpour here now. There's no question holding onto the ball will be difficult in the second half. It's already been a problem in the first. Here's a quick recap of the first half of the first ACC game of the season:
Turning point:
Of the three turnovers in the first half, none of was bigger than
Mike James
' fumble, which gave Maryland the 20-14 lead and all of the momentum heading into the locker room. Terps' cornerback Cameron Chism forced the fumble and Joe Vellano rumbled 30 yards for the touchdown with 47 seconds remaining.
Stat of the half:
Maryland ran 18 more plays than Miami in the first half and racked up 311 total yards already. Miami hasn't been able to stop the onslaught of screen passes, and Maryland's new, no-huddle, up-tempo offense has been dictating the pace all night.
Best player in the half:
Maryland quarterback
Danny O'Brien
. With the exception of one interception in the end zone, O'Brien has looked like he has been playing in this offense his entire career, instead of just learning it this offseason. He has completed 23 of 31 pass attempts for for 241 yards. He's thrown to five different receivers. The pace of this offense is moving quickly, and Miami is having a hard time keeping up.
September, 5, 2011
9/05/11
9:33
PM ET
COLLEGE PARK, Md. -- Is what we're seeing Miami's offense? Or will it change by the time the Ohio State game rolls around?
Miami coach Al Golden has said that the quarterback competition between
Stephen Morris
and
Jacory Harris
will continue after Harris serves his one-game suspension, and that both were dead-even before the news of the NCAA investigation broke. Right now, Morris is making a good case as the Canes' starter. He's managing the offense well, distributing the ball to the playmakers, and making good decisions. He and his good friend, receiver
Allen Hurns
, have had a good connection, and with a 14-13 lead, they're playing well enough to win. Morris has completed 7 of 10 passes for 105 yards so far.
Of course, it's still early, but as Miami struggles to get through this game with eight players suspended, win or lose, odds are it will continue to search for its offensive identity.
September, 5, 2011
9/05/11
8:26
PM ET
COLLEGE PARK, Md. - The Terps' new uniforms are blowing up Twitter more than the game itself.
@NickMoody10:
Anybody else think Maryland's uniforms are ugly?
@Mark_Schlabach:
And I thought #UGA uniforms were bad. Holy smokes, #Maryland unis hurt my eyes
While college football fans, opposing players and national pundits across the country and in this press box are making Maryland's uniforms the joke of the night, Maryland quarterback
Danny O'Brien
is picking apart the Canes depleted defense. He completed 6 of 7 passes for 72 yards and a touchdown on the opening drive.
@espn4d:
Of course they scored. Miami's eyes scorched out of their heads by Terps uniforms. Brilliant move by Kevin Plank.
@Andy_Staples:
The unis are ugly, but the offense was pretty on that first drive.
Miami's best bet in this game, with its depleted defense, is going to be to keep the offense on the field as long as possible. Which means running the ball over and over.
Lamar Miller
is likely going to get a lot of work.
Probably not as much attention, though, as Maryland's new unis.
September, 5, 2011
9/05/11
7:30
PM ET
COLLEGE PARK, Maryland -- There are no lineup changes for Maryland or Miami, no surprises for either roster.

Not that it could change much for the already short-handed Canes.

A school spokesman told me 63 players made the trip, fewer than the 72 allowed by the ACC. With the suspensions, Miami is definitely depleted, particularly on defense, but you couldn't tell by watching the Canes warm up. They are raising their helmets, beating their chests, dancing, head-bobbing and clearly ready to play. Despite their pre-game antics, though, Miami is taking an all-business approach to this trip. They wore suits on the plane. They wore suits to the game. That's something new for the program.

Miami has more depth than most teams, but it will be pushed to the brink today.

It's not as if the Terps aren't ready, too.