NCF Nation:

Terps-Mountaineers-091810
September, 18, 2010
9/18/10
5:51
PM ET
MORGANTOWN, W. Va. -- Earlier in their careers,
Noel Devine
and
Jock Sanders
dubbed themselves the Batman and Robin for West Virginia. Then they changed it to Batman and Superman for equal footing.
This spring, Devine included
Tavon Austin
in the discussion.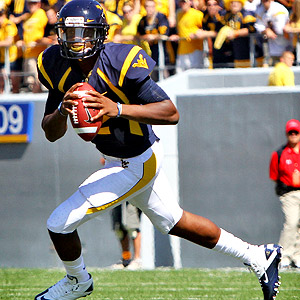 AP Photo/Michael SwitzerQuarterback Geno Smith is emerging as a major force for West Virginia.
"Hopefully, we'll be Sonic, Knuckles and Tails," he said, making a reference only Sega Genesis fans could love.
The cast of super heroes keeps multiplying for the Mountaineers, as they showed in Saturday's 31-17 win over Maryland. Austin produced a breakout game to prove he belongs in the same sentence as Devine and Sanders, while receiver
Stedman Bailey
, quarterback
Geno Smith
and defensive end Bruce Irvin all continue to emerge as major forces as well.
When they all were clicking Saturday, West Virginia raced to a 28-0 lead and looked more dominant than it had since the height of the Pat White era. This team still hasn't learned to put opponents in a death grip, as a few second-half breakdowns illustrated. But the No. 21 Mountaineers look capable of being the best team in the Big East and possibly even beating LSU next week, if their stars align.
"I always knew what we had," Devine said. "It was just a matter when we were going to put it together."
That time arrived in an impressive first half. West Virginia scored touchdowns on three of its first four possessions, stopping itself only with a lost fumble in Terrapins territory. Smith connected on his first 10 passes and finished 19-of-29 for 268 yards and four touchdowns in his third career start.
How good has Smith been? From the last two drives in regulation of the Marshall game to the first drive of Saturday's third quarter, Smith went 29-of-36 for 377 yards and six touchdowns.
"This is new for y'all, but it's something I've been seeing with my own vision," Devine said. "It's a relief when you don't have to worry about the quarterback position."
Smith's first two touchdown throws went to Austin on the same route. The sophomore had the best game of his career with seven catches for 106 yards. Better yet, he did it against the flagship school of his home state, which tried and failed to recruit him.
"I felt a lot of pressure," he said. "If we would have lost, a lot of people would have called me and said, 'I told you you should have gone to Maryland!'"
Instead, the Terrapins seemed to have forgotten about Austin early on as he was left wide open in the passing game. Austin had never played receiver before college and switched to wideout this year as he waits to succeed Devine at tailback. Despite being listed at just 5-foot-9 and admitting he barely knows what he's doing, he's the leading receiver in the Big East so far.
Redshirt freshman Stedman Bailey is much more polished at wideout. A high school teammate of Smith's, Bailey caught his first two touchdown passes and looks like West Virginia's best pure receiver prospect in years. Both his touchdown calls survived instant replay reviews; that's because both were tough catches.
"One was a terrible throw by me ,and he bailed me out," Smith said. "He has great hands. He catches everything."
Devine ran for 131 yards, surpassing 100 for the third straight game. Sanders had six catches for 86 yards and a 66-yard punt return to set up a score. Maryland had no match for West Virginia's speed and cast of playmakers.
"A couple of years ago, we were a run-based offense and the spread option," Smith said. "But now we're developing a great passing game. I think that makes it hard for defensive coordinators to game plan against us."
The star performances weren't limited to the offense. The defense heard all week that it hadn't registered a sack in its first two games. So on Saturday it rang up eight against the Terrapins, including three by Irvin, the heralded junior college import who made his first big impact this season.
"That first sack, it felt like I was standing on Mars or something," Irvin said. "The first few games, teams were throwing screens and taking quick drops. I don't even think Dwight Freeney could get a sack on a three-step drop."
Not everything went smoothly for West Virginia in the second half. Maryland scored 17 straight points, including 60- and 80-yard touchdown passes from
Jamarr Robinson
to
Torrey Smith
. Both long throws came in single coverage against Pat Miller, a sophomore making his first career start in place of suspended Brandon Hogan. That remains an area of major concern going forward.
Take those two plays away, though, and Maryland managed just 77 total yards, including negative-10 yards rushing on 27 attempts.
"Forty-nine of those 51 plays were pretty impressive," West Virginia coach Bill Stewart said of his defense. "Two were just frustrating."
But frustration was minimal for the Mountaineers, who rebounded from a shaky performance last week at Marshall to post the first win over a BCS conference team by the Big East all season. They can really carry the conference banner next week by winning at LSU.
"We've still got to get better," Irvin said. "That's the real test."
Sounds like a job for Sonic, Knuckles, Tails & friends.
September, 18, 2010
9/18/10
4:33
PM ET
MORGANTOWN, W. Va. -- There were some surprisingly anxious moments for West Virginia in the second half after the Mountaineers raced out to an 28-14 lead.
Two long passes to
Torrey Smith
allowed Maryland to cut the lead in half, and the Terrapins had the ball deep in West Virginia territory with a chance to get within seven.
In the end, though, the Mountaineers held on for
the 31-17 victory
. All in all, it was a solid performance, with a few second-half hiccups that will need to be addressed this week in practice. There's also an injury concern with starting guard Josh Jenkins standing on the sidelines in street clothes for the second half.
But West Virginia notched the first win by the Big East over a BCS auto-bid conference team this season. And with UConn going down at Temple, the Mountaineers have given the league a bright spot in an otherwise dismal first half.
September, 18, 2010
9/18/10
2:38
PM ET
MORGANTOWN, W. Va. -- Despite a mostly dominant performance, West Virginia hasn't put Maryland away.
The Terrapins have score on a pair of long touchdown passes to
Torrey Smith
, their best player. Both touchdowns came against new starting cornerback Pat Miller, who was singled in coverage both times against Miller. He had little chance either time, and I wonder why he didn't have safety help on those plays.
The absence of Brandon Hogan remains a major concern for the Mountaineers heading into LSU next week. For now, they just need to put away Maryland before this game becomes even more interesting.
September, 18, 2010
9/18/10
1:48
PM ET
MORGANTOWN, W. Va. -- Quick halftime analysis from Milan Puskar Stadium, where
West Virginia leads Maryland 21-0
:
Stat of the half:
It's a dominating performance for the Mountaineers so far in every area. The stat that tells it all is a simple one: total yards. West Virginia has 345. Maryland has just 63. The Terrapins also have only two rushing yards and only four first downs.
Best player in the half:
West Virginia quarterback
Geno Smith
has had all kinds of open receivers and has taken full advantage. He completed his first 10 passes and finished the half 14-for-18 for 226 yards and three touchdowns. Honorable mention to
Tavon Austin
(six catches, 92 yards, two TDs) and
Noel Devine
(16 rushes for 83 yards).
What West Virginia needs to do:
Just hold onto the ball. The Mountaineers fumbled twice deep in Maryland territory and had a pass broken up on fourth down from the Terps' 34. Without those turnovers, the 21-0 score would be even more lopsided.
What Maryland needs to do:
Scrap the original game plan, because nothing is working. Quarterback
Danny O'Brien
made his first appearance of the game on the final play of the second half but was sacked and coughed up the ball. But maybe he can give the offense a spark, especially against a new starting West Virginia cornerback in Pat Miller. It's going to be a major uphill climb, however, and O'Brien may not be healthy while dealing with an ankle injury. That last hit from Bruce Irvin certainly didn't help.
September, 18, 2010
9/18/10
1:00
PM ET
MORGANTOWN, W. Va. -- Just about everything is going right for West Virginia, and quarterback
Geno Smith
is working on a perfect game.
Smith, who was so good at the end of the Marshall game in leading that comeback, is 10-for-10 for 173 yards and three touchdowns early in the second quarter. The Terrapins just have no answer for West Virginia's speed in the open field. The Mountaineers are hitting them with short catch-and-runs, and then they're throwing a couple of long shots at them, like Smith's 26-yard strike to a wide open
Stedman Bailey
that
just made it 21-0
.
Meanwhile, Maryland has just one first down in three possessions. It's still early, but this is is shaping up as the best performance by a Big East team all year against a quality opponent.
September, 18, 2010
9/18/10
12:32
PM ET
MORGANTOWN, W. Va. -- This is the West Virginia football team Mountaineers fans had hoped to see.
The offense is making big plays with its speed. The defense is intimidating. And the start of this game has been overpoweringly in the home team's favor.
West Virginia leads 14-0
after three series in this game. The Mountaineers' big plays include a 50-yard
Noel Devine
run, a 15-yard
Tavon Austin
catch-and-run and a 39-yard
Jock Sanders
reception. Austin has both TD catches from
Geno Smith
.
Meanwhile, the Maryland offense was overwhelmed and out of sync in its first possession. The Terrapins committed four penalties and had to burn a timeout while backing themselves up to their own 3-yard line before punting. The crowd noise bothered quarterback
Jamarr Robinson
and his teammates near their own end zone. Remember, Maryland has yet to play in a truly hostile environment this season.
West Virginia looks far too fast and athletic for the Terrapins early on.
September, 18, 2010
9/18/10
11:39
AM ET
MORGANTOWN, W. Va. -- Who will start in place of suspended cornerback Brandon Hogan for West Virginia?
Most people expected it to be Brodrick Jenkins. But when the Mountaineers lined up for warm-ups, it was Pat Miller playing with the starting defense, with Jenkins running with the twos. I would expect to see both play today.
That will also put more pressure on Keith Tandy, who West Virginia fans know has had his ups and downs in coverage the past couple of years. If Maryland doesn't take a couple of deep shots early, especially to
Torrey Smith
, it would rank as a real surprise.
Defensive end Will Clarke is also out for West Virginia. He's a pass-rushing specialist. That should mean more snaps for heavily-hyped juco import Bruce Irvin. Will the Mountaineers record their first sack of the season today?
September, 18, 2010
9/18/10
11:03
AM ET
MORGANTOWN, W. Va. -- Greetings from sunny Milan-Puskar Stadium, where West Virginia and Maryland will renew their border war this afternoon.


The No. 21 Mountaineers need a good performance today following their overtime win at Marshall. Should West Virginia easily dispatch the Terrapins, we can just chalk up the Marshall game as a hiccup in a rivalry road hornets nest. Should the Mountaineers struggle, then there may be bigger issues, especially with LSU coming up next week. Should Maryland win, well, it would just be another pin in the Big East's balloon.
It's a show-me game for the Terrapins as well. They're 2-0, but with a white-knuckler over Navy and a romp over Morgan State. They have matched their entire win total from 2009, but today will prove just how much better they actually are.
Maryland will want to run the ball with
Da'Rel Scott
and
Davin Meggett
, who are averaging 7.5 yards per carry so far this season. The Terps' passing attack has been kept mostly under wraps so far this season.
West Virginia has found lots of success in the short passing game, with
Geno Smith
completing better than 72 percent of his passes. The offensive line is looking for a bounce-back game, and
Noel Devine
is due for a breakout performance.
It should be an interesting one today. I'll be back with much more.