NCF Nation:

Terrell Chestnut
August, 29, 2014
8/29/14
12:00
PM ET
He is one of 10 first-year coaches to make a BCS bowl appearance and the only West Virginia coach to win 10 games in his debut season.
Yet no game looms larger in Dana Holgorsen's career than the Mountaineers' battle against Alabama on Saturday at the Georgia Dome in Atlanta.
With an upset victory, expectations would explode through the roof for West Virginia, similar to Oklahoma's rise in national perception after the Sooners' Allstate Sugar Bowl win over the Crimson Tide in January. Meanwhile, a lopsided loss could confirm doubts about the overall upside of the Mountaineers in 2014, just 60 minutes into a season that lasts more than three months.
Entering Holgorsen's fourth season, the Mountaineers' program is finally full of players he recruited and he's starting to amass the overall depth he has strived for since they joined the Big 12 before the 2012 season. The Mountaineers were in the Big East in Holgorsen's first season.
[+] Enlarge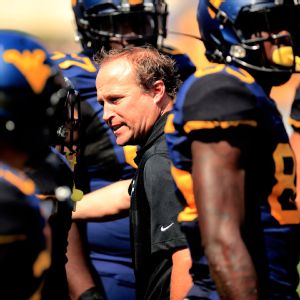 AP Photo/Christopher JacksonDana Holgorsen believes his toughest job this weekend won't be coaching against Alabama -- it will be managing the success or disappointment his team will feel after the game.
"I think it's night and day," Holgorsen said of the difference in West Virginia's roster, compared to a year ago. "If you just look at the overall numbers, I think we're better at every position."
Holgorsen has had success in the Big 12 as an assistant at Oklahoma State and Texas Tech. Holgorsen has been a part of 47 victories during his 11 seasons as a coach in the Big 12, but only six of those victories have been earned as head coach at West Virginia in two seasons.
The time is now for Holgorsen's influence to blossom into Big 12 success or wither into Big 12 oblivion.
Yet Holgorsen isn't taking an approach that this season-opening game against Alabama is any different than the other 38 he's coached at West Virginia.
"We're going to approach this game just like each and every game, study what they do offensively, defensively come up with a game plan to try to get our guys prepared for what they are going to face," Holgorsen said. "Regardless of who the opponent is, that will be the approach."
The Mountaineers are clear underdogs. Few observers outside of Morgantown, West Virginia, expect them to win.
"Our guys are going to be ready to play," Holgorsen said. "Alabama guys are going to be ready to play. You can throw away favorites or underdogs, or any of that. It doesn't affect us one way or another."
This will be West Virginia's second meeting with an SEC team under Holgorsen. The Mountaineers rallied to within six points of LSU during the third quarter of their game in Morgantown in 2011. Les Miles' squad pulled away in the final 15 minutes to leave town with a 47-21 victory. There's not much to take from that experience -- few players on the roster played in that game.
Nonetheless, the consistent theme among the Mountaineers is simple: Saturday's game is not about facing a big, bad national power in SEC country.
"Everyone is tuned in and aware of who we are playing," cornerback
Terrell Chestnut
said. "At the end of the day it's not about Alabama, it's about West Virginia."
Interestingly enough, Holgorsen believes his work could really begin on Sunday. The fourth-year coach believes — win or loss — his biggest task of the weekend will be managing postgame expectations or disappointment with 11 games remaining on the schedule.
"I believe my biggest coaching challenge will be Sunday, regardless of what happens on Saturday," Holgorsen said. "Whether we're successful or not. I think the bigger coaching challenge is going to be on Sunday – getting these guys to overcome what happened, whether it's positive or negative."
February, 3, 2011
2/03/11
9:00
AM ET
(Beginning now and going throughout the day, I'll have a recap of every Big East team's 2011 signing class, going in reverse alphabetical order. Because we're going heavy on recruiting through the afternoon, the Thursday links won't appear at noon but will be posted later on).

WEST VIRGINIA MOUNTAINEERS
The class
2011 signees:
17
Top prospects:
Terrell Chestnut
is a versatile athlete who can play a lot of positions. Running back
Andrew Buie
has strength and explosion.
Vance Roberts
is projected as a starting corner, and West Virginia signed his twin brother, Vernard, too.
Needs met:
The Mountaineers needed to restock the offensive line and got four tall prospects with size at that position. They also got some running backs, wide receivers and other potential playmakers for Dana Holgorsen's spread offense.
Analysis:
West Virginia's final class under head coach Bill Stewart isn't heavy on headliners. But as usual, the Mountaineers have recruited a lot of speed while avoiding some of the shrimp-sized players of the past. There are some intriguing sleepers in here as well.
What Stewart said:
"You never bat 1.000 and you never hit a home run every time you swing, but I am really excited about this class. It is a very solid class, and we are very happy. These guys will be great additions to this program."
Scouts Inc. grade:
C+