November, 27, 2013
11/27/13
10:00
AM ET
It's easy to understand the hype for this year's matchup of No. 1 Alabama and No. 4 Auburn. But imagine a game so huge that it sold out two stadiums at the same time.
It's the 20th anniversary of the 1993 Iron Bowl, one of the most unusual matchups in the rivalry's history. That year, defending national champion Alabama was 8-1-1 heading into a matchup with 10-0 Auburn.
But since Auburn was on probation, the game at Jordan-Hare Stadium would become the only battle between the Tide and the Tigers not shown on national television since 1981. And fans clamored to watch it: tickets for that game ($500) were more expensive than they are today ($300).
[+] Enlarge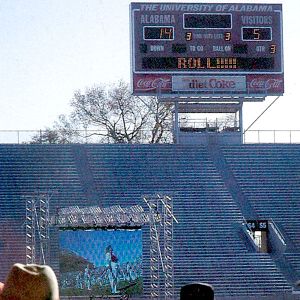 Courtesy Bryant Museum Alabama fans who couldn't get to the '93 Iron Bowl in person watched on the stadium screen at Bryant-Denny Stadium.
As a result, 47,421 tickets were sold at Bryant-Denny Stadium to see the game via simulcast -- to watch a game on an empty field, on a video board that's nowhere near the size or quality seen in stadiums today. It's widely hailed as the only game ever to sell out two stadiums. But in actuality, Bryant-Denny Stadium seated many more; it just didn't make sense to sell more tickets with the limited sight angles.
Whatever hype is being generated now might pale in comparison to the platitudes surrounding the game two decades ago. Not many broadcasts have ever started off like Auburn's did that day.
"At a remote outpost in frozen South Korea, an Army sergeant tunes his radio to the Armed Forces Network to listen as he pulls guard duty along the DMZ," Auburn announcer Jim Fyffe said. "A Selma native in Fairbanks, Alaska, is hosting a listening party today with his friends, who will hear the game via telephone, all decked out in orange and blue. A sellout crowd of 85,000 will watch in person, while 44,000 more, who scarfed up all the available tickets, will view a closed-circuit telecast in Tuscaloosa, making this the only game to sell out two stadiums at one time.
"It impacts the lives of just about everyone who lives here or ever has. If your team wins, seashells and balloons. But losing means a whole year of pure agony. It's the annual meeting between Auburn and Alabama. Hello again, everybody. War Eagle! from Jordan-Hare Stadium."
Yet despite its lore, in many ways, it's the forgotten Iron Bowl. Auburn quarterback Patrick Nix, the hero of the game, has lost pieces of it over the last two decades. Former Auburn coach Terry Bowden has, too. And like any good story, its legend has grown thanks to the limited amount of people who saw it.
[+] Enlarge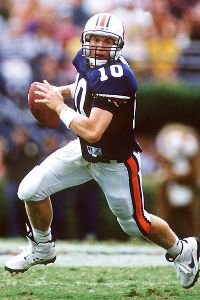 Rick Stewart/Getty ImagesPatrick Nix knows making a big play in the Iron Bowl is something that will last forever.
But Nix's story carries a message. If current Auburn backup quarterback
Jeremy Johnson
is listening, Nix says to be ready.
"Someone asked me the other day if this kind of game can make or break somebody, and I think I'm living proof that it can," Nix said. "You don't know if it's going to be Jeremy Johnson, or it's going to be a backup DB who comes in and makes an interception, or a defensive end that's down the line and makes a crucial sack. You don't know who it will be in a game like this and who will be remembered.
"That's what makes this game so special and this rivalry so special is that it is that big and everyone knows exactly where they are when things like that happen."
Nix is speaking from experience, particularly his time coming off the bench for Auburn in the 1993 Iron Bowl. He came on for the injured Stan White and led a remarkable comeback that sealed the Tigers' undefeated season.
He has talked about the game countless times, but now, 20 years later, he can't seem to recall who said what and when.
All Nix remembers of that November afternoon is the blasted fourth-and-14 play after White went down with a knee injury. Oddly enough, Nix remembers exactly where his helmet was -- under the bench where a grad assistant left it, just in case. And he can recall fondly how he lobbied his coaches to go for it. Bowden, Auburn's first-year head coach, finally had to tell him to shut up and run the play that very few actually saw, yet everyone professes to remember.
"The story has been exaggerated over the years," Nix said. "One time it's me throwing the winning pass, a last-second pass and all this kind of stuff, and none of that was true. It was the middle of the third quarter and we were still losing.
"There's been a lot of talk of 'Nix to Sanders,' and it all starts with that '93 game."
"I'll be honest with you: I probably gave a great speech because I was so excited, but I don't remember," said Bowden, now the head coach at Akron. "I'd like to think I gave a speech that had an impact on the players, but I've given too many that I thought were great but didn't do much. If I did, I'm glad that I did, but over the years, this being the 20th anniversary, too many pregame speeches have run together."
[+] Enlarge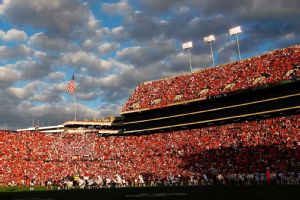 Kevin C. Cox/Getty ImagesJordan-Hare Stadium will play host to this year's Iron Bowl, but which team will create a lasting memory?
It's funny, Nix explained, that so many fans remember the touchdown he threw to Frank Sanders as the winning play -- a beautiful lob pass down the near sideline just shy of the goal line -- when in fact it only pulled Auburn within two points. It took a field goal and a late touchdown run to seal the victory.
"The hard work paid off," said Nix, who has gone on to lead the football program at Scottsboro High (Ala.). "The coaches knew how hard I prepared for that moment, never knowing it was going to be like that. And when it came, I took advantage of it."
"When I put Patrick Nix in, his arm's not so strong that he could throw the takeoff to the field side, so I flipped my formation and put Frank in the boundary," Bowden said of the famous touchdown pass. "Well, you see Antonio Langham start to come halfway across the field before he waved himself off. The other cornerback was good, but Antonio was a first-rounder. Well, I always wonder if Frank could have out-jumped Antonio."
A replay of the broadcast can be found online, but for those at the center of the game, some memories have faded in the last 20 years.
"There are a bunch of stories I've heard about where people were when I completed that pass against Alabama," Nix said. "Probably the craziest one was that someone was at a funeral and they were riding in the procession in the car. They were one of the pallbearers and they all wouldn't get out of the car at the funeral because of the fourth-down play. All the pallbearers stayed in the car listening to the radio, and then when it was completed the car just went crazy, rocking and everything. They all had to get out of the car and be very solemn and they were all trying to control themselves at a funeral.
"It's a different rivalry, a different deal and people don't always act quite sane over it. But it's a lot of fun."
March, 28, 2013
3/28/13
3:05
PM ET
In honor of Florida Gulf Coast's stunning run in the NCAA basketball tournament, I started thinking back to some of the biggest SEC football upsets of my lifetime.
The mid- to late-1970s is about as far back as I go, but I've gone back and picked out some of the more memorable ones over the past 30 or 35 years.
These are all SEC vs. SEC matchups, and I'll rank the top 5 as well as five more that just missed the cut. I'll come back later Thursday with a few more, including some upsets in non-conference and bowl games.
Here goes:
1. Mississippi State 6, Alabama 3 (1980):
The No. 1-ranked Crimson Tide had won 28 straight (and an SEC-record 27 straight conference games) and were heavily favored against the unranked Bulldogs. But Mississippi State played suffocating defense that day in Jackson, Miss., and snuffed out a late Alabama drive. The Crimson Tide had moved to the Bulldogs' 4, but were out of timeouts. Alabama quarterback Don Jacobs took the snap and started down the line of scrimmage to the right side. Mississippi State's Tyrone Keys shot through and tackled Jacobs, forcing a fumble that Billy Jackson recovered to seal one of the greatest wins in Mississippi State history. Alabama's wishbone attack, which had been averaging more than 300 yards per game, mustered just 116 rushing yards against the Mississippi State defense. The Crimson Tide lost four fumbles in the game. And in a classy gesture afterward, Alabama coach Paul "Bear" Bryant visited the Mississippi State locker room to congratulate the Bulldogs on the win.
2. LSU 17, Alabama 13 (1993):
The No. 5 Crimson Tide had gone 31 straight games without a loss and were coming off an unbeaten national championship season. Inexplicably, they lost at home to an unranked LSU team that had lost five of its first seven games that season and finished 5-6. The Tigers were a 24-point underdog that day and in the midst of their fifth straight losing season. Alabama starting quarterback Jay Barker was out with an injured shoulder, and the Tide -- using three different quarterbacks -- threw four second-half interceptions. Coach Gene Stallings finally went to David Palmer at quarterback late in the third quarter, and "The Deuce" directed the Tide on a pair of scoring drives. But LSU held on for the win, and Stallings said afterward that he waited too long to go to Palmer, who was normally a receiver.
[+] Enlarge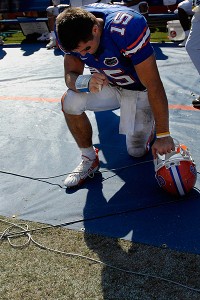 AP Photo/Phil SandlinTim Tebow bows his head in dejection after his No. 4 Gators lost 31-30 at home against Mississippi on Sept. 27, 2008.
3. Ole Miss 31, Florida 30 (2008):
The Rebels would go on to have a very good season, but ventured into the Swamp that day as a 22-point underdog with losses to Wake Forest and Vanderbilt during the first month of the season. Nobody gave them a chance. The Gators were ranked No. 4 and riding high with Tim Tebow running the show. But the Rebels stuffed him on fourth-and-short late to pull off an improbable road win. The game is best remembered for Tebow's emotional speech afterward, when he promised that nobody would work harder than him and his teammates the rest of the season. The Gators would go on to win their next 22 games in a row, including the 2008 national championship.
4. Auburn 23, Georgia 23 (1994):
Even though it wasn't a loss, it sure felt like one for No. 3 Auburn, which had its 20-game winning streak under Terry Bowden stopped. The Bulldogs were unranked and had lost at home to Vanderbilt a few weeks earlier. But they rallied from 14 points down on the road thanks to a couple of Eric Zeier touchdown passes and survived a missed 44-yard field goal attempt by Auburn's Matt Hawkins with 13 seconds to play. That was Ray Goff's next-to-last season at Georgia, which finished 6-4-1 and didn't play in a bowl game. It didn't get any better the next week for Auburn. The Tigers, who were on NCAA probation, lost to Alabama.
5. Alabama 9, Tennessee 6 (1990):
The Vols were ranked No. 3, coming off a 45-3 demolition of Florida and very much in the national title picture. Alabama had started the season with three straight losses, the first season with Stallings as coach, and was unranked entering the game. But Alabama's defense stole the show that day before a stunned crowd at Neyland Stadium and shut down Tennessee's high-powered offense. With the game tied at 6-6, the Vols were able to get into a position for a 50-yard field goal attempt with 1:35 to play, but Alabama's Stacy Harrison blocked it. The ball scooted more than 20 yards the other way to the Tennessee 37, and Phillip Doyle won it for the Crimson Tide with a 47-yard field goal on the last play of the game to make it five in a row against the Vols.
The five that just missed the cut:
Ole Miss 22, Alabama 12 (1988):
Yep, it's the infamous brick through the window game. An irate fan tossed a brick through the office window of Alabama coach Bill Curry after the Rebels stunned the No. 12-ranked Tide in Tuscaloosa. It was Ole Miss' first win ever against Alabama in the state of Alabama, and spoiled the dedication of the new Paul "Bear" Bryant Museum. Alabama didn't complete a pass that day.
Alabama 17, Auburn 15 (1984):
The Alabama fans refer to it as the "Wrong Way Bo" Iron Bowl. Auburn coach Pat Dye elected to go for it on fourth-and-goal from the 1 late in the fourth quarter, but Bo Jackson went the wrong way on the play. Alabama's Rory Turner forced Brent Fullwood out of bounds on the sweep, and the Tide held on to beat the No. 11-ranked Tigers and knock them out of the Sugar Bowl. It was a sweet end for Alabama to its first losing season since 1957.
LSU 31, Tennessee 20 (2001):
The No. 2-ranked Vols were coming off a huge win at Florida and poised to go to the Rose Bowl to face Miami for the national championship, but backup quarterback Matt Mauck rallied the Tigers in the second half after filling in for the injured Rohan Davey and gave Nick Saban his first of two SEC titles in Baton Rouge.
Georgia 24, Florida 3 (1985):
The Bulldogs romped past the No. 1-ranked Gators with freshman running back backs Keith Henderson and Tim Worley both rushing for 100 yards. It was the only game Florida lost all season. The Gators were ineligible to play in the Sugar Bowl because of NCAA sanctions, but finished No. 5 in the final Associated Press poll.
Arkansas 25, Tennessee 24 (1992):
The Vols were ranked No. 4 and had already beaten Florida, Georgia and LSU. The Hogs opened that season, their first in the SEC, by losing to The Citadel, resulting in the firing of Jack Crowe as coach. Joe Kines took over as interim coach and guided a 1-4 Arkansas team to a stunning comeback win against the heavily favored Vols in Knoxville. Todd Wright won it for the Hogs with a 41-yard field goal with two seconds left.
November, 14, 2012
11/14/12
10:00
AM ET
At Ohio State, historic seasons are recorded in three ways.
1. Big Ten championships:
the Buckeyes have won or shared 34
2. Rose Bowl championships:
the Buckeyes have 7
3. National championships:
the Buckeyes have 13 (including all selections), most recently the BCS national title in 2002
At a traditional power like Ohio State, if no championship is won, the season is pretty much forgotten.
Ohio State's seniors entered their final season with the sobering knowledge that they couldn't achieve any of these goals. A postseason ban for NCAA violations deprived them of competing in the Big Ten title game or any bowl game. The only championship they could win was the Leaders Division.
Their only chance to truly make history was to do something that often has proven harder than winning the Big Ten, the Rose Bowl or even the national title. They had to be perfect. Only 10 previous Ohio State teams have recorded undefeated, untied regular seasons. Only five previous Ohio State teams -- 1916, 1944, 1954, 1968 and 2002 -- finished the postseason without a loss or a tie. Only two previous Buckeye squads, the 2002 and 2006 versions, started a season 12-0.
Add in the fact Ohio State had a new coach (Urban Meyer), a partially new staff and a mostly young team coming off of the program's first 7-loss season since 1897, and the idea of perfection seemed more fantasy than reality.
It's real now.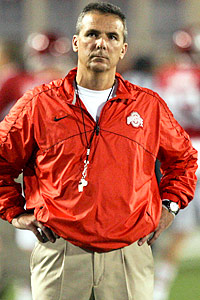 Pat Lovell/US PresswireUrban Meyer and the Buckeyes could accomplish a rare 12-0 season at Ohio State, despite being on probation.
"It's right in front of us," Buckeyes senior tight end
Jake Stoneburner
told ESPN.com. "Not that we didn't have anything to play for, but the two things we had to play for were win every game and beat Michigan. So both goals are hopefully going to be able to happen at the same time. We can win our side of the conference, but there's no Big Ten championship or anything like that, so all you can play for is win every game and go undefeated.
"So far, we've done a pretty good job of that."
Ohio State sits at 10-0 for the first time since 2007. The Buckeyes are one of just four undefeated teams in the FBS (No. 1 Kansas State, No. 2 Oregon and No. 3 Notre Dame are the others). They have quite possibly their two toughest games left, a trip Saturday to Wisconsin followed by The Game against archrival Michigan on Nov. 24 at Ohio Stadium.
The focus inside the Woody Hayes Athletic Center this week is Wisconsin, just like it had been Illinois, Penn State and Purdue in previous weeks. But Ohio State's quest for perfection is in the home stretch.
"It'll be one of those things where, after the Michigan game, if we are 12-0, we'll look back and be like, 'Wow, we really did it. We really went 12-0,'" Buckeyes linebacker (formerly fullback)
Zach Boren
told ESPN.com. "But we still have two huge weeks ahead of us."
Let's attempt to put into context what a 12-0 season would mean for Ohio State and Meyer, with help from the fine crew at ESPN Stats & Info:
Ohio State would be the fourth team on postseason probation to record an undefeated season. Auburn was most recent to do it in 1993 (11-0). Oklahoma also recorded back-to-back undefeated seasons in 1973 (10-0-1) and 1974 (11-0), winning the AP national title in 1974.

Few undefeated teams from major conferences suffered as many losses the previous season as Ohio State's seven in 2011. You have to go back quite a few years for some of the better comparisons. Purdue went from 1-8 in 1942 to 9-0 in 1943. Stanford went from 1-7-1 in 1939 to 10-0 in 1940. Ohio State went from 3-5 in 1943 to 9-0 the following year.

Meyer would tie Wisconsin coach Bret Bielema for the most wins in his first season in the Big Ten. He's already the third Ohio State coach to start his career at 10-0 -- Earle Bruce (1979) and Carroll Widdoes (1944) are the others.

Widdoes (12-0) and former Michigan coach Fielding Yost (29-0) are the only Big Ten coaches to start their careers with 12 or more wins.

Meyer would become just the second coach to go 12-0 or better in his first season at a school. Larry Coker went 12-0 at Miami in 2001, winning a national title, and Chris Petersen went 13-0 at Boise State in 2006. Terry Bowden might be the best comparison to Meyer, as he went 11-0 with probation-laden Auburn in 1993.
The potential historical significance isn't lost on the Buckeyes, especially the seniors.
"That's how I want to go out," Stoneburner said. "It'd be nice to go 12-0 and get an opportunity to play for a national championship or play for a Rose Bowl, but we were able to play for a Rose Bowl [three seasons ago], we were able to play for a Sugar Bowl [two seasons ago, later vacated] and a Fiesta Bowl [four seasons ago]. The one thing we can't say is that we went undefeated throughout a season.
"For this class and what we've gone through, for us to be able to go 12-0, that'd be probably my biggest accomplishment since I've been in school. We're going to make sure we do everything to make that happen."
Boren credits Meyer and the staff for keeping the focus on the immediate. The team doesn't shout "12-0!" at the end of practice or have any signs about going undefeated. Instead, the signs around the complex point to the next win total. There were a lot of 10s displayed before the last game against Illinois, and there are a lot of 11s displayed this week.
Meyer said Tuesday he considered selling the Wisconsin game as Ohio State's Big Ten championship and the Michigan game as the Buckeyes' bowl. But the team doesn't need that.
"I don't think we're going to have to make any special T-shirts or talk about bowl games or championships," he said. "... There's no issue with us getting ready for this game."
The Buckeye seniors also understand that this season is a starting point.
"We wanted to make sure we had a good first year under Coach Meyer and a good last year for us," Boren said. "This program's just going to take off, and we wanted to help any way possible. We knew if we could set the tone this year and have a good season, even when nothing really counted, that the younger guys will learn how to win."
The three championships will be back on the table in 2013. Ohio State likely will be favored to win the Big Ten and possibly the Rose Bowl, and the Buckeyes will be mentioned as a potential national title contender. They'll attempt to record a season to remember.
Just like they're doing now.
"Any time you can go undefeated and finish strong, especially with this senior class, you'll definitely leave a legacy," Boren said. "Even in a season where we can't go to the Big Ten championship game or a bowl game, you can still have a season that you will always remember."
August, 27, 2012
8/27/12
5:00
AM ET
1. The Big Ten, which introduced instant replay to college football in 2003, might experiment with having goal-line cameras at a few games this season to give instant-replay officials the best possible angle for crucial decisions. The Big Ten had the goal-line cameras working at Michigan and Michigan State this spring and is expected to use them during games at Big Ten stadiums during the regular season. If the cameras are beneficial, the league plans to spend more than $1 million to have them at all Big Ten home games in the near future.
The Birmingham News reported earlier this month that two SEC officiating crews will experiment with a wireless communication system, similar to the one used in international soccer, in hopes of communicating better among themselves and explaining rulings to coaches.
2. Terry Bowden hasn't coached an FBS team in a game since he resigned after six games at Auburn in 1998. Now, after a 5,066-day hiatus, Bowden will return to the FBS ranks when he guides Akron into its Thursday-night opener against visiting Central Florida at InfoCision Stadium. Bowden, who spent the past three seasons coaching at FCS program North Alabama, inherits one of the bigger rebuilding jobs in the country. The Zips are coming off back-to-back 1-11 seasons under former coach Rob Ianello and are picked to finish near the bottom of the MAC East (only FBS newcomer Massachusetts was picked to finish below them in preseason voting by the media). Bowden gets his first crack at an SEC opponent when Akron plays at Tennessee on Sept. 22.
3. Tennessee hasn't been much of a factor in the SEC race the past couple of seasons, but fan interest hasn't diminished much. With the Volunteers opening the season against NC State in Friday night's Chick-fil-A Kickoff Game at Atlanta's Georgia Dome, at least one high school in Alabama and another in Tennessee have rescheduled their football games to Thursday night so it wouldn't interfere with the Volunteers' opener, according to the Chattanooga Times Free Press.
Marion County (Tenn.) High School coach Mac McCurry told the newspaper he didn't have much of a choice.
"We would probably lose money on Friday in just general attendance, but we're trying to accomodate our fan base,"
he said
. "A lot of them would like to see both."
January, 11, 2012
1/11/12
3:30
PM ET
The system of checks and balances is working in Los Angeles. Just consider new UCLA coach Jim Mora's recent hiring of a new new strength and conditioning coach.
The media in Los Angeles is
calling attention to a horrible
— and infamous — mistake Sal Alosi made when he worked for the New York Jets. It is opining on the
riskiness of Mora's hire
.
[+] Enlarge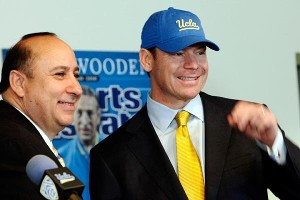 Nick Ut/AP PhotoUCLA athletic director Dan Guerrero, left, poses with new head football coach Jim Mora on Dec. 13, 2011.
That is good. That is the media doing its job, holding public figures accountable for their actions.
And Mora and Alosi are talking about the hiring. They are not hiding.
"I understand the criticism, I expect the criticism, it's completely warranted," Mora told LA Times columnist Bill Plaschke. "But I know the fiber of this man."
That is good: Public figures stepping forward to explain themselves in a controversial situation.
And, by the way, well said, Jim.
I love Mora's hire here all the more, even without knowing a whole lot about Alosi as a strength coach, other than that he seems highly respected by a number of NFL players.
As you long-time readers know, I am a big second-chance guy. I believed LeGarrette Blount deserved a second chance. I believed Rick Neuheisel deserved a second chance. I think the ranting and raving of absolutists who act like everything is black-and-white is a pose, one that my life experience has often found to be situational and hypocritical.
But this isn't about praising Mora for giving a guy a second chance. It's about Mora doing what he wants to do with his team and not fretting the PR angles. This is a revealing moment that Bruins fans should feel good about.
Here's a secret of all good head coaches: They insist on autonomy. They hire who they want to hire. They don't allow administrators to dictate whom they hire. Sure, there are obvious parameters -- felonies and NCAA violations tend to disqualify assistant coaching candidates. But the quickest and surest path to failure is a new head coach taking a job and then being steered to hire assistants he doesn't know.
Perhaps the most important quality for a head coach is being a good CEO, and the first thing a good CEO does is hire the right people. He needs to build a cohesive unit that functions on efficiency. To do that, he needs to know whom he's hiring. How he works. How he takes suggestions and criticism. How he teaches and motivates. His work ethic, both on the field and in recruiting.
Further, it's also about loyalty. An assistant who isn't connected to a head coach often feels little reason not to undermine him "off-the-record" if things get tough.
The worst case I can think of was Terry Bowden at Auburn back in the 1990s. His fatal mistake was retaining assistants who worked for Pat Dye. That became a train wreck of epic proportions.
UCLA fans are well-aware of another: Neuheisel's second chance was a dream — coaching his alma mater — that turned into a nightmare, in large part because he agreed to hire Norm Chow as his offensive coordinator and retain DeWayne Walker as his defensive coordinator. Chow and Walker are outstanding coaches, no doubt. But they weren't Neuheisel's guys. A major part of the problem in Westwood the past four years was a lack of cohesion on the Bruins coaching staff.
Obviously, this isn't the same thing. We're talking about a strength coach, not a coordinator. But I am choosing to freight the hiring of Alosi with meaning, meaning that speaks well of Mora and the early — early! — trajectory of his tenure.
Mora wanted to hire Alosi. He knew there would be some negative blowback, and not without justification. But he met that blowback head-on, and now he's got a the strength coach he wanted.
And he's got a strength coach who probably feels pretty darn obligated to bust his rear end and repay Mora's faith in him with a finely conditioned football team.
July, 28, 2011
7/28/11
9:00
AM ET
We'll know more about which direction North Carolina is headed following today's 11 a.m. press conference, but it's hard not to assume they're going the interim direction. Colleague Bruce Feldman
listed some potential candidates
for the long-term, and one name appears on both of our lists: Bud Foster. The Hokies' defensive guru has made no secret about the fact he wants to be a head coach, and his name has been tied to several openings in the past. It seems completely unreasonable to think an entirely new staff could come in just two weeks before the start of fall camp, but there will be plenty of speculation as to who will lead the Tar Heels on a permanent basis. I haven't heard anything confirming any names, so consider this a list of possibilities for North Carolina's next coach:

INTERIM
Everett Withers, defensive coordinator:
He has 24 seasons of coaching experience at both the collegiate and NFL levels. North Carolina's defense has been in the spotlight under Withers, and what he cobbled together in spite of the NCAA investigations was impressive.
John Shoop, offensive coordinator:
He has two decades of coaching experience in both the NCAA and NFL, and has been a coordinator for both. Carolina's offense improved under Shoop, but he's a quirky character who has been given his fair share of heat at times from UNC fans.
Sam Pittman, offensive line coach:
The title of associate head coach was added earlier this month, but Pittman has spent the past four seasons coaching the Tar Heels' offensive line. School spokesman Kevin Best said there's not necessarily a correlation between Pittman's recent promotion and the timing of the coaching change.
NEW HIRE
Bud Foster, Virginia Tech defensive coordinator:
Give the man a chance, willya?
Randy Shannon, former Miami coach:
He knows the ACC, he's a good recruiter, and the timing would work well if an interim were hired this year because Shannon isn't coaching this season. Shannon was reportedly interested in the Maryland job and wants to return to coaching.
Name your Bowden:
Terry or Tommy, both have plenty of coaching experience to offer.
June, 23, 2011
6/23/11
5:00
AM ET
1. A few years ago, head coaches began bestowing exalted titles on their top assistants to make the program look good and make the assistants feel better. But I wonder if that came back and bit North Carolina. John Blake was more than Butch Davis's top recruiter. Blake was "assistant head coach." Blake got busted for lying to the university and to the NCAA, and for taking money from the late agent Gary Wichard. When your "assistant head coach" does that, it looks bad before the NCAA Committee on Infractions.

2. Temple coach Steve Addazio told me a nice story on the ESPNU College Football Podcast on Wednesday about his son Louis, a 6-3, 232-pound tight end who signed with Syracuse in January. When I asked Addazio how he let his son get away, he laughed. Turns out that when Addazio was an assistant at Syracuse a decade ago, eight-year-old Louis told him that someday he wanted to play for the Orange. What dad is going to mess with his kid's dream?

3. ACC blogger Heather Dinich's item this week about the large number of former FBS players now playing for Division II North Alabama coach Terry Bowden reminded me of a story that Terry's dad loves to tell. When Bobby Bowden coached at Howard (Samford) some 50 years ago, he would get a call from Tuscaloosa to come watch Alabama practice. Bear Bryant had decided which players he couldn't use. Bobby would watch practice, evaluate, and ask them to play for him. It's almost Life Father, Like Son.
March, 18, 2009
3/18/09
1:31
PM ET
Posted by ESPN.com's Tim Griffin
It's a little light today as Texas, Oklahoma and Oklahoma State take this week off from spring practice.
But there's still some news around the Big 12. Here are a few links of interest from around the conference.
November, 3, 2008
11/03/08
12:04
PM ET
Posted by ESPN.com's Heather Dinich
Yes, Clemson coach Dabo Swinney said, Saturday's game at Florida State will be "very awkward."
For the first time in a decade, Florida State coach Bobby Bowden will face Swinney instead of his son, former Clemson coach Tommy Bowden, when the Seminoles host Clemson on Saturday. The days of the Bowden Bowl are done.
Oh, and it also happens to be Papa Bowden's 79th birthday on Saturday.
"Wow, it's his birthday," Swinney said. "Man, oh man.
"It's been awkward since I've gotten in this role because Tommy Bowden was my first coach in college, and he's a friend and mentor and guy that I love dearly. It's very, very awkward, and Bobby Bowden is one of my heroes. He's one of the good guys in the profession. ... I have all the respect in the world for him. This is a very strange and awkward situation under the circumstances. So yeah, it will be different, but coach Bowden has been in this business a long time. He's a professional. He understands the business. Same thing with Tommy."
Bobby Bowden said he's got no animosity toward Clemson because of his son's departure.
"That would have no bearing whatsoever," he said. "I just want to win the game. If you'd give me one point today, I'd take it. People would think that, that 'Oh, you're gonna really be mad because your son lost his job.' No, I'm not. No, I'm not. He had 10 wonderful years up there at Clemson. He'll tell you that himself. He left there on a good note as far as he was concerned."
Bowden said he and his wife will enjoy the game more now that one of the Bowdens won't have to lose. Tommy Bowden had beaten his father in four of the past five games.
"We like that," Bobby Bowden said. "When Tommy and I play, she can't win. One of us is going to get beat. Plus, I didn't like it either, because I don't like it when he beats me, and when I beat him, I feel for him. I am so happy. It is the first time in 10 years I don't have to worry about Tommy being on the other side whippin' me, or me whippin' him."
Tommy Bowden is again relaxing in Panama City, and has only talked with his father about three or four times since he left Clemson. Unprompted, the elder Bowden insisted that he and his son have not talked about Clemson's personnel. He said Tommy wouldn't dare come by the house to talk about the game, and Bowden wouldn't ask him to.
"I can see where people would think, 'Now coach Bowden, he's really going to get a good scouting report. We study film. Tommy wouldn't dare, Tommy wouldn't dare try to spill the beans on them to me. Those are his kids. He recruited those kids. And he'll pull for those kids. Will he pull for 'em against me? Probably."
On the night Swinney found out he would be Clemson's next head coach, he got a phone call from Terry Bowden.
"He said, 'Look, Dabo, you'll do a good job. I want you to know all the Bowdens are pulling for you,'" Swinney said.
Bobby Bowden, though, will be pulling for his own team on Saturday. Just like he did when Tommy was coaching.