August, 10, 2013
8/10/13
8:00
AM ET
COLLEGE STATION, Texas -- Just days before the start of preseason training camp, the Texas A&M defensive linemen gathered at the home of position coach Terry Price for one of his signature backyard cookouts.
Price, a former Texas A&M defensive lineman himself, considers his group a family. So when the steaks and ribs hit the grill and his linemen gather, it's often a happy, joyous occasion.
The latest such reunion was missing one family member:
Polo Manukainiu
.
Manukainiu, a redshirt freshman defensive lineman for the Aggies, was one of three teenagers killed in a single car accident in northern New Mexico on the night of July 29. The crash also took the lives of Utah incoming freshman defensive tackle Gaius Vaenuku, 18, and 13-year-old Andrew Uhatafe.
Price's cookout, which took place just two days after Manukainiu's death, was a welcome occurrence as the Aggies mourned the loss of their teammate.
"I believe we needed to have that," sophomore defensive end
Julien Obioha
said Friday. "Come together as a family and celebrate [his life]. That's the one way we can always celebrate, is go over to Coach Price's house and eat some steaks. That's what we needed to do."
Today, the entire Texas A&M football team will turn its hearts and minds towards Manukainiu's family as the squad heads to the Church of Jesus Christ of Latter Day Saints in Colleyville, Texas for Manukainiu's funeral. Texas A&M head coach Kevin Sumlin plans to speak at the funeral.
On Friday, Sumlin welcomed Bill Johnston, the area director of the Brazos Valley chapter of the Fellowship of Christian Athletes and Mikado Hinson, the team chaplain at Houston where Sumlin coached previously, to speak to the team.
"[They talked] about reality, not ducking away from it but getting some things out in the open," Sumlin said. "It'll be an emotional situation for a lot of different people. For us to be able to deal with it openly as a team and to give support to each other and that family [today] is very, very important."
Teammates remember the 19-year-old Manukainiu as a hard-working young man of high character.
"He was a great guy, a very humble individual," senior defensive back
Toney Hurd
Jr. said Monday. "We were looking forward to him playing for us this year. It's extremely emotional going into camp but we'll dedicate our hard work and dedication to Polo throughout the season."
Defensive coordinator Mark Snyder joined the Aggies' staff around the time the Aggies began recruiting Manukainiu. He was rated as a four-star defensive tackle by ESPN and committed to Texas A&M on Jan. 29, 2012, following in the footsteps of a pair of relatives who also played at A&M, Semisi Heimuli (1996-99) and Lee Foliaki (2004-05).
"He's from a very strong family, a very tight family," Snyder said. "When I was in the home [for a recruiting visit], I had just got hired when we started recruiting Polo. I know how tight-knit they are and what a great kid he was. It's a little bit of a struggle [to cope with] to be honest with you."
Snyder remembers a pleasant Manukainiu.
"He always had a smile on his face," Snyder said. "Polo was a kid that liked to joke around quite a bit. He brought a smile to everybody's face....For a young guy, he brightened up a room when he walked in."
At 6-foot-5 and 275 pounds, Manukainiu was expected to be involved in the defensive line rotation after redshirting last season. He was a product of Texas high school powerhouse Euless (Texas) Trinity, the same school that Vaenuku attended.
"We talked [Friday] as a team about what time means to you and not taking time for granted," Sumlin said. "Everybody thinks that they have plenty of time. You never know."
Sumlin said it means a lot to be able to speak about Manukainiu at the funeral.
"For me to be able to talk and show our support to the family, to Polo's immediate family, is a big deal," Sumlin said. "He was a part of our family for a year-and-a-half but that's a son for 18, 19 years. For us to show our support, that's about all we can do at this point and it's a big deal for us to be there at that time."
Price said the last week and a half has been difficult for him and his defensive linemen.
"One thing I try to tell all of our guys, all of our group is that 'We're all a family,'" Price said. "Not only is the team a family, but the D-line group is a family. Any time you lose a family member, it hurts everybody. It's tough for everybody included, including myself, because I'm the leader of the group.
"We're all going to go up there together and try to help the family get through this tough, tough time and take part in the funeral. Then we'll come back and go back to work, but we're definitely going to miss Polo."
November, 7, 2012
11/07/12
2:15
PM ET
Quick: Name the SEC's leader in sacks and tackles for loss.
Jarvis Jones
? Obvious choice after he led the SEC with 13.5 sacks and 19.5 tackles for loss last year, but no.
How about
Jadeveon Clowney
? He's a freak, but think again.
Time's up!
Both were solid guesses, but both are staring up at the new kid on the SEC block -- Texas A&M defensive end
Damontre Moore
.
[+] Enlarge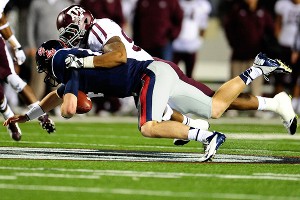 Stacy Revere/Getty ImagesDamontre Moore has spent a lot of time in the offensive backfield this season.
The former outside linebacker has taken to his new position and run with it … right over opposing quarterbacks. He's tied for first in the nation with 11.5 sacks and stands alone nationally with 19 tackles for loss.
Jones' impressive 2011 debut might be a blip on the radar compared to what Moore could do in the next month.
"He's definitely come a long way," defensive line coach Terry Price said.
"He's really turned his game up and accepted the challenges that are put in front of him to be the hardest playing defensive end in the country."
He was a star in the Big 12 last year with his 8.5 sacks and 17.5 tackles for loss, but his numbers masked a glaring issue that his new coaches immediately noticed on film.
They saw a primo athlete who was also very sluggish at times. When he was on, he was dominant, but he was only registering around 30 or 40 plays a game. When Kevin Sumlin took over at A&M, he realized that if Moore was going to succeed in the line-driven SEC, he had to get into better shape.
Sumlin's extra workout sessions with strength coach Larry Jackson pushed spring practice back two weeks. It was something that irked Moore, who was antsy without his pads this spring, but as he prepares for his 10th game of the season, he looks back at the grueling punishment his body took and is thankful for the extra work.
"Those two weeks helped me build up my conditioning," Moore said.
"I'm able to run a lot longer than most big men my size. That was the advantage on my end and I'm able to work at a high level consistently and go 60, 80 plays down the line. When other people are dying off, I'm building up or staying consistent where I'm at."
Moore is basically a new man. He's physically and mentally tougher and his endurance has cranked his motor up to a level he didn't have in 2011. He's gone from taking himself out of games to taking wide receivers down from behind -- in a dead sprint.
That extra conditioning has also helped him adapted better up front. Having to constantly throw one's body into someone with more than 60 pounds on him each play can take a toll on someone's stamina, especially when you aren't used to so much contact.
But with Moore's one-track mind, he's too obsessed with hammering quarterbacks to worry about being out-muscled. Quarterbacks have something he wants -- the football – and he's willing to do whatever it takes to either get it, or make them feel sorry for ever deciding to take it.
"It's like a horse when you put on their blinders when they're about to race," Moore said. "They only see that one thing in front of them and that's how I feel. I see that one thing in front of me and I lock in on it and I hone in on it and I go get it."
Moore might be regularly terrorizing opposing backfields, but he's still managed to stay in the shadows of Jones and Clowney. League seniority will do that, but it doesn't bother Moore.
He isn't offended. He's motivated.
Moore understands he still has a lot to prove and he knows he has a great opportunity to earn more respect against the nation's top offensive this weekend in Tuscaloosa. Alabama features two future first-rounders in
Cyrus Kouandjio
and
D.J. Fluker
who will make Moore work for everything, and try to wear him out of 60 or 80 plays.
Moore relishes the opportunity. He's bested most who have stood before him, and while he isn't favored Saturday, he likes his odds.
"I don't mind being the underdog," he said. "I love proving people wrong.
"I like it when people say, 'You can't do that.' That way, when I go in there I have that motivation, that drive, that will and that want-to just to prove that I can do whatever I put my mind to.
"If you tell me I can't do it, then I'm going to go do it."
December, 16, 2011
12/16/11
10:30
AM ET
We're not done spinning just yet, but if you're a bit lost, here's the changes to the coaching staffs across the Big 12 thus far.
BAYLOR (9-3)
Out: Receivers coach Dino Babers took the head-coaching job at Eastern Illinois. No replacement named.
IOWA STATE (6-6)
Out: Offensive coordinator Tom Herman took the offensive coordinator job under Urban Meyer at Ohio State. No replacement named.
KANSAS (2-10)
Out: Head coach Turner Gill fired. Other staff positions up for discussion.
In: Florida offensive coordinator Charlie Weis hired to replace Gill. Akron QB coach Ron Powlus hired to coach quarterbacks. Bishop Miege (KS) coach Tim Grunhard hired to coach offensive line. Running backs coach/recruiting coordinator Reggie Mitchell retained from Gill's staff.
KANSAS STATE (10-2)
MISSOURI (7-5)
Out: Safeties coach Barry Odom left to become defensive coordinator at Memphis. No replacement named.
OKLAHOMA (9-3)
OKLAHOMA STATE (11-1)
No changes yet, but OC Todd Monken has drawn interest from several programs.
TEXAS (7-5)
No changes, though Texas was forced to proactively shoot down rumors of Mack Brown's retirement.
TEXAS A&M (6-6)
Out: Fired coach Mike Sherman. Defensive coordinator/interim coach Tim DeRuyter took head-coaching job at Fresno State but will remain on staff through the bowl game. Other staff positions up for review.
In: Hired Houston coach Kevin Sumlin. Sumlin will recruit while the other coaches prepare for the bowl game.
TEXAS TECH (5-7)
Out: Fired DBs coach Otis Mounds and offensive line coach Matt Moore. Moved defensive line coach Sam McElroy into a non-coaching role on staff.
In: Hired former Miami DC John Lovett to coach defensive backs and former Ole Miss defensive line coach Terry Price to coach the defensive line. No offensive line replacement named yet.