February, 15, 2011
2/15/11
2:41
PM ET
A lot of names have been attached to the UCLA vacancy at defensive coordinator, but the guy Rick Neuheisel tapped on Tuesday was not one of those names.
Joe Tresey, 52, a former defensive coordinator at Cincinnati and South Florida, has been named UCLA's defensive coordinator, ending a lengthy and winding search since Chuck Bullough was fired on Dec. 18.
"He has an aggressive style that forces turnovers and negative-yardage plays and I feel our players, especially our youngsters, will benefit greatly from his style of play," Neuheisel
said in a statement
. "He is a fine teacher and I can't wait for him to get started."
Tresey coached at South Florida in 2009 and Cincinnati -- under current Notre Dame coach Brian Kelly -- from 2007-08. Last year, he was the defensive backs coach for the Omaha Nighthawks of the United Football League. (Recall that Bulls coach Jim Leavitt
was fired in January 2010
after a school investigation concluded he grabbed one of his players by the throat, slapped him in the face and then lied about it.)
In 2009, South Florida ranked 24th nationally in total defense (321.8 yards) and 19th in scoring defense (19.8 points) while compiling an 8-5 record. The Bulls forced 23 turnovers that season. In 2008, Cincinnati ranked 31st nationally in total defense (321.9 yards), 19th in rushing defense (115.0) and 25th in scoring defense (20.1 points).
Tresey is a secondary specialist "with a reputation for
forcing turnovers and piling up sacks
."
But also consider this paragraph from a Tampa Tribune story on Tresey's hire at South Florida: "Tresey was fired last month by Bearcats coach Brian Kelly, who said he had philosophical differences and was shifting to a 3-4 defense, but the move could have also been prompted by Tresey's talks with Miami."
Recall that one of the reasons Neuheisel dispatched Bullough was a desire to switch to a 3-4 scheme. Tresey is a 4-3 guy.
Here's a
Q&A with Tresey
, also from the Tampa Tribune.
A 1982 graduate of Ohio State, he also has coached at Central Michigan (2006), Georgia Southern (2004-05), Akron (2002-03) and VMI (1999-2001).
Before Neuheisel tapped Tresey, a
multitude of coaches were touted as potential candidates
, including Vic Fangio, Randy Shannon, Rocky Long, Chuck Heater, Teryl Austin, Rocky Seto, Jeff FitzGerald and Steve Brown.
May, 19, 2010
5/19/10
12:12
PM ET
Florida has made its assistant coaches among the highest paid in the SEC as a group with
raises across the board
.
With Florida head coach Urban Meyer making $4 million per year thanks to the six-year, $24 million deal he agreed to last August, it was past due for the Gators to take care of their assistants.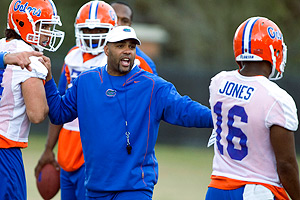 AP Photo/Phil SandlinNew defensive coordinator Teryl Austin will become the highest paid assistant in Gainesville.
It's true that all these coaching salaries are spiraling out of control. But comparatively speaking, the Florida assistants were underpaid the last couple of seasons.
Don't think so? Go back and look at what former defensive coordinator Charlie Strong was making.
When he was hired following last season as the Louisville head coach, he was reportedly making just $310,000 for the Gators. That would place him in the bottom half of the league right now.
Talk about a guy who was grossly underpaid.
Interestingly enough, the Gators' highest paid assistant will be Strong's replacement, Teryl Austin, who will earn $440,000 annually after coming over from the Arizona Cardinals. Even so, that figure still places him in the lower tier of SEC defensive coordinator salaries. Alabama's Kirby Smart, Georgia's Todd Grantham, LSU's John Chavis and South Carolina's Ellis Johnson all make $700,000 or more. Tennessee's Justin Wilcox makes $600,000, while Ole Miss' Tyrone Nix recently agreed to a deal that will pay him $500,000 annually.
Florida's offensive coordinator, Steve Addazio, will make $375,000 per year, but he will also be paid an additional fee for the duties he performed this offseason as the Gators' interim coach while Meyer was taking some time off.
I hope that fee is significant when you consider all the different hats Addazio has had to wear the last several months.
At least four SEC offensive coordinators will make more than Addazio in 2010 -- Auburn's Gus Malzahn ($500,000), LSU's Gary Crowton ($469,917), Tennessee's Jim Chaney ($425,000) and Alabama's Jim McElwain ($410,000).
So while these raises put the Florida assistants as a group near the top of the league, the coordinator salaries still lag behind.
The total for the nine Florida assistants is at least $2.74 million, and there are also performance-based incentives that are part of the deals.
In addition to Austin and Addazio, defensive line and assistant head coach Dan McCarney and assistant defensive coordinator Chuck Heater will also earn more than $300,000 per year annually. All nine of the assistants received two-year deals.
All in all, some pretty good coin when you consider that in 2000 the average salary for a Division I-A assistant coach was $60,500, according to a survey conducted by the NCAA. The highest paid assistant at that time was then-North Carolina State offensive coordinator Norm Chow at $165,000.