NCF Nation:

Tevita Stevens
April, 3, 2012
4/03/12
8:35
PM ET
Recognition is so important for an offense. Think
Andrew Luck
-- or Peyton Manning -- wildly gesticulating at the line of scrimmage.
Or, for that matter, Oregon quarterback
Darron Thomas
doing the same thing.
That was something that stuck with me after I chatted with Oregon sophomore center
Hroniss Grasu
a couple of weeks ago. We were talking about how he improved at making line calls during the 2011 season, but he went out of his way to note how good Thomas was at helping out, at identifying last-second changes a defense made that perhaps hinted at its ill intentions.
The point: Centers and quarterbacks are the brains of an offense. The center typically makes the calls at the line of scrimmage that make sure everyone is accounted for. And quarterbacks communicate to both the skill players and the line about check and audibles.
The QB and center work in tandem. They need to be in sync. And having smart, experienced signal-callers and centers is a big deal for an offense. It means an offense can go to the line with more options, and it can check into the right option more often than not. That breeds confidence, both among players and with their coaches.
So which Pac-12 teams are experienced at QB and center? Who has both back, one back or neither?
Thanks for asking.

Arizona: Center
Skinny
: While
Nick Foles
was the Wildcats' quarterback last year,
Matt Scott
has started five games, so the offense is not in inexperienced hands. Senior center
Kyle Quinn
did a solid job in 2011, earning honorable mention All-Pac-12 honors. On the downside, the Wildcats are installing a new offense with coach Rich Rodriguez, so past experience isn't as helpful.

Arizona State: Neither
Skinny:
QB
Brock Osweiler
is gone as is center
Garth Gerhart
.
Kody Koebensky
likely takes over at center, while the quarterback competition continues to be wide-open. Of course, the Sun Devils are installing a new offense under new coach Todd Graham, so being green isn't as much of an issue.

California: Both
Skinny
: QB
Zach Maynard
should be much more in control as a second-year starter. While center
Dominic Galas
is back, he's sitting out spring due to a shoulder injury, and it appears he will switch over to guard. Galas, some of you Bears fans might recall, did have some issues with shotgun snaps last year.
Chris Adcock
or
Mark Brazinski
could end up winning the job.

Colorado: Center
Skinny
:
Tyler Hansen
is almost certainly going to be replaced at quarterback by Texas transfer
Connor Wood
, a sophomore with no game experience. It should help Wood, however, to have junior
Gus Handler
back making the line calls.
Daniel Munyer
, who's slated to start at guard, also has starting experience at center.

Oregon: Center
Skinny: Center
Grasu's first start as a redshirt freshman was against LSU's beastly defensive front. That was a baptism by fire, but he consistently improved throughout the season. QB
Bryan Bennett
has some experience, including one start, but he will be challenged this spring by redshirt freshman
Marcus Mariota
.

Oregon State: QB
Skinny
:
Sean Mannion
is back at QB, but center
Grant Johnson
is gone. The frontrunner to win that job is sophomore
Roman Sapolu
. The Beavers have injury issues on the line this spring, and that likely will slow down the unit's -- and Sapolu's -- development.

Stanford: Center
Skinny
: You might have heard that Andrew Luck is gone.
Brett Nottingham
and
Josh Nunes
look like the favorites to replace him, but neither has significant experience. Senior
Sam Schwartzstein
did a fine job stepping into Chase Beeler's shoes in 2011, but life was, naturally, easier with Luck at QB. More will fall on Schwartzstein in 2012.

UCLA: QB
Skinny
: The Bruins have two quarterbacks with significant starting experience back:
Kevin Prince
and
Richard Brehaut
. But redshirt freshman
Brett Hundley
might end up winning the job. All three are learning a new offense this spring under new coach Jim Mora and offensive coordinator Noel Mazzone. Sophomore Jacob Brendel -- or perhaps junior
Greg Capella
, who mostly started at guard last year -- are the frontrunners to replace
Kai Maiava
at center.

USC: Both
Skinny
: You've maybe heard of Trojans QB
Matt Barkley
and his receivers,
Robert Woods
/
Marqise Lee
, being the best pass-catch trio in the nation. Well, Barkley and senior center Khaled Holmes are the perhaps the best QB-center combination in the nation. Holmes was second-team All-Pac-12 in 2011, and he's probably the best center in the conference.

Utah: Both
Skinny
: Junior
Jordan Wynn
, a three-year starter, only needs to stay healthy for the Utes to get at least solid QB play. Center
Tevita Stevens
is solid, but he will be breaking in a pair of new OTs.
Washington: Both


Skinny
: Junior QB
Keith Price
was a revelation last year as a first-year starter, far eclipsing the production of his celebrated predecessor, Jake Locker. Senior center
Drew Schaefer
is a 30-game starter. So this is a strong combo for the Huskies.
Washington State: Both


Skinny
:
Jeff Tuel
feels like a decided frontrunner to retain his starting job at QB, while junior
Matt Goetz
returns at center. A junior-college transfer in 2011, he started the final nine games of 2011. A year of seasoning -- and in the weight room -- should help Goetz in 2012.
September, 11, 2011
9/11/11
1:29
AM ET
LOS ANGELES -- Losing is misery. Losing a close game is doubly-so. Utah center Tevita Stevens and his teammates trudged off the Coliseum field and into the long, cavernous tunnel that leads to the locker room thinking about all the "what ifs," all the moments that make a game what it is instead of what it might have been.
Misery, yes, but Stevens couldn't help but look up and notice something a bit surprising, particularly in jaded LA. USC fans weren't jeering them. They weren't even ignoring them.
"It kind of impressed me that when we were walking out all of the USC fans were standing up applauding us," he said.
[+] Enlarge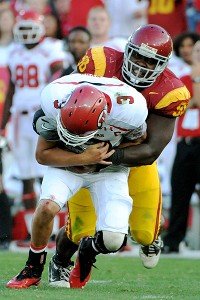 Kirby Lee/US PRESSWIRE"There's no happiness in a loss," Utes quarterback Jordan Wynn said following his game against USC.
That small bit of color observed, Stevens added: "But we're not satisfied with that."
There are no moral victories. Utah didn't come to the Coliseum, didn't join the Pac-12, expecting to be satisfied with being competitive, with not being an easy out.
The Utes expect to win.
"There's no happiness in a loss," Utes quarterback
Jordan Wynn
said to reporters who were plumbing for some consoling parting gifts in a
23-14
nailbiter that wasn't decided in USC's favor until the final ticks clicked off the game clock.
Said coach Kyle Whittingham after praising his team's fight, "In no way am I trying to paint the picture of a moral victory. There is no such thing in my mind."
USC mostly had control of the line of scrimmage: It rushed for 152 yards and the Utes managed just 81. It outgained Utah 416 yards to 319. But the Trojans also were sloppier: three turnovers to one for Utah, including two deep in Utes territory. And that helped the Utes hang around and be in position to win -- or at least force overtime -- in the end.
Utah took over at its 33-yard with 1:01 left and no time outs, trailing 17-14. Wynn found
Dres Anderson
for 18 yards to get things going. Then, on fourth-and-10 from the USC 49-yard line, Wynn connected with
DeVonte Christopher
for just enough for a first down -- it was so close the play required a review and changed spot that added critical inches to the Utes case.
Anderson drew a pass interference penalty on Tony Burnett, and that left Utah on the 24 with 11 seconds remaining.
"I thought we were going to get overtime," Wynn said.
But Coleman Petersen's 41-yard field goal attempt was low and was easily blocked by Matt Kalil. Game over. (Hours after the game, the Pac-12 office ruled that Torin Harris' return of the block counted as a touchdown, so the extra points were added after the fact).
"Honestly, I thought we had it," Stevens said. "It was heartbreaking."
The end-result is the Utah record book won't celebrate the program's first-ever Pac-12 game as a red-letter victory but merely as something that happened. And, yes, that is meaningful.
"To try to belittle it all, like it was just another game would be a lie," Stevens said. "We came in here wanting to prove something, that we can hang in this conference."
That won't be a problem if the defense continues to play this well, particularly in the red zone, and Wynn continues to rediscover his groove.
Wynn's performance is particularly encouraging. After looking tentative and out of sync in the opener against Montana State, he stepped up his game considerably in a hostile venue that just happened to include many family and friends for the Southern California native.
Wynn completed 23-of-46 for 238 yards with a touchdown and no interceptions. It wasn't exceptional by any measure, but it was encouraging to see him letting loose after shoulder surgery ended his 2010 season. Wynn appears to have an A-list target in
DeVonte Christopher
, who caught 11 passes for 136 yards and a touchdown.
Utah can't be too miserable. The schedule doesn't lighten up with a visit to BYU on Saturday, a rivalry game that will feel odd in September instead of at season's end.
But losing on the last play to USC, when victory seemed just over the horizon, is miserable.
A moral victory? Earning respect? Proving it belonged? Whittingham, Stevens and Wynn all indicated that's something fans and media can debate.
Said Stevens, "To all those all those who were watching, it's up to them to decide whether we belong."