October, 18, 2010
10/18/10
3:02
PM ET
BYU and Georgia Tech have agreed to a four-game series, starting with the 2012 season.

The teams will play in Atlanta on Oct. 13, 2012, and Oct. 11, 2014. Two games are also scheduled for Provo on Oct. 12, 2013, and Oct. 14, 2017.

"This should be a great series for our football program," BYU athletic director Tom Holmoe said. "As we fill our schedules for the coming years, we want to play storied football programs like Georgia Tech. It's a great opportunity for Cougar fans in the Southeast to see our football team play."

BYU is making progress in scheduling its games as an independent. So far, it has future games set with Oregon State, Texas, Utah, UCF and Boise State, in addition to WAC teams Utah State, Hawaii, Louisiana Tech, Idaho, San Jose State and New Mexico State. It has 10 games set for next season, its first as an independent.
September, 17, 2010
9/17/10
11:30
AM ET
Monster Saturday may have turned into a dud, but there are plenty of intriguing national storylines to watch in Week 3.
Here is a little sampling:
1. How does the ACC rebound?
To call the ACC's performance last week abysmal would be giving the word abysmal a bad name. Virginia Tech loses to James Madison. Miami and Florida State lay eggs in their big non-conference showdowns. Kansas beats Georgia Tech. N.C. State got the league off to a good start Thursday night with a win over Cincinnati, but that is not really saying much considering the Bearcats hardly look like their 2009 selves. Florida State-BYU, Maryland-West Virginia, East Carolina-Virginia Tech and Clemson-Auburn highlight Saturday. Here's hoping the league doesn't embarrass itself again.
2. What will we see out of Boise State?
The Broncos had the week off last week, but you wouldn't have known it for all the chatter about them once Virginia Tech lost. They finally return to the field Saturday against Wyoming to play in Game 2 after what feels like a very long layoff. The Cowboys have played Boise State tough in recent meetings. The game will be sold out, and the crowd fired up. Key to watch: Will the Wyoming spread offense be able to take advantage of a Boise State secondary that looked shaky at times in the opener?
[+] Enlarge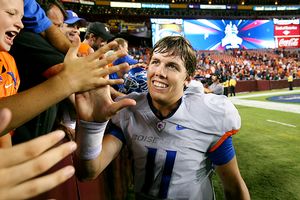 AP Photo/Joe Jaszewski/Idaho StatesmanThe last time we saw Kellen Moore and Boise State they were celebrating a win over Virginia Tech.
3. Jake Locker vs. Nebraska.
It may be unfair to pit one player against an entire team, but that is what this one is going to come down to on Saturday. Locker essentially had his Heisman campaign parked in a season-opening loss to BYU, a team that it turns out may not be as good as advertised. How will he do against a defense that continually brings pressure and is considered to be one of the best in the country? That will go a long way toward determining how people view Locker the rest of the way.
4. Can Georgia keep itself in the SEC East race?
It may be a stretch to say the Bulldogs are reeling, but Saturday's game against Arkansas has got to be considered a must-win. Georgia struggled in a 17-6 loss to South Carolina last week, with shoddy tackling headlining the defensive performance. While
Marcus Lattimore
and run-oriented South Carolina punished them last week, a different type of offense meets them this week behind pass-happy
Ryan Mallett
. Georgia is expected to open up more of its playbook for redshirt freshman
Aaron Murray
, but the onus is going to fall on the Georgia defense to stop Mallett and the Razorbacks.
5. Nick Foles vs. Adrian Clayborn.
Arizona faces its biggest test of the season against the No. 9 Hawkeyes, and this one is going to come down to the way quarterback Nick Foles is able to handle the pressure the Iowa defensive line is sure to bring. And by that we mean Clayborn, who is still waiting on his first sack of the season after notching 11 in 2009. Of course, there is this from ESPN Stats & Information: Since 1990, Pac-10 teams are 25-6-1 at home against Big Ten teams.
6. What does Denard Robinson do for an encore?
Surely the Michigan quarterback can't keep up his torrid pace, what with 885 yards of total offense in the first two games. He may not have to do as much Saturday against Massachusetts, though FCS teams have proven to be problematic for several teams this season. Still, Robinson has inspired awe throughout the country, and now word is out that high school players are leaving their shoelaces untied in order to be just like him.
7. Does Notre Dame rebound against Michigan State?
Surely a heartbreaking loss to Michigan won't be easy to get over, but the bigger question is whether
Dayne Crist
is 100 percent after he admitted he played against the Wolverines with blurred vision before being pulled from the game. If you thought the series against Michigan was a nail biter, check this out from ESPN Stats & Information: Over the past 10 meetings, the Notre Dame-Michigan State game has been decided by seven points or less eight times, with the game-winning score coming late in the fourth quarter or overtime in seven of the 10 meetings.
8. Any FCS upsets this weekend?
Already this year, five FCS schools have beaten their upper division opponents, headlined of course by James Madison over Virginia Tech. Last year there were only four. There isn't an overload of FCS-FBS games this week, but these are the teams on alert: Oregon, South Carolina, Michigan, Syracuse and San Jose State.
9. What do we see out of Alabama running back Mark Ingram?
The Heisman Trophy winner is getting his first action of the season after missing the first two games while recovering from knee surgery. Does Alabama need him to beat Duke? No. But they will need him for its run through the SEC, which begins next weekend with a huge game at Arkansas. Better get him game ready before then.
10. Any last-second heroics between Texas and Texas Tech?
We all remember the last time Texas visited Lubbock -- Graham Harrell to Michael Crabtree ruined the No. 1 Longhorns' shot at the BCS national championship. Point to remember from ESPN Stats & Information: Texas Tech has upset a top-10 Texas team twice in the Longhorns' previous four visits (2002 and 2008).
September, 1, 2010
9/01/10
5:50
PM ET
What seemed to be a dying way of doing business has gotten a jolt from BYU.

But it is unclear how successful BYU can be as an independent.

The Cougars became the fourth major college football program to go that route Wednesday, breaking away from the Mountain West for the 2011 season. With an eight-year ESPN contract to broadcast its home games, along with scheduling help from its broadcast partner, the move seems to be a good one on the surface.

BYU gets the national exposure it believes it deserves. It gets to keep all the proceeds of its TV deal. It gets to place its sports inventory on its own BYUtv network. It essentially gets complete control over everything BYU-related.

"BYU is doing this for the reasons of exposure and access and for what we feel is best for BYU," athletic director Tom Holmoe said. "We feel there's so much to accomplish."

The Cougars already have a six-game series worked out with Notre Dame through 2020. They have WAC games on its schedule for 2011 and 2012. They have Boise State and Texas upcoming on their schedule in previously announced deals. Holmoe said the rivalry game with Utah would continue.

But there are risks, and plenty of unknowns.

First, BYU has no idea whether it will be granted the special access Notre Dame has into the BCS. The Cougars are going to be held to the same qualifying procedures as all others looking for an at-large berth -- if they finish in the Top 14 of the BCS standings they would qualify to get consideration. Also unclear is how much of the BCS financial pie they would get as an independent.

Those future opponents look good for now, but how is BYU going to balance its schedule? The Cougars cannot kill themselves with games against six of the top teams in the country. They would eliminate themselves from contention off the bat. They need a good mix of winnable games, and games against teams like Texas and Notre Dame.

It was already hard enough for non-AQ teams to make it into the BCS. It is safe to say BYU would face a more daunting road as an independent. The Cougars have never made it into a BCS game.

Filling out a 12-game schedule once this two-year partnership with the WAC ends is going to present challenges, too.

"Scheduling is one of the drawbacks people will fear," Holmoe said. "That's a little bit frightening. That's one of the risks. We've calculated that risk and are willing to take it."

Holmoe declined to talk about how this benefits BYU financially, saying the deal was not about the money. But it is a valid to ask how much more this deal benefits BYU than being a member of a conference.

As for the WAC, commissioner Karl Benson believes the scheduling partnership with BYU benefits his schools. Hawaii, Idaho, Louisiana Tech, New Mexico State and San Jose State will play BYU in 2011; everyone but Idaho is on the schedule for 2012. He would love nothing more than to extend the scheduling partnership because it increases exposure for his programs.

BYU, of course, initially wanted to partner up with the WAC as a home for its other sports, but that deal fell apart when Fresno State and Nevada decided to join the Mountain West. Benson reiterated Wednesday that both those schools face a $5 million penalty for breaking a solidarity pact and insisted they must remain members of his league through 2011-12.

He also announced the formation of a membership committee that will begin looking at adding other schools to the conference. The athletic directors of all six remaining schools are on the committee. The goal is to add two to three more football playing schools. Benson didn't rule out adding non-football members in addition to the football schools.

With speculation swirling that Hawaii or Utah State could leave the WAC, Benson said he anticipated all members to remain in the conference. "It's my job to create a business model that will accommodate our six schools in the future," he said. "There are teams out there that I'm sure will bring value to the WAC, and I'm also confident the six remaining schools will continue to get better under the WAC umbrella and there will be a team from the six that will stand out in the near future."

It is safe to say big questions remain for BYU and the WAC going forward. They are essentially entering a world full of the unknown.
August, 24, 2010
8/24/10
1:08
PM ET
August, 20, 2010
8/20/10
2:45
PM ET
The big news out of the
home-and-home series between BYU and Texas
is not so much the game itself but what it means: The Cougars proved once again they have the ability to schedule big nonconference games and get a home game in return. Now is this an omen for its future as an independent?
Between 2011 and 2014, Texas and BYU will play three times, which is excellent exposure for a program that has its sights set on becoming an independent in football. If BYU goes ahead with the plan it had earlier this week, it would play four to six WAC games and then need to fill out the rest of its schedule.
According to Andy Katz,
a mock WAC schedule had been drawn up
for BYU for the 2011 season before Fresno State and Nevada bolted for the Mountain West. That schedule called for the Cougars to play Fresno State, Hawaii, Utah State, Nevada, San Jose State and New Mexico State.
In order to have any shot at a BCS game, let alone a national championship, at least a handful of those games are going to have to come against Top 25 opponents. BYU will not be able to survive with a creampuff schedule. It seems obvious the Cougars would want to try to avoid that. BYU believes it is a national program and would look to schedule national games. Big games would also help with its TV network and potential negotiations with other networks should it go on its own.
Finding willing marquee opponents that want to schedule home-and-home series has been difficult, but not impossible. Over the past five seasons, BYU has gotten home-and-home series with Boston College, Arizona, UCLA, Notre Dame, Washington and Florida State.
Of course, it is much easier to schedule these games in September before conference play begins. All minus the game at Notre Dame were played in the first three weeks of the season (Notre Dame, of course, is an independent and has no set schedule). It will be more difficult to find willing partners during conference play for everyone else. And it is going to need more than a few of these to stay in the national conversation, especially if the WAC schedule includes Utah State, New Mexico State, San Jose State and Idaho, for example.
For those who wonder why Notre Dame would need a tougher schedule, and point to Boise State as benefiting from the weakness of the WAC, remember the Broncos generally play at least two top nonconference schools a season. Four WAC teams were bowl eligible last season. Three of those teams are exiting the league. Notre Dame has seven bowl teams on the schedule this year.
Getting games with Texas is a great first step for BYU. If the Cougars go independent, they are going to need more just like that.
August, 6, 2010
8/06/10
10:28
AM ET
Let's take a closer look at the newly released
preseason coaches' Top 25
:
Biggest snub
: Boise State at No. 5. How does a team that finished the season with a Fiesta Bowl win and a No. 4 ranking with 21 starters returning drop a spot in the preseason poll? Not only that, how does it start the year ranked behind Florida and Texas? Both the Gators and Longhorns had great 2009 seasons obviously, but both are missing several of their key players. Florida is without Tim Tebow and much of its defense; Texas is without Colt McCoy and many of its top defensive players.
Yes, starting No. 5 is huge for Boise St., because it means the Broncos will not have to climb as far if they are in the national championship hunt later in the season. Alabama and Florida play each other Oct. 2 as well (there also is the possibility of another SEC championship game). But Boise St. should have been at least No. 3 based on its accomplishments last season and the players returning. That would have made it easier to stay in the top 3. Now much more is going to have to happen for Boise St. to have any real shot of becoming the first non-AQ team to play for a BCS title. Of course, this could all be a moot point if it loses to Virginia Tech to open the season.
Overrated
: Florida, Texas, Virginia Tech. We listed reasons for the over-ranking of Florida and Texas. Now to the Hokies, who are at No. 6. It seems expectations are too high for the Hokies every season. Yes, they return a very talented RB duo and
Tyrod Taylor
at QB, but the defense only returns four starters and the schedule is brutal. This seems a bit high for a team that has averaged three losses over the past six seasons.
Overrated, Part II
: Penn St. at No. 14 and LSU at No. 16. Penn St. lost lots of defense and has uncertainty at QB; LSU has a great defense, but everybody is waiting on
Jordan Jefferson
to step up. This was also a team picked to finish fourth in the SEC West in the preseason media poll.
Underrated
: Boise St. (see above); Iowa (No. 10). The Hawkeyes made an impressive run last season and beat Georgia Tech in the Orange Bowl. They return 14 starters, including eight on defense. Perhaps coaches took into account all the close games Iowa won last season.
Non-AQs
: Only three ranked in the preseason this year after five finished last season ranked in the final coaches' Top 25. Notably absent: Houston.
Breakdown
: The SEC led the way with six teams; the ACC has five; Big Ten has four; Big 12 has three; Big East and Pac-10 each have two.
Who would be in your Top 25 poll? Check out this
poll generator
, and leave your comments below.
December, 2, 2009
12/02/09
4:21
PM ET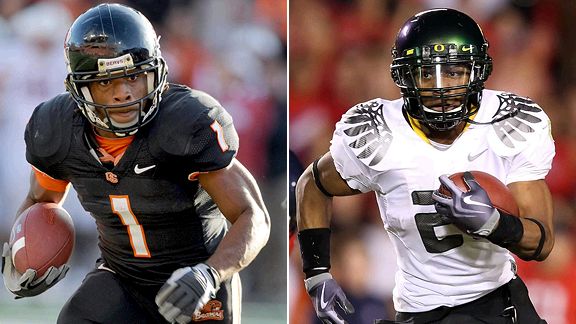 Getty Images
Oregon State's Jaquizz Rodgers and Oregon's LaMichael James are small backs that make a big statement for their teams.
Lookie here! These two little'uns from Texas are lookin' to stir up a heap 'a trouble Thursday after suppertime in this here Civil War game in that there rainy state 'a Oregone.
Apologies for the poor effort at a colloquial introduction, but it's difficult to not get into the spirit of the Civil War for the Roses potentially turning on which diminutive underclass running back from East Texas plays better.
In this corner, we have the Lightning Yellow Rose of Texarkana, Oregon's
LaMichael James
. The redshirt freshman, thrust into a starting role after
LeGarrette Blount
melted down at Boise State, is 5-foot-9, 180 pounds and has rushed for 1,310 yards -- a Pac-10 freshman record -- and 11 touchdowns.
He's very fancy.
And, in this corner, we have the Pride of Richmond,
Jacquizz Rodgers
. The sophomore, who just last year set the Pac-10 freshman rushing record, is 5-foot-7 and a muscular 191 pounds and has rushed for 1,313 yards and 19 touchdowns.
He's tough and versatile.
"When you're talking about running backs who are as productive as these two guys, it's hard -- and there's no need -- to separate them," Oregon State coach Mike Riley said. "They are both really good players who impact their teams with what they do in the games."
Oh, but the Ducks and Beavers fanbases have spent much of the the season tweaking each other over who is better.
Suffice it to say, both are very good and the debate figures to continue through at least the 2010 season.
James leads all FBS players with 18 runs over 20 yards. Every hear coaches talk about "explosion plays"? James is like a dynamite wholesaler.
Rodgers, the 2008 Pac-10 Offensive Player of the Year, is second in the Pac-10 in with 67 receptions. Yeah, receptions.
Those additional touches makes this factoid even more amazing: Rodgers has never fumbled. In 595 career touches, he's treated the football like he's transporting the
Hope Diamond
.
While it's likely those selecting an All-Conference team will just throw up their hands and create a wishbone backfield with Stanford's
Toby Gerhart
-- said Toby, "I am not playing freaking fullback!" -- it's also possible that whichever back turns in a better performance in this high-stakes rivalry game will step ahead in the first-team pecking order.
Both backs, who recently became Facebook friends, have been asked about the other relentlessly during the buildup for the game, but neither has seemed too eager to trash talk the other or claim -- or hint at -- superiority.
Both are young men of few words in any event, though Rodgers is known to be fairly chatty during games. The following qualifies as a paroxysm of verbosity from the typically laconic James.
"Everyone wants to make it out to be a competition," he said. "I don't look at it that way. As long as my team comes out on top, I can lose the individual battle because that's really not important to me. But I welcome all challenges. I'm not going to take anything away from him because he's a great player. I'm just going to go out and play hard for my team."
A footnote to last year's Civil War -- a 65-38 bludgeoning delivered by the Ducks that knocked the Beavers out of the Rose Bowl -- was Rodgers standing on the sidelines with a grumpy expression and a shoulder injury. He was joined early by his fabulously productive receiver brother James, and for many Beavers fans that absence was under-represented in post-game analysis.
The Rodgers brothers are the engine of the Beavers offense, and a vehicle needs an engine. Both are healthy and available this go-around, and they should at least help keep the ball away from James and dual-threat quarterback
Jeremiah Masoli
, who masterfully led the 694-yard offensive charge in 2008.
So how do you best compare these two backs? James offered some insight.
"We're similar in a lot of ways," he said. "And in a lot of ways we're different."
Similar, in that they are very good. Different, in that one of them will be going to the Rose Bowl.
August, 21, 2009
8/21/09
12:05
AM ET
Posted by ESPN.com's Ivan Maisel
1. So Texas has lost three tight ends for the season. Really slowed down the Longhorns last year, didn't it? Texas averaged 42.4 points, and 475.8 yards per game. Of 343 receptions Texas receivers had, tight ends caught seven. Against Oklahoma, Jordan Shipley lined up in the slot, as close as five yards from the tackle, and made 11 catches for 112 yards and a score. I've heard NFL scouts bellyache about the spread being the end of the tight end. Colleges will survive without one.
2. In 2007, Penn State coach Joe Paterno watched on TV as Drew Astorino hit the game-winner for Edinboro (Pa.) General McLane High in the Class AAA state hoop final. A few months before, Astorino scored the winning touchdown in the AAA football final. Astorino, who doesn't run a 4.3, had one offer (Kent State) before Paterno called. Astorino "made plays in the clutch, so we took him," Paterno told the Philadelphia Daily News. The 5-foot-10, 193-pound redshirt sophomore is starting at free safety. That's recruiting, old-school.
3. Despite what you may have read, there are quarterbacks not named Sam, Colt and Tim who are playing this season. Take Nevada junior Colin Kaepernick, who has run or thrown for 64 touchdowns in two seasons under Wolf Pack coach Chris Ault. The Hall of Fame coach begins his 25th season needing two victories to get to 200. If he gets No. 199 on opening weekend, you'll know it. Nevada opens at Notre Dame.
August, 11, 2009
8/11/09
5:00
AM ET
Posted by ESPN.com's Ivan Maisel
1. Texas coach Mack Brown said he will ask his players in their third year of eligibility to say, "No comment," to questions about leaving early for the NFL. That's a polite way of saying that Brown banned the players from speaking.
Brown's intentions are good. He's trying to minimize disruption. But he's killing a mosquito with a sledgehammer. If a player wants to say, "No comment," fine. But he shouldn't be made to hide behind the coach.
2. Senior players often don't mesh well with new coaches. Seniors are set in their ways. Coaches aren't going to accommodate them. So listen to what Tennessee center Josh McNeil, a three-year starter, did: he thanked Vols coach Lane Kiffin for evicting him out of his comfort zone.
"He was the guy and he could just show up on game day," Kiffin said. "It was neat to see him come into our office and thank us for putting him into a competition."
3. Joe Paterno has been across the sideline from 77 different FBS schools in 43 seasons as head coach at Penn State. That includes 53 of the 64 other schools in the six automatic-bid conferences. Among the missing: Arkansas, Ole Miss, North Carolina and Oklahoma State. JoePa is a combined 49-0-1 against Maryland and Temple. He is winless against only one school he has coached against more than once - 0-2 vs. Oklahoma.
December, 10, 2008
12/10/08
11:01
AM ET
Posted by ESPN.com's Tim Griffin
Here are the choices for my All-Big 12 team for the 2008 season.
QB - Colt McCoy, Texas
RB - Kendall Hunter, Oklahoma State
RB - DeMarco Murray, Oklahoma
WR - Michael Crabtree, Texas Tech
WR - Dez Bryant, Oklahoma State
TE - Jermaine Gresham, Oklahoma
OL - Duke Robinson, Oklahoma
OL - Jason Smith, Baylor
OL - Rylan Reed, Texas Tech
OL - Russell Okung, Oklahoma State
C - Jon Cooper, Oklahoma
DL - Brian Orkapo, Texas
DL - Brandon Williams, Texas Tech
DL - Ndamukong Suh, Nebraska
DL - Jeremy Beal, Oklahoma
LB - Joe Pawelek, Baylor
LB - Sean Weatherspoon, Missouri
LB - Travis Lewis, Oklahoma
DB - Darcel McBath, Texas Tech
DB - Darrell Stuckey, Kansas
DB - Lendy Holmes, Oklahoma
DB - Daniel Charbonnet, Texas Tech
AP - Jeremy Maclin, Missouri
KR - Perrish Cox, Oklahoma State
PR - Dez Bryant, Oklahoma State
K- Jeff Wolfert, Missouri
P- Justin Brantley, Texas A&M