NCF Nation:

Texas Christan Horned Frogs
January, 5, 2010
1/05/10
3:04
AM ET
GLENDALE, Ariz. -- If there's one thing that TCU could learn from Boise State after Monday's Tostitos Fiesta Bowl, it's that losing is a powerful motivation.
[+] Enlarge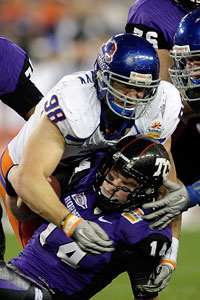 Jamie Squire/Getty ImagesTCU and junior quarterback Andy Dalton can use Boise State as a model for what they can do next season.
The Broncos lost to the Horned Frogs 17-16 in the Poinsettia Bowl last year and spent the entire offseason using "one point" as motivation. Several players said their goal was to use that loss and turn it into a positive the following season. The Broncos did with a
17-10
win over the Horned Frogs in the Fiesta Bowl.
Now, it's TCU's turn to use this game as motivation for 2010.
"We played a very good Boise State team tonight," TCU coach Gary Patterson said. "We came up short. For me, I don't think that we backed down the mountain at all. It would been nice for us to win. That was our intention. But for me to say that we fell, that we stumbled and fell down, that football team there has only lost one ballgame in two seasons.
"We have a lot of young players. We are losing some good players. If you want to be a great program, not just a great team, which I think is what we've become, then we'll regroup, we'll move forward and we'll get ready to go."
The Horned Frogs lose six starters off this year's team, but all of the players behind them have playing experience and some have even started games this season. One of those returning players is quarterback
Andy Dalton
, who had one of the worst games of his career on Monday.
Dalton had been the reason the TCU offense came into the game averaging more than 40 points a game. He ranked fifth in the country in passing efficiency.
But on Monday, all of those stats went by the wayside against a Boise State defense that confused Dalton with several different fronts and looks.
Dalton said losing the Fiesta Bowl doesn't take away from an otherwise great season. The Horned Frogs won the Mountain West title, were ranked higher than ever before and became just the second TCU team to start 12-0.
"We did a lot of good things this year," Dalton said. "We understand that, but we also have a foul taste in our mouth that we have after this game. All these underclassmen, we're going to take this and just make it motivation for next year. And hopefully we can really improve and win a big game like this."
December, 24, 2009
12/24/09
6:00
PM ET
In this day and age of instant feedback, the Mountain West's Twitter feed told the story.

As the final seconds ticked down of Utah's 37-27 win over Cal in the San Diego Credit Union Poinsettia Bowl, the Mountain West's Twitter page was flooded with tweets of congratulations and joy about yet another big Mountain West victory and affirmation that it belongs in the same breath as the six automatic conferences.

The Mountain West is 3-0 this bowl season. Wyoming kicked the streak off with a double-overtime win over Fresno State in the New Mexico Bowl. BYU followed with a 44-20 thrashing of Oregon State in the MAACO Bowl Las Vegas and the Utah's win has the rest of the nation talking.

There was little question that the Mountain West's top three teams -- TCU, BYU and Utah -- could compete with the upper echelon of programs, but to see Wyoming, a team that squeaked into the bowl season with a new head coach at the helm, defeat a seasoned and well-respected Fresno State team was surprising.

Wyoming's win was huge for the conference to show that it's not just about three teams. That the rest of the conference is coming up and with another proven coach joining the mix at UNLV, the Mountain West could be more competitive beginning next season.

While the conference's final two bowl games are not against teams from the automatic qualifying conferences, they are against teams with fantastic résumés. Air Force plays a 10-win Houston team that was the only squad to knock off three AQ teams in the nonconference season. Then TCU takes on Boise State in the Fiesta Bowl, the first time two non-AQ teams have participated in a BCS bowl game.

It was a little less than a year ago, after Utah's thrilling win over Alabama in the Sugar Bowl that the Mountain West started protesting for inclusion. But critics said that the conference needed to show some level of consistency. Well three games in, the Mountain West is doing just that.

While bowl games aren't factored into the formula that will determine whether the Mountain West earns automatic qualifying status after the four-year evaluation cycle is complete, it does put public perception on its side.

And that's already a step in the right direction.
August, 12, 2009
8/12/09
10:00
AM ET
Posted by ESPN.com's Graham Watson
Every season, a handful of players emerge as Heisman hopefuls because of their play on the field against a tough schedule, but rarely does that list include players from the non-AQs.
I'm changing that.
There are several players coming into this season who have as good a chance as Tebow, Bradford and McCoy to have stellar seasons and put themselves on the Heisman map. Here are a couple of players who fall in that category (in no specific order):
Max Hall, QB, BYU: It's been 19 years since BYU produced a Heisman trophy winner, but Hall has the schedule and the cast to make it happen. There's no doubt about Hall's arm strength and skill, but his ability to play under the pressure of big games came into question during losses to TCU and Utah. He'll have a couple of early chances against Oklahoma and Florida State to show that he belongs with the nation's elite.
Jerry Hughes, DE, TCU: A defensive player has not won the Heisman since 1997 and only two defensive linemen have ever won the award. But if Hughes can put together another stellar campaign like he did a year ago, the Horned Frogs have the schedule to get him noticed. Hughes led the nation in sacks last season and TCU led the country in rushing defense and total defense.
Colin Kaepernick, QB, Nevada: Last season, Kaepernick quietly burst on the scene after throwing for nearly 3,000 yards and rushing for more than 1,000 and this year figures to be even better. Kaepernick said he's become a more accurate passer and with the ability to run circles around defenses, Kaepernick could make a quick name for himself with a strong performance in South Bend to open the season.
Kyle Wilson, CB, Boise State: Wilson's return to school for his senior season will not only improve his draft status, but also give him a chance to earn some national accolades. Only one cornerback has won the Heisman -- Charles Woodson in 1997 -- and Wilson faces an uphill battle because he doesn't play as tough of a schedule as some of the other Heisman hopefuls. Still, he is the anchor of the Boise State defense and puts up the numbers to be worth a mention.
Kellen Moore, QB, Boise State: Moore, a sophomore, showed the poise of a senior last year by leading the Broncos to an undefeated regular season in what was supposed to be a down year. With several key components returning and a better offensive line, Moore stands to put up more impressive numbers, but his strength of schedule might hurt his chances to be a serious Heisman contender.
August, 7, 2009
8/07/09
1:34
PM ET
Posted by ESPN.com's Graham Watson
My favorite part of the coaches' poll is seeing who votes in it.
This year, 59 coaches agreed to vote and all are members of the American Football Coaches Association, which is the governing body of football coaches. In that list, there are 26 coaches from the nonautomatic-qualifying schools, including seven who are first-year head coaches.
There are four coaches from the WAC, six from Conference USA, six from the MAC, four from the Mountain West, four from the Sun Belt and two from the Independents. If you didn't already figure it out, it's about half the coaches from each conference. I'm not sure how they're chosen, but I'm looking into it.
It is interesting that neither Utah coach Kyle Whittingham nor BYU coach Bronco Mendenhall will vote considering both teams might be in the thick of things as the season progresses. However, TCU's Gary Patterson and Boise State's Chris Petersen will have a say.
Here's the list of non-AQ coaches in this year's coaches' poll:
Robb Akey, Idaho
Gary Andersen, Utah State
David Bailiff, Rice
Tim Beckman, Toledo
J.D. Brookhart, Akron
Troy Calhoun, Air Force
Neil Callaway, UAB
Dave Christensen, Wyoming
Dave Clawson, Bowling Green
Mario Cristobal, Florida International
Todd Dodge, North Texas
Ron English, Eastern Michigan
Larry Fedora, Southern Miss
Al Golden, Temple
Ken Niumatalolo, Navy
Stan Parrish, Ball State
Gary Patterson, TCU
Chris Petersen, Boise State
Mike Sanford, UNLV
Rick Stockstill, Middle Tennessee
Kevin Sumlin, Houston
Bob Toledo, Tulane
DeWayne Walker, New Mexico State
Charlie Weatherbie, Louisiana-Monroe
Charlie Weis, Notre Dame
Tommy West, Memphis