January, 8, 2013
1/08/13
9:00
AM ET
These are the final 2012 power rankings.
If you don't like where you finished in the power rankings, you should have played better.
See the pre-bowl-season power rankings here
.
1. Stanford
: Oregon received a higher final national ranking, and you could make a decent challenge in favor of the Ducks. They didn't get upset by Washington, didn't play a lot of close games and beat a top-five team in the Fiesta Bowl. But, on Nov. 17, the Cardinal went to Eugene and took care of business. Stanford is the Pac-12 champion, and Oregon is not. Ergo, Stanford sits atop the power rankings. And 2013 looks pretty darn good, too.
2. Oregon
: The cherry on the top of another special season for Oregon is the return of coach Chip Kelly. And we're of the mind that, if not for the slip against Stanford, Oregon would be sitting atop college football this morning after a fine evening of frolic in South Florida. The Ducks and Stanford will be national title contenders again in 2013. And guess which two teams are going to top the first 2013 power rankings?
3. Oregon State
: The loss to Texas in the Valero Alamo Bowl was baffling. The Beavers were a superior team that seemed to be looking for ways to lose in the fourth quarter. The quarterback carousel needs to be resolved. But the Beavers still won nine games, and their 6-3 conference record overcomes UCLA because of a head-to-head win on the road. Nice bounce back after consecutive losing seasons.
4. UCLA
: Yes, the Bruins flopped in the Bridgepoint Education Holiday Bowl against Baylor, but it's impossible not to see Year 1 under Jim Mora as a success, made even more notable by USC's flop. Like last season, the Bruins won the South Division, but this time they earned it.
5. Arizona State
: The Sun Devils won their final three games for the first time since 1978. That's how you go into an offseason with optimism. We hear a lot about "culture change" from programs with new coaches. The Sun Devils' culture change under Todd Graham was made manifest by what happened on the field.
6. Arizona
: The Wildcats did better than expected in Year 1 under Rich Rodriguez, and the season would have been a complete success if not for what happened against that team from up north. That loss hurts, but quality wins over Oklahoma State, USC and Washington, as well as an overtime game with Stanford, show this team competed better than in recent years.
7. Washington
: The Huskies finishing 7-6 against a brutal schedule probably was close to preseason expectations. But the two-game losing streak to end the season, which included a dreadful meltdown in the Apple Cup to Washington State, quashed the momentum a four-game winning steak from Oct. 27 to Nov. 17 had built. Perhaps that will make the Huskies hungrier in 2013, when they have a nice array of talent returning.
8. USC
: The Trojans' season was a complete disaster. USC started out at No. 1 but turned in a white flag performance while losing a sixth game in the Hyundai Sun Bowl to a middling Georgia Tech team. The Trojans were eclipsed by rivals UCLA and Notre Dame while wasting the much-ballyhooed return of QB
Matt Barkley
. Coach Lane Kiffin will be sitting on one of the nation's hottest seats in 2013.
We've been over this a few times
.
9. Utah
: The Utes' move up in class from the Mountain West Conference is proving tougher than some imagined. Utah missed out on playing in a bowl game for the first time since 2002, and there were issues on both sides of the ball. The Utes need an upgrade in talent and overall depth, sure, but consistent quarterback play would be a good place to start. Therein lies hope with promising freshman
Travis Wilson
.
10. California
: A dreadful 3-9 finish ended Jeff Tedford's tenure in Berkeley after 11 seasons. In early October, after consecutive wins over UCLA and Washington State, it seemed as though the Bears might be poised for a rally. Alas, they lost their final five games, including a horrid performance in a 62-14 drubbing at Oregon State. Sonny Dykes has enough returning talent to produce significant improvement in the fall.
11. Washington State
: New coach Mike Leach's season was bad on the field and off, but it ended on a notable uptick with an Apple Cup win over Washington that included a comeback from an 18-point fourth-quarter deficit. Still, 3-9 took a bite out of the enthusiasm Leach's hiring initially generated.
12. Colorado
: A horrid 1-11 finish that was capped by a controversial firing of Jon Embree after just two seasons. The Buffaloes are probably the worst AQ conference team over the past two seasons, and that is the considerable mess new coach Mike MacIntyre was hired to clean up. Of course, MacIntyre put together an impressive turnaround at San Jose State, so he looks like a good choice to bring the Buffs back to respectability.
October, 17, 2010
10/17/10
10:00
AM ET
What did we learn from the non-AQs in Week 7? Read on to find out.
1. And then there were three.
Boise State, TCU and Utah are the only non-AQ teams that have a shot at a BCS bowl this season, now that Nevada has been knocked from the ranks of the undefeated. The Broncos took a hit to their strength of schedule after the Wolf Pack and Oregon State lost, and it appears they could be No. 3 when the BCS standings are released later today. What Boise State needs is for the major conference teams to continue to lose, which is exactly what happened on Saturday. Of course, it remains to be seen whether an undefeated Boise State or TCU/Utah would finish ahead of a one-loss power conference team at the end of the season for a spot in the BCS national title game. That has never happened.
2. Winless no more.
Kudos to Eastern Michigan for getting its first win since November 2008. The Eagles beat Ball State 41-38 in overtime, after trailing 28-7 late in the second quarter. Quarterback
Alex Gillett
accounted for 414 yards of total offense and five touchdowns -- he ran for 189 yards and two scores and threw for 225 yards and three scores in the win. Meanwhile, Western Kentucky came oh so close to ending its 25-game losing streak, but ULM scored 28 fourth-quarter points to win 35-30. Three winless teams remain -- Western Kentucky, Akron and New Mexico. The Lobos were off Saturday, but the Zips lost 38-10 to Ohio.
3. This could be a long season for Houston.
We knew the Cougars were going to be hurting without
Case Keenum
and
Cotton Turner
. But surely, they would be able to beat Rice without them. Nope. Houston fell behind 28-7 early before a late rally came up short in a 34-31 loss. On fourth-and-inches from the Rice 42 with a chance to come back for the win, quarterback
David Piland
fumbled the snap and that sealed the game. As it stands now, it is going to be hard for Houston to become bowl eligible. The Cougars are at SMU next week and still have to play UCF, Tulsa, Southern Miss and Texas Tech. In all, five of their final six opponents are .500 or better.
4. Hawaii is for real.
Start paying attention to the team on the islands, because it is starting to resemble some of those high-flying Warriors teams we have come to know. Hawaii upset No. 19 Nevada 27-21 late Saturday night in a game that ended past 2:30 a.m. EDT, but it was well worth it if you stayed up and watched. Nevada was able to slow down Hawaii in the second half, but
Bryant Moniz
came up with the big plays when he needed to and outplayed
Colin Kaepernick
. The outcome may have been different had Kaepernick not fumbled the ball out of the end zone in the third quarter down 17-0. But now the Warriors have won four straight and have emerged as the top challenger to the Broncos in the WAC.
5. Nov. 6 is shaping up to be a really big day.
We already knew the TCU-Utah game would be huge, but this one is even bigger now that Air Force lost. No question the game in Salt Lake City should determine the Mountain West champion -- if TCU beats the Falcons next Saturday and Utah beats them Oct. 30. Meanwhile, Hawaii is at Boise State on the same day in another game that could impact the national championship race. Hawaii is the last team to beat Boise State in the regular season -- 39-27 on Nov. 23, 2007 in Honolulu.
September, 17, 2010
9/17/10
11:30
AM ET
Monster Saturday may have turned into a dud, but there are plenty of intriguing national storylines to watch in Week 3.
Here is a little sampling:
1. How does the ACC rebound?
To call the ACC's performance last week abysmal would be giving the word abysmal a bad name. Virginia Tech loses to James Madison. Miami and Florida State lay eggs in their big non-conference showdowns. Kansas beats Georgia Tech. N.C. State got the league off to a good start Thursday night with a win over Cincinnati, but that is not really saying much considering the Bearcats hardly look like their 2009 selves. Florida State-BYU, Maryland-West Virginia, East Carolina-Virginia Tech and Clemson-Auburn highlight Saturday. Here's hoping the league doesn't embarrass itself again.
2. What will we see out of Boise State?
The Broncos had the week off last week, but you wouldn't have known it for all the chatter about them once Virginia Tech lost. They finally return to the field Saturday against Wyoming to play in Game 2 after what feels like a very long layoff. The Cowboys have played Boise State tough in recent meetings. The game will be sold out, and the crowd fired up. Key to watch: Will the Wyoming spread offense be able to take advantage of a Boise State secondary that looked shaky at times in the opener?
[+] Enlarge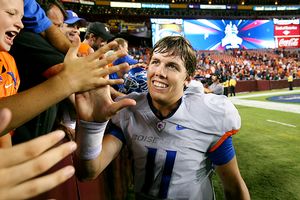 AP Photo/Joe Jaszewski/Idaho StatesmanThe last time we saw Kellen Moore and Boise State they were celebrating a win over Virginia Tech.
3. Jake Locker vs. Nebraska.
It may be unfair to pit one player against an entire team, but that is what this one is going to come down to on Saturday. Locker essentially had his Heisman campaign parked in a season-opening loss to BYU, a team that it turns out may not be as good as advertised. How will he do against a defense that continually brings pressure and is considered to be one of the best in the country? That will go a long way toward determining how people view Locker the rest of the way.
4. Can Georgia keep itself in the SEC East race?
It may be a stretch to say the Bulldogs are reeling, but Saturday's game against Arkansas has got to be considered a must-win. Georgia struggled in a 17-6 loss to South Carolina last week, with shoddy tackling headlining the defensive performance. While
Marcus Lattimore
and run-oriented South Carolina punished them last week, a different type of offense meets them this week behind pass-happy
Ryan Mallett
. Georgia is expected to open up more of its playbook for redshirt freshman
Aaron Murray
, but the onus is going to fall on the Georgia defense to stop Mallett and the Razorbacks.
5. Nick Foles vs. Adrian Clayborn.
Arizona faces its biggest test of the season against the No. 9 Hawkeyes, and this one is going to come down to the way quarterback Nick Foles is able to handle the pressure the Iowa defensive line is sure to bring. And by that we mean Clayborn, who is still waiting on his first sack of the season after notching 11 in 2009. Of course, there is this from ESPN Stats & Information: Since 1990, Pac-10 teams are 25-6-1 at home against Big Ten teams.
6. What does Denard Robinson do for an encore?
Surely the Michigan quarterback can't keep up his torrid pace, what with 885 yards of total offense in the first two games. He may not have to do as much Saturday against Massachusetts, though FCS teams have proven to be problematic for several teams this season. Still, Robinson has inspired awe throughout the country, and now word is out that high school players are leaving their shoelaces untied in order to be just like him.
7. Does Notre Dame rebound against Michigan State?
Surely a heartbreaking loss to Michigan won't be easy to get over, but the bigger question is whether
Dayne Crist
is 100 percent after he admitted he played against the Wolverines with blurred vision before being pulled from the game. If you thought the series against Michigan was a nail biter, check this out from ESPN Stats & Information: Over the past 10 meetings, the Notre Dame-Michigan State game has been decided by seven points or less eight times, with the game-winning score coming late in the fourth quarter or overtime in seven of the 10 meetings.
8. Any FCS upsets this weekend?
Already this year, five FCS schools have beaten their upper division opponents, headlined of course by James Madison over Virginia Tech. Last year there were only four. There isn't an overload of FCS-FBS games this week, but these are the teams on alert: Oregon, South Carolina, Michigan, Syracuse and San Jose State.
9. What do we see out of Alabama running back Mark Ingram?
The Heisman Trophy winner is getting his first action of the season after missing the first two games while recovering from knee surgery. Does Alabama need him to beat Duke? No. But they will need him for its run through the SEC, which begins next weekend with a huge game at Arkansas. Better get him game ready before then.
10. Any last-second heroics between Texas and Texas Tech?
We all remember the last time Texas visited Lubbock -- Graham Harrell to Michael Crabtree ruined the No. 1 Longhorns' shot at the BCS national championship. Point to remember from ESPN Stats & Information: Texas Tech has upset a top-10 Texas team twice in the Longhorns' previous four visits (2002 and 2008).
September, 2, 2010
9/02/10
9:37
AM ET
It's the most wonderful time of the year -- college football season. Watch as I put on my picking cap and make my supremely awesome predictions for 12 selected games involving non-AQ teams.
Now, on to the picks!
South Carolina 24, Southern Miss 14.
We know
Weslye Saunders
is out for the Gamecocks, but we're unclear about anybody else. Southern Miss coach Larry Fedora said his team didn't pay attention to the distractions. With those players or not, South Carolina is simply too talented, especially on defense. Southern Miss goes into the game with just three returning starters on offense.
Pittsburgh 21, Utah 17.
The Utes won the last meeting in the Fiesta Bowl in 2005. But this time around the Panthers have
Dion Lewis
, and he should make the difference -- especially against a defense that only returns four starters.
Northern Illinois 28, Iowa State 27.
One of the best teams in the MAC will pull the upset behind the legs of
Chad Spann
.
Minnesota 31, Middle Tennessee 20.
If
Dwight Dasher
was playing in this game, I would have called for the upset. But the Blue Raiders aren't going to be the same with
Logan Kilgore
at quarterback.
Washington 35, BYU 21.
The Huskies break their 12-game road losing streak behind the arm and legs of
Jake Locker
. BYU has had problems against quarterbacks like Locker in the past. The two-quarterback rotation for BYU is going to be a work in progress.
Colorado 21, Colorado State 10.
Both teams essentially have coaches on the hot seat, and quarterback uncertainty. While the Rams won the meeting last year, they go into this game with a freshman starting at quarterback in
Pete Thomas
. Only two first-time starters at quarterback have won this game for Colorado State.
SMU 44, Texas Tech 40.
Upset indeed.
Kyle Padron
should have a big day and break the Mustangs' 13-game losing streak to Texas Tech.
Navy 30, Maryland 10.
The Midshipmen have the real deal in quarterback
Ricky Dobbs
, who should pose all sorts of problems for the Terrapins defense. Maryland gave up over 200 yards on the ground four times last season.
TCU 24, Oregon State 20.
TCU is 9-2 against AQ teams in its past 11 games.
Andy Dalton
is eager to erase the memories of his Fiesta Bowl performance. The defense should be able to slow
Jacquizz Rodgers
down enough to limit his impact.
Fresno State 35, Cincinnati 34.
The Bulldogs controlled the ball in their game last year and ran for 290 yards. Ryan Mathews is gone, but
Robbie Rouse
hopes to get the running game going. Fresno State lost that game because Cincinnati was able to score and score quickly on a defense not used to seeing the spread. The Bulldogs should be improved there, and that will make the difference.
Tulsa 27, East Carolina 17.
G.J. Kinne
,
Damaris Johnson
and the Golden Hurricane offense are going to be too much for the rebuilding Pirates to handle. Tulsa starts the season on the road for the third straight year but that might not be such a bad thing in this case. The home team in this series has lost three straight.
Drumroll please …
Boise State 21, Virginia Tech 20.
The Broncos squeeze this one out on the strength of their offense, and their much improved defense.
Darren Evans
and
Ryan Williams
will get their yards, but their big games will be limited thanks to the great tacklers Boise State has in the open field -- Winston Venable and Jeron Johnson. Boise State will be able to take advantage of a Virginia Tech defense that lost seven starters, including three on the defensive line.
September, 2, 2010
9/02/10
9:00
AM ET
The season begins tonight! With that, here are 10 storylines to watch among the non-AQ teams:
Boise State defense vs. Virginia Tech running game. What happens here could largely determine who wins the game. Ryan Williams and Darren Evans present a duo at running back that Boise State rarely sees in WAC play. Add in the very mobile Tyrod Taylor, and the Broncos are going to have their hands full. Watch for Jeron Johnson and Winston Venable to set the tempo for the defense.

How does BYU handle its two quarterbacks against Washington? One of the biggest non-AQ storylines of the fall has been how Bronco Mendenhall will handle playing Riley Nelson and Jake Heaps. Two-quarterback systems rarely work, but Mendenhall says he could go with two for the entire season. They are two vastly different quarterbacks. Does Heaps play in spot duty? Do they split the plays? If one is hot, does the other sit? All questions to ask going into the season.

[+] Enlarge

Jason O. Watson/US PresswireRobbie Rouse rushed 82 times for 479 yards and four touchdowns last season while backing up Ryan Mathews.

How does Fresno State running back Robbie Rouse perform against Cincinnati? Rouse has the tough task of replacing the NCAA rushing leader from last season, Ryan Mathews. Coach Pat Hill has compared him to Darren Sproles in terms of being a physical inside runner. Another key to this game -- how does the Fresno State defense handle the spread and Cincinnati quarterback Zach Collaros?

How does Logan Kilgore do in the opener against Minnesota? Middle Tennessee was the preseason pick to win the Sun Belt, but that was with Dwight Dasher at quarterback. Now that he has been suspended indefinitely, Kilgore will start. He is a junior college transfer who has yet to take a snap for the Blue Raiders. How does the team react to a new starting quarterback? How much does the team miss Dasher? How much does the offense change?

Oregon State running back Jacquizz Rodgers vs. TCU defense. The Horned Frogs have built their reputation on defense. Seven starters return, but leading tackler Daryl Washington is gone. How much will TCU miss him playing an elusive back in Rodgers? TCU had the No. 3 rushing defense in the country last year and allowed just two 100-yard rushers on the season.

Pittsburgh running back Dion Lewis vs. Utah defense. The Utes are missing seven starters, including all three linebackers from last season. They do have depth on the defensive line, but the starters are going against an offensive line that weighs an average of about 40 pounds more than they do. Lewis rushed for 1,799 yards last season, and defensive coordinator Kalani Sitake acknowledges he is a "monster" to take down.

Upset watch: Northern Illinois at Iowa State. Northern Illinois has Chad Spann in the backfield, one of the best rushers in the MAC. The Huskies actually had one of the best rush offenses in the country last season, ranking No. 19. Meanwhile, Iowa State struggled against the run and goes into the season hoping to prove last season was no fluke. Northern Illinois did beat one AQ school last season, Purdue in Week 3.

Can East Carolina continue its reign atop Conference USA? The season begins with a conference game, hosting Tulsa. The Pirates are in for a rebuilding year. No starting quarterback has been named, and the defense is missing its entire front seven from a year ago. Tulsa could make some noise in the West. How is East Carolina going to slow down G.J. Kinne?

Combined number of points in the SMU-Texas Tech game will be … ? SMU loves to throw the ball in the Run N Shoot offense. Coach Tommy Tuberville says Texas Tech will continue to throw the ball, too, with Taylor Potts. Kyle Padron should be much improved in his second year in June Jones' system. Wouldn't be surprised if this one ended 44-40.

Do TCU and Boise State still have national championship aspirations after this weekend? Losses in their big non-conference games knock them out and would seriously damage any hopes at a BCS game, too. No one-loss non-AQ team has ever made it to a BCS game.
December, 7, 2008
12/07/08
2:20
PM ET
Posted by ESPN.com's Tim Griffin
Here are some tidbits we learned at the Big 12's Championship Game and afterwards.

1. Bob Stoops likely didn't win many friends in "The Show Me State" with the way he was throwing for the end zone in the fourth quarter with the game safely in hand. It was particularly surprising that Sam Bradford remained in the game until just before the end of the game. You know what they say about payback. But I'm just wondering if Missouri will ever be good enough to extract it against the Sooners.
2. The gap between the North and South Divisions has never appeared wider. The South claimed a 15-3 edge in cross-division games in the regular season. And Saturday's championship was never really a contest. Since Kansas State's stunning title-game upset over Oklahoma in 2003, South teams have won the last five Big 12 title games by a combined margin of 233-51. And included in that series have been South Division victory margins of 39, 67 and 41 points.
3. Chase Daniel will go down in history as one of the greatest football players in Missouri history. But his senior season will be remembered as one of disappointment after he was unable to match the successes of his junior season. Call it the curse of the View Master campaign.
4. The best way to neutralize spread offenses is with a sure-tackling defensive unit. Oklahoma's defense might not compare to some of Brent Venables' previous groups. But the Sooners -- if anything else -- are fearsome open-field tacklers who limit yards after catch. That's why they were so effective against Missouri and Texas Tech late in the season.
5. The Big 12's bowl matchups should be interesting. The two most intriguing games will be the ones that will match Big 12 teams against the Southeastern Conference's supposedly vaunted defenses. Oklahoma's record-breaking offense, which has scored 702 points this season and was called by Missouri coach Gary Pinkel as the best he's ever seen, will likely be playing Florida for the national championship in the BCS title game. And Texas Tech's spread offense will hook up with Mississippi in the Cotton Bowl. The Southeastern Conference's reputation for defensive juggernauts will be tested against the Big 12's two most prolific passing attacks. I can't wait for the showdowns.
September, 7, 2008
9/07/08
2:02
AM ET
Posted by ESPN.com's Tim Griffin

RENO, Nev. -- Texas Tech coach Mike Leach sounded like a lot of losers who come to Nevada intent on knowing their limits but never quite budgeting for them as they leave.
But after two botched fourth-down gambles that came up short deep in his own territory, Leach said he felt fortunate to escape Mackay Stadium with a 35-19 victory over Nevada.
"I thought I gambled stupid and it was just dumb," Leach said. "Being in Reno, I guess I got the bug. I was stuck in a hotel where you don't have any clocks and they were pumping oxygen in there. I thought it was my lucky day, we won the game."
Leach twice went on fourth down plays inside his own 30. But Aaron Crawford and Graham Harrell were stopped short to set the stage for two Nevada field goals that kept the Wolf Pack in the game.
But the Tech defense stepped up both times, keeping Nevada out of the end zone until the end of the game.
It made Leach appreciative of the gambles of Hall of Fame Nevada coach Chris Ault, who converted a couple of big plays that made the Tech coach marvel after the game.
"Chris probably gambled and has more expertise," Leach said. "He knows what not to do and he's been at it for a long time. I felt like they made us squander at least the first half and our defense bailed us out."
The earlier misses didn't keep Leach from gambling a third time, which proved to, finally, be lucky. Harrell converted a fourth-and-2 situation from the Nevada 36. Three plays later, Shannon Woods added a clinching 21-yard run that accounted for Tech's final touchdown.
Ault wasn't as lucky later in the game, when he failed to convert an onside kick after a field goal had cut the Tech margin to 14-12 late in the game.
Tech's superior talent eventually won out. But it didn't keep Leach from sounding like many tourists who bust out at the casinos intent on hitting a big score.
Unlike them, however, Leach still won what he ultimately set out to do when he arrived in the Silver State.
"We did win the game, but I'm down a couple of hundred bucks," Leach said. "I feel fortunate we stepped up and we were able to win the game."