November, 17, 2011
11/17/11
12:15
PM ET
California's Sean Cattouse is a good safety. A sure tackler. An NFL prospect. And you already know where this is going, right?
Cattouse was cast as the part of roadkill for one of Stanford quarterback
Andrew Luck
's most replayed highlights -- his 58-yard scramble in last year's Big Game blowout of the Bears. "Roadkill" is not a role any football player wants.
"A lot of jokes. It's all fun and games," Cattouse said when asked -- again and again -- this week about the play. "I'm just more sickened with myself with how I went about trying to tackle him. It looked like nothing I've done before."
[+] Enlarge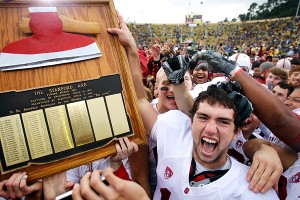 AP Photo/Marcio Jose SanchezAndrew Luck and the Cardinal won back the Axe after beating Cal 48-14 last season.
How much do you think Cattouse enjoys hearing about that play? How much do you think he wants a rematch with Luck, one on one? And how much do you think all the Cal players enjoy hearing about how super-awesome Luck and the Cardinal are?
The Big Game is always a big game. It's a rivalry game between elite schools that like to tout how they are more elite
really
than the other.
And it means plenty to Cal.
For one, they'd get the Axe back. While the Bears have split the last four Big Games, they have won seven of nine under coach Jeff Tedford.
Tedford is another issue. While he's been successful against the Bears' biggest rival -- Stanford was riding its longest winning streak in the series with seven consecutive Big Game victories from 1995-2001 when he arrived in Berkeley -- there is considerable fan frustration with his program's inconsistency over the past few years. A win over a highly ranked Stanford team would mute that, at least in the short term.
Further, Cal is playing for its own stakes. If it beats the Cardinal, it improves to 7-4 and moves up in the pecking order with bowl selections.
That said, there are unintended consequences of playing the spoiler. It would cost the Pac-12
about $6 million
because Stanford wouldn't be the pick for an at-large BCS bowl berth. And then the Cardinal likely would end up in the Alamo Bowl, which would knock every other bowl-eligible team down a notch.
"It's not about spoiling anything for them," Cal quarterback
Zach Maynard
said. "It's a huge rivalry game for us."
Cal also has a strong history of upsets in the series, particularly when the Cardinal boasts a celebrated quarterback.
The Bears beat John Elway twice, producing the greatest play in college football history -- "The Play," in fact -- to do so in 1982. They knocked off Heisman Trophy winner Jim Plunkett in 1970. And, of course, they upset Luck in 2009, 34-28, with Cal linebacker Mike Mohamed grabbing an interception in the waning moments with Stanford on the Bears' 3-yard line.
That, in fact, was one of the worst games of Luck's career. He was 10-of-30 for 157 yards with no touchdowns.
Before that game, Tedford repeatedly tweaked his players with how the media and fans believed then-No. 14 Stanford and running back Toby Gerhart were too physical for the Bears. In response, Cal's Shane Vereen rushed for 193 yards on 42 carries with three touchdowns and outplayed Gerhart.
It was a successful motivational angle that Tedford might revisit. Young people often seem to respond well to the underdog, no-respect role.
"Those are always motivational pieces," Tedford said. "We have a great deal of respect for them. Their accolades -- they are worthy of them."
Still, in the end, all rivalry games are like this. There are Cal men and Stanford men. Blues and Cardinal. And when they meet -- their own and the other -- they will remember who won, and when and how it went down.
Said Cattouse, "It's a big game every year. Every year we want to win it."
August, 5, 2010
8/05/10
11:00
AM ET
Here's our take on the most painful losses for each Pac-10 team.
Feel free to disagree.
Arizona
Oregon 44, Arizona 41, 2OT, 2009

With "College GameDay" on campus for the first time, Arizona fans stormed the field in celebration. Prematurely. And that set up a red ring of disappointment around the field at packed Arizona Stadium, when Jeremiah Masoli rallied the Ducks late for a tie in regulation and then a win in double-overtime. As it turned out, if the Wildcats had won, they would have gone to the school's first Rose Bowl. Masoli tied the game at 31-31 with an 8-yard touchdown pass to Ed Dickson with six seconds left, capping a 15-play, 80-yard drive. Two plays before, he had converted an 8-yard pass on fourth-and-5. Masoli scored the game winner from 1-yard out in the second overtime. It was his sixth touchdown of the night -- three passing and three running. It may have been the best game of 2009.
Arizona State
Ohio State 20, Arizona State 17, Rose Bowl, 1997

So close to a national championship. The Sun Devils' 11-0 regular season included a 19-0 victory over defending national champion Nebraska, and they looked poised to win in Pasadena when Jake Plummer, on third-and-11, scrambled for a touchdown and 17-14 lead with 1:40 to play. But the Buckeyes weren't done. They drove 65 yards for the winning score, with David Boston hauling in a touchdown pass from five yards out with 19 seconds left. That pass was thrown by Ohio State's backup quarterback, Joe Germaine, who came off the bench to earn game MVP honors. Germaine was born and raised in Arizona and grew up rooting for ASU but opted to go to Ohio State because the Sun Devils coaches wanted him to play defensive back.
California
USC 23, California 17, 2004

Cal dominated the best USC team of the Pete Carroll era -- the Bears outgained the Trojans 424 yards to 205 -- but a comeback attempt fell short at the end. It was the Bears only regular season loss, despite quarterback Aaron Rodgers tying an NCAA record by completing 23 consecutive passes. Rodgers was nearly perfect until three throws missed from the USC 14-yard line in the final minute. Cal was undone by poor special teams play and three turnovers (versus one from USC). Making the defeat even more bitter: After a lobbying effort from Texas coach Mack Brown, the Longhorns eclipsed the Bears in the BCS standings and played in the Rose Bowl, which relegated Cal, which hadn't played in the Rose Bowl since 1959, to the Holiday Bowl, where they played without passion in an upset lost to Texas Tech.
Oregon
Arizona 34, Oregon 24, 2007

It's hard to decide between the 49-42 loss to Stanford in 2001 -- the Ducks lone defeat that season -- or this one (the 2000 Civil War defeat also deserves note). The Stanford loss -- after leading 42-28 -- ended a 23-game winning streak and was the Ducks first home loss in four years. It also cost the Ducks a shot at the national title against Miami. At Arizona in 2007 on Thursday night on ESPN, the 8-1 Ducks were ranked No. 2 and quarterback Dennis Dixon was the Heisman Trophy frontrunner. They led 8-7 and were driving when Dixon blew out his knee (he'd first hurt it 12 days before versus Arizona State). Things mostly fell apart from there, in the game and over the final two games of the regular season. Here's the distinction: 2001 and its final No. 2 ranking still rate as the best season in program history. If Oregon had beaten Stanford, however, it would have played Miami in the Rose Bowl, the BCS title game, and that Hurricanes team was, well, awesome (in the real sense of the word). If the 2007 Ducks had won out and played LSU or Ohio State for the national title, their chances would have been very good to win the program's first national title. Instead, the season ended in major disappointment -- the Sun Bowl -- and an overwhelming sense of what might have been.