NCF Nation:

Thomas Keiser
January, 6, 2011
1/06/11
4:56
PM ET
First off, apologies to all the Stanford folks who e-mailed, Tweeted or otherwise reached out with this thought: Quarterback
Andrew Luck
wants to come back to Stanford next year.
Lots of you did, and I sort of shrugged and discounted that talk.
So my bad
. Luck announced he's coming back in 2011 and not entering the NFL draft, and Stanford, the Pac-12 and all of college football are better for it.
It's always nice when your cynical attitude proves wrong.
"I am committed to earning my degree in architectural design from Stanford University and am on track to accomplish this at the completion of the spring quarter of 2012," Luck said in a statement, which felt entirely authentic to me.
[+] Enlarge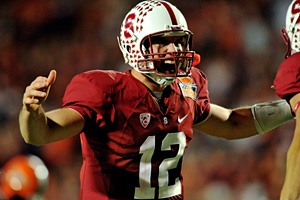 Steve Mitchell/US PRESSWIREAndrew Luck and Stanford fans will have more reasons to rejoice in 2011 following the Orange Bowl MVP's announcement that he will return to The Farm.
There is no ulterior motive here. Luck has told everyone who would listen that he loves college. He's never seemed obsessed with the NFL, even if he would have been the No. 1 overall pick. And he comes from an affluent background: He didn't need the NFL right now, like so many young men who decided to leave college early do.
But enough of the pleasantries. What does this mean?
Well, the remote chance of this formula -- Luck + coach Jim Harbaugh = Pac-12 championship? -- remains, though reports are coming out that suggest such hope is extremely thin.
But even if Harbaugh bolts for the NFL, as expected, Stanford today became a leading Pac-12 contender and potential preseason top-10 team. Luck also becomes the leading Heisman Trophy candidate.
Luck led Stanford to a 12-1 finish this season and a likely top-five rating in the final rankings, which the program hasn't produced since 1940. Luck passed for 3,338 yards this year with 32 touchdowns. He completed 71 percent of his passes with just eight interceptions. He also rushed for 453 yards. He passed for 287 yards and four touchdowns in the Cardinal's 40-12 win over Virginia Tech in the Discover Orange Bowl.
He's a program changer: He makes everyone around him better.
That said: Stanford's depth chart takes some hits. Even some unanticipated ones: Defensive end/linebacker Thomas Keiser quietly followed the thunderous news about Luck with an announcement that he will enter this spring's NFL draft.
That means the Cardinal lose five starters on defense and seven on offense. And they're looking for a new kicker. There will be many questions this spring, questions that likely will be faced by a new head coach.
Still, Luck makes the Cardinal a legitimate threat to Oregon in the inaugural season of the Pac-12 North. Good recruiting under Harbaugh means Luck will have a solid supporting cast on both sides of the ball.
The potential downside: What if Luck pulls a
Jake Locker
?
Locker warmed everyone's hearts with his decision to return to Washington for his senior season, despite the likelihood he, too, would have been an high first-round -- even No. 1 overall -- NFL pick in the spring of 2010. Then his senior season was a mostly a flop, at least in terms of improving his NFL stock.
But Locker's prospects were based on upside and physical talent. Luck has already proven he's got all the NFL tools right now, particularly accuracy.
Nor does Luck's decision compare to Matt Leinart in 2005. Though it didn't get a lot of attention at the time, Leinart was scheduled for elbow surgery after the season, so he would have missed the combine and workouts.
And Luck is a different talent than Leinart or Locker. You hate to call a guy "can't miss," but Luck certainly feels that way. If he blows out his knee in the second game -- knock on wood -- he'd still be the top pick in 2012 (see Sam Bradford).
And if he plays all 12 games, it's hard to imagine him regressing to any significant extent.
But there we go again: Talking about the NFL. This decision wasn't about that.
This is about a young man taking a measured look around and saying: Life is good. It's good to be young. It's good to be the QB at Stanford. The real world can wait.
August, 11, 2010
8/11/10
9:00
AM ET
While the 3-4 defense is making a national comeback, it's only making a small mark in the Pac-10. That mark, however, will be larger in 2010.

California is the only team that has run a traditional 3-4 for multiple years, and it only transitioned in 2008 because of a surfeit of athletic linebackers and a dearth of imposing tackles.

Stanford doesn't approach the Bears linebacker depth from 2008 but it, nonetheless, is joining its Bay Area rival in adopting a 3-4 in hopes of shoring up a unit that ranked eighth in scoring and ninth in total defense in 2009.

(Arizona State figures to run some 3-4 looks this fall because it's loaded at linebacker. Oregon likes to stand up its ends at times, but if you ask coach Chip Kelly about a switch to a 3-4 he will tell you your mother was a hamster and your father smelt of elderberries).

In fact, Stanford, which brought in veteran NFL coach Vic Fangio to coordinate the transition, is a good test case for making the switch because its transformation is pure: two defensive ends in 2009 are now outside linebackers heading into 2010. You want hybrids? We give you Thomas Keiser and Chase Thomas. They've played both positions. And will play both this year as the Cardinal continues to use some 4-3 elements with Thomas and Keiser putting their hands on the ground.

Thomas was forced into action as a redshirt freshman last year when Erik Lorig got hurt and made eight starts. He finished with seven tackles for a loss and four sacks. Keiser, a junior, had 15 tackles for a loss and nine sacks. He had six sacks as a redshirt freshman.

Thomas, at 6-foot-4, 239 pounds, will play the "Sam" strongside linebacker position, while Keiser will be the rush linebacker, which is more "end-like." Sophomore Shayne Skov and Owen Marecic will be the inside linebackers, while all three defensive linemen -- Matt Masifilo, Sione Fua (the nose) and Brian Bulcke -- are upperclassmen who've played defensive tackle their entire careers.

A big test is whether Thomas and Keiser will be capable dropping into pass coverage. If they only rush the passer, the defense becomes fairly predictable. Both are good athletes, but they won't be compared to UCLA's Akeem Ayers or Oregon's Spencer Paysinger or Washington's Mason Foster in terms of athleticism. Still, both should fortify a defensive perimeter that was often successfully attacked by foes in 2009.

In terms of the hybrid split, both appear to be around 60:40 in terms of being hybrid defensive ends:linebackers, though Thomas might be a 55:45.

It will be interesting to see how the Cardinal defense uses them and how often they stand up as linebackers or put their hands on the ground as defensive ends.
October, 6, 2009
10/06/09
6:52
PM ET

Posted by ESPN.com's Ted Miller
Here's a list of players: defensive end Dexter Davis and defensive tackle Lawrence Guy -- both from Arizona State -- Arizona defensive end Brooks Reed, California defensive end Cameron Jordan, Oregon State defensive tackle Stephen Paea and Washington defensive end Daniel Te'o-Nesheim.
That is a stout crew. Each is a likely NFL draft pick -- a few on the first day -- when their time comes to go pro.
| | |
| --- | --- |
| | |
| | Scott Cunningham/Getty Images |
| | Dexter Davis has 27.5 career sacks, but none so far this season. |
Yet those six defensive linemen, each a contender for all-conference honors, have combined for just two sacks and 5.5 tackles for loss.
Meanwhile, USC freshman Nick Perry, who's not even a starter and mostly missed the California game due a bruised knee, has six sacks and seven tackles for loss.
Arizona's "other" defensive end, Ricky Elmore, has 4.5 sacks. Stanford end Thomas Keiser has 4.5 sacks and 7.5 tackles for loss.
In other words, the big names aren't hanging up big numbers while more obscure guys are.
What gives?
Apparently lots of double-teams. And toss in a few injuries.
One thing is clear, however: No coach was ready to rip his putative defensive star.
"Brooks is playing phenomenal," Arizona coach Mike Stoops said. "Sometimes statistics don't tell the whole story, and in Brooks' case that's certainly evident. You just turn the film on. He's a very productive player."
It also hurts that Reed has been hurting. He sprained his ankle against Iowa, missed the Oregon State game and is questionable for Saturday at Washington.
Stoops also said Elmore, a junior like Reed, isn't simply benefiting from offenses focusing on Reed.
"I think Ricky's gotten better as a player," Stoops said.
Davis is a four-year starter with 27.5 career sacks but he has zero sacks thus far in 2009, with only one tackle for loss.
"He's not playing bad. He's getting doubled a lot, which we expect," Sun Devils coach coach Dennis Erickson said, before adding. "We're not getting to the quarterback with those other guys. It's not so much Dexter as the other three guys -- or five guys or six guys who play -- when they double him and they are one-on-one."
One of those "guys" is Guy, who had 10 tackles for loss last year. He's only made five tackles this season with 0.5 TFL and zero sacks. He's also been battling a biceps injury that knocked him out of the season -opener.
Still, it's noteworthy that Arizona State, which is tied for last in the conference with three sacks, ranks third in the nation in total defense. If they maintain an elite overall ranking, then there's not much to gripe about, even if Davis and Guy fail to hang up big numbers.
The situation is not the same at Oregon State, which is tied with the Sun Devils with just three sacks. While the Beavers' defense took a step forward at Arizona State last weekend, it's still not the high-pressure unit of years past.
Coach Mike Riley doesn't blame Paea for that, though.
"I think he's doing a great job," Riley said. "He's getting a lot of attention. He is a disruptive force in the middle."
Paea had five sacks and 11 TFL last year, but he's got two new defensive ends flanking him who aren't stressing the opposing offensive line as much as Slade Norris and Victor Butler did a year ago.
As for Jordan (one sack), the junior been overshadowed by the Bears' other end, senior Tyson Alualu, who's recorded 26 tackles -- tops among conference D-linemen -- with 4.5 sacks. At Washington, Te'o-Nesheim (one sack) is much like Davis and Reed -- he's getting lots of attention from opposing offenses.
Of course, Te'o-Nesheim commanded lots of attention last year. He got off to a slow start but still ended up with eight sacks and 11.5 tackles for loss. In fact, he got his first three sacks of 2008 in Game 5 against Arizona.
Guess who's coming to Husky Stadium on Saturday?
In other words, there's plenty of time for the "name" guys to still live up to their, er, names.
TOP 25 SCOREBOARD
Saturday, 12/21
Monday, 12/23
Tuesday, 12/24
Thursday, 12/26
Friday, 12/27
Saturday, 12/28
Monday, 12/30
Tuesday, 12/31
Wednesday, 1/1
Thursday, 1/2
Friday, 1/3
Saturday, 1/4
Sunday, 1/5
Monday, 1/6