January, 24, 2014
Jan 24
9:30
AM ET
Earlier this morning, we took a look at who might replace the guys who jumped to the NFL in the South Division. Here's a look at the North.
Leaving:
Brendan Bigelow
, RB, Cal
The replacement
:
Khalfani Muhammad
and
Daniel Lasco
are both coming back, so there is at least some experience at the position.
Jeffrey Coprich
and
Darren Ervin
could also see some time. Incoming freshman
Devante Downs
is built more like a fullback but could also see some carries in the running game.
Leaving
:
Richard Rodgers
, WR, Cal
The replacement
:
Stephen Anderson
is a possibility to emerge at inside receiver.
Darius Powe
is going to see action regardless of whether it's inside or outside and
Raymond Hudson
,
Jacob Wark
, and
Drake Whitehurst
are all possibilities.
Leaving
:
Khairi Fortt
, LB, Cal
The replacement
:
Nathan Broussard
is coming off an injury and
Raymond Davison
and
Jason Gibson
are moving back to linebacker from safety. Juco transfers
Sam Atoe
and
Jonathon Johnson
could help. Also, Downs (see the Bigelow section) comes in as an athlete, and putting him on the defensive side of the ball is a possibility.
Leaving
:
Kameron Jackson
, CB, Cal
The replacement
:
Darius Allensworth
and
Trey Cheek
will get the most looks.
Cedric Dozier
saw some starting time last season. He's not a lock but has some experience.
Isaac Lapite
,
Adrian Lee
and
Joel Willis
are also possibilities.
Stefan McClure
should also be back from his 2013 injury, and
Cameron Walker
, who was playing out of position at safety, might move back to corner.
Leaving
:
Viliami Moala
, DT, Cal
The replacement
:
Jacobi Hunter
should be the main guy, but transfers Trevor Kelly and
Marcus Manley
should help out across the line.
Austin Clark
is still waiting to hear about his sixth year of eligibility, but if he gets it, he and
Mustafa Jalil
could shuffle up and down the line as they look to replace the graduated
Deandre Coleman
as well.
Leaving
:
Chris McCain
, DE, Cal (Previously dismissed from team)
The replacement
:
Kyle Kragen
and
Puka Lopa
were the top two guys to replace McCain after he left.
Brennan Scarlett
is also expected back and Johnson could be in the mix. The coaching staff seems to be really high on him.
[+] Enlarge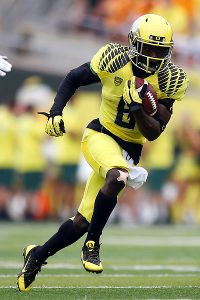 Jonathan Ferrey/Getty ImagesDe'Anthony Thomas' unique set of skills will be hard for Oregon to replicate.
Leaving
:
De'Anthony Thomas
, RB, Oregon
The replacement:
Unless Oregon is hiding another multitalented back who can run like DAT, there is no "real" replacement.
Byron Marshall
and
Thomas Tyner
should continue to get the work as the primary 1-2 punch, but it will be interesting to see if the Ducks use either in a more dynamic way like they did Thomas.
Leaving
: Colt Lyerla, TE, Oregon (Left the team earlier in the season).
The replacement:
Pharaoh Brown
,
Evan Baylis
and
John Mundt
will all continue to get work, probably in that order. They all pitched in in some capacity after Lyerla left the team, so the Ducks should be in good shape at the position.
Leaving
:
Terrance Mitchell
, CB, Oregon
The replacement
: That
Ifo Ekpre-Olomu
opted to return bodes well for the Ducks.
Troy Hill
would have been the obvious selection, but he remains suspended indefinitely, and his future with the program is in question.
Dior Mathis
has experience and the coaching staff is high on redshirt freshman
Chris Seisay
. Juco transfer
Dominique Harrison
enrolled early and will participate in spring ball, so there are options.
Leaving
:
Brandin Cooks
, WR, Oregon State
The replacement
: Much like USC's dilemma with
Marqise Lee
, The Beavers' task of replacing a Biletnikoff winner is no easy one.
Victor Bolden
is the logical choice. He returned kicks, ran a few fly sweeps and was Cooks' immediate backup. But a big wide receiver class last year that included Bolden,
Hunter Jarmon
and
Walter Jones
could make things more interesting in the spring.
Leaving
:
Scott Crichton
, DE, Oregon State
The replacement
:
Lavonte Barnett
was the backup all season but didn't have much production.
Jaswha James
has bounced around a bit -- mostly at linebacker -- but has finally settled at DE and had a nice bowl performance.
Titus Failauga
is also a possibility as Mike Riley went out of his way to specifically mention him during a recent teleconference. There are also rumblings that
Obum Gwacham
-- a talented athlete who hasn't worked out at wide receiver -- could move to defensive end.
Leaving
:
David Yankey
, OL, Stanford
[+] Enlarge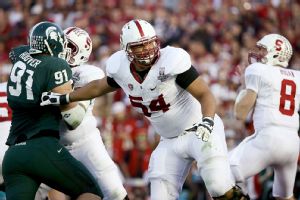 AP Photo/Ben LiebenbergStanford has a lot of offensive linemen with experience, but replacing an All-American such as David Yankey is never easy.
The replacement
: A member of Stanford's lauded offensive line recruiting class of 2012,
Joshua Garnett
has already seen his share of playing time. That's one of the big advantages of being an offensive lineman at Stanford. With their multiple offensive-linemen sets, there is plenty of rotation. Then again, Yankey was a two-time All-American -- it's tough to replace that.
Leaving
:
Cameron Fleming
, OL, Stanford
The replacement
: Like Garnett,
Kyle Murphy
was part of the '12 class and has also seen his share of action on the offensive line. The Cardinal are replacing four offensive linemen, but most of those replacements -- such as Garnett and Murphy -- already have some playing experience.
Leaving
:
Ed Reynolds
, FS, Stanford
The replacement
: Good question. All of Stanford's free safeties are gone, while returning strong safeties include
Jordan Richards
and
Zach Hoffpauir
. Someone could make a switch, or it's possible that former quarterback
Dallas Lloyd
, who is now making the transition to safety, could play here.
Leaving
:
Bishop Sankey
, RB, Washington
The replacement
:
Jesse Callier
started the 2012 season, but a season-ending injury gave rise to Sankey.
Dwayne Washington
seems like he could be an every down-type back, while Callier excels in third-down situations or as a changeup back.
Deontae Cooper
will also see carries.
Leaving
:
Austin Seferian-Jenkins
, TE, Washington
The replacement
:
Joshua Perkins
was the No. 2 all season, so there's little reason to think he won't graduate to No. 1. He's more receiver than blocker, but he's got talent and shouldn't have a problem assuming the role of the outgoing Mackey winner.
October, 23, 2013
10/23/13
1:00
PM ET
Oregon is terrible on fourth down. The Ducks have converted on just seven of 18 fourth-down plays this year. Their 38.9 conversion rate ranks 10th in the Pac-12, behind struggling teams like Colorado and California.
We point that out because that's about the only thing Oregon isn't doing well right now.
[+] Enlarge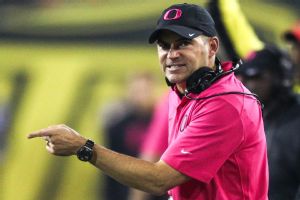 Steve Conner/Icon SMIOregon appears to have no glaring weaknesses, yet first-year coach Mark Helfrich says the Ducks can get better in every phase.
The Pac-12 keeps track of 33 statistical categories, covering offense, defense, special teams, penalties, turnovers, etc. The Ducks rank first in the conference in 11 categories, including the two most important: scoring offense and scoring defense. They rank in the top three in 18 categories. Most of the categories they are not doing well in -- time of possession, onside kicks, opponent penalties -- evoke a "neh."
Others are deceptive. Oregon ranks sixth in total defense but is No. 1 in the far more revealing stat of average yards surrendered per play, where they rank eighth in the nation at 4.46 yards. The Ducks are 10th in red-zone offense, but their touchdown percentage in the red zone -- 72.1 percent -- ranks second.
This seems like a team with few, if any, holes. So what are the Ducks' weaknesses?
"I haven't seen any," said California coach Sonny Dyke, whose Bears lost 55-16 at Oregon on Sept. 28. "They are incredibly fast. I think the difference this year is they are throwing the ball so much better. Their receivers are faster, bigger, stronger, more physical, making more plays than in the past."
In the preseason, there were three questions about Oregon: 1. How would Mark Helfrich do stepping in for Chip Kelly? 2. What would be the pecking order at running back and how would
De'Anthony Thomas
be used? 3. How would the Ducks replace the dynamic linebacking troika of Dion Jordan, Kiko Alonso and Michael Clay?
Check, check and check.
The 7-0 record, No. 2 ranking in the national polls -- No. 3 in the BCS standings -- and 40-point average margin of victory suggest that Helfrich is doing fairly well. He might be a softer touch than Kelly -- though he's not afraid to tweak a reporter or two -- but he's not taking any mercy on the field.
Running back? The bottom line is the Ducks are No. 2 in the nation in rushing with 332.4 yards per game, 17 yards better than last year's average, and they've done that with DAT missing the last four games with an injury. Backups
Byron Marshall
and true freshman
Thomas Tyner
are both averaging 6.7 yards per carry and have combined for 16 touchdowns. Marshall, a sophomore, ranks 19th in the nation with 106.6 yards rushing per game.
Linebacker?
Tony Washington
, who replaced Jordan, has nine tackles for loss and 6.5 sacks. Jordan had 10.5 tackles for loss and five sacks in 2012.
Derrick Malone
leads the Ducks in tackles with 59. And, really, the bottom line is the defensive numbers, including a run defense that ranks 22nd in the nation.
"I think [the Ducks defense is] certainly the best they've been," Dykes said. "The secondary is really, really good. They are good at linebacker and they are pretty active up front."
Of course, Dykes is a first-year Pac-12 coach who hasn't been dealing with Oregon during its rise to consistent top-five team, though he was Arizona's offensive coordinator from 2007 to 2009. If we're going to ask whether this version of Oregon might be the best yet, we need to ask someone who's seen them all.
Washington coach Steve Sarkisian, whose Huskies have lost 10 in a row to Oregon, including five defeats during his tenure, let out a big breath when asked if this was the Ducks' best team.
"Hooof," he said. "We've played some pretty good ones. I think the balance they have on offense is probably the best that they've been."
The general consensus is
Marcus Mariota
is the Ducks' best quarterback during its recent run. He might, in fact, as former Ducks All-American QB Joey Harrington
recently volunteered
, be the best in program history. Mariota brings a dangerous downfield passing game to a longstanding dominance running the ball. As for the defense, it's very good, though it remains to be seen whether it's as good as the 2010 unit or even the talented crew of 2012 that battled numerous injuries.
Still, every coach who has played the Ducks probably feels there's something he wishes he might have attacked more or tried to exploit.
"I think there is a lot of places," Washington State coach Mike Leach said. "There's always a lot of places."
Washington State lost 62-38 at Oregon last weekend, with Leach's Cougars adding two late touchdowns to make the gap less dramatic. Quarterback
Connor Halliday
set a number of Pac-12 and NCAA passing records in the game -- he completed 58 of 89 passes for 557 yards -- but also threw four interceptions, one of which Terrance Mitchell returned 51 yards for a touchdown.
"Oregon is really fast," Leach said, echoing a common theme. "As you play Oregon, everything they do -- they can reel plays in quicker. They react to everything quicker. Very explosive... Oregon hits you in the mouth when you throw one up."
Of course, speculating on Oregon's seeming lack of weaknesses and its standing among other accomplished Ducks teams is a mostly a meaningless academic exercise when five regular season games remain ahead, including a visit Saturday from No. 12 UCLA. In fact, the next five Pac-12 games (combined opponent record of 26-7) are far tougher than the first four (combined record of 12-16).
Helfrich isn't really biting, either. When asked about areas of concern, he pointed back to the preseason questions and implied the jury is still out at linebacker.
Yet his overriding conclusion sounded very Chip Kelly-ish, while also offering plenty of room to read between the lines.
"I think everything," he said. "In every phase we can get better, starting with me, everything we do."
That's either coachspeak -- we need to get better every day -- or carries a more ominous implication: No weaknesses? Best Oregon team? You haven't seen anything yet.
October, 20, 2013
10/20/13
3:15
AM ET
By
Craig Murphy
| ESPN.com
EUGENE, Ore. -- The Oregon offense started to sputter in the second quarter Saturday against Washington State.
Oh sure, the Ducks entered halftime up 34-24, with 483 yards of offense already.
But Oregon was up 27-7 early in the second quarter.


More troubling, the Ducks fumbled the ball away three times in the quarter. At one point, that allowed the Cougars -- who entered as 40-point underdogs -- to close within 27-21.
"We needed to take care of the football better in the first half, though we got a lot of yards," Oregon coach Mark Helfrich said. "We got off to a sluggish start, but we responded well in the second half. I was happy with our response in the second half."
Oregon quarterback
Marcus Mariota
fumbled twice in the second quarter after being sacked, with one of those being returned for a WSU touchdown.
"Our culture has been one play at a time," Mariota said. "You have to focus on the next one. I was nonchalant with (the ball) a couple of times there. But we knew if we take care of what we need to do, we will be successful."
Byron Marshall
rushed for 192 yards and three touchdowns, with 108 of those yards coming in the second half. After a 35-yard reception on a fourth-down play in the second quarter, Marshall coughed up the ball.
"You have to stay on it," Marshall said. "You have to pick it up. Three fumbles is unacceptable. You don't turn the ball over."
Helfrich noted the turnovers were team fumbles.
"You can learn from everything," the first-year head coach said. "When you turn the ball over, it is multiple people's responsibility, starting with us as coaches."
Though the Ducks led the Cougs at half by less than a touchdown for the second year in a row, just like last season, Oregon pulled away in the third quarter. Two touchdowns in this third quarter pushed the lead to 48-24, with the final score 62-38.
"Aside from that fumble, I felt I had a solid game," said Marshall, who became the main running back for Oregon after
De'Anthony Thomas
was injured on the opening kickoff against California on Sept. 28. "It was a really good game. I played hard. That was the best game I've ever had."
As a team, the Ducks rushed for 383 yards and had 336 yards passing, for 719 yards total. In addition to Marshall,
Thomas Tyner
rushed for 101 yards and two touchdowns.
"Guys like Byron and Thomas have really stepped up and carried the load," said Mariota, who rushed for 96 yards himself. "You can't replace someone like De'Anthony, but they have helped fill the void. They've done a great job for us."
September, 25, 2013
9/25/13
10:30
AM ET
Pretty much every team plays true freshmen. But how much of an impact are those freshmen having on the game? Through four weeks, some have made immediate impacts. Others have seen some mop-up time. Across the ESPN blogosphere this morning, we're looking at the five teams in each conference who have had freshmen make the greatest impacts on their team.
[+] Enlarge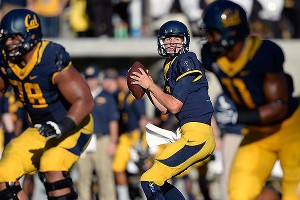 Thearon W. Henderson/Getty ImagesCal signal-caller Jared Goff is off to a big start in his career.
1. California
: The quarterback is the most important position, and anytime you have a true freshman playing quarterback, it's going to have a significant impact on the outcome of the game. So far, quarterback
Jared Goff
has risen to the occasion, even if it hasn't translated into wins for the Bears. He leads the country in total offense. He's completing 61 percent of his passes (103-of-168) and has seven touchdowns to four interceptions. Goff is one of seven true freshmen who have seen time for the Bears. Running back
Khalfani Muhammad
is tied for second on the team with 21 carries (97 yards, one touchdown).
2. UCLA
: The Bruins have played 16 true freshmen so far, which, as of last week, was second in the country only to Texas A&M. Linebacker
Myles Jack
has had the biggest impact with 14 tackles, including two for a loss and a team-high four pass breakups. They are also getting good production from
Eddie Vanderdoes
, who had two tackles for a loss against New Mexico State, and offensive lineman
Alex Redmond
has started all three games at guard.
3. USC
: The Trojans have gotten impact performances on both sides of the ball from their freshmen. Seven have seen the field for the Trojans. Safety
Su'a Cravens
has been as advertised so far with 18 tackles, half a tackle for a loss, and an interception. With
Silas Redd
out, running back
Justin Davis
has supplemented
Tre Madden
nicely. In four games, Davis has rushed for 189 yards and two touchdowns, averaging 47.2 yards per game and a team-high 5.9 yards per carry.
4. Washington State:
The Cougars have gotten quality -- not necessary quantity -- out of their true freshmen. They have only played four. But two of them are getting quality playing time and making significant contributions. Cornerback
Daquawn Brown
made his first career start against USC and posted a team high 11 tackles while breaking up two passes. He also had an interception against Southern Utah. Wide receiver
River Cracraft
is fourth on the team with 10 catches for 111 yards.
5. Colorado
: The Buffs aren't going as young as they did last year, but they are still getting production from their rookies. And they have found something special in linebacker
Addison Gillam
. Through two games he's the Buffs leading tackler with 20 stops -- including a sack, two tackles for a loss and five stops on third down. He also blocked a punt. Defensive end
Jimmie Gilbert
should also continue to see time. In 64 snaps he has three tackles and a sack.
Honorable mentions
These guys have been impactful, but chances are their teams would still have had success if they weren't on the field based on quality of competition and/or depth at a position. But their contributions shouldn't be overlooked.
September, 9, 2013
9/09/13
5:00
AM ET
1. Loyalty is an admirable quality. Loyalty to a fault will get you in trouble. In Manny Diaz's first two seasons as defensive coordinator at Texas, the Longhorns lost games by the score of 55-17, 48-24, 48-45, and 63-21. They won one, 56-50. Texas head coach Mack Brown stuck with Diaz. On Saturday night, the Longhorns lost at BYU, 40-21, allowing 550 rushing yards. Brown fired Diaz on Sunday. If that solves the Longhorns' issues, Brown will be fine. But by sticking with Diaz, Brown used up a lot of goodwill.
2. That said, USC athletic director Pat Haden is not in the same predicament as Brown. When Haden gave Trojans coach Lane Kiffin a preseason vote of confidence, he well may have meant it. It was interpreted, however, as campaign rhetoric, something Haden had to say. Haden didn't hire Kiffin, so he doesn't own him -- yet. USC's 10-7 loss at home to Washington State on Saturday night puts Kiffin in a deep hole. He can still dig out. But he needs a quarterback, not a shovel.
3. Oregon freshman tailback
Thomas Tyner
made his collegiate debut Saturday. The high school All-American rushed four times for 51 yards, including touchdowns of 3 and 31 yards, in the mop-up fourth quarter of the Ducks' 59-10 victory at Virginia. "I've wanted to play for the Ducks for the majority of my childhood," Tyner said, wearing a permagrin. "My first carry being a touchdown, everything just lights up inside of you. Words can't even explain how exciting it is. Today has been awesome."
September, 7, 2013
9/07/13
9:40
PM ET
CHARLOTTESVILLE, Va. -- As Oregon running back
De'
Anthony Thomas
made his way to the locker room following the Ducks' 59-10 win at Virginia, he stopped to sign his autograph for one of the many Oregon fans still lingering after the game.
It was quite fitting that he was asked to sign a pair of sneakers.
Thomas, once a high school track star, was again nearly impossible to catch. He only carried the ball 11 times, and it was more than enough touches to rack up 124 yards and a career-high three touchdowns. Some outside the program have wondered if the 5-foot-9 Thomas can be an every-down back for the Ducks, if he can run in the footsteps of his predecessors,
LaMichael James
and
Kenjon Barner
. The answer? Thomas doesn't
need
to carry the ball 20 times to be a dynamic leading rusher. His versatility is his trademark, and he again showcased it with his ability to line up as a receiver, run between the tackles, and also return kicks. It was the second straight week that Thomas ran for over 100 yards. This week, he lined up more as a receiver than he did in the season opener against Nicholls State.
Next week against Tennessee?
"We're going to change what we do every week so people can't figure us out," said offensive coordinator
Scott Frost
.
[+] Enlarge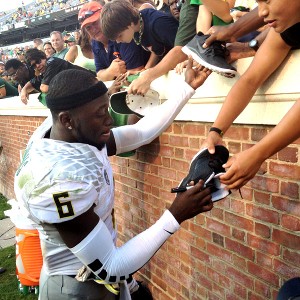 Heather Dinich/ESPNIt seemed fitting De'Anthony Thomas signed shoes considering how he ran wild in Oregon's win over Virginia.
Keeping Thomas' role a mystery is as much a part of the game plan as scoring at warp speed. Thomas didn't return punts against UVa, but he can do that, too, and Frost said not to rule that out this season, either. One role that won't change for Thomas -- being a leader as some of the younger backs like
Thomas Tyner
continue to develop.
As far as Thomas is concerned, he's more than happy to continue sharing the load.
"It was great just to be out there, switching in the backfield, just showing off all our weapons," he said. "It's a great feeling just to get in there, hop out and let the other guys get touches. That's the best thing about it, we're very strong in the backfield. I feel like it doesn't matter if Byron is in there, Thomas is in there. I just feel like everyone is going to get positive yardage and it's going to help our offense."
Oregon has now racked up 850 rushing yards in two weeks. Tyner, a true freshman, ran for a three-yard touchdown on the first play of his collegiate career. It was Thomas, though, who made Virginia's defense dizzy. His back-to-back touchdowns in the first quarter gave Oregon a 21-0 lead, including a 40-yard burst.
"We felt good about the matchup of getting our playmakers the ball in space today, so getting him on the edge and letting him create in space, that was a big part of our game plan." Frost said. "There were several times during the game where, once he got the edge, he was tough to bring down. We want to protect him a little bit. He's not the kind of back we want to get the ball to up the middle 20 times a game. He's kind of our knockout punch. We want to get him the ball in situations where we think he can make a big play and he answers the bell every time."
Just ask Virginia.
"It's pretty tough," Virginia senior defensive tackle
Brent Urban
said of defending Thomas. "It's the kind of thing where you need guys to get up the field and contain him and make sure he doesn't get the edge on us."
Thomas had the edge.
He averaged 11.3 yards per carry. There were only four games last season in which Thomas got double-digit carries. Coach Mark Helfrich said he doesn't ever want to have to answer how much Thomas can handle because that would mean he was injured.
"It's kind of like, how many pitches can a right-hander throw?" Helfrich said. "You don't want to get to that magic number where he needs Tommy John surgery.
"We want the ball in his hands. We were trying to make a concerted effort from the first play to try to create some space, whether it's the screen game as a receiver, or movement guy. He likes to be that guy, kind of a moving target. We need the ball in his hands and we talk all the time about ways to move him, line him up and get him the ball."
How and where is anyone's guess.
June, 20, 2013
6/20/13
9:00
AM ET
Today's assignment for the conference bloggers: Which teams in your conference are built to win this year -- and had better, because the future doesn't look too bright. One problem: It's just not that cut and dry with the Pac-12.
This is playing off of the top 25 future power rankings
that were released Tuesday

-- projecting where programs will be three years from now. In the top 25 were
Stanford
(10),
Oregon
(11),
UCLA
(22) and
USC
(25).
Let's tackle the first part before digging into the second. For teams that are built to win now, we can break those down into three categories:
Oregon has proved to be virtually unmatched offensively the past few seasons, and this season they offer an outstanding secondary to boot. Stanford's defense and grind-'em-out West Coast offense has propelled it to three consecutive BCS bowl games.
[+] Enlarge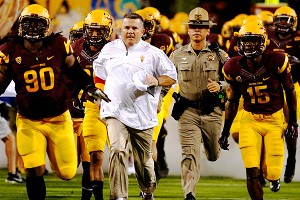 AP Photo/Rick ScuteriUnder coach Todd Graham, Arizona State could very well push its way into the Pac-12's top tier, where Oregon and Stanford are fixtures.
Arizona State has an ambitious 2013 schedule that -- if successfully navigated -- will land it in the national rankings and potentially the Pac-12 championship game. The same is true for UCLA -- which also has a tougher schedule than last season. And you can never count out USC because of the talent the Trojans bring in each year. The switch to the 3-4 is a good step defensively, and having the reigning Biletnikoff winner (receiver
Marqise Lee
) never hurts.
Washington -- with good quarterback play -- could reach double-digit wins. Oregon State, though there have been down years, is consistently a tough program, and last year Arizona showed offensively what it's capable of in Rich Rodriguez's system.
Now, the second part. This is where the assignment doesn't necessarily apply to the Pac-12 because, frankly, the future looks pretty bright for the bulk of the conference. Maybe I'm the eternal optimist with a backside full of sunshine and pocket full of miracles, but I don't see dynastic collapses in the future. Just the opposite: I'd put Arizona State and Oregon State in the future power rankings now. Maybe even Washington.
I see the rest of the conference getting better. Top to bottom, the coaching staffs are phenomenal. Stanford officially closed the gap on Oregon last year, and Washington and Oregon State are closing the gap in the North. Three years from now, Sonny Dykes and Mike Leach could have
California
and
Washington State
, respectively, in the hunt. The South is for sure a three-way battle this season among ASU, UCLA and USC, with Arizona nipping at their heels.
Colorado
is in rebuilding mode (again) and
Utah
is entering a very crucial year.
Potential future downfalls? I guess we could grasp at some straws. Oregon does still have some sanctions looming -- expected to be announced anytime between today and when
Thomas Tyner
graduates. Stanford has done a better job of recruiting speed the past few years, but it will always have to outwork others on the trail because of its admission standards. Washington could be on the verge of an uphill slingshot or downward spiral. Another seven-win season could put coach Steve Sarkisian in hot water. Same for USC; a division or conference title rights the ship, while another seven-win year likely costs Lane Kiffin his job.
Arizona, UCLA and Arizona State are in the toddler stage of new coaches and systems. And all three took significant steps forward last season.
Most will agree that the Pac-12's greatest strength -- its parity -- is also one of its biggest downfalls. The hotly debated nine-game schedule plays a huge factor. Tie-ins with Notre Dame and the annual weekenders with the California schools all but guarantee meat-grinding schedules each year.
Three years from now it's more likely that we'll be talking about how the rest of the league has narrowed the margin rather than which dynasty has crumbled.
March, 6, 2013
3/06/13
7:00
PM ET
When the new playoff system begins, no doubt scheduling is going to play a major role -- we hope -- in how the four teams are selected. Much of the selection process is still in wait-and-see mode, but ESPN Insider Travis Haney is looking at all of the conferences and breaking down
which ones have the best road to the postseason

.
As you'd expect, the SEC is all but assured to have its conference champion in the playoff -- and likely as one of the top two seeds.
Next up, the Pac-12, which Haney says has the best chance of any league to challenge the SEC. And, as Haney notes, the Pac-12 is likely the only other league capable of putting more than one team into the four-team race. At least in the immediate future.
Writes Haney:
Stanford and Oregon were 12-win teams a year ago, and it's obviously not a one-year thing with those programs -- even if the Ducks are entering the post-Chip Kelly era. Between Stanford's system and Oregon's recruiting of freakish athletes, and because they play different styles, there could conceivably be a year in which they do what Alabama and LSU did in 2011.

Or, both could at least potentially finish in the top four, given that that's easier to accomplish than constituting the top two. A loss to the other, like Oregon's to Stanford last season, would not be nearly as damning in regard to the four-team bracket.

Others from the Pac-12 could break through to get in, too. UCLA has overtaken USC in L.A. for the time being, but if Lane Kiffin can get through this scholarship stuff, there will be a fair fight. Between coveted recruits and exciting systems, the Arizona schools and Washington have earmarks of being on the rise. And did Oregon State just have one great season, or can Mike Riley sustain it?
Of course, there are many details still to be worked out. How much will nonconference scheduling play a role? Will leagues that play nine-game conference schedules be looked at more favorably than the eight-gamers?
George Schroeder of "USA Today" recently examined
what the selection committee might look like
and some of the criteria said committee will be weighing.
There is emerging consensus that the committee will have 14 to 20 members. Each FBS conference will have a representative — likely drawn from a pool of former administrators, though retired coaches might also be considered — along with several "at-large" representatives who could include retired media members. Football experience will be emphasized ...

College football has traditionally been dominated by polls, which are driven by wins — and more important, losses. The selection committee will instead be charged with deeper deliberation: strength of schedule, head-to-head results, conference championships, injuries, and so on.
We still have one more year of the BCS system, so even though two Pac-12 teams are expected to start the 2013 season in the top 10 (Stanford and Oregon), it's just speculation at this point as to how a playoff might shake out. But consider this, Stanford and Oregon fans -- in 2014
Kevin Hogan
and
Marcus Mariota
will be in their third year as starters. Oregon RBs
Byron Marshall
and
Thomas Tyner
will be very experienced. Stanford's touted offensive line class from 2012 will be in its second and third year as starters. Both teams could compete for a BCS title this year. But both will also be in a nice position when playoff time rolls around.
February, 7, 2013
2/07/13
10:00
AM ET
Continuing with the hits and misses from Pac-12 recruiting.
CALIFORNIA

Needs filled
: The Bears added nice depth to the offensive line with tackles
Aaron Cochran
and
Erik Bunte
. Junior-college transfer
Sione Sina
can also be a nice stopgap at defensive end. They went heavy in the trenches with five offensive linemen and seven defensive linemen.
Holes remaining:
Cal is looking for a quarterback to run the new-look offense under new head coach Sonny Dykes. Could be
Zach Kline
of the 2012 recruiting class. Could be
Jared Goff
of this year's class, an early enrollee. The Bears addressed a lot of positions, but whether some youngsters can step up remains to be seen. The 11th-hour flip of offensive guard
Cameron Hunt
to Oregon has to sting.
OREGON

Needs filled
: The Ducks went heavy on offense, and running back
Thomas Tyner
highlights a group that is loaded with speed (what did you expect, it's Oregon). They added two stellar offensive guards in Hunt and
Evan Voeller
and a premier defensive end in
Torrodney Prevot
, previously a USC commit. There are speedy receivers down the line like
Darren Carrington
. And they added kicker
Matt Wogan
. The Ducks were 11th in the conference in field goals made in 2012.
Holes remaining:
The Ducks still have holes to fill at linebacker. Junior-college transfer
Joe Walker
, an outside linebacker, could step in to help immediately. But with the losses of inside linebackers
Michael Clay
and
Kiko Alonso
, the Ducks have mostly untested talent at the position and this year's class didn't add much depth to a position that is already a question mark.
OREGON STATE

Needs filled
: When you look at the top two players the Beavers lost --
Jordan Poyer
and
Markus Wheaton
-- it's nice to look at their recruiting class and see a cornerback and wide receiver as the two highest-rated players.
Dashon Hunt
and
Hunter Jarmon
might never develop into a Poyer or a Wheaton, but the Beavers saw the holes and addressed them. JC defensive tackles
Kyle Peko
and
Edwin Delva
should help immediately and
Kyle Kempt
could develop into the quarterback of the future in a couple of years. a href="http://espn.go.com/college-sports/football/recruiting/player/_/id/136903/jordan-villamin">Jordan Villamin, 6-foot-4 wide receiver, might also develop into a nice red zone target.
Holes remaining:
The JC transfers help with the defensive line in the immediate future, but the Beavers signed only two high school defensive linemen, leaving some questions about depth in the future. It's likely a position they'll address heavily next season.
STANFORD

Needs filled
: This is a class low on numbers, but extremely high on potential. If quarterback
Ryan Burns
is as advertised, it's possible he could challenge for the starting job as early as 2014.
Francis Owusu
has tremendous upside as a receiver and
Peter Kalambayi
adds depth to one of the best front sevens in the nation. Plus, three tight ends (
Austin Hooper
,
Greg Taboada
and
Eric Cotton Jr.
). How very Stanfordish of them.
Holes remaining:
The Cardinal loaded up on defensive linemen with five last year and there is plenty of depth, albeit untested, at running back. The Cardinal didn't sign any running backs or defensive linemen this year. It's not a bad thing -- for now. But if a couple of guys get injured or if there is any attrition, it could bite them. For now, the Cardinal seem to be in good shape across all positions.
WASHINGTON

Needs filled
: The Huskies added some much-needed depth on the defensive line with five linemen -- headlined by ESPN 150 defensive tackle
Elijah Qualls
.
Damore'ea Stringfellow
and
Darrell Daniels
-- both ESPN 150 wide receivers -- provide a nice one-two offensive punch.
Troy Williams
, the nation's No. 3-rated dual-threat quarterback -- could potentially be the heir apparent to
Keith Price
. It was a good class that fills a lot of needs.
Holes remaining:
For solid as the defensive line class was, the Huskies signed only three offensive linemen -- though one of them is
Dane Crane
, the nation's No. 4-rated center. If you recall, however, the Huskies were decimated with offensive line injuries this year and coach Steve Sarkisian made it a point to talk about the team needing more depth to be able to absorb that kind of injury hit. Three more guys helps; but is it enough to sustain them if another injury bug ravishes the line?
WASHINGTON STATE

Needs filled
: This was quietly a very good encore recruiting class for Mike Leach in his second season at the helm. It's heavy on linemen, heavy in the secondary and it's headlined by a four-star wide receiver in
Vince Mayle
-- a JC transfer from Rocklin, Calif. Interestingly enough, it also has two fairly highly rated running backs. We know Leach isn't going to be a run-first guy -- but the Cougars could certainly use the help after rushing for 29.1 yards per game last season.
Holes remaining:
Who is going to run the offense? It could be
Connor Halliday
. But it's also possible Leach pulls the trigger on
Tyler Bruggman
, the No. 22-rated pocket passer in the country from Phoenix. That remains the No. 1 priority for the Cougars in the offseason. Otherwise, this recruiting class plugged a lot of holes. The question is whether they are the right guys to help immediately.
February, 6, 2013
2/06/13
7:00
AM ET
ESPN RecruitingNation
has signing day covered. Follow ESPNU's coverage, chat with analysts and get breaking news on our
Signing Day Live
page beginning at 7:30 a.m. ET through 7 p.m. ET. For more on what to expect on signing day, check out the
Pac-12 conference breakdown

.
Bold prediction for the Pac-12:
UCLA is in a position to shock the conference and perhaps the country on signing day. Already in possession of a top-12 class, the Bruins have a chance to close with a bang, as UCLA is in a good position with ESPN 150 prospects
Eddie Vanderdoes
,
Isaac Savaiinaea
and
Asiantii Woulard
. If all goes well in Westwood on signing day, Jim Mora could finish the day with a top-five recruiting class.
Arizona
Biggest need:
Linebacker. Arizona's defense is in need of some immediate help in all three levels, but the Wildcats will add some serious depth at linebacker with five commitments at the position.
Biggest recruit:
QB
Jesse Scroggins
. A case could be made for either quarterback commitment --
Anu Solomon
is the other -- but with Scroggins' experience at USC and his status as an early enrollee, he could have an advantage when it comes to battling for the vacated starting quarterback spot.
Arizona State
Biggest need:
Secondary. Arizona State is set to add plenty of help at the offensive skill positions, but the Sun Devils needed to add depth on the defensive side of the ball, and they did so. Safeties
James Johnson
and
Jayme Otomewo
are strong additions, as are cornerbacks
Damarious Randall
and
Will Earley
.
Biggest recruit:
DT
Marcus Hardison
. Getting defensive tackle Will Sutton back for another year was a big win for Arizona State's defense. Getting the No. 5 junior college player in Hardison, a 6-foot-4, 275-pound defensive tackle who can help Sutton inside this year, is another big win.
California
Biggest need:
Offensive line. With head coach Sonny Dykes and offensive coordinator Tony Franklin, Cal is looking to take off offensively, but that can't happen without a dominant front. Six offensive line commitments, including four-star tackles
Aaron Cochran
and
Erik Bunte
, are a good way to continue building up front.
Biggest recruit:
OT Aaron Cochran. This is true figuratively and literally. Cochran, at 6-foot-8 and 364 pounds, is an important recruit for Cal, as the offensive tackle plays a position of need. He is the younger brother of Cal lineman Matt Cochran. Honorable mention here to
Cameron Hunt
, who committed to Cal last summer but opened his recruitment after the coaching change and now appears to be headed to Oregon.
Colorado
Biggest need:
Offensive line. The Buffaloes need help everywhere, but solidifying the offensive line is step one for the new regime. Colorado holds commitments from five offensive linemen as it looks to take a step forward in the Pac-12.
Biggest recruit:
QB
Sefo Liufau
. While building along the lines is important, Colorado needs to add playmakers at every position, and Liufau is definitely that at quarterback. He understands and appreciates the challenge at Colorado and is the kind of player the Buffs need to bring in and build around.
Oregon
Biggest need:
Running back. While the Ducks have been blessed with an embarrassment of riches at tailback, it's important that they continue to stock the cupboard in order to keep finding those gems and running the blur offense. Three tailbacks were a possibility in this class, as there will be an opportunity for playing time.
Biggest recruit:
RB
Thomas Tyner
. This was big on two fronts as Tyner has an opportunity to contribute as a freshman, and the Ducks were able to keep Oregon's top recruit from leaving the state. Tyner's commitment became even more important when
Dontre Wilson
flipped from Oregon to Ohio State on Monday.
Oregon State
Biggest need:
Defensive line. The Beavers looked to get bigger and better up front and did so in a big way. Six defensive linemen are headed to Corvallis, including four junior college defensive tackles capable of playing as soon as they arrive on campus.
Biggest recruit:
CB
Dashon Hunt
. Oregon State needed to add talent in the secondary as well and Hunt -- the Beavers' lone ESPN 300 commitment -- will help there. Hunt's commitment also helped Oregon State continue its presence in Southern California, which it recruited extremely well with this class.
Stanford
Biggest need:
Wide receiver. The Cardinal needed to add receiving threats in this class, and adding wide receivers
Francis Owusu
and
Taijuan Thomas
did that. Of course, at Stanford, no position poses more of an offensive threat than tight end, and the Cardinal have commitments from three high school standouts who will suit up there.
Biggest recruit:
WR
Jordan Cunningham
. As the Cardinal continue to hunt for pass-catchers in this class, snagging Cunningham -- an ESPN 150 wide receiver -- on signing day would nicely cap an undermanned but still impressive recruiting class. It would also carry over Stanford's terrific signing-day success from last year.
UCLA
Biggest need:
Offensive line. While it might not be the most immediate need for the roster, the UCLA coaches saw a need to infuse the offensive line with young talent and they went out and did just that. There are offensive line recruits, including two ESPN 300 prospects and a third four-star lineman.
Biggest recruit:
DT Eddie Vanderdoes. The country's top defensive tackle will announce at 5 p.m. PT and the Bruins are thought to be in good position. Landing Vanderdoes -- a former USC commitment -- would be another positive sign for the Bruins in their quest to tip the rivalry in their favor.
USC
Biggest need:
Secondary. The Trojans have been shaky in the secondary for several years now and are in need of players capable of adding depth and perhaps playing as freshmen. Signing day could offer a disappointment if cornerback
Jalen Ramsey
goes elsewhere, but the early enrollee group of safeties
Su'a Cravens
and
Leon McQuay
and cornerback
Chris Hawkins
, gives the Trojans three players capable of stepping in and offering a solution to the pass defense troubles.
Biggest recruit:
S Su'a Cravens. USC is set to add plenty of impact players in this recruiting class, but landing Cravens as an early enrollee was huge. A local player who plays a position of need and has the talent to make an impact as a freshman, Cravens was as close to a must-get recruit as the Trojans had in this class.
Utah
Biggest need:
Running back. With
John White
finished at Utah, the Utes have just one player returning in 2013 who logged more than 25 carries last season. While there are several tailbacks on the roster, Utah looked to add talent at the tailback position in this class and did so with four commitments from running backs, including junior college back
Devontae Booker
.
Biggest recruit:
DT
Lowell Lotulelei
. There is no guarantee that the defensive tackle will turn into his older brother, Star Lotulelei, a likely top-five pick in the upcoming NFL draft. But getting a commitment from Lowell Lotulelei was arguably the most important piece of Utah's recruiting puzzle. The four-star defensive tackle is Utah's top-ranked commitment and will look to take over where his brother left off.
Washington
Biggest need:
Offensive line. The Huskies hoped to find several big bodies to position as the future of the offensive line in this class and have commitments from three high school linemen, including four-star center
Dane Crane
. While the Huskies lost a commitment from
Sean Harlow
, who flipped to Oregon State, they could make up for it in a big way by grabbing ESPN 300 tackle
Nico Falah
away from USC on signing day.
Biggest recruit:
WR
Damore'ea Stringfellow
. The highest-ranked player in the class, the ESPN 150 wide receiver is a playmaker capable of providing an immediate spark for Washington's offense. He also gives the Huskies a big recruiting win in Southern California, as he was sought after by UCLA and USC.
Washington State
Biggest need:
Offensive line. While much of the attention with Mike Leach's offense goes to the offensive skill players, it can't take off without an effective offensive line. Six offensive linemen, including junior college tackle
Jacob Seydel
, are headed to Pullman in this class.
Biggest recruit:
QB
Tyler Bruggman
. The Cougars won a big recruiting battle for Bruggman, as they were able to pull him away from hometown Arizona State. He was someone Washington State targeted early on as a player who could fit into and succeed in the offense.
January, 15, 2013
1/15/13
9:00
AM ET
As all of you know, the Pac-12 blog -- Kevin and myself -- is bold. Not bold like, "Hey, this is a
bold
cabernet!" but bold like a guy willing to jump into a volcano to save his remote control.
There is no fear with the Pac-12 blog. None. Other than cockroaches. We don't like those. And I personally found "
The Ring
" pretty unsettling, but it's not as if I woke up with nightmares for a month or anything ("Don't you understand, Rachel... she never sleeps!").
The point is you folks out there know we'd storm the beaches at Normandy in Speedos to protect your freedoms.
Bold.
So, without further delay, we present BOLD PREDICTIONS for 2013.
The Pac-12 will dethrone the SEC and win the final BCS national title
: The SEC's streak of seven national titles will come to an end in an appropriate place: the Rose Bowl. But who will do the honors, ruining Alabama and Nick Saban's hopes for a three-peat?
That team will be Oregon
: The Ducks have a lot of nice pieces coming back in 2013 -- 15 position players -- but the key one will be Heisman Trophy-winning QB
Marcus Mariota
.
[+] Enlarge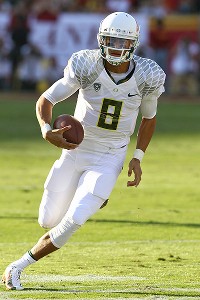 AP Photo/Bruce SchwartzmanCan Marcus Mariota lead Oregon to a national championship?
Yes, that's Heisman Trophy-winning QB Marcus Mariota
: Mariota will be in New York with USC receiver
Marqise Lee
and Texas A&M QB
Johnny Manziel
, but it will be the Hurling Honolulan walking away with the bronze statue this time.
No Pac-12 coach will be fired in 2013
: Considering there's only one coach truly on the hot seat, what we're really saying is...
Lane Kiffin and USC will post a bounce-back season
: We expect the Trojans to win 10 games -- that's with a highly favorable 13-game schedule, by the way -- and return to the national rankings. Although the Trojans won't return to dominance, they will play better all-around football in 2013, and it will be enough to quiet Kiffin's critics -- at least enough for him to return in 2014. We don't, however, expect USC to win the South Division.
Oregon will play Arizona State in Pac-12 title game
: The Sun Devils will emerge from a pack that includes the Trojans and UCLA to win the South.
Stanford won't win the North, but it will play in a BCS bowl game. Again
: The Cardinal will lose only to Oregon and finish ranked in the top five.
The Pac-12 will finish 2013 with six teams in the Top 25
: That will be six of this seven: Oregon, Stanford, Washington, Arizona State, UCLA, USC and Oregon State.
The Washington renaissance will arrive
: The Huskies will finish 9-3 in 2013, opening the new Husky Stadium in style.
Colorado will win four games in Year 1 under Mike MacIntyre
: And Buffs fans will be reasonably encouraged.
Washington State will go 5-7 in Year 2 under Mike Leach
: And Cougs fans will be reasonably encouraged, particularly when the offense starts to look Leachian.
The sledding will be rough in Sonny Dykes' first season at California
: The Bears don't have great talent coming back, but the schedule is the biggest problem. By my guess, Dykes will play eight ranked teams in his first season, including a strong Big Ten duo at home the first and third weekends of the season (Northwestern and Ohio State).
Arizona's offensive numbers will make everyone realize how good Matt Scott was
: Arizona averaged 37 points and 522 yards per game last year because of QB Matt Scott, who ranked seventh in the nation in total offense with 338.5 per game. He was a perfect fit for Rich Rodriguez's K offense. We expect the Wildcats' offense to take a step back in 2013, whether
B.J. Denker
or JC transfer Jesse Scroggins wins the QB job. As good as national rushing champion
Ka'Deem Carey
is, he will find the holes a bit smaller without Scott, even with a solid offensive line coming back.
Defenses will continue to rise
: Arizona State defensive tackle
Will Sutton
and UCLA outside linebacker
Anthony Barr
will be first-team preseason All-Americans, and Stanford will again have one of the nation's top 10 defenses. But we also expect across-the-board improvement on defense.
But it will still be the Conference of QBs
: Mariota will win the Heisman and again earn the first-team All-Pac-12 nod, but the battle for second-team will be hot between Arizona State's
Taylor Kelly
, Stanford's
Kevin Hogan
, UCLA's
Brett Hundley
and Washington's
Keith Price
, who will be the conference's Comeback Player of the Year.
Players of the Year
? Mariota and Barr will win the offensive and defensive player of the year awards in the conference. Sutton and Stanford's
David Yankey
will repeat as Morris Trophy winners as the best linemen. Incoming Oregon running back Thomas Tyner will win offensive freshman of the year, and USC redshirt freshman linebacker
Jabari Ruffin
will earn defensive freshman honors.
Breakout player
: Junior Oregon State receiver
Brandin Cooks
will earn first-team All-Pac-12 honors with Marqise Lee.
Breakout player II
: Dykes will figure out a way to get talented junior running back
Brendan Bigelow
touches. Bigelow will make Dykes glad he did.
Speaking of newcomers
: Utah doesn't look as if it sets up for a great 2013, in large part thanks to issues on both lines. But things might perk up if 6-foot-4, 330-pound defensive tackle
Junior Salt
proves equal to expectations. And stays healthy. Salt was a JC transfer -- a former Florida recruit -- who sat out last year after breaking his foot in August. Coach Kyle Whittingham practically blushed talking about him and how he made
Star Lotulelei
look small.
And Oregon State's starting QB in 2013 is ...:
Heck, what do you think we are... psychic?
October, 18, 2012
10/18/12
3:04
PM ET
After rocking the recruiting world by decommitting from Oregon on Tuesday,
Thomas Tyner
confirmed to ESPN.com on Thursday that he has recommitted to the Ducks.
The electric running back from Aloha (Ore.) High School, who earlier this year rushed for 643 yards and 10 touchdowns in one game, is rated the No. 104 player in the ESPN 150.