NCF Nation:

Tide BCS practice 2009
December, 22, 2009
12/22/09
1:00
PM ET
TUSCALOOSA, Ala. -- Senior tight end
Colin Peek
, a first-team Academic All-American, is one of the brightest players on Alabama's team.
[+] Enlarge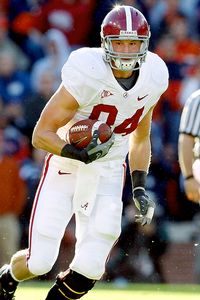 Kevin C. Cox/Getty ImagesColin Peek considered transferring to Florida before settling on Nick Saban and the Crimson Tide.
He also has pretty good timing.
In his one and only season of playing for the Crimson Tide after transferring from Georgia Tech, he finds himself on an unbeaten SEC championship team that will be playing for the national championship on Jan. 7 against Texas in the Citi BCS National Championship Game.
"This is my only season here, so you only get one shot. I wanted to make the most of it," said Peek, a key cog in Alabama's offense with 26 catches for 313 yards and three touchdowns, including the one in the SEC championship game that put a fork in Florida and landed him on the cover of Sports Illustrated.
Ironically enough, Peek narrowed it down to Alabama and Florida when he decided to leave Georgia Tech. He knew he wasn't going to fit into Paul Johnson's option offense.
His father, Eugene, was a receiver for the Gators in the 1960s and caught passes from Steve Spurrier, and Peek grew up going to the Swamp and watching the Gators play.
But it was Nick Saban that swayed him to Alabama.
"It's kind of funny. I went home and had so many people come up to me and say, 'I bet you're glad you transferred now,'" Peek said. "But even if nothing worked out the way I thought it would, playing for this program and playing for Coach Saban … that was good enough in itself in that you learn so much from a man like that and being a part of this program and the tradition and the prestige that it has, you learn to love everything about Alabama and the Crimson Tide, which encapsulates the fans, the community. It's such a wonderful environment.
"Just to be able to be a part of the team that could be considered the one that restored the legacy is something that will last with you for a lifetime."
December, 22, 2009
12/22/09
10:02
AM ET
TUSCALOOSA, Ala. -- For the record, it hasn't sunk in yet for Alabama coach Nick Saban that he has this program in the BCS National Championship Game in only his third year on the job.
And for that matter, it won't sink in. At least not while he's getting ready for this game.
The same goes for his players, because in Saban's words, to even allow yourself to think about such things is the very definition of clutter.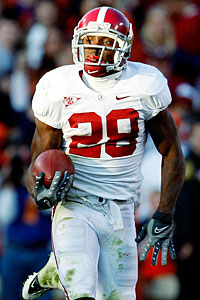 Kevin C. Cox/Getty ImagesCornerback Javier Arenas says he's "exceptional" at avoiding clutter.
In vintage Saban fashion, he pounded that message home to his players Monday -- doing so while scolding the media for even bringing up the subject.
After all, who dares to talk about playing for a national championship in the weeks leading up to the big game?
"I'm not worried about winning a national championship, and I don't want our players to worry about it, either," Saban said. "I'd appreciate it if you didn't ask them, although I know you will.
"What I want our players to focus on is playing their best football and to assume that they're going to play the best football team they've ever played and they're going to be playing against the best player they've ever played against, and that's what they should be working to do and what they should be focused on."
The clutter is for everybody else on the outside to talk about.
And make no mistake. The Alabama players know clutter when they see it.
Senior cornerback Javier Arenas provided the most vivid definition.
"Clutter is clutter, bro," Arenas said. "You're driving down the road thinking about a chick, and you hit a dog in the road. That's clutter. If you ain't thinking about what you're supposed to be thinking about, that's clutter."
Is he pretty good at avoiding clutter?
"I think I'm exceptional at it. I slack off every once in a while, but I never hit dogs," Arenas cracked.
December, 22, 2009
12/22/09
9:00
AM ET
TUSCALOOSA, Ala. – The last time Alabama played in a bowl game it wasn't a pleasant experience for anybody who was wearing crimson.

But it's obvious it was a learning experience.

Senior linebacker Cory Reamer said Alabama was a splintered football team emotionally and mentally last season at the Sugar Bowl, and that was clear in how they played.

Utah whipped Alabama 31-17 in a result some of the players saw coming. Andre Smith's suspension the week before the game for improper dealings with an agent was a time bomb that had been ticking inside the program, according to Reamer.

"We had a lot of guys who were potential first-round and second-round guys, and a lot of guys who were going to get drafted, so there were agents and (people) like that everywhere who really weren't interested in what our best interests were," Reamer said. "They were worried about themselves. But we have a plan set now where we can handle it as players and handle everything here, which I think helps a lot because we don't have a lot of outside people influencing us on what their ideas should be."

Reamer said the Crimson Tide learned the hard way how a few people getting "too caught up in what's coming next" can soil an entire season.

He said nobody on this team ever plans to go through that again.

"You've got to know what your responsibility is, and know what your focus should be, and you should never get caught in those situations," Reamer said. "You should never put yourself in a situation where you could be a distraction for the team. You focus on what you have to do to help this team win this game and not worry about what's coming after that."
December, 22, 2009
12/22/09
2:05
AM ET
TUSCALOOSA, Ala. – Texas coach Mack Brown has latched onto the underdog role, and he's running with it.
Presumably all the way to Pasadena.


Not only is Alabama coach Nick Saban running as fast as he can away from the favorite's role, but he's daring anybody to even bring it up.
You can almost see the steam rise from his forehead any time somebody remotely suggests that Alabama is the favorite in the Citi BCS National Championship Game or that the Crimson Tide go into the game with the most momentum.
"I think they've only lost one game in the last two years on the last play of the game. Is that not right?" Saban said. "And even though all the talking heads out there seem to want to make them not so, I think they are pretty good. They've got a lot of good players, and they've won a lot of games because of it. I think our players need to have respect for that and get ready to play their best football game of the year."
It's also noteworthy that Saban referred to the Longhorns as "probably the best all-around team we've played all year."
Clearly, Saban's aware of how Brown has embraced the underdog role. Of course, it wasn't too long ago that Texas was also the underdog against a Southern California team that a lot of people were bestowing with royalty status before the game.
The Longhorns won 41-38 to win the 2005 national championship and end USC's 34-game winning streak. It just so happens that game was also played in the Rose Bowl.
"
What I want our players to focus on is playing their best football and assume that they're going to play the best football team they've ever played and they're going to be playing against the best player they've ever played against … and that's what they should be working to do and what they should be focused on," Saban said.
December, 21, 2009
12/21/09
10:54
PM ET
TUSCALOOSA, Ala. – The biggest challenge for both Alabama and Texas in the Citi BCS National Championship Game is returning to top form after more than a month layoff.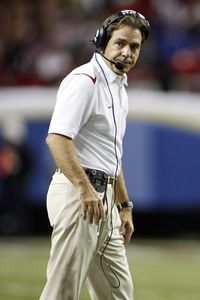 John David Mercer/US PresswireAlabama coach Nick Saban said his team will try to recreate game-like situations because of the long layoff.
Alabama coach Nick Saban said Monday that the Crimson Tide have used these first few practices more as a means to get back into football shape and have gone heavy on fundamental work.
Not surprisingly, there's been some rust, especially on offense. Keep in mind that Alabama played perhaps its most efficient game of the season offensively against Florida in the 32-13 SEC championship win back on Dec. 5.
The Crimson Tide had nearly 500 yards of total offense, committed one penalty, didn't have any turnovers and only allowed one sack.
"It all comes down to rhythm," Alabama quarterback
Greg McElroy
said. "So much of our offense is based on rhythm. Sometimes when you're throwing the ball when the guy is already out of his break as opposed to right before he's coming out of his break can make a big difference. Having the two-week layoff that we had, it's been difficult the last few days to kind of get back to where we were for the Florida game.
"It's something that can get fixed with constant repetitions, and we'll have plenty of those in the next two weeks. Coach Saban will have us ready, and coach (Jim) McElwain will have a plan, and we'll be able to execute fairly strongly pretty soon. It just takes a couple of days to knock the rust off and get back on the same page with your (offensive) line and wide receivers."
With so much time in between games, Saban said there's always discussion about scrimmaging. But it's simply not worth the risk, injury-wise, to have 11-on-11 situations in which you take players to the ground.
"What we have discussed is trying to create as game-like a situation as we can in the spirit of safety for our players and having one situation, probably the last practice before we go home, that simulates a lot of the situations and game-like stuff," Saban said. "Now whether we tackle people to the ground and do things like it's a real scrimmage … I think the greatest opportunities to get injured are when people are on the ground.
"We want to try and avoid that, but we also feel like we need to do something that's very game-like that's going to help our players take the next step of getting ready for this game."
After all, Alabama's goal is simple, according to Saban.
"It's a challenge with all the things that go into playing these kinds of games," said Saban, who guided LSU to the 2003 BCS national championship. "But the number one thing we want to try and get with our players is to focus on the things you need to do to play your best football."
December, 21, 2009
12/21/09
10:50
PM ET
TUSCALOOSA, Ala. -- Alabama coach Nick Saban has already been asked the question a few times, and he's sure to get asked several more times as the Citi BCS National Championship Game approaches.

In short, does Texas have an advantage because its defensive coordinator, Will Muschamp, worked under Saban at LSU and its running backs coach, Major Applewhite, served as Saban's offensive coordinator at Alabama in 2007?

Judging by Saban's response Monday, he doesn't sound too concerned.

"We kind of know what they do, too," Saban said. "It will be interesting to see if they change what they're doing. Who you are is more important than what you do. I always say that."

Sure, the Crimson Tide will probably change up their signals and tweak a few things here and there, but now isn't the time to be overhauling your system because a couple of former assistants are on the other sideline.

That said, Muschamp probably knows Saban as well as any assistant coach out there, and he also worked with Alabama linebackers coach James Willis at Auburn for two years.

"I don't really think there are a whole lot of changes you can make ... to do what?" Saban said. "Are you going to trick yourself or trick them? We do what we do and always do self-scout and know what our tendencies are and what the other team thinks about us and what we need to do to balance that."
December, 21, 2009
12/21/09
9:41
PM ET
TUSCALOOSA, Ala. -- Alabama junior quarterback
Greg McElroy
plans to apply for a Rhodes Scholarship for study at Oxford University, but will not do so until next year.
He does not want the process to interfere with his senior football season.
"I'm actually applying next year," McElroy said. "I've been talking to advisers on campus, and it's something that's up in the air. It's a lengthy admissions process and obviously a ton of competition, so we'll see where that goes and where it takes me.
"I didn't want to apply and miss a year of football if I was picked. We'll see what happens. I obviously want to approach it and look into it because it is such a great honor."
McElroy, who has already earned his undergraduate degree in marketing, is now in graduate school. The lowest grade he has ever earned at Alabama was a B+, and believe it or not, that came last spring in a Management and Leadership class.
Of course, the irony is that his management of the Alabama offense has been outstanding this season, and he's been one of the strongest leaders on the team.
Something tells me that McElroy would make an A in that class if he took it again.
TOP 25 SCOREBOARD
Friday, 12/6
Thursday, 12/5
Saturday, 12/7
TOP PERFORMERS