NCF Nation:

Tide-Dawgs-120112
December, 2, 2012
12/02/12
12:27
AM ET
ATLANTA --
Barrett Jones
could barely walk, but it really didn't matter.
He could have floated out of the Georgia Dome on Saturday evening.
His left foot was still throbbing long after Alabama's
32-28 victory
over Georgia in the
SEC championship game
, and he was hobbling around on crutches.
From the first quarter on, Jones was essentially playing on one leg after suffering an injury to his left foot.
"I knew my teammates needed me. It never crossed my mind to come out of the game," said Jones, Alabama's senior center and one of the pillars of a Crimson Tide offensive line that took matters into its own hands when it looked like Georgia might be on its way to blocking Alabama's path to history.
"There were a lot of questions before the game about who was the more physical team. I'd say most of those questions were answered."
[+] Enlarge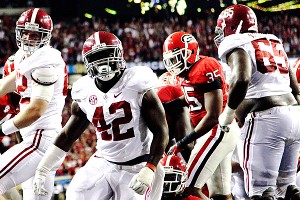 AP Photo/Jamie MartinAlabama's line paved the way for 350 yards and three rusing TDs, including two by Eddie Lacy (42).
That's a safe assumption, especially given the way Alabama battered and bruised Georgia's defensive front seven to the tune of 350 rushing yards.
"We just said, 'We can't be stopped and are going to run the ball down their throats,' and that's what we did today," Alabama junior offensive tackle
D.J. Fluker
said.
Over and over again, Alabama pounded the middle of that Georgia defense with the one-two punch of
Eddie Lacy
and
T.J. Yeldon
, each of whom rushed for more than 100 yards. Lacy romped for 181 yards and Yeldon 153 yards.
"The whole team's hungry, and hungry dogs run faster," Fluker said.
For Alabama's team, it's a run that will culminate in the BCS National Championship Game for the third time in the past four years.
The release of the final BCS standings Sunday night will make it official, but Alabama will face Notre Dame on Jan. 7 in Miami in the Discover BCS National Championship Game.
An Alabama win in South Florida would give the Crimson Tide their third outright national championship in the past four years, something that hasn't been accomplished in college football since Notre Dame pulled it off in 1946, 1947 and 1949.
"We're still trying to savor this one," said Jones, who insisted he would be ready to go in time for the national title game. "I know it's an emotional thing, and I know I said the same thing after the LSU game. But this is my favorite win since I've been here, just the way we hung in there and fought through some things that happened to us."
After Georgia's
Alec Ogletree
returned a blocked field goal 55 yards for a touchdown with 6:31 to play in the third quarter, Alabama looked to be in real trouble. The Bulldogs led 21-10 and had all the momentum.
"We never panicked, and we wanted the game on our shoulders," Jones said.
And why not?
Four of the five starters on Alabama's offensive line probably will be selected in the top three rounds of the NFL draft, and it's a group that has played some of its best football on the biggest stages.
"It's a feeling you get," Alabama sophomore offensive tackle
Cyrus Kouandjio
said. "We're not going to let up and are going to keep on keeping on.
"It's a great feeling to have the game in our hands and carry the team."
Alabama gained 198 of its 350 rushing yards in the second half. Jones said the Crimson Tide ran the same zone running play five straight times on their second of back-to-back touchdown drives after Georgia went ahead 21-10.
In those two drives, Alabama had 12 offensive plays and ran the ball on 11 of them. Not only that, but the Crimson Tide scored on a two-point conversion to cap their first scoring drive of the second half and ran it straight up the gut with Yeldon.
"That's your favorite thing as an offensive lineman, when you know it's a run and they know it's a run and they still can't stop it," Jones said.
It was a sobering dose of reality for Georgia, which won't have any shortage of players drafted on defense over the next couple of years.
But on Saturday, when it counted up front, it was a mismatch.
"They just lined up and played inside drill for a while," Georgia coach Mark Richt lamented. "We finally got a stop somewhere along the way. But a couple of drives, they just. ... I don't even know if they threw it. It might have been one pass and two drives or something like that, but they just lined up and knocked us off the ball."
Alabama's dominance between the tackles was most glaring. The Crimson Tide averaged 8 yards per carry on inside runs, including a season-high 13 that gained 10 yards or more. Lacy and Yeldon each gained more than 100 yards between the tackles.
"You play every play like it's your last play, and you could tell they were wearing down," Fluker said.
And while the Alabama players rejoiced in their first SEC championship since 2009, Kouandjio said the only game that counts now is the one a little more than a month away.
"We haven't fulfilled anything until after that game," Kouandjio said. "We haven't fulfilled anything until we have a victory in January."
December, 1, 2012
12/01/12
11:47
PM ET
TUSCALOOSA, Ala. -- For a time, the monster looked human.
Jesse Williams
, Alabama's hulking nose guard, lay in a heap on the artificial turf, grasping at his knee. Anguish crossed his tattooed face. His sly grin vanished along with his superhuman persona.
The monster needed help off the field. He couldn't do it himself. A pair of trainers had to give the 6-foot-4, 320-pound giant a hand. Williams limped gingerly to the sidelines and waited to hear the bad news.
For a time, the monster hid under the covers. At the end of the bench with a towel over his head, Williams shut himself away from the doctors and trainers. The game disappeared.
"I thought everything was done for me," he said.
On the season's biggest stage, with a national championship berth on the line, Williams fell. His knee got rolled up at the line of scrimmage and it looked as if the No. 2-ranked Crimson Tide would have to face the
Georgia Bulldogs
without him.
But the self-proclaimed "Monstar" waited out the injury and tried again. Trainers wrapped his knee and attached a brace to it. Williams flexed and tried to apply pressure to it. It hurt, but pain is something he's more than familiar with. For 12 Saturdays this season, the brooding Aussie has been the one tasked with dishing it out.
"When I realized it wasn't as serious as I thought, I knew I could push through the pain," he explained. "I pushed with everything I had."
Williams paced the sidelines over and over and over, a trainer shadowing his every move. He wiggled his knee and tucked down into a three-point stance and pushed off. He took two swigs of Gatorade, grabbed his helmet and found his position coach on the edge of the field. He was going in, even if it was on one good knee or none at all.
UA defensive line coach Chris Rumph tried to put Williams' attitude into words: "That unbelievable toughness from Down Under."
Read the complete story here
.
December, 1, 2012
12/01/12
11:29
PM ET
By
ESPN Stats & Information
| ESPN.com
John David Mercer/USA TODAY SportsEddie Lacy ran for 181 yards for Alabama.
Alabama won its first SEC championship since 2009, handing Georgia an SEC championship game loss for the second straight season.
The Tide got it done on the ground. They ran for 350 rushing yards, the most in SEC championship game history.
Eddie Lacy
and
T.J. Yeldon
became the first teammates to each run for 100 yards in SEC championship game history. Lacy's 181 rushing yards are the third-most in the history of the SEC title game.
The Tide were committed to the run, as they ran the ball 51 times, two shy of the SEC championship game record of 53.
Two tight ends, too much
Alabama ran 36 times for a season-high 298 yards with two or more tight ends in the formation. The Tide ran out of this personnel package on 26 of their 34 second-half plays, gaining 199 yards and two touchdowns. Alabama averaged a season-high 5.5 yards before contact out of this formation.
AJ McCarron
completed 8 of 9 passes for 114 yards and a touchdown with two or more tight ends in the formation.
Getting it done inside the tackles
Alabama outrushed Georgia 304-72 inside the tackles. The Tide averaged 8.0 yards per carry on such runs, including a season-high 13 that gained 10 yards or more. Lacy (172) and Yeldon (125) led the way for Alabama, with both running backs gaining over 100 yards inside the tackles for the second time this season. They also did it against Missouri.
Strong run game leads to play action
McCarron completed 5 of 7 passes off play action for 116 yards and a touchdown. McCarron has 11 touchdown passes off a run fake this season, six more than he had all of last season. Eight of the 11 touchdowns have been on passes thrown 20 yards or longer, including Cooper's 45-yard touchdown against Georgia.
Georgia's defense allowed a season-high 512 total yards, just the second time the Bulldogs allowed 500 yards in the past seven seasons. For the first time since at least 2000, they've allowed 300 rushing yards in three straight games.
Alabama will most assuredly face Notre Dame in the BCS National Championship Game on January 7, as the SEC goes for its seventh straight BCS National Championship.
December, 1, 2012
12/01/12
11:29
PM ET
ATLANTA -- With Alabama down three points and the SEC title and a shot at the national title hanging in the balance, Nick Saban put the game in the hands of two freshmen.
Two players barely a year out of high school football would decide the fate of Alabama's 2012 season.
Boy did it pay off.
"Two big plays by freshmen there," senior center
Barrett Jones
said.
Big doesn't even begin to describe them. You need more hyperbole for this one, like mammoth or gargantuan.
The first play came on third-and-5 at the 50-yard line. Georgia held a 28-25 lead, and it appeared that the Tide were squandering their great field position. With about four minutes remaining, quarterback
AJ McCarron
stuck the ball in
T.J. Yeldon
's gut, and the frosh cut to the right side and barreled his way past the first-down marker.
It was a play everyone inside the Georgia Dome or plastered to a TV set knew was coming.
Yet Georgia's defense, which had been giving up rushing yards like men give up beads at Mardi Gras, couldn't stop the force that was Yeldon.
"He went out there and just ran people over," offensive lineman
D.J. Fluker
said of the 6-foot-2, 216-pounder. "You can't find that too often."
[+] Enlarge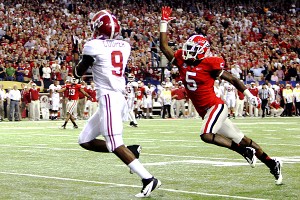 Daniel Shirey/USA TODAY SportsAlabama's Amari Cooper hauls in the winning TD pass in front of Georgia's Damian Swann.
That play kept the Tide alive. The next play broke Georgia's spirit.
It was a simple post play to the left side, where it's better if Amari Cooper releases on the inside. He cut outside and stopped momentarily as he looked for McCarron. Once he saw the play was coming, he left a helpless
Damian Swann
in his dust before hauling McCarron's perfectly thrown pass and waltzing into the end zone to give Alabama the winning score in a
32-28 victory
.
"Big-time players make big-time plays in big-time games, and I wanted to come out here and be a big-time player," said Cooper, who finished with a game-high seven catches for 127 yards and the key score. "I envisioned it before it happened, and it came true."
He probably envisioned it because it looked easy on film, as he and offensive coordinator Doug Nussmeier felt confident taking shots at the Dawgs.
"That's what we want as receivers," Cooper said. "We want to take those shots, and that's what we did."
It helps that Cooper, who goes by the nickname Hollywood because of his on-field skill, is an extraordinary athlete. Before his touchdown, his play of the night came when he went up top and snatched a 44-yard prayer from McCarron away from one of the most physical players in the game in safety
Bacarri Rambo
in the second quarter. After that, he spent the rest of the night sprinting past or cutting by Georgia defenders and bailing Alabama's offense out in crucial situations.
"He's able to do the things that you would think a normal freshman wouldn't do," Tide linebacker
Nico Johnson
said. "He's making big plays in big games, like he did today.
"He takes it and runs with it and lives to that name. He's something special."
To Jones, Cooper just has a different gear than a lot of players. One moment he is side-by-side with a defender; the next, he's gone -- with the ball.
"He's one of the fastest people I've ever seen," Jones said.
Cooper stretched the field and gave Alabama more running room, which helped free Yeldon, who entered the game with just three 100-yard performances but carried the ball a game-high 25 times for a backbreaking 153 yards and a touchdown. While giving
Eddie Lacy
the occasional breather, Yeldon helped Alabama register an SEC championship record 350 rushing yards Saturday.
"It's like he's been here three times himself," Lacy said. "As a freshman, you can't ask him to play any better than he did tonight."
You can't ask more from either. They did so much for Alabama in the biggest game of either's career. Yeldon had nine runs that resulted in first downs, while Cooper had three first-down plays. Together, they touched the ball 32 times for 280 yards and two touchdowns.
Johnson tells both Cooper and Yeldon before every game to play with purpose. On Saturday, they did that and then some. This is only the beginning for these fabulous freshmen.
"I'm glad they're freshmen because they are going to be here for a while," offensive lineman
Cyrus Kouandjio
said.
That has to be a scary thought for the rest of the league.
December, 1, 2012
12/01/12
10:52
PM ET
ATLANTA -- Throughout Georgia's postgame locker room, Bulldogs players stared blankly at the floor Saturday night as if they were spent both physically and emotionally -- and it was understandable on both counts.
The Bulldogs' dreams of playing for a BCS championship died at Alabama's 5-yard line when
Chris Conley
caught a deflected pass and fell to the turf with Georgia out of timeouts. A glance at the final score -- Alabama 32, Georgia 28 -- served as one last punch to the gut on an evening when the second-ranked Crimson Tide and third-ranked Bulldogs traded knockout shots throughout.
"It was a heavyweight championship fight. There was a lot of haymakers thrown," Georgia defensive coordinator Todd Grantham said. "They made plays, we made plays on both sides of the ball and we just came up a little short. That's it."
Alabama's punishing offensive line and tailbacks
Eddie Lacy
and
T.J. Yeldon
proved to be every bit the physical force Grantham and his players expected leading into the game.
Story continues in DawgNation
.
December, 1, 2012
12/01/12
8:11
PM ET
ATLANTA -- In what lacked the defense of a usual SEC game, No. 2 Alabama outlasted No. 3 Georgia
32-28
to claim the 2012 SEC championship. Alabama is now headed to Miami to face No. 1 Notre Dame in the Discover BCS National Championship Game on Jan. 7.


Alabama's game-winning score came on a 45-yard pass from
AJ McCarron
to a wide-open
Amari Cooper
with 3 minutes, 15 seconds remaining in the fourth quarter.
It was over when:
After driving down to Alabama's 8-yard line,
Aaron Murray
threw a pass to
Chris Conley
at the 5-yard line that was tipped. Conley came down with the ball with 5 seconds remaining, but time expired before Georgia could run one last play.
Game ball goes to:
If you looked up the word "workhorse" in the dictionary, you'd find a picture of
Eddie Lacy
and
T.J. Yeldon
next to it. Lacy rushed for 181 yards on 20 carries and had two touchdowns. He registered 176 of those yards through the first three quarters, averaging 10.4 a carry during that time. Alabama's offense was at its best when Lacy touched the ball the majority of times on drives. Yeldon, only a freshman, carried the ball 25 times for 153 yards and a touchdown. His first-down run on third-and-5 on Alabama's final scoring drive set up the Tide's game-winning touchdown.
Stat of the game:
Alabama (12-1, 7-1 SEC) outrushed Georgia 350-113 and averaged 6.9 yards per carry in the process -- a new rushing record for the SEC championship game. Georgia (11-2, 7-1) averaged just 3.9 yards per carry. That makes three consecutive games in which Georgia's defense surrendered 300-plus yards on the ground.
Best call:
On the first play of the second quarter, Georgia coach Mark Richt stepped out of his shell and called a fake punt on fourth-and-10 at Alabama's 36-yard line. Tight end
Arthur Lynch
took the snap and zipped a pass to cornerback
Sanders Commings
for 16 yards. Two plays later, Murray threw a 19-yard touchdown pass to tight end
Jay Rome
to give the Bulldogs the early 7-0 lead.
What it means for Alabama:
The win assures the Tide of making their second straight national championship game and third in four years. Alabama, which is second in the BCS standings, will face top-ranked Notre Dame in the Discover BCS National Championship Game in Miami.
What it means for Georgia:
The Bulldogs will miss out on a BCS bowl game and could be headed to the AT&T Cotton Bowl to take on a Big 12 opponent. The last time Georgia was in the Cotton Bowl was 1983, when the Bulldogs beat Texas 10-9.
December, 1, 2012
12/01/12
3:35
PM ET
ATLANTA -- Greetings from the Georgia Dome.
Well, we are back in the hub of the South with the national championship on the line. Stop me if you've heard that one before.


Yes, with No. 2 Alabama (11-1, 7-1 SEC) taking on No. 3 Georgia (11-1, 7-1) inside the Dome, the SEC championship game has yet again become a semifinal for the national championship.
Today's winner is headed to South Beach for the Discover BCS National Championship to face No. 1 Notre Dame. Only a couple of weeks ago, we were all sitting around wondering if the SEC would get shut out of the national title game and the six-year title streak would end.
Well, after today, the SEC will be returning to the big game.
The team that makes it to Miami will be pretty beat up on the ride back home because someone is going to get popped out there today, as two of the most physical teams in the country will be cracking skulls down on the field.
Alabama brings in the nation's No. 1 defense, while Georgia's defense has returned to elite status after a tremendous November. Those "soft" comments by
Shawn Williams
before the Florida game really lit a fire under Georgia's defense. In their past three SEC games, the Bulldogs have allowed an average of just 59 rushing yards and just 1.9 yards per carry.
Alabama's defense has shown some flaws in its pass defense against LSU and Texas A&M. That game against A&M really showed the country that Alabama's defense isn't quite what it was last year, as the Aggies gashed that unit through the air and on the ground in the Tide's lone loss of the season.
But none of that matters now. This is a new day and a new game. The national championship is on the line. Alabama might not have been here last year, unlike Georgia, but this team is more than ready for the big-game atmosphere, while Georgia is certainly not the wide-eyed team we saw in the Dome last year.
This one is gonna be good.
December, 1, 2012
12/01/12
3:07
PM ET

Edward Aschoff and Chris Low discuss Saturday's SEC championship matchup between Alabama and Georgia.