NCF Nation:

Tide-Hogs-091512
September, 15, 2012
9/15/12
10:21
PM ET
By
TideNation staff
| ESPN.com
FAYETTEVILLE, Ark. -- No. 1 Alabama didn't get Arkansas' best. The Razorbacks' best busied himself on the sidelines, wearing a ball cap and occasionally listening to the play calls coming in on a headset.
Tyler Wilson
, Arkansas' star quarterback, was regulated a casual observer of the offense on a rain-soaked Saturday afternoon in Fayetteville. What he saw from his front-row seat was enough to make any starter call on his backup.
No one wants to be the whipping boy when the Alabama defense is on the field.
A ghoulish
Jesse Williams
turned Wilson's backups a lighter shade of pale. Williams' face, painted white around his stark brown eyes, showed no sign of surrender.
To read the entire story, click
here
.
September, 15, 2012
9/15/12
9:50
PM ET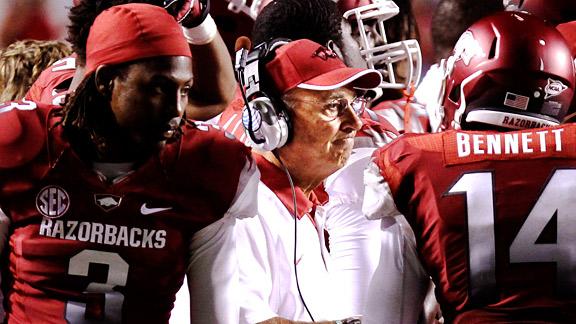 FAYETTEVILLE, Ark. – The wet, gloomy scene preceding Arkansas' game with No. 1 Alabama was a classic case of foreshadowing for the Razorbacks.
Rain washed away any really furious tailgating plans, while last week's overtime loss to Louisiana-Monroe expunged most of the excitement and enthusiasm revolving around a program once thought of as a national championship contender.
Adding on to the grim setting in and around the stadium was the fact that starting quarterback
Tyler Wilson
wasn't playing, even though he tossed out minute hope that he'd play by warming up in full pads.
That was about the high point, as Alabama routed Arkansas
52-0
, handing Arkansas its first shutout in Fayetteville since losing to Baylor 7-0 on Oct. 8, 1966.
It left a fan base despondent and a coach speechless.
"It's kind of hard to say anything at this point," John L. Smith said. "That's about as bad as I can every remember as a football team goes."
Even with the Crimson Tide not playing close to its best game, Alabama dominated every phase.
And I mean dominated.
With 11:32 remaining in the game,
AJ McCarron
had long since departed, Bama had 45 points and the Hogs had just 93 yards of offense and four turnovers. By that time, Alabama's backups' backups were in -- and scoring -- against Arkansas' horrendous defense.
A team that had so much promise and real championship aspirations limped out of its own stadium as a squad that has been outscored 79-10 in its past seven quarters -- and one with hardly any confidence.
[+] Enlarge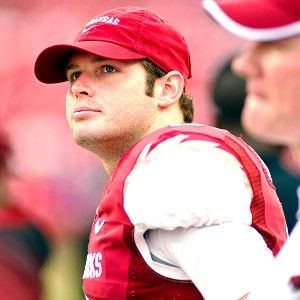 Beth Hall/US Presswire"As a leader it sucks to see people not do their jobs and things go wrong," said Arkansas QB Tyler Wilson, who didn't play against Alabama.
This team has been through so much drama, starting with Bobby Petrino's embarrassing exit, and when it had a chance to stand up and show some guts, it fell flat. Yes, it ran into a battering ram named "Alabama," but this team looked dazed from the moment
Will Coleman
tossed his snap over punter
Dylan Breeding
's head, leading to Alabama's first touchdown.
Smith blamed himself for the loss, but Arkansas' players didn't do much to help him.
Calling an impromptu news conference after the game, Wilson spoke from the heart and expressed those exact feelings.
Players who don't play rarely speak to the media, but Wilson approached members of Arkansas' staff late in the game and told them he wanted to.
Boy, did he.
"First of all, it wasn't very pretty to watch," said Wilson, who spoke for almost a minute and a half.
"Do I feel that we, at times, gave up out there? Yeah, absolutely. As a leader it sucks to see people not do their jobs and things go wrong. There have been a lot of people jump off of the bandwagon and it is my responsibility as a leader to keep everyone in this organization, in this team in that locker room together."
Defensive coordinator Paul Haynes, who has seen his defense surrender 1,310 yards through three games, agreed with Wilson's assessment.
"When you give up big plays at the end and nobody's around him at all, then you sit there and you may question that," Haynes said.
Wilson's words resembled Tim Tebow's famous speech after Florida's 2008 loss to Ole Miss. The Gators went on to win 10 straight and a national championship, and Wilson hopes he sparks a similar run.
Arkansas likely won't match Florida, but an SEC title still isn't out of sight. Still, this team has to band together and fight for something.
When asked if he worried about players hanging their heads or pointing fingers, defensive tackle
Alfred Davis
was emphatic in his response.
"No, because I know I'm not going to stop working and I'm not going to let the man beside me stop working, regardless of what the outcome of this football game was," he said.
"We have to get into a place where we're not quitting in football games, win, lose or draw."
Getting over Saturday's beatdown won't be easy, but it's all Arkansas can do. The loss of Petrino started this collapse, and the past two weeks have just piled on. If this team is going to rally, it has to grow up and it has to really stand by its coach.
It better do it now, because it didn't Saturday.
"They're going to hang together," Smith said. "They're going to come in ready to work. They know how to work. I have total confidence in these guys and the seniors are going to pull us together and the rest of the team is going to pull together."
September, 15, 2012
9/15/12
7:20
PM ET
Injury concerns prevented Arkansas from starting senior quarterback
Tyler Wilson
in Saturday's showdown with No. 1 Alabama. The Razorbacks instead went with freshman
Brandon Allen
, and against the Crimson Tide's hulking menace of a defense, that matchup went exactly as you'd expect. Alabama rolled to a 24-0 halftime lead and didn't look back in a
52-0 bludgeoning
.


Here's the breakdown from the Tide's brutal deboning of the Razorbacks in Fayetteville, Ark.
It was over when:
Alabama safety
Vinnie Sunseri
intercepted Allen on the Alabama 20-yard line early in the second quarter, killing what had been a 30-yard Arkansas drive. The Crimson Tide offense needed just six plays to go 67 yards for a touchdown after the interception, and those points gave them an insurmountable 17-0 lead.
Game ball goes to:
AJ McCarron
didn't have the gaudiest numbers, but he effectively and flawlessly led the Alabama offense with 186 yards and a touchdown on 11-of-16 passing. He decimated the Razorbacks' secondary with key throws when he needed to, and he let the vaunted Bama ground game do the rest to the tune of 225 total rushing yards.
Key stat:
Arkansas had 46 yards of total offense at halftime, and its combined first half rushing effort led to a loss of 4 yards. The Hogs finished with just 137 total yards -- 58 on the ground. But they didn't go over the century mark until their final drive of the afternoon.
Game ball part II:
The Tide's swarming defense didn't just limit the Razorbacks in yards. Alabama forced five turnovers -- all of which led to Crimson Tide touchdowns -- and teed off on the Arkansas quarterbacks for four sacks.
Unsung hero of the game:
No single Alabama back dominated the proceedings, but
Eddie Lacy
and
T.J. Yeldon
combined for 25 total carries and 110 combined yards. Lacy powered into the end zone on touchdown runs of 6, 1 and 10 yards, and Yeldon added a 1-yard touchdown plunge.
What it means:
The win loses a little bit of luster because Arkansas was without its superstar quarterback, but this was still a Razorbacks team with preseason SEC title aspirations that Alabama systematically dismantled. The Crimson Tide probably have the most impressive résumé of any Top 25 team through three weeks, and have thoroughly earned the praise being thrown their way.
Arkansas now sits at 1-2, and with South Carolina and LSU still on the schedule, the dream of an SEC title seems all but dead. The dream of a possible national championship is a laughable memory. The Hogs have a home date against Rutgers to recover before the conference grind begins again.
September, 15, 2012
9/15/12
3:44
PM ET
FAYETTEVILLE, Ark. -- As expected, senior quarterback
Tyler Wilson
isn't starting for Arkansas today against Alabama.

After taking a shot to the head that knocked him out of last week's 34-31 loss to Louisiana-Monroe, sources told ESPN.com that Wilson wouldn't play this week. Wilson was listed as questionable all week and Arkansas' staff maintained Friday that Wilson would be a game-time decision. However, he wasn't cleared to practice Thursday.
Wilson dressed and took reps during warmups, but Allen took the first-team offensive reps with the Razorbacks prior to kickoff. Wilson was also named a captain for Saturday's game.
Brandon Mitchell
, who moved from quarterback to wide receiver this fall, also took some snaps at quarterback during warmups and could get some time under center as well for the Hogs.
This will be Allen's first-career start. He finished last week's game completing 6-of-20 passes for 85 yards with a touchdown and an interception.
September, 15, 2012
9/15/12
2:46
PM ET
FAYETTEVILLE, Ark. -- It's a gross, wet day here in Fayetteville with No. 1 Alabama in town.


The Razorbacks are coming off of that shocking overtime loss to Louisiana-Monroe and now have to take on the country's best team.
Good luck.
The atmosphere around this game has certainly lost a lot of its luster, and this rain didn't help the fans or the early tailgating. There just wasn't a lot of energy around the stadium this morning. Also, with quarterback
Tyler Wilson
not expected to play, things just aren't going the Hogs' way.
But that's why we play
all
the games. Saturday didn't disappear just because Arkansas lost, so you have to think that these players are fired up to play Alabama.
While ESPN.com's Chris Low reported that Wilson won't play today, the Arkansas staff continues to say that he's a game-time decision. Wilson threw some during the first part of warmups and an official decision will be made once warmups conclude. If Wilson can't go, redshirt freshman
Brandon Allen
will start.
He'll get a rude awakening to the SEC with Alabama's defense coming at him. But the receiving talent is there for the Hogs to test Alabama's secondary. That unit still has a few questions surrounding it, so this should be a good test for the Tide as well.
The rain is coming down a little harder, so this game might come down to the running games. We know Alabama can carry the rock with all those studs in the backfield, but with
Jalston Fowler
out, that could affect the Tide in short-yardage situations and in blocking. That'll be interesting to keep an eye on today.
What remains to be seen is if Arkansas can run the ball against this defense.
Knile Davis
hasn't gotten going and the Hogs rank 13th in the SEC in rushing (130 yards per game). If the Hogs can't run, this one could get ugly early.