March, 20, 2013
3/20/13
4:00
PM ET
It's time for Clemson fans to be reintroduced to the 2011 recruiting class -- a class that was highlighted by the two best high school linebackers in the country.
Clemson's 2011 recruiting class drew rave reviews for the signatures of
Tony Steward
, the No. 1 inside linebacker in the country, and
Stephone Anthony
, the No. 1 outside linebacker in the class.
This could be the year Clemson's linebackers finally make headlines again.
Steward is entering his third season in the program, but as far as defensive coordinator Brent Venables is concerned, Steward is still a freshman. Because of back-to-back ACL injuries, Steward has yet to have an opportunity to show why he was such a highly touted recruit. This year should be different -- not only for Steward, but for the entire group of linebackers, which is expected to be the highlight of Clemson's defense this year. It's a deep and talented group that is still relatively unknown, but could produce some household names -- and reintroduce a few others like Steward -- this fall.
[+] Enlarge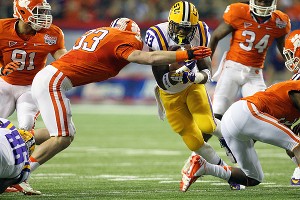 Cal Sport Media via AP ImagesSpencer Shuey, left, is part of a Clemson linebacking unit that coordinator Brent Venables is expecting to lead an improved defense this coming season.
"It took us a little while to get settled in, but just gaining the experience, coming back from last year, we've got guys that are athletic, they're disruptive, guys who can run, strike and also have a good grasp of what we're doing," said Venables, who is entering his second season as the Tigers' coordinator. "We've got good chemistry in that group. We've got good quality depth, guys that probably haven't been on the field much, but we feel good about regardless, guys like Tony Steward and
Kellen Jones
.
"They'll be the leaders on our defense," Venables said of the linebackers. "The guys have great respect for them, they all like to work, they've got a good chemistry about them, as well as ability."
Clemson's defense must replace 2012 leading tackler Tig Willard, arguably the most consistent linebacker on the team, who had 95 stops and a team-best 10.5 tackles for loss. There are plenty of options, though, and Venables began preparing them for the opportunity last November, as he rotated at least nine linebackers for about 8-15 snaps each over the course of the final three or four games.
This season, senior
Spencer Shuey
returns as the team's leading tackler, and he's a player who quietly improved and became a major contributor last year. Shuey had just 17 tackles over the first five games of 2012, but he finished the season with 93 tackles -- not bad, considering Willard played 181 more snaps over the course of the season. Venables said Shuey is a very instinctive player who "plays faster than he probably tests," takes the right angles, doesn't make mistakes, anticipates plays, and is smart enough that he can keep pace with some of the more athletic opponents.
"He's invaluable," Venables said. "When he's out there, we play well."
Clemson has only six starters returning on defense, and just two of the top six tacklers return, but Venables said he is confident in the depth and talent that returns at linebacker to anchor the defense.
Anthony had 77 tackles in just 459 snaps, an average of a tackle every six plays. Senior
Quandon Christian
also has significant experience. He started seven games last season, and had 40 tackles in 447 plays. He was a big factor in midseason wins against Georgia Tech and Virginia Tech with 14 combined tackles. The staff is also excited about Jones, a transfer from Oklahoma.
B.J. Goodson
is another option from the 2011 class. He was rated the No. 29 outside linebacker that year. He is big, strong, instinctive, and can play fast. Steward has made the most of the few opportunities he has had. He had 26 tackles last season, including a team-best 12 on special teams. He averaged a tackle every 5.2 plays on defensive scrimmage plays.
"I really feel good about his improvement and his understanding and just getting his strength and explosiveness back and understanding what we're doing," Venables said. "I've had a number of guys in the years I've coached who have torn their knees up, and it takes one solid year to get back to whatever they were prior to the injury, and he had back-to-back injuries without ever really having any kind of foundation here in college. It's just maturity and understanding, experience and playing, but to me he's like a freshman. It's unfortunate. He wanted to play last year, was the consummate optimist. But that's water under the bridge now. Hopefully some of the experience he's able to gain will pay off."
Just like Clemson fans expected it would in 2011.
August, 30, 2012
8/30/12
1:00
PM ET
The jokes about the Clemson defense began during the Orange Bowl and have kept on rolling.
The most stale line by far: "Wait. I think West Virginia just scored again."
The Tigers have heard them all after a 70-33 loss to the Mountaineers on the biggest stage of the season. But there is nobody laughing in Clemson.
With a new defensive coordinator in Brent Venables and a new season ahead, there would be no better way to make the jokes stop than with an impressive performance against Auburn in the opener Saturday. This group simply cannot afford anything less.
[+] Enlarge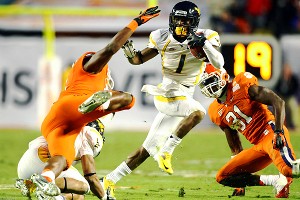 Douglas Jones/US PresswireRashard Hall (31) and the Clemson defense are looking to move on from the Orange Bowl loss to West Virginia.
"I'm ready for a new beginning," safety
Rashard Hall
said.
He is not the only one. Questions about this defense have trailed Clemson since the final seconds ticked away in Miami, becoming a dominant storyline going into this season. Coach Dabo Swinney promptly fired Kevin Steele after the loss and brought in Venables, whose impeccable credentials at Oklahoma alone give the Tigers an upgrade.
The reviews so far have been extremely flattering.
"He brings a lot of excitement, a lot of energy. ... Brent Venables is one of the best coaches I've ever had," Hall said. "Just the way he leads, his enthusiasm. He is real purposeful and a get-after-it kind of guy. We have all really responded to that."
Linebacker
Corico Wright
told local reporters: "We love what Coach Venables has brought to the table for us, what he's asked us to do. He has a lot of energy. He's a teacher, he makes sure we know what we're doing. From a defense standpoint, you see guys attacking the football whether it's in the air or on the ground, that's going to be the biggest difference for us this year."
The first order of business for Venables is rebuilding up front. With Andre Branch and Brandon Thompson gone,
Malliciah Goodman
is the lone returning starter on the defensive line and must take the next step in his development to carry this team. He is just about the only certainty along the line.
Grady Jarrett
,
DeShawn Williams
and
Corey Crawford
are all sophomores and expected to start, with
Josh Watson
and
Vic Beasley
also expected to be big contributors. There are going to be changes at linebacker, as well, with the emergence of
Quandon Christian
and true freshman
Travis Blanks
. Wright is playing outside behind
Tig Willard
, after
Stephone Anthony
emerged in the middle last year.
Then, in the secondary, Hall,
Xavier Brewer
and
Jonathan Meeks
will all play at safety, and
Darius Robinson
takes over for Coty Sensabaugh at cornerback. Swinney was asked this week for his thoughts on who would emerge as a defensive playmaker this year, and he essentially said that was a large unknown.
The answers will start to come Saturday.
"There'll be some good, there'll be some bad," Venables told
reporters in Clemson
. "That's what this season is about. The best teams I've had have gotten better over the course of the year. You find out what your strengths and weaknesses are. Game day is part of that process. Putting guys in the right spots, hopefully we've been able to identify that but maybe after the first game it isn't what you thought it was. Hopefully at the end of the day there'll be more passing grades than not. That means you played well. You want to see your guys play with great discipline, toughness and effort. You have that, you have a strong foundation."
April, 4, 2011
4/04/11
11:00
AM ET
Clemson quarterback
Tajh Boyd
threw two touchdown passes and continued to show progress on Saturday in the Tigers' final stadium scrimmage before Saturday's spring game.

Offensive highlights

:
Boyd completed 8 of 16 passes for 129 yards and two touchdowns. He completed a 20-yard scoring pass to DeAndre Hopkins, and a 3-yard touchdown pass to redshirt freshman tight end Sam Cooper in a goal-line situation. Boyd also had 10 carries for 14 yards. Hopkins finished with two catches for 43 yards.
Marquan Jones had a team-high four catches for 44 yards.
Jaron Brown had two carries for 26 yards, a 30-yard reception and a 20-yard punt return. D.J. Howard (19-85), Demont Buice (13-59), Rod McDowell (8-36) and Brown (2-26) combined for 206 yards in 42 attempts.
Defensive highlights

:
Corico Hawkins led the defense with eight tackles, and Rashard Hall had seven.
Corey Crawford had an 87-yard fumble return and caused and recovered another fumble. He also had a tackle for loss and a pass deflection. Crawford's playing time increased this week when Andre Branch returned home to be with his family after the death of his grandfather.
Tig Willard had six tackles, a pass broken up and an interception. Josh Watson had two tackles for loss, and Justin Parker had five tackles, including a sack.
Quotable

:
"Tajh Boyd has continued to improve and the game is slowing down for him," coach Dabo Swinney said, according to the team's practice report. "He has a bit of false security when wearing the purple jersey [quarterbacks are not tackled], and I need to break him of that, but he is improving. He made some very good decisions today."