NCF Nation:

tigers-devils 090911
September, 10, 2011
9/10/11
4:46
AM ET
TEMPE, Ariz. -- The penalties. The critical turnovers. The sloppiness. The bad luck. Same old Arizona State.
It certainly looked that way as Missouri lined up for a game-winning 48-yard field goal with 12 seconds left.
But something happened on the way to blowing a game it led by 14 points early in the fourth quarter. Arizona State got a break: Missouri's standout kicker Grant Ressel missed wide left. Not only that, the Sun Devils took advantage of that break and won
37-30 in overtime
.
[+] Enlarge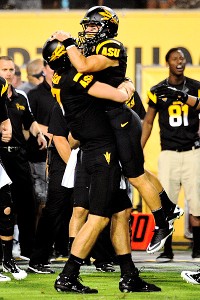 Matt Kartozian/US PRESSWIREArizona State quarterback Brock Osweiler (left) and receiver Aaron Pflugrad (right) connected 8 times for 180 yards and two touchdowns on Friday night.
"I was like, 'Not again,'" Sun Devils quarterback
Brock Osweiler
said. "We've been through too many heart breakers these past two years. But this time we had a little bit of luck on our side."
At one point, Arizona State looked like it was about to run away with an easy win over the No. 21 Tigers. After they jumped ahead 30-16 early in the fourth quarter, they got a defensive stop and forced a punt that looked like would give them good field position. But
Jamal Miles
fumbled the return, and Missouri took over on the Sun Devils' 32-yard line.
From that point until the missed kick, nothing went right for Arizona State. The Tigers tied the game as the sold out crowd of 70, 236, which was dressed in all-black, grew increasingly restless. And then the Tigers drove all the way from their 8-yard line to the Sun Devils 31, looking primed to steal the victory.
Ressel is one of the best kickers in the nation. He entered the game having connected on 44 of 47 field goals. But he missed two against the Sun Devils, including the potential game-winner.
Said Osweiler, "You're never out of a football game until there are zeroes across the time clock."
When overtime started, Osweiler found his favorite target, receiver
Aaron Pflugrad
, for 13 yards on a third-and-7 play. Miles, earning redemption for his fumble, then scored the winning TD on an 11-yard swing pass from Osweiler.
The defense shutdown the Tigers on four plays. The crowd went bonkers, perhaps shocked at how things turned out but clearly happy to be witnessing the program's first win over a ranked team since 2007.
Osweiler was just short of brilliant. He completed 24 of 32 passes for 353 yards and three touchdowns. He also rushed for 34 yards, which included a 12-yard TD. Pflugrad caught eight passes for 180 yards and two touchdowns.
Make no mistake: This one wasn't pretty. The teams' combined for 23 penalties for 124 yard, though Miles' fumble was the only turnover.
"I think the thing people need to take from this game is we stuck together," said Pflugrad, who transferred from Oregon after his father was fired by Chip Kelly as the Ducks receivers coach.
"We almost let [mistakes] beat us but we didn't."
That's the rub.
Said coach Dennis Erickson, "The football Gods were with us tonight."
This was the sort of sloppy performance that left Sun Devils fans in the past asking, "What if?"
This time, instead of reviewing painful details, they're celebrating.
September, 10, 2011
9/10/11
2:23
AM ET
TEMPE, Ariz. -- Arizona State blew a 14-point fourth-quarter lead but prevailed in overtime
37-30
.
How the game was won
: The game was sloppy on both sides, and it looked like Missouri was about to spoil the Sun Devils big stadium "black out" when Grant Ressel lined up for a game-winning 47-yard field goal in the final seconds. But he missed wide left. Granted new life, the Sun Devils took advantage with a touchdown and a stop in OT.
Stat of the game
: The teams combined for 23 penalties for 223 yards. Yes, it was sometimes hard to watch.


Player of the game
: Sun Devils QB
Brock Osweiler
completed 24-of-31 for 353 yards and three touchdowns. He also rushed five times for 34 yards and a score.
Unsung hero of the game
: Sun Devils receiver
Aaron Pflugrad
, an Oregon transfer, caught eight passes for 180 yards -- 22.5 yards per reception -- with two TDs. All career highs.
What Arizona State learned
: The Sun Devils have blown games like this before. They pretty much blew this one, until Missouri returned the favor. But the Sun Devils can walk away with this: It's often better to be lucky than good. The Sun Devils have been pretty good and unlucky before and it hasn't worked. This time, luck smiled on them and they showed the gumption to take advantage.
What it means
: The Pac-12 records its first meaningful nonconference victory of the season, and Arizona State gets a marquee victory on ESPN, one that should push them into the top-25. Of course, the Sun Devils head to Illinois next weekend. They need to refocus and get ready for a tough road trip.
September, 10, 2011
9/10/11
1:11
AM ET
TEMPE, Ariz. -- Arizona State quarterback
Brock Osweiler
is turning in a better performance than anyone could have expected.
The 6-foot-8, 240-pound junior just ran for a 12-yard TD, giving the Sun Devils a 30-16 lead early in the fourth quarter.
He's completed 18 of 23 passes for 295 yards and two TDs with no interceptions. He also rushed four times for 37 yards.
And he's been in complete command of the Sun Devils offense.
There's still plenty of football left here, but Osweiler looks ready to join the list of A-list Pac-12 quarterbacks.
September, 10, 2011
9/10/11
1:03
AM ET
TEMPE, Ariz. -- A little trickeration will send Arizona State into the fourth quarter with a 23-16 lead over Missouri.
Receiver
Jamal Miles
took a double-pass from
Brock Osweiler
and found
Aaron Pflugrad
for a 35-yard touchdown, which left the Sun Devils one quarter away from their first win over a ranked team since 2007.
Up to that point, the Tigers had dominated the third with a pair of drives for field goals, but their inability to punch it in against a bend-but-don't break ASU defense is the difference.
Big game from Pflugrad, an Oregon transfer. He's caught six passes for 160 yards.
September, 10, 2011
9/10/11
12:10
AM ET
TEMPE, Ariz. -- Arizona State leads Missouri 16-10 in a first half that featured big plays and plenty of penalties.


Stat of the half
: Lots of great football plays have been slowed down by yellow hankies for both teams. Missouri had six penalties for 66 yards, while Arizona State had five for 45. Hopefully, things are cleaner after the break.
Best player(s) in the half
: The quarterbacks were outstanding. Arizona State's
Brock Osweiler
completed 11-of-14 for 229 yards -- a robust 16.4 yards per completion -- with two TDs. He also rushed for 13. Missouri's
James Franklin
completed 12-of-15 for 118 yards and rushed 11 times for 44 yards and a TD.
Best call
: On the first play from scrimmage after Missouri tied the count 10-10, Sun Devils offensive coordinator Noel Mazzone dialed up a perfect deep pass as
Aaron Pflugrad
beat Kip Edwards for a 60-yard TD. Osweiler has a nice touch on the deep ball. Guess here is we'll see the Sun Devils regularly take shots deep downfield throughout the season.
What Arizona State needs to do
: Missouri's best play on offense is Franklin scrambling from pressure and either running or buying himself more time. He throws well on the run. So the Sun Devils need to find a way to contain him and get a few good knocks on him. On offense, the key is staying aggressive. On their last possession of the first half, they had a first down on the Missouri 35-yard line. They ran up the middle twice and got stuffed and failed to convert on third and long. Osweiler was in such a rhythm, two consecutive runs didn't make much sense (of course, they had worked it would have been brilliant). Finally, the Sun Devils need to close the deal. They've been close before and lost it in the fourth. How will they react when the screws tighten?
September, 9, 2011
9/09/11
11:36
PM ET
TEMPE, Ariz. -- This is not a dink and dunk Arizona State spread offense.
Brock Osweiler
just connected with
Aaron Pflugrad
for a 60-yard touchdown, a quick answer to Missouri's tying TD drive, giving the Sun Devils a 16-10 lead.
The spread is often viewed as a being based on possession-type passes, and we've seen some of that from the Sun Devils tonight.
But Osweiler, in addition to that 60-yard pass, has completions of 25, 51 and 18 yards with 7:30 left in the half.
September, 9, 2011
9/09/11
11:12
PM ET
TEMPE, Ariz. -- When the first quarter ended, Arizona State was again driving, facing a second-and-8 from the Missouri 23, leading 7-3.

The story so far is Brock Osweiler, who is 8-for-10 for 140 yards with a 12-yard touchdown pass. He looks poised and sharp on a big stage, which is an excellent sign for the Sun Devils. Osweiler was an unknown entering the season.

Another good sign: The Sun Devils are running the ball fairly well. At the end of the quarter, both teams have 35 yards rushing.

Oh, by the way, Osweiler also has 13 yards rushing.
September, 9, 2011
9/09/11
10:57
PM ET
TEMPE, Ariz. -- Arizona State has the fast start it needed to get the crowd into the game and build up confidence against Missouri.
The Sun Devils jumped ahead 7-0 on a 12-yard pass from
Brock Osweiler
to
Jamal Miles
. Key play of the drive was a 51-yard connection to
Gerell Robinson
.
After a good initial drive netted no points, the red zone conversion was big.
Osweiler is 6-for-8 for 113 yards.
September, 9, 2011
9/09/11
9:34
PM ET
TEMPE, Ariz. -- Heat will not be a factor tonight, but weather might be.
It's "only" 96 degrees at 6:30 p.m. local time, but without the sun -- it's overcast -- it's pretty mild.
"Overcast" though might not do the sky justice. There was rain throughout the day and some flashes of lightning. When it decides to storm in Arizona, it doesn't mess around. So that could be a factor.
At this point, the sky doesn't look too threatening, but that could change quickly.
The student section has almost filled up completely, and all of them seemed to get the all-black memo. It appears the Missouri contingent will be in yellow. It will be interesting to see if the older ASU fans also wear black. There had been some frumpiness about the "black-out," from some fans, which inspired the sports information office to
make a video explaining
that wearing black after dark is no hotter than wearing white.
September, 9, 2011
9/09/11
8:59
PM ET
TEMPE, Ariz. -- Arizona State fans have been encouraged to wear all-black tonight, just like their team will, as the Sun Devils hope to show off fancy new uniforms against No. 21 Missouri.
The question is will it end up feeling like a funeral?


Many believe not, that this will be a "hello world" moment for a program that is looking for its first win over a ranked foe since 2007, Dennis Erickson's first season, which also happens to be the Sun Devils' last winning season. Arizona State started the week as a 6.5-point favorite and is
now favored by 10 points
.
Why?
Well, for one, Missouri might be even more banged up than the Sun Devils. The Tigers won't have seven projected starters available. The Sun Devils' count on that is six.
But mostly it's the belief that Arizona State was a talented team in 2010 that was competitive against some of the nation's best teams, but just didn't know how to finish. With lots of those players back, the expectation is the tough lessons of last fall will pay off in 2011.
The first key for the Sun Devils is an old bugaboo: Mistakes, as in turnovers and penalties. Arizona State in recent years has had some good players, but it's also more often than not found ways to lose, not win. It gave the ball away, often a critical times. It committed boneheaded penalties, often at critical times.
The first measure tonight: Can the Sun Devils play a more disciplined game than Missouri?
Then there's quarterback
Brock Osweiler
. While he was solid finishing up the 2010 season, this is a far bigger stage than he's seen. Recall that his lone 2010 start at Arizona, included a horrible first half in which he was lucky to not get intercepted several times. Yes, "several" is more accurate than "a couple."
Osweiler's life will be much easier, by the way, if his veteran offensive line creates just enough space for running back
Cameron Marshall
to keep a tough Missouri defense honest.
On the other side of the ball, linebacker Vontaze Burfict has an opportunity to make a big impression in front of an ESPN audience, many of whom will be tuning in -- and staying up late on the East Coast -- just to see him. He can set a physical tone against an Tigers offense that figures to be run-first. He also needs to avoid stupid personal foul and unsportsmanlike conduct penalties, which he often hasn't in the past.
Word is this is going to be a sellout. Sun Devils fans, who had turned away over the past couple of years, appear to be reinvesting in the program.
After years in the red of losing, they're hoping for their team to be back in the black.