NCF Nation:

Tigers-Eers-092411
September, 25, 2011
9/25/11
2:15
AM ET
MORGANTOWN, W.Va. -- LSU coach Les Miles could feel it. His players could feel it. The West Virginia crowd, once silent, rose up into a chorus of roars.
They waved their gold towels furiously. This was the momentum shift they had waited for all game long. West Virginia had just closed the gap on No. 2 LSU to 27-21 with 1:16 to play in the third quarter -- the closest the Mountaineers had come to the Tigers since early in the second quarter. West Virginia has been a team of fits and starts this season -- so perhaps this was it. Perhaps the Mountaineers were about to begin their roll.
Corey Smith kicked off.
Morris Claiborne
fielded the ball at the 1. Ahead of him, he saw blockers line up. Claiborne knew he had to redeem himself from what he called a terrible first half -- he got beat on a touchdown, got flagged for a personal foul. He was fighting a cold, too, his raspy voice a dead giveaway.
[+] Enlarge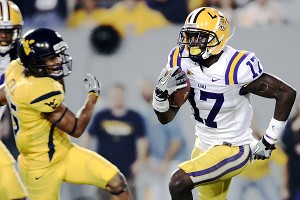 AP Photo/Jeff GentnerWest Virginia's offense didn't score again after Morris Claiborne returned a kickoff for 99 yards and a touchdown late in the third quarter.
He took off, a few steps here a few steps there. Alluding one tackler here, another there. And then he was off. In the span of 16 seconds, the West Virginia crowd fell silent again. The Mountaineers players hung their heads. Claiborne returned the kick 99 yards, and LSU romped
47-21
on Saturday night. LSU ended the game with 21 unanswered points, an emphatic answer to yet another challenge thrown their way.
"We knew we had to do something," Claiborne said. "It just so happens we broke the kick."
The Tigers sit 4-0 today, having beaten three ranked teams on the road. They have withstood the strongest test of any team in the country, with a quarterback thrown into the starting job just before the season began. These Tigers are resilient, yes. But they are also unquestionably good, able to beat teams in a variety of ways. Whatever it takes to win.
"Our guys seem to answer the bell, enjoy a competitive environment." Miles said. "I feel comfortable going on the road and playing with this team. I think if we continue to improve, continue to do the things we're capable of, somewhere down the road, we'll stake a claim on something important."
West Virginia and its fans came ready to play. Miles described the raucous scene in Morgantown this way, "They were having a football party and invited us. I knew our guys would show up."
Play got chippy early on with a few personal fouls. LSU running back
Spencer Ware
said the West Virginia players were talking trash, and that served as extra motivation. But the gulf between the best team in the SEC and what many believed was the best team in the Big East was apparent almost from the outset.
The Mountaineers punted on their first drive, and LSU scored on its first drive, easily marching down the field. West Virginia has the type of offense that can serve it well in a shootout. But it does not have the type of team that can survive four turnovers. There is not a team out there that is likely to survive that.
LSU turned those mistakes into 21 points. West Virginia was forced to pass because it faced such big deficits throughout the game.
Geno Smith
threw a school record 65 times, completing 38 of his passes for 463 yards and two touchdowns.
Tavon Austin
made a huge impression on Miles, with 187 yards receiving on 11 catches. But the Mountaineers had 22 runs, an imbalance that cannot be ignored.
"There were a couple of times I thought we had momentum," West Virginia coach Dana Holgorsen said. "We did some good things offensively and defensively, but you can't beat a good team by doing that. You can talk about 500 yards if you want to, but the only thing I'm going to talk about tomorrow is four turnovers. Three out of our four games we had zero turnovers."
Special teams were a killer, too. On Claiborne's kickoff return, Holgorsen said, "We just didn't block anybody, it's plain and simple. We didn't tackle."
In addition to that, LSU punter Brad Wing averaged 48.7 yards a punt and landed all six of his punts inside the West Virginia 10-yard line. West Virginia had 10 penalties for 73 yards, double what LSU had. When you make so many mistakes, you are going to have a hard time beating anybody, let alone the No. 2 team in the nation.
Speaking of that ranking, a case can be made for LSU to be No. 1 with the stretch of ranked teams it has beaten on the road. It was a popular post-game question, one that everybody deflected.
"I don't know. I can't say," LSU quarterback Jarrett Lee said. "We've beaten some good teams so I think we're up there. We've just got to keep working hard each and every week. We're up there for sure."
The goal is not to be No. 1. But to be No. 1 at the end of the season. Miles loves the road identity of this team, and he knows it will only serve it well as the heart of SEC play approaches. The Tigers have answered all their tests for now. But there will be plenty more down the road.
"I like the position we're in," Miles said. "I don't think we're the best team in the country. There's that hope and that want and desire for this team."
September, 24, 2011
9/24/11
11:58
PM ET
MORGANTOWN, W.V. -- No. 2 LSU finished off a brutal September schedule with yet another impressive win, this one
47-21
over No. 16 West Virginia on Saturday night.


Could the Tigers be the new No. 1 on Sunday? They certainly have made a case.
LSU withheld a challenge from West Virginia -- especially in the third quarter, when
Dustin Garrison
's 1-yard touchdown run pulled the Mountaineers to 27-21. But Morris Claiborne returned the ensuing kickoff 99 yards, LSU extended its lead and West Virginia never threatened a again.
West Virginia had success passing on the LSUdefense -- if only because it was forced to throw nearly every down -- and protected quarterback
Geno Smith
well.
Tavon Austin
had some spectacular plays. Smith completed 38 of 65 passes for 463 yards. Eleven of those completions and 187 yards went to Austin.
But the Mountaineers simply could not get anything going consistently, and turnovers were an absolute killer. West Virginia had four of them, and LSUturned them into 21 points -- one of the biggest differences in the game. Tyrann Mathieu forced two of those mistakes and had another great performance.
LSU also won special teams as well. Not only did it have the kickoff return for a score, punter Brad Wing certainly deserves mention as an MVP for the Tigers for kicking six punts inside the West Virginia 20.
The West Virginia defense also had its share of tackling problems, and never got a good pass rush going. LSU gashed the Mountaineers for some big runs as well. It was the first time West Virignia has allowed 40 points at home in regulation since a 40-23 loss to Miami in 2002.
September, 24, 2011
9/24/11
11:16
PM ET
MORGANTOWN, W. Va. -- Momentum is a fickle thing in college football. It shifted to West Virginia for about a minute. Now LSU has it back.
In a stunning couple of seconds, West Virginia had closed a 13-point deficit to six, only to see it get back up to 13. It all started after
Geno Smith
connected with speedy receiver
Tavon Austin
for a 72-yard reception -- the longest play the LSU defense had given up all season. That led to a 1-yard touchdown run from
Dustin Garrison
.
The crowd was rocking and back in the game. But they were silenced in a hurry, after Morris Claiborne returned the ensuing kickoff 99 yards for a touchdown. Just like that, LSU was back up 34-21, headed into the fourth quarter.
The Tigers have absolutely dominated on special teams tonight. That, and forcing three turnovers, have been the big difference in the game.
September, 24, 2011
9/24/11
10:59
PM ET
MORGANTOWN, W.Va. -- West Virginia came out in the third quarter with some momentum on its side. LSU missed a field goal on the first possession of the quarter, and then the Mountaineers struck quickly with a touchdown to close the gap to 27-14.
But that is as close as they have gotten so far. West Virginia has not been able to get any consistency as it attempts to run its version of the hurry up. On one series when an LSU player was slow to get up, boos rained down because fans believed he was deliberately staying down to slow the tempo. An enraged West Virginia coach Dana Holgorsen must have believed the same.
Whether LSU did or not, West Virginia has had a difficult time just stringing together positive plays. Receivers have dropped passes, and
Geno Smith
should have had at least two of his passes intercepted on his last drive. One of the biggest stories continues to be field position.
Brad Wing now has placed six punts inside the West Virginia 20-yard line, including two at the 3 and two at the 5.
September, 24, 2011
9/24/11
9:35
PM ET
MORGANTOWN, W.Va. -- One of the stats that stands out so far in the first half of the West Virginia-LSU game is starting field position.
Each team has had five possessions. LSU has averaged starting from the West Virginia 42. West Virginia has averaged starting from the LSU 16. Two of West Virginia's five possessions have started from inside its 5-yard line thanks to excellent punts from Brad Wing. That has made a clear difference as No. 2 LSU has jumped out to a quick 20-7 lead midway through the first half.
The longest touchdown drive of the game for the Tigers was 61 yards on its most recent score -- a 52-yard pass from
Jarrett Lee
to
Odell Beckham
Jr. on a play-action fake. Meanwhile, West Virginia has had a difficult time driving 90-plus yards on one of the best defenses in the nation.
September, 24, 2011
9/24/11
9:00
PM ET
MORGANTOWN, W.Va. -- Well, this certainly was not the start West Virginia needed in its attempt to upset No. 2 LSU.


The Mountaineers have been exceedingly sloppy, with two turnovers already in the first quarter. Credit LSU cornerback Tyrann Mathieu with a terrific strip of
Brad Starks
following a reception. Mathieu used a textbook arm strip to get the ball out. LSU failed to capitalize on that one, but not the next one.
Brandon Taylor picked off a
Geno Smith
pass intended for
Tavon Austin
. LSU responded with a seven-play, 50-yard drive that ended on a 22-yard touchdown run from
Michael Ford
to give the Tigers a
13-0
lead. The West Virginia defense has not played well, leaving big holes open in the secondary and failing to generate much of a pass rush. On LSU's first scoring drive, the Tigers converted two third-and-longs.
The LSU defense thrives when it has a lead. If West Virginia has to pass itself to get a victory, that is going to be incredibly difficult, even with this offensive style. LSU will just bring the pressure and Smith is going to have to beat some outstanding cornerbacks.
September, 24, 2011
9/24/11
8:07
PM ET
MORGANTOWN, W.Va. -- There certainly is something special about night games at West Virginia. The big question is how much of an impact the crowd can have in this game.

The Tigers are used to playing night games in venues bigger in the SEC. Their own home stadium at night is a sight to see. LSU is 47-4 in night games under Les Miles, compared to 18-13 during the day. The Tigers already have won two night games away from home -- against Oregon in Texas, and at Mississippi State last week.

One other note: LSU has won 35 straight nonconference regular season games. So a daunting task awaits. But the West Virginia crowd is beyond fired up. A sea of gold will greet the Tigers tonight, with fans furiously waving gold towels. In fact, the stadium was mostly full 45 minutes before kickoff. West Virginia observers say this is the loudest the stadium has been in years.

Fans put on a great show for College GameDay this morning. Some camped out as early as Thursday in anticipation of the game. Now it is finally here. That sea of gold in the stands will be matched with a sea of gold on the field -- West Virginia will wear all gold tonight.
September, 24, 2011
9/24/11
7:15
PM ET
MORGANTOWN, W.Va. -- A little over an hour away from kickoff between No. 2 LSU and No. 16 West Virginia, and the student section is nearly packed. You can bank on a wild atmosphere, since fans have had all day to get ready for this game, one of the biggest nonconference games at West Virginia in quite some time.
Much has been made about the matchups in this game. Here are a few of my keys:
1.
Can West Virginia strike first?
The Mountaineers had slow starts in their first two games but turned that completely around last week against Maryland. This is a vastly different defense than the Terps (ahem, see Temple earlier today), but if West Virginia can jump out to a lead, the pressure will be on an LSU offense that is not designed to come from behind.
Jarrett Lee
has done well in place of
Jordan Jefferson
, but there are definite advantages the Mountaineers see in forcing the game into his hands.
2.
Special teams.
Tavon Austin
has been terrific on special teams so far this year. He told me earlier this week he was thrilled to finally get his shot returning kicks. Will LSU kick to him or play it safe and kick it away? He has such game-changing ability that it might not be worth the risk. LSU, meanwhile, has scored 14 special teams touchdowns under Les Miles.
3.
Turnover battle
. This is a key in every game, and with good reason. If you turn the ball over, your chances of winning decrease dramatically. West Virginia finally created some turnovers on defense last week. LSU has forced seven turnovers already this year and given the ball away just three times. The Tigers have won 12 straight games when winning the turnover battle.
September, 24, 2011
9/24/11
6:48
PM ET


Andrea Adelson previews the action between LSU and West Virginia.